My husband and I have owned a Vandoit for over three years; we are actually on our second camper van. We are in our high-roof LIV model for about six to eight months every year, not consecutively, but for several months at a time. From spring to fall, we go to mountain biking destinations near and far. In winter, we head west and southwest to the mountains to snowboard and snowshoe.
No matter what time of year we travel, there are items that live in our camper van year round. There are a couple of reasons for this. The obvious one is that the weather is unpredictable. The less obvious reason is that we are not predictable. We keep our travel plans pretty loose.
We typically have a destination in mind, but for various reasons, we may opt to keep moving. This might involve an entirely new direction and, with it, varying conditions. Being prepared for whatever may come our way allows us the freedom to be spontaneous and go wherever, whenever.
Years of van travel and two Vandoits have helped us to narrow down which items are essential to pack in our camper van–and which ones we can do without. We want to share those essentials with you.
A Word on Vandoit Storage
Before we even get into the essentials of what to bring, let's discuss how and where to store these items. In our first Vandoit, a 2016 GO model, we did not have any thermal curtains at all, so having window pockets was not an available storage solution. At that time, the storage modules Vandoit had available were limited to an overhead cabinet or two.
In hindsight, the lack of storage limited how much gear we could keep in the van year round. As a result, there was always something–or lots of somethings–that we didn't have but could have used. There is nothing worse than being cold and knowing you have a great blanket and down coat that wasn't packed in the van!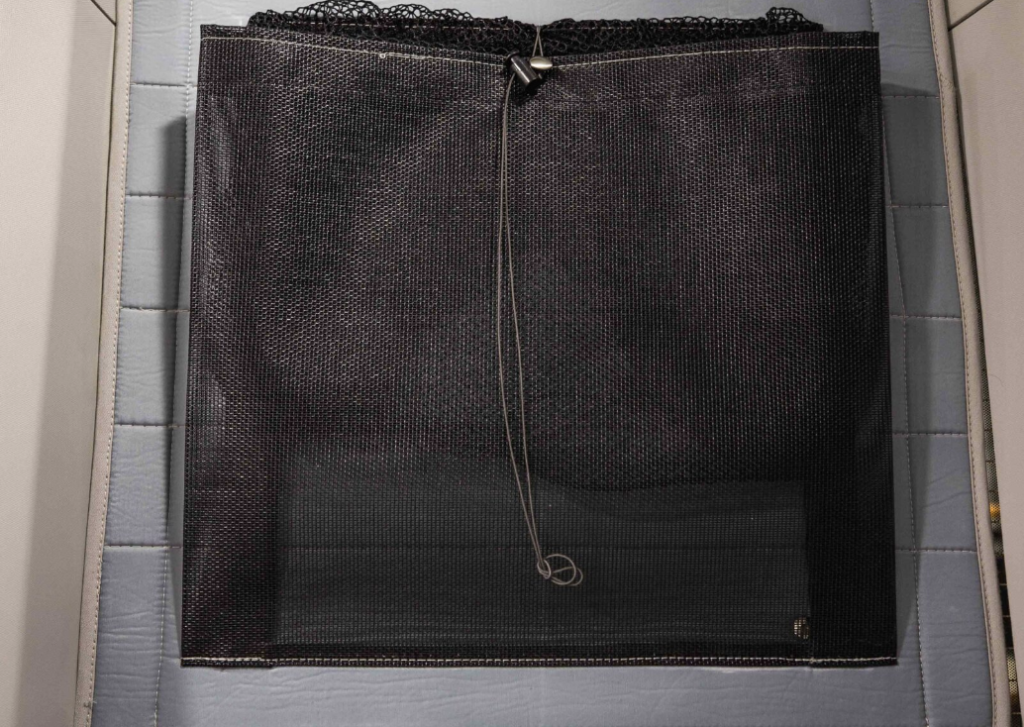 The Packing Essentials
Blankets & cold weather gear
We keep a Rumpl blanket, down jackets, knit hats, and gloves in our thermal window curtain pockets. Rumpl blankets store small but warm big. The same goes for down jackets. We can pack our REI down jackets super small, along with a cap and some gloves.
Mexico in January or the Pacific Northwest in summer can have some cool nights, so cold weather gear is a must-have any time of year! I like to keep my mountain biking gloves in the van since they can be used for warmth and for biking. My preference for gloves is Dakine, as they are very durable and well priced.
Don't forget to have something for rain too. We keep inexpensive rain ponchos by Totes on hand.
Water gear & sun protection
On the other end of the weather spectrum, we also keep bathing suits, sunblock shirts, and Keen shoes. Keens function as water shoes, but they are also great for hiking or walking around town.
I like Under Armour's sunblock shirts because they provide protection in the water and out. We use Turkish towels for the beach and for showering because the towels take up little space and dry quickly. We carry two sets as they pack so small (a common van refrain), and doing laundry is not always an option.
Baseball hats or anything with a brim are good to keep on hand, as well as an extra pair of sunglasses and sunscreen. Zealios Sun Barrier SPF 45 is a favorite sunscreen of ours. It contains zinc oxide and still absorbs really well. They also offer a reef-safe version.
Soap & cleaning supplies
Dr. Bronner's soap is always in our van. It's a multipurpose wonder for washing dishes, the van, you, the dog–whatever. An added plus is that it is environmentally friendly.
When you don't have the ability to shower, Klean Freak antibacterial body wipes come to the rescue. They are biodegradable and alcohol-free. We also use them for pup wipe-downs.
Water and drinking containers
In the beverage category, we like Dometic water jugs, coffee cups, and camp cups. They are super durable and are designed to serve a variety of purposes. We also have some by Yeti and Klean Kanteen. You can't go wrong with any of these hard-working vessels.
The water tanks that come with the Vandoit adventure van water system are BPA-free, so they are safe for drinking water. However, due to temperature control, we prefer to store drinking water in stainless steel containers.
Typically, we carry ten gallons of drinking water in the Dometic containers and six gallons of water in the Vandoit water system tank for the kitchen sink and showering.
Grab-and-go food options
For food, we keep protein bars, protein powder, and coffee in our air-tight containers, as they are a low-prep no-brainer. My personal favorites are RX Bars because I like the ingredients, and Shakeology because it blends well in a shaker cup, so you don't need a blender.
For coffee, I like to find a local blend when we travel, so that is always up for grabs. All of these food options store perfectly in the hanging cabinet storage containers Vandoit offers.
Having these items in our Vandoit at all times allows us to focus on other aspects of the adventure. That's the point of having an adventure van, right? Knowing we are covered with some of the essentials has saved us lots of time and frustration and made our trips even more enjoyable. We want your packing experience to be just as easy and hassle-free!