Frequently Asked Questions
WINDOWS = Natural light and viewing!
So many adventure vans don't have adequate windows. 100% of our focus group, consisting of travelers and outdoor enthusiasts told us they like the option of natural light and the ability for their passengers to see nature while traveling!
Since our custom vans are modular and allow for a kitchen pod, passenger seating, all your gear, or some setup in between, everyone can see outside and avoid claustrophobia, without losing options!
Want privacy and storage space in the window area? Great! Utilize our removable thermal window covers with window cavity storage space!
By keeping the windows, you also get the safety of side curtain airbags where the passengers are!
Without adequate window space, the options for plenty of natural sunlight and more viewing points are just not there. Windows give you those options– options are good!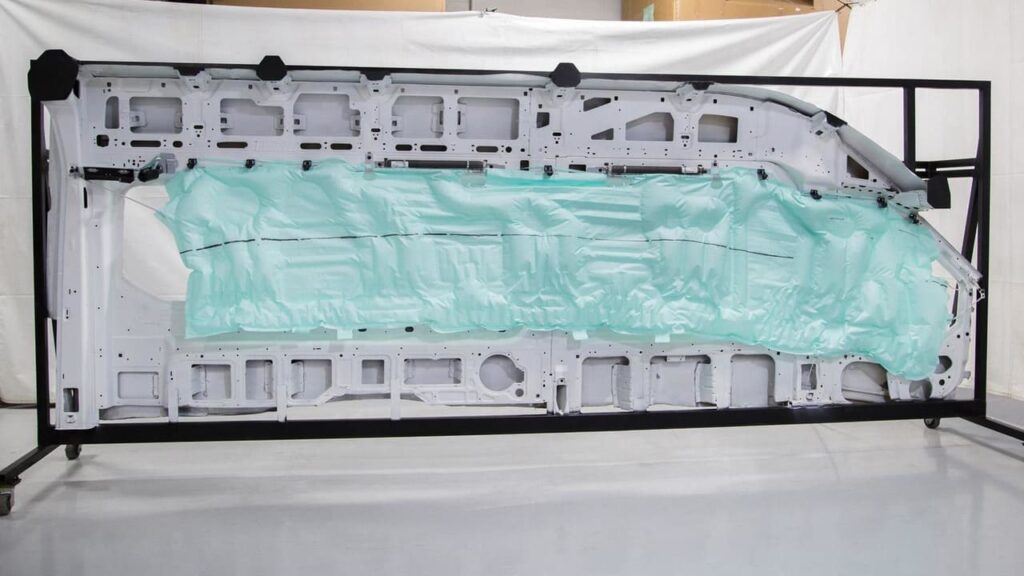 All Transit Passenger Vans come standard with driver and passenger front and side airbags. Transit Passenger Vans include a Safety Canopy System with a full-length, side-curtain airbag. Our design is set up to allow all of the airbags to work correctly.
The passenger vans also include factory, Department of Transportation, approved seating. 
One major benefit of building on a passenger van is the factory rear heating and cooling that are in the van. This gives you the option of turning on your vehicle to heat or cool the van.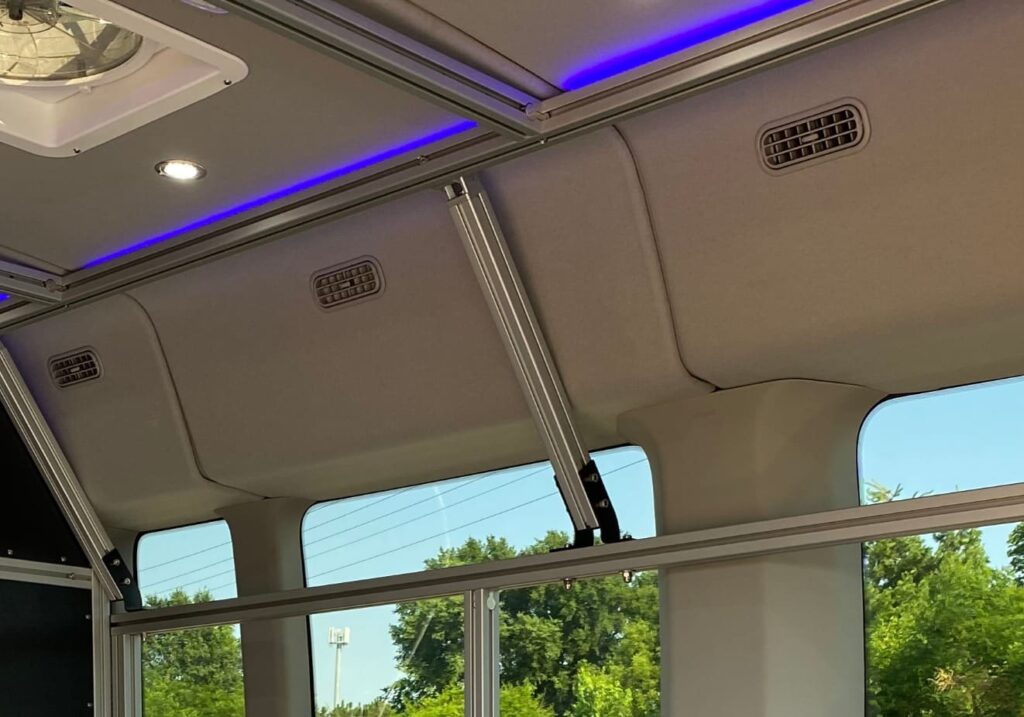 Our production run for a Vandoit conversion is currently set up for the Ford Transit passenger van.
We choose the Ford Transit for several reasons including dealership warranty and availability, affordable maintenance and repair costs, quality, van availability and affordability. We own and lease all models, but we have a huge level of trust in the Transit because we have leased hundreds of them since they began building them and they have performed so well. People love them. They drive like a high quality car.
Watch the video below to hear from Vandoit CEO Brent Kline about why he chose the Ford Transit.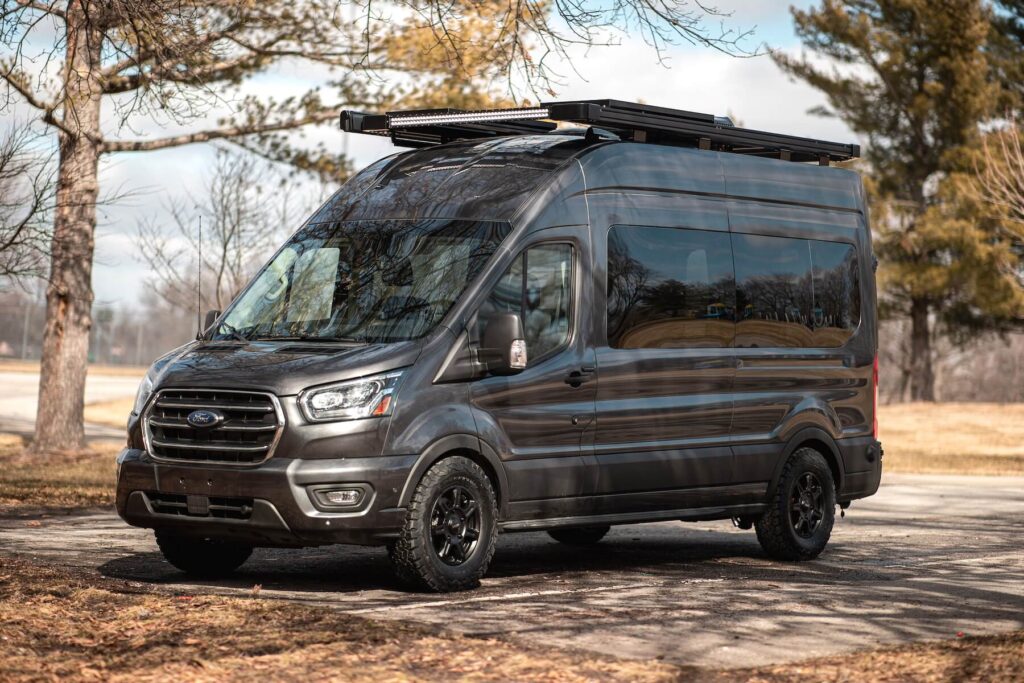 More Frequently Asked Questions
Where does the gray water go?​
The gray water goes into a removable tank. This tank is typically stored in the bottom drawer of the Removable Kitchen Pod. 
Can I get a hot shower for my Vandoit?
Yes, we have 2 shower set ups. Currently our water supply and water pump is at the back of the van for a shower from the exterior utilizing a mat and shower stall. The other shower is called the Evershower, which can be used inside or outside the van.
How does what Vandoit adds affect the factory warranty?
The factory warranty stays in full force. Ford employs the best engineers and run the components through a plethora of safety and durability tests. We don't compromise the integrity of Ford's safety and engineering but rather compliment them. Our vans have the side curtain air bags and Ford safety tested seats. Unlike a class B motorhome, which would start with a stripped van and then add in components, we did not structurally or mechanically modify the van so our conversion has no impact on the manufacturers warranty– which is an advantage over most DIY or competitor's vans.
Can I get financing for my Vandoit?
Yes, at Vandoit you are able to obtain financing for your custom van. We have competitive financing available through our automotive group division. We also offer RV financing, which would allow you to finance for up to 15 years.
Do you offer a van with a diesel engine?​
No. Ford no longer offers a diesel engine on the Transit. You may occasionally see a pre-owned Vandoit van with a diesel engine. However, it is no longer an option to order.
Can I haul motorcycles, four wheelers or other toys?
Yes, the gear slide can hold approximately 750 pounds. A ramp would be required for loading of most powersport toys. Upon request, vandoit would provide an area for the ramp to hook into if needed. The flooring is commercial and designed to handle about any type of spill. Also, the extended length DO package offers a larger gear slide and space for these type of things.
Did you design the custom fittings?
Yes, our engineering and design team designs and assembles 100% of the non-electronic conversion components. Most of the van components are exclusive and proprietary to vandoit. With regards to our solar system, we utilized top shelf equipment providers and configured how the system works. We have true off-grid smart solar with capabilities well above the typical solar system. With audio and video, we utilize equipment from very high-end, trusted suppliers like JL Audio and Samsung Video.    
Do You Offer Pop Up Tops?
We do not. We offer a high roof van which allows 6'4 standing height inside the van. We also offer a mid roof which allows 5'7 standing height inside. We also offer a roof-top tent which you enter from outside the van.
​What is Vandoit's warranty?
Vandoit gets our components and products from top shelf suppliers who have support in addition to vandoit customer service support. These products carry their own warranty and vandoit follows their warranty with regard to needed labor. The warranty of the actual build follows the warranty of the actual van. The Ford warranty is a 3 year or 36,000 mile warranty for the van, so the vandoit build warranty follows the same structure.
Can I run heat and AC off of my Vandoit?
Yes! However this depends on which power system your van has installed, and which A/C option. The length of time it can do so will also depend on the power system, and environmental factors. If your van has an AGM battery system, or 200 amp hour lithium system, you would need shore power to run the A/C. With 400 amp hours of Lithium you can run the DC powered A/C for an average of 12 hours on a single charge. The furnace utilizes the vehicle's gasoline. *Remember, it's a passenger van so you also have the van's built-in heating and cooling throughout the van.
​Can I trade you my vehicle, camper, or RV?
Yes, we will actively trade for your vehicle. There are actually many additional items we will take on a trade including boats, motorcycles, ATVs, snowmobiles, etc. Our gurus will collect all the information and pictures for the item being traded in and work with financing to get a value for your trade item.
Can I get an extended length van?
We can utilize the extended length van for the DO package only. The extended length van has the same wheelbase as the long chassis. The wheelbase is 148″. Due to the wheelbase being the same, maneuverability and turn radius stay similar to that of the long chassis. Additionally, the extended length chassis is equipped with dually wheels in the rear to offer more stability and a smoother drive than the long chassis offers.
Can I get a kitchen, sink, microwave, cooktop, refrigerator, etc?
Yes, we offer three different size Dometic fridges. As of now we offer cooler accessible fridges for increased electric efficiencies, lower condensation, and more storage – occupied space ratio. Due to different clients wanting different size, wattage, and brand burners, microwaves, or other kitchen appliances vandoit does not offer these accessories. It is up to the client to shop for these accessories. However, vandoit  equips the vans with the electric capacity to run these items."
How did Vandoit get started?
Vandoit is a brand owned by Kline Van and Specialty Rental which evolved from Kline Motors, started by Woodrow Wilson Kline (Woody) in 1947 selling the brand of Kaiser Frazier. Vans and RVs have always been a part of the Kline Companies. Kline Van has up-fitted passenger vans for companies for years. Check out the page "It's A Family Thing" to learn more about how vandoit started building custom adventure vans.
What do you mean by "modular"?
Meaning components can be added and removed as needed. This also leads to the term "convertible" as in convertible between an adventure van and family/passenger van. Almost all of the components (beds, kitchen pod, water tanks, portable hot water, etc.) in our custom van builds can be moved, converted, removed and reinstalled.
What if I like a van you have but don't like the color?
We can change the color to whatever you want! We have partnered with graphic artists and a graphic wrap company so that we can assist our customers with making the van look exactly the way they want it to. Check out examples of our custom wraps here!
Do people use Vandoit for their business?
YES! We have van owners that use their van as delivery vehicles, mobile offices, showcases at trade shows and farmers markets, and many more. We also have a commercial department that builds custom vans for a growing number of applications. Check out some examples of both commercial and small-business applications here: http://vandoitcommercial.com/
Where does the gray water go?
Gray water tank. This tank is typically held in the bottom drawer on the kitchen pod.
Yes. Check it out here: https://vandoit.com/the-vandoit-van/components/removable-toilet/
Can I take a shower inside? ​
Yes! We are the exclusive North American distributor of the Evershower. This shower can be used either inside or outside the van.
Can I get doors on the cabinets?
We typically zigzag bungee cables across the front of the cabinets. This allows a person to reach in and grab their gear easily without having to open a door and also help limit rattle that typically happens when there is a door on the cabinet.
We do not provide a WiFi system. However, with our power system you can run many different hotspot or satellite solutions. We can often install a WeBoost, Starlink, or similar setup for you if you provide it.
How many gallons of water does the tank hold?
The sky is the limit really. One tank holds 6 gallons of water conveniently and inconspicuously placed within a rear storage cabinet. However, because our water system is modular, additional tanks of water can be stored in our rear storage cabinets and be easily hooked up to our water pump to replace an empty tank. ​
Is there a rack for bike wheels?
Yes, a customer can utilize our customizable track system like an erector set to create whatever wheel transporting system they desire. We currently use cargo nets, hooks, racks etc. to hold wheels. ​
How long will the batteries stay charged without being plugged in?
The answer to this question will not fit on a single webpage. This depends on which of our power systems you use, what you're using, where you're using it, etc. We have solutions that can power an off-grid life for days at a time, and some that are good for just an overnight. Your guru can help answer this for you.
How can I have a work station for my computer?
Yes! We can provide a full mobile office, or something as simple as a table for your laptop.
What wheels and tires does it come with?
We offer Ultra Toil Rims with stock tires or BF Goodrich KO2 all-terrain​ tires. ​
Yes we have competitive financing available through our automotive group division. ​
How wide is it in back between the shelves of the LIV package?
How many will it seat / what are the configurations?
Up to 8 people. Check out the seating options here: https://vandoit.com/the-vandoit-van/components/removable-seats/
Can you do captain's chairs?
We use the Ford Factory seating options. By sticking with their options, we can offer the same level of saftey for which the van was designed.
Yes! The rear windows are tinted by Ford. We offer an option to tint the front windows or windshield as well. Plus, you can add perforated vinyl to the rear windows for added security and light blocking. Additionally, we offer thermal curtains that attach to each window.
Can you build on a used van?
We currently only build on new vans, which we provide. We order our vans direct from Ford to the spec we require. We also get you the best price on the van chassis with our fleet order discount.
Vandoit uses the Ford Transit. We offer medium roof, high roof, long, and extended length all with the 148″ wheelbase.
What do you do for insulation?
Another advantage to using the passenger van, Ford has already done some of the work for us. Utilizing the insulation they have installed and the insulating air gaps created inside the side panels and ceiling headliner we can benefit from the years of engineering from Ford.
Then, we add our foil-lined foam which is used in the aerospace industry. We chose this foam because it is lightweight, moisture resistant, and therefore mold resistant.
Many van builders will use products that can hold moisture and odors. Picture walking into an old trailer with that moldy-musty smell. We can avoid that! You're taking your van to potentially all types of climates. You want something that will resist moisture and humidity. Humans (and pets) can get quite stinky! Our insulation won't hold odors.