NEMBA (New England Mountain Bike Association) is a community of mountain bikers. They create epic riding experiences, preserve open space, and guide the future of mountain biking in New England.
Thirty-one chapters comprise NEMBA throughout New England. There are over 7,000 members. Its mission is to promote the best mountain biking offers, steward the trail system, and recreate and preserve open space.  
NEMBA began in the late 80s when political groups wanted to ban mounting biking in Middlesex Fells Reservation and Blue Hills. As a result, there would not be any space for mountain biking in the region without these two locations.
A public meeting was held, which would decide the fate of these areas.  At that event, NEMBA could trace its roots due to the actions of Heidi Davis. Heidi and her friends attended the meeting, where she got up to speak, representing the New England Mountain Bike Association (which didn't yet exist).  
After she spoke, several people wanted to join, and NEMBA was born. Davis's one courageous action made a lasting difference.
NEMBAfest 2022
NEMBAfest took place in Carrabassett Valley, Maine, on August 5-7, 2022. NEMBAfest is NEMBA's largest annual fundraiser for all ages. It's a giant 3-day party with lots of riding, clinics, music, movies, food, and beer.
It's only fitting that this year's NEMBAfest held the first ever Women's Summit. The summit's purpose is to encourage women to ride and provide a community of support and skill instruction.  
The Summit featured guest speaker Kristin Motely, an endurance racer for Bicycle Express Racing. You can find her on Instagram and at https://www.rootedvermont.com.
NEMBAfest offered everything a mountain biker could hope for. It included guided rides, skills clinics, entertainment each evening, and plenty of vendors, food, and beer to enjoy.  
This year's NEMBAfest hosted the premier of Esperanto, which celebrated the universal language mountain biking has created across so many cultures.
2022 was the first year back for NEMBAfest after the COVID pandemic began and its first year at a new location. They held the event near Sugarloaf Mountain Ski Resort and drew over 1,300 participants.  
Overnight campers set up camp here and had the option to ride a couple of miles down the road to the event or take advantage of the shuttle service. On-site amenities included several restaurants, a golf course, an anti-gravity complex, and also live music Friday and Saturday nights.
The skills clinics and group rides were the event's big draws. These sold out well before the event, much to the disappointment of many.  
Luckily, Vandoit was fortunate to be located at the ride and clinic site.  
It was awe-inspiring to watch the jumping clinic, for instance, and witness the progression of riders' jump heights in such a short time. Volunteers subsequently ran these clinics, and their professionalism and enthusiasm were very impressive.  
Vandoit Sponsors NEMBAfest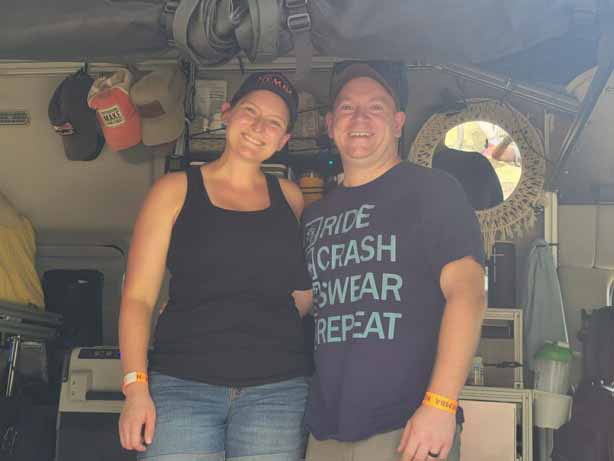 Vandoit was a vendor sponsor, so we provided a financial donation and items for the gift bags.
We loved that several current owners and soon-to-be-owners stopped by the van to say hello. Although, Vandoit was not known to everyone and many were intrigued. They just had to stop by when they saw the sticker in the gift bag.
The most common response to seeing a Vandoit for the first time was, "this is wicked!"
We were the only van company at this event, showcasing a 2021 high roof LIV model with numerous features, including Backwoods Bumpers, QLift, KO2 tires, Mastervolt Lithium Ion batteries, and DC powered air conditioner, to name a few.
Sponsors for NEMBAfest included LL Bean, Pedros (thank you for the bike wash station!), REI Coop, Spot Insurance, Acorn Engineering and Carrabassett Coffee Company (great cold brew!). Vendor sponsor donations came from Vandoit, Bull Moose, Kuat, Wicked Girl Adaptive Sports Partners, and many more.
Vendor sponsors were also very generous with donations for the raffle items. As a result, many people won raffles. Proceeds are funding NEMBA's Signature Trail Grant program to forward its mission of Trail Advocacy & Community.  
Come see my Vandoit and me at another upcoming bike race or trade show!