Rigid MOLLE Panels are designed to take the jumble of equipment you use and keep everything organized and within easy reach.
We all have the potential to suffer from a squierrles nest of gear clumping into a tangled pile.
With the ability to interface any of your MOLLE compatible gear with the Rigid MOLLE Panel, your customization options for your adventure are endless.
Hangs from Ceiling Cargo Rails
Can be slid and removed with ease
Three fit down each side of van in LIV
Two fit down each side in the DO
Hanging Cabinet Storage Container
Clear, airtight, food grade plastic containers keep smaller items well organized, easy to find, and safely stowed.
*Container design and material may vary.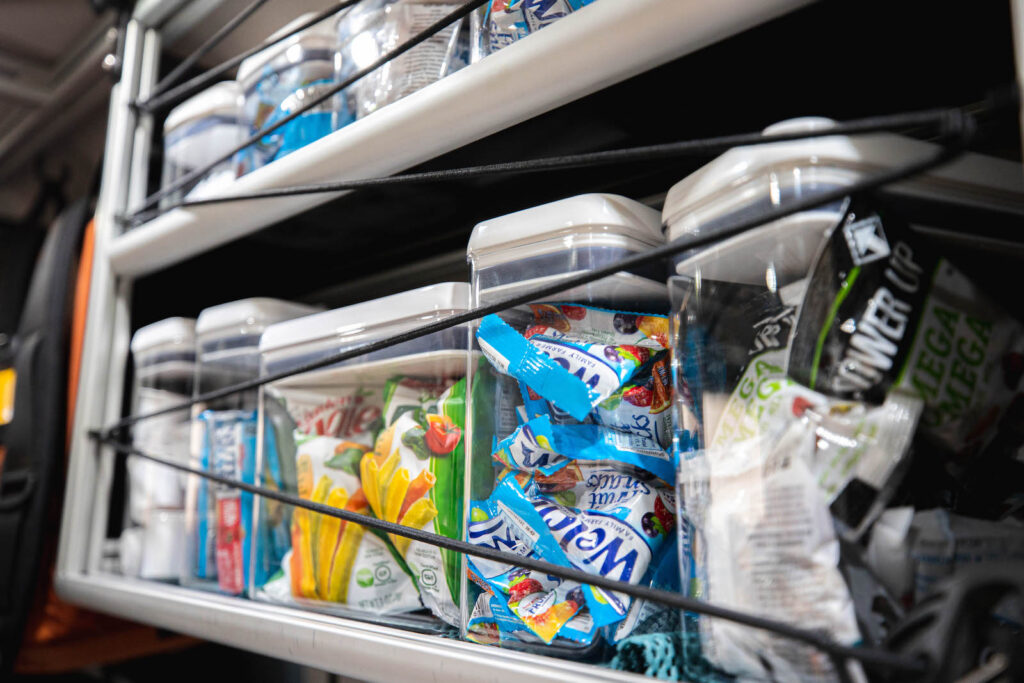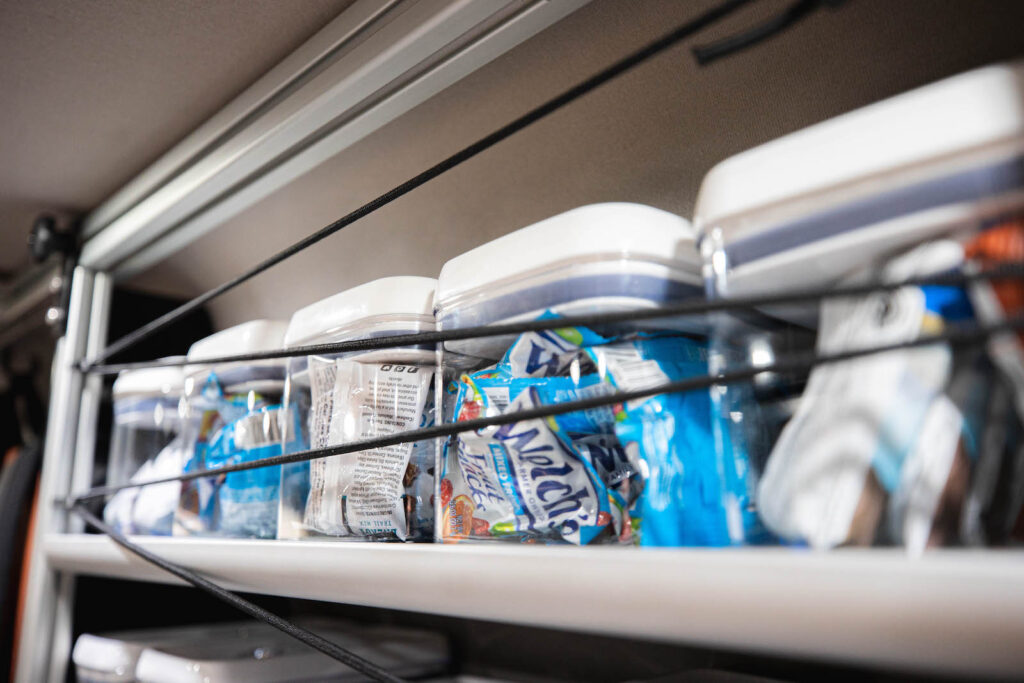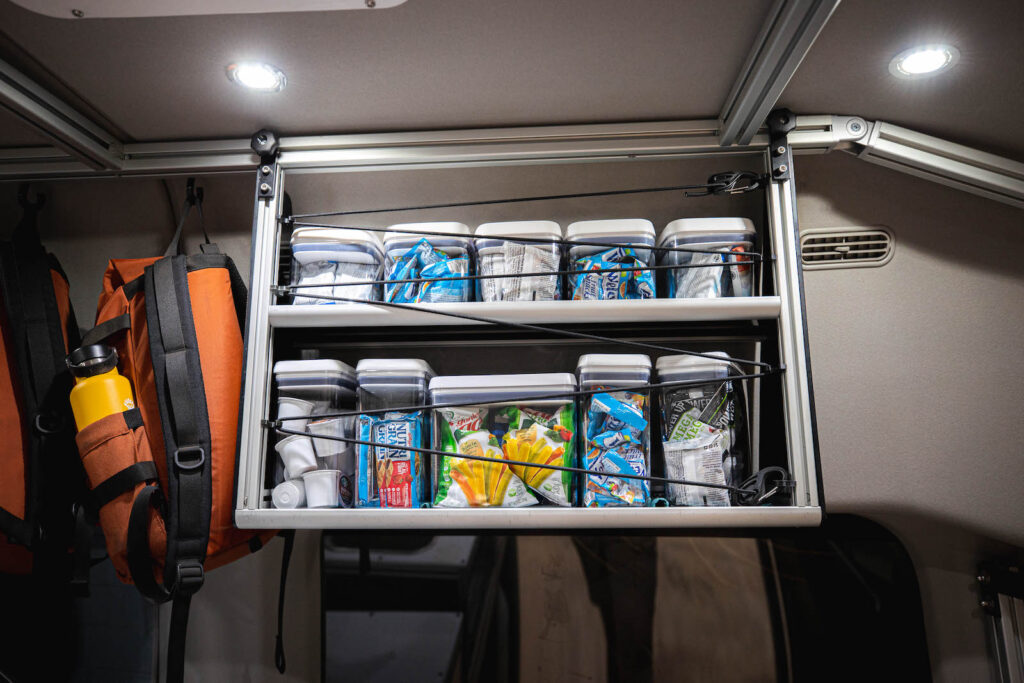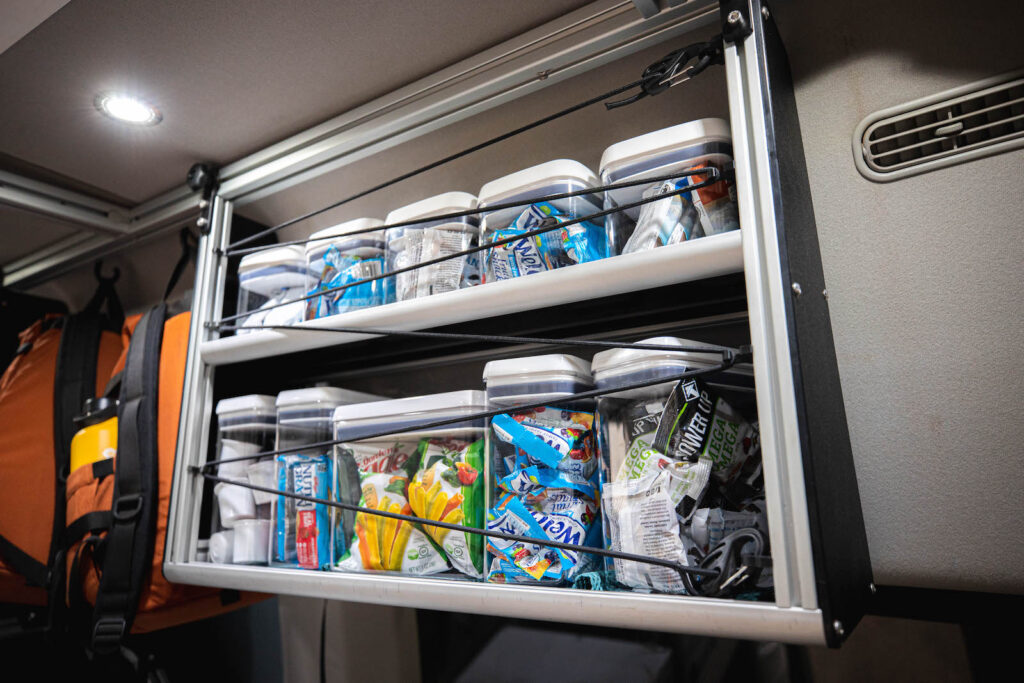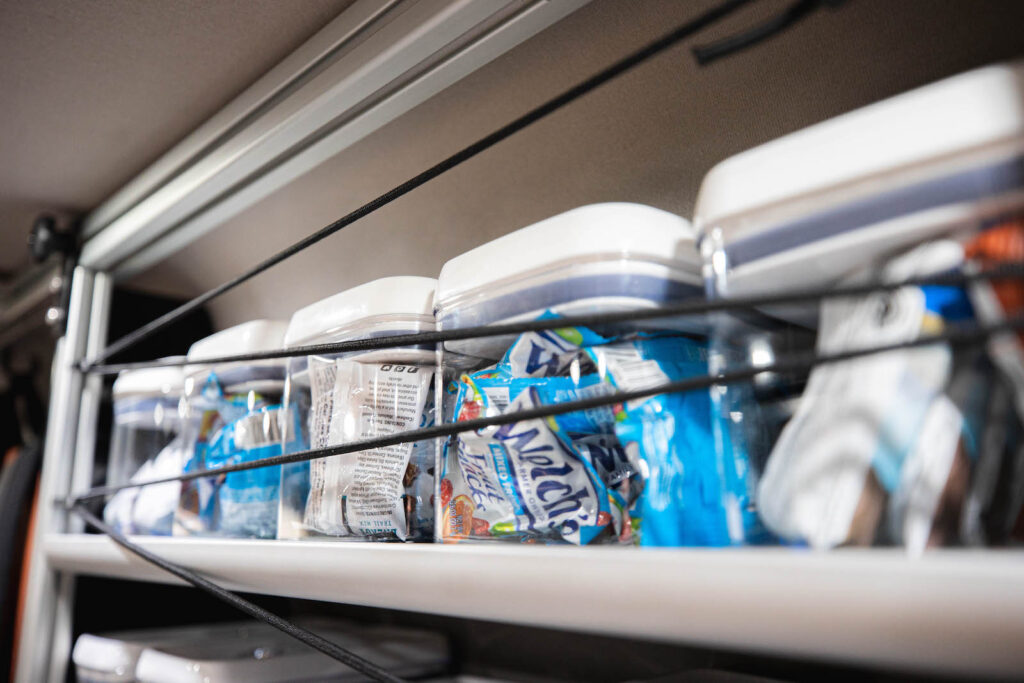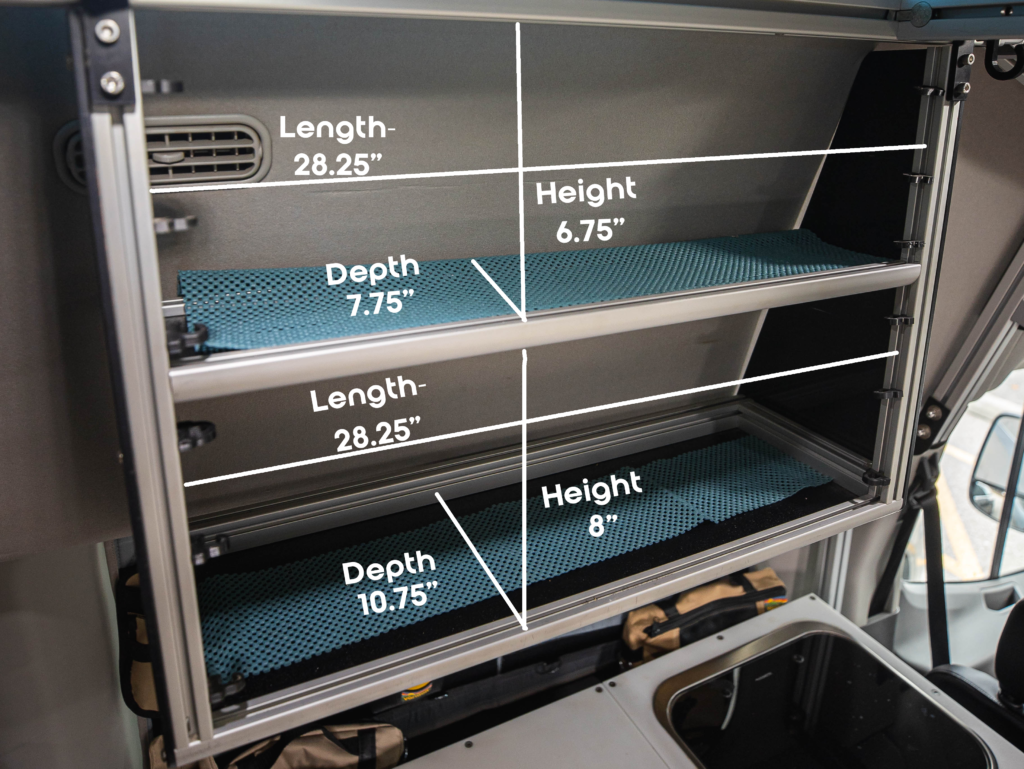 Hanging Cabinet With Shelf
Hangs from Ceiling Cargo Rails. Can be slide, removed with ease. 3 fit down each side of van. 
*Available in highroof only.
Storage Bulk Head – Fabric (partition)
A fabric wall that partitions the front driver and passenger seating from the rear of the van.
Has a built in doorway that is magnetic as well as a reinforced zipper
Attached to the framing of the van with the turn buckles or drop-in attachments for easy removal
Aftermarket overhead shelf that is installed over head of the driver and passenger. Additional storage and handles for ease of getting in and our of the vehicle.
*High roof option only
Storage Tower (DO option only)
Storage tower gives you floor to ceiling storage.
Ties into the side of the power tower and continues towards the front of the vehicle.
Also used to house Lithium batteries for the DO model.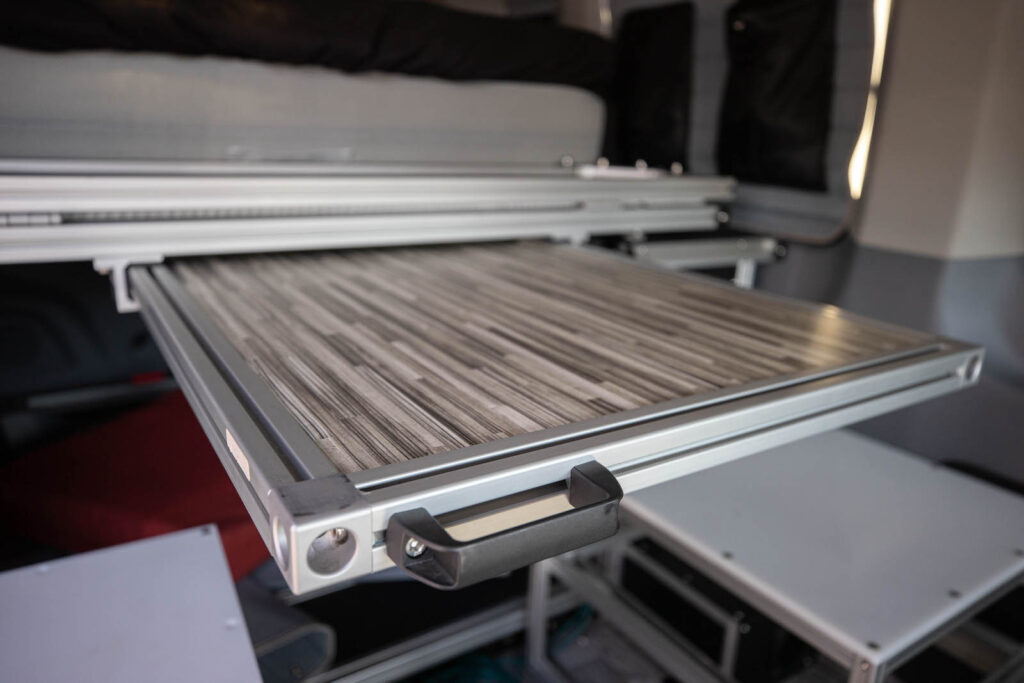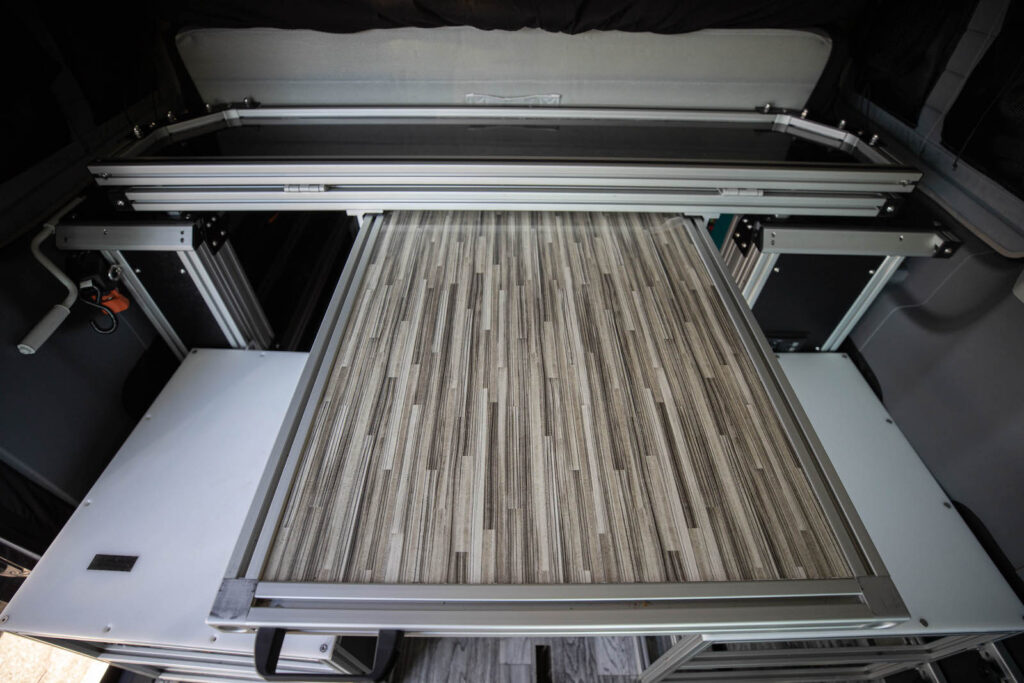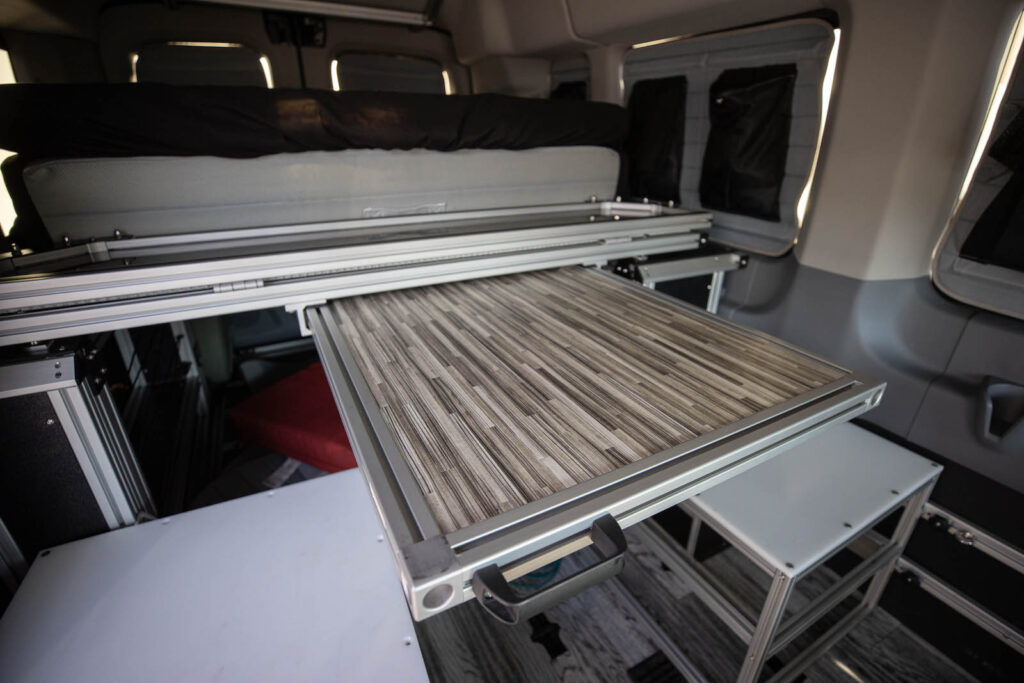 This sturdy table creates additional food prep or work space and stows completely underneath the bed when not in use. The table's extrusion frame creates additional mounting points for attaching items.
*Bench not included
*Cushions not included for bench
*When storing bikes and other tall items inside, bed will need to be raised approximately 2 inches higher with table
*Recommended to combine 4 single tops to create benches with table
*When using bench seats, bed must be raised to clear seats.
*Cannot be combined with Under Bed Bin Storage
 Three plastic storage bins, suspended underneath the bed, easily slide in and out for quick access, or suspend two bins and one 29″ bike wheel.
*Under Bed Bin Storage may hinder the storage of bikes and other large items inside the van; vertical height from gear slide to bottom of storage bins is approximately 40 in max
*Sliding bins out towards the front of the van requires that no bench seats are installed
*Includes bin dividers
*Cannot be combined with Under Bed Pull-Out Table