If you've taken a trip in a campervan, then you know one of the keys to a successful journey–and successful relationships with road trip buddies–is storage.
There's nothing worse than waking up in the middle of the night and needing that one small item buried at the bottom of a bag. Where is the bag? And where is my flashlight so I can search for that bag?
If you've been around Vandoit long enough, you've picked up on the fact that the signature feature of our design is modularity.
*editor's note: Modular: MAAH | ju | ler, adj. constructed with standardized units or dimensions for flexibility and variety in use
A modular design can make storage flexible and a breeze. Forget backpacks or duffel bags. Vandoit provides camper van storage options that keep your necessities at your fingertips.
Vandoit Galley And Storage Modules
One of the perks of working at a campervan company is that I get to borrow one occasionally.  On our most recent mountain bike race trip, my husband and I got to try out a LIV camper van. The van had Vandoit's new Galley & Storage Modules configured like this: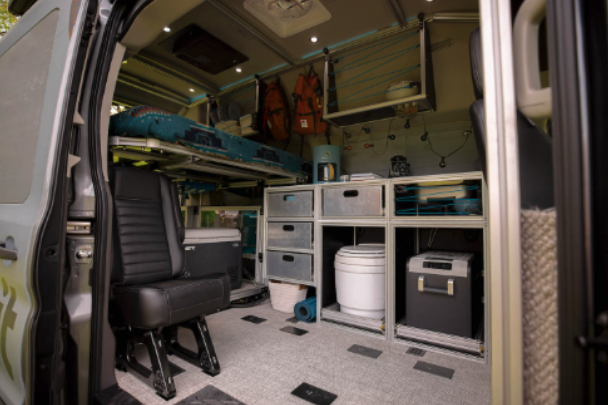 Two Slide-Out Storage Cabinets were perfect for storing the Dometic powered cooler and Dry Flush toilet out of the way.  
The four metal drawers made it easy to keep everything we'd typically have stuffed in bags. One drawer for my husband, one for me. Another drawer for the dog's supplies and first aid kit, and one for kitchen utensils and our Jetboil.
With a Single Sink Module on the top right of the configuration, we had continuous counter space on the top of the three modules. It made prepping meals easier than finding a spot in the van to set things down.
At night, turning the counter space into tooth-brushing and face-washing stations before bed was super simple. And clean-up of everything took no time since the module tops are food-grade cutting board material.
(This isn't the only module configuration, though–check out this web page for plenty more setups!)
Hanging Cabinet and Shelves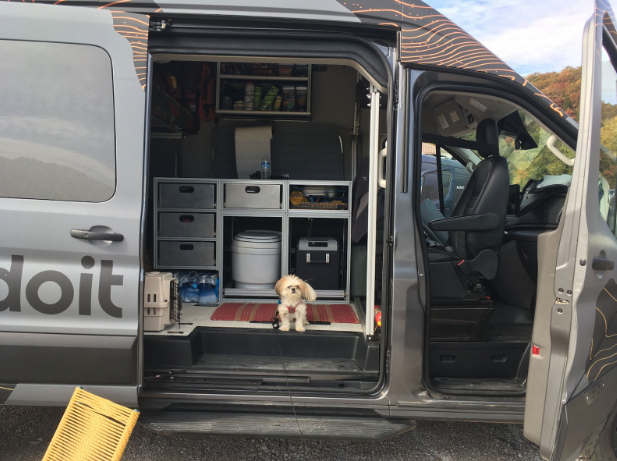 The Galley & Kitchen Module setup was a big game-changer for us. Also, having the hanging cabinet with a shelf just above the modules completed the kitchen setup.  
We put biking water bottles on the bottom shelf with energy drink packets, jerky, nuts, and granola bars for my husband's biking fuel. The top shelf was for coffee, camping meals, and mugs.
Having all our food and drink items hanging above the galley setup made meal prepping much smoother. No more digging through bags and boxes to find that all-crucial bag of sugar to sweeten my coffee in the morning!
And while we were driving, bungees across the front of the cabinet kept everything safely in place.
The Vandoit Gear Slide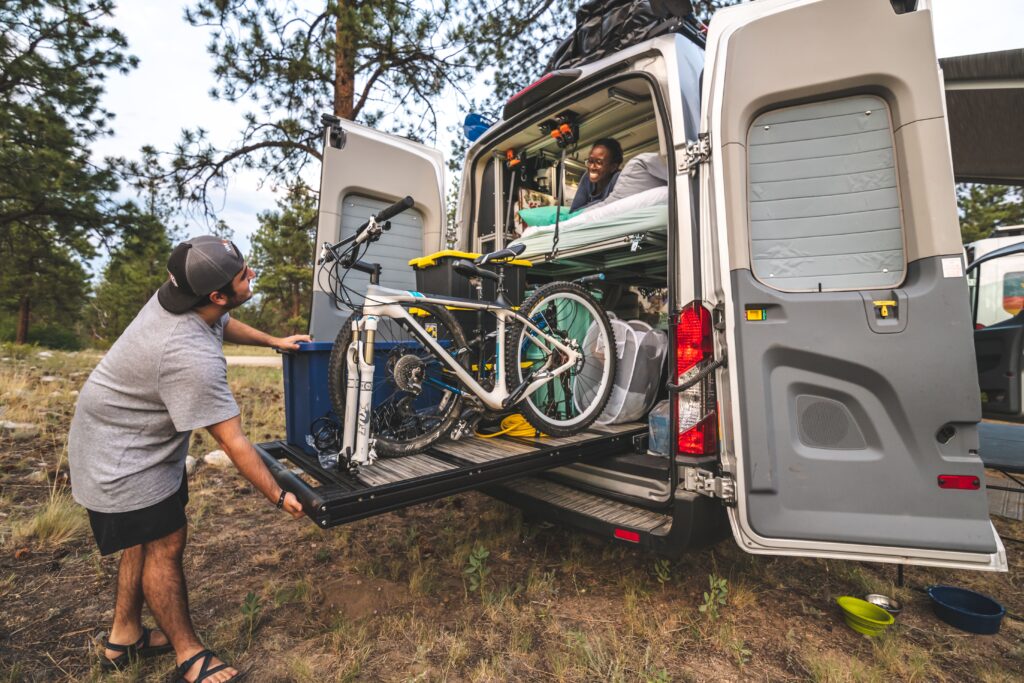 The Gear Slide is by far my favorite Vandoit feature.  This cargo platform slides in and out of the back of the van. This makes it easy to secure, access, and remove all those large but essential items.  
It holds up to 750 pounds of cargo. We've used it to store our tandem bike, my husband's mountain bike, a toolbox, cases of water bottles, and a few other odds and ends on a trip to Bentonville, Arkansas.  
The extruded aluminum track, metal eyelets, and bungee cords made it simple to tie everything down–and remove everything quickly.
A more petite person like me could easily slide the platform in and out to reach everything. I've even used a gear slide to transport ⅔ of a pallet of water bottles to a charity biking event!  
Vandoit equips the LIV with lights in the cargo area to make it easier to find supplies on the Gear Slide at night.
Front Bulk Head Storage Shelf
I've lost track of how many items I kept on this shelf. Vandoit installs this above the driver and front passenger's seats. Shoes, hats, electronics, books, snacks–you name it, I've tossed it there!  
It's the perfect place to put those items you don't want to forget to grab on your way out for a day of adventure.
Molle Panels
Continuing the modular theme, MOLLE (modular lightweight load-carrying equipment) panels are perfect for strapping small bags or clipping items using carabiners. The panels mount on the walls or the camper van's ceiling. This ensures the stored items are out of the way but easy to reach when needed.
I liked having a MOLLE panel mounted on the ceiling above the bed. It makes nighttime items like my flashlight, glasses, and phone easy to find.
Thermal Curtains with Pockets
Vandoit's thermal curtains regulate the van's internal temperature and provide privacy, and the set with mesh pockets adds a ton of storage space.
I put our dog's leash and supplies in the pocket just behind the slider door, so those items were easy to grab when on our way out. I used the pockets on the curtains above the kitchen area as extra food item storage options. And the pockets on the rear doors were perfect for bike helmets and other bike gear.
Vandoit Under-Bed Bin Storage
The under-bed bins are a new storage option from Vandoit. The system great for organizing smaller items you want to keep track of in the van's garage, like tools, shoes, or even clothing items.  
Three large plastic storage bins are suspended on a track underneath the bed and slide out the back or the front of the bed for access. You also have the option to swap out one bin to suspend a 26-inch bike wheel there instead.  
I liked this storage system's use of space. It's worth mentioning that having the bins under the bed created a height limitation. I had to raise the bed reasonably high to allow enough space for the containers and tall items like bikes, or you'll need to lay them on their side.
Ratcheting Paper Towel Holder
This item might not sound like it qualifies as a storage option, and you're probably wondering why the paper towel holder is a ratcheting one. First, I can't tell you how often I've spilled something in a van and needed a paper towel in a pinch.  
Vandoit mounts the paper towel holder on the ceiling just behind the driver's seat. It was within easy reach of the kitchen area but didn't take up counter space.  
Secondly, if any wind blew through the van and your paper towel roll was not on a ratcheting holder, I got a long banner of paper towels flying out the door. The ratcheting paper towel holder Vandoit offers keeps the roll from unraveling. It's a minor, simple feature that made a big difference.
But wait…that's not all!
This certainly isn't a complete list of Vandoit's storage options. These eight are some of my favorites, and I haven't even touched on the exterior storage options like the Aluminess Deluxe Box or 1Up Double Bike Rack.
If you're ready to dive deeper into the world of campervan storage, check out these web pages:
Vandoit Storage Accessories
Vandoit Galley & Storage Modules
Vandoit Organization Accessories