At Vandoit, our mission is clear: to provide every adventurous soul with a modular vehicle that unlocks the ability to experience life to its fullest. A life where you're free to work, travel, and play without compromise.
Not Just Any Vehicle
Our campervans are not just vehicles; they are your home on the road, built to withstand the rigors of adventure while offering the flexibility you need. We achieve this by carefully selecting and integrating a range of top-quality materials into our campervan designs. By utilizing durable products such as high grade aluminum, bolts, vinyl flooring, and other marine-grade materials–while at the same time maintaining the quality of assembly with a 400+ point checklist–we ensure your van will have fewer malfunctions and increased quality. Here are the 7 best materials we use to ensure your van is built to last.
1. HDPE (High Density Polyethylene)
High density polyethylene is a thermoplastic polymer manufactured in sheets. We use HDPE to create rugged cabinetry, drawers, and storage compartments. This material is not only lightweight but also highly resistant to chemicals, making it perfect for withstanding the challenges of life on the road. It is used for cutting boards, counter tops, and shelves in our vans.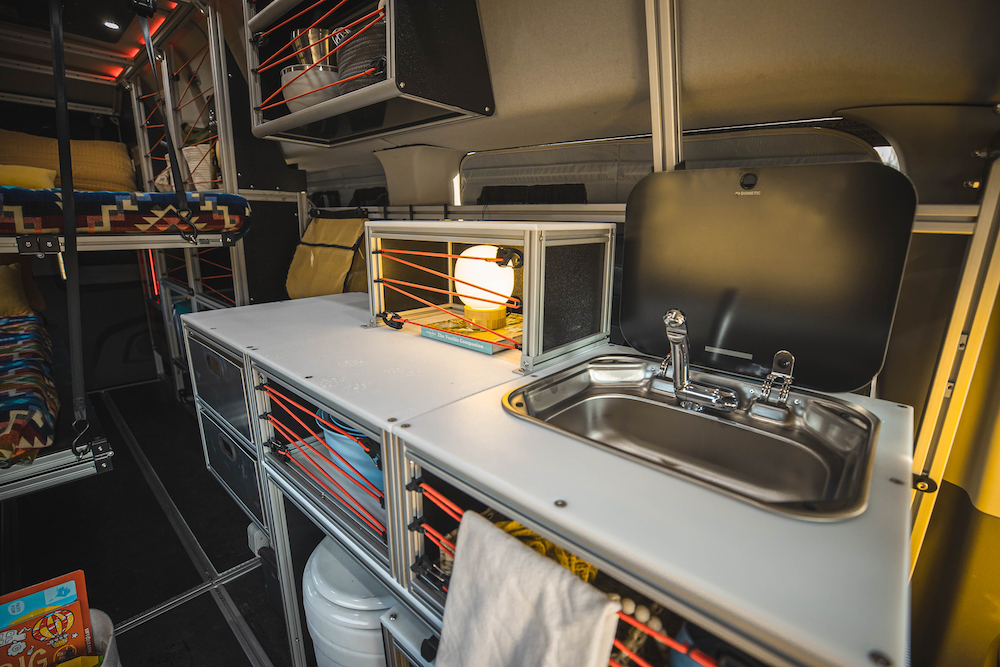 2. Polycarbonate
Polycarbonate is a transparent polymer that is manufactured in sheets and can also be molded or thermoformed. Some common brands are Lexan and Plexiglass. It has a high level of impact resistance and can be clear or tinted. This allows us to cover the electrical components in our power boxes while still being able to see inside, which is helpful for monitoring or troubleshooting your electrical system. These panels provide a protective barrier, shielding sensitive electronics from dust, moisture, and potential damage.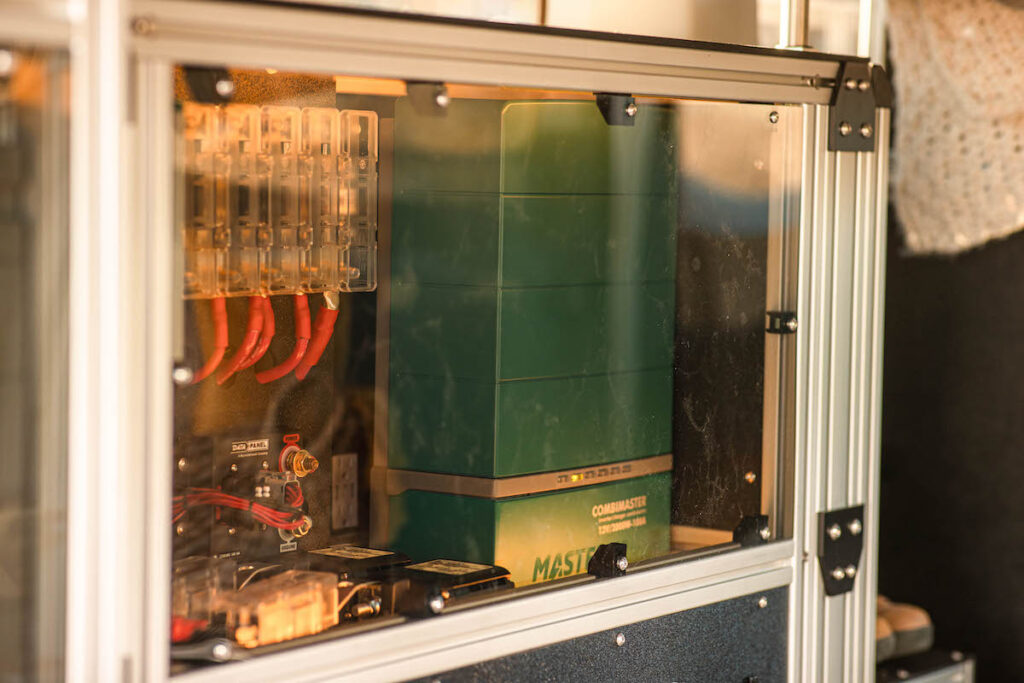 3. Aluminum Extrusion
The backbone of your campervan's structure lies within the aluminum extrusion frame. This material allows us to create versatile and adjustable structures that can be easily customized to meet your specific needs. From installing shelves to creating storage solutions, aluminum extrusion provides the framework for a truly modular interior.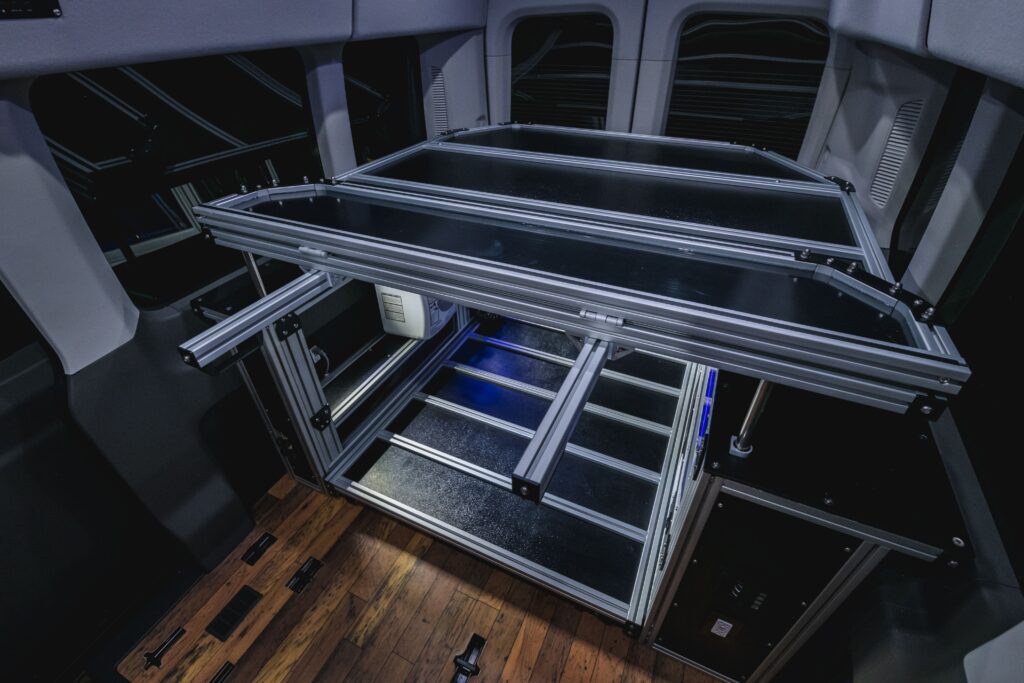 4. ABS (Acrylonitrile Butadiene Styrene)
Acrylonitrile Butadiene Styrene, also known as ABS, is a thermoplastic polymer that comes in different size sheets and thicknesses. It is strong, chemical resistant, and has excellent high- and low-temperature performance. ABS is easily machined, allowing us to use it for many applications in our vans such as cabinet sides and shelves, bed platforms, electrical box covers, mounting plates, and many others.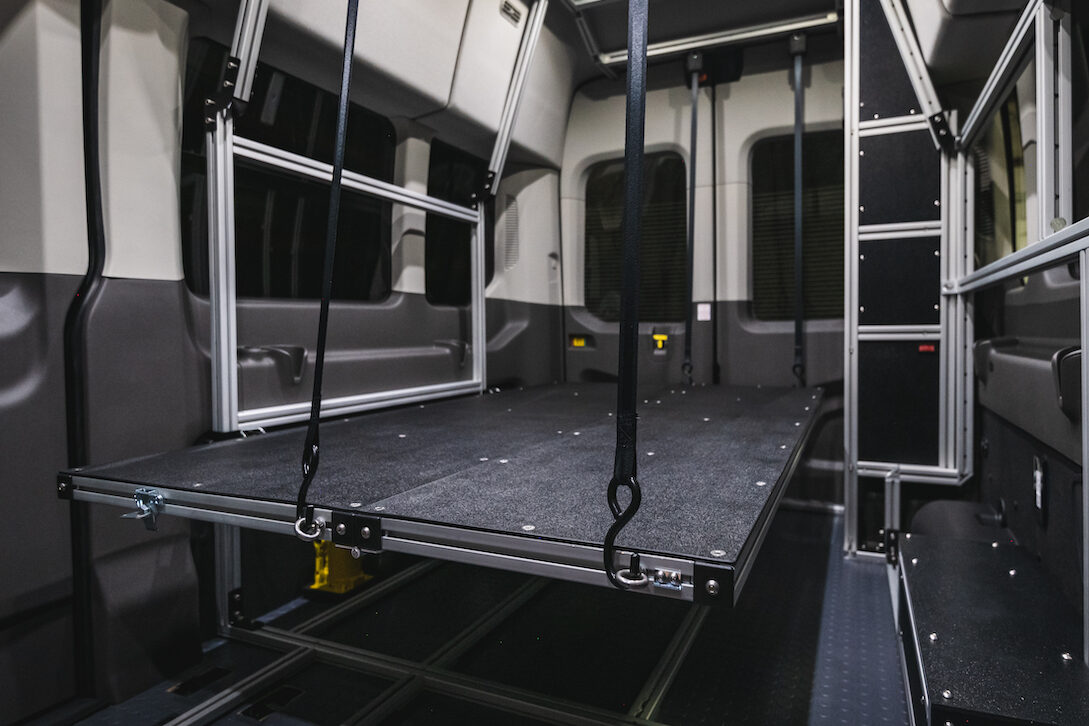 Our flooring is polyvinyl–flat or woven– that is waterproof and resistant to many chemicals, durable, and easy to clean up. It offers a comfortable surface underfoot, making it ideal for both living and adventure spaces within your campervan. We bond it with insulation foam to improve thermal insulation and reduce vibration and road noise.
6. ACM (Aluminum Composite Material)
Aluminum Composite Material (ACM) is a thin aluminum sheet bonded to both sides of a composite core. The resulting panel is fireproof and resistant to weather, water, and chemicals. It is easy to machine and fabricate and is used in many applications in our vans both inside and outside. Our newest show van includes ACM on the rear doors accompanied by our aluminum extrusion for hanging gear. It comes in many different finishes and brings a clean and professional look to our vans.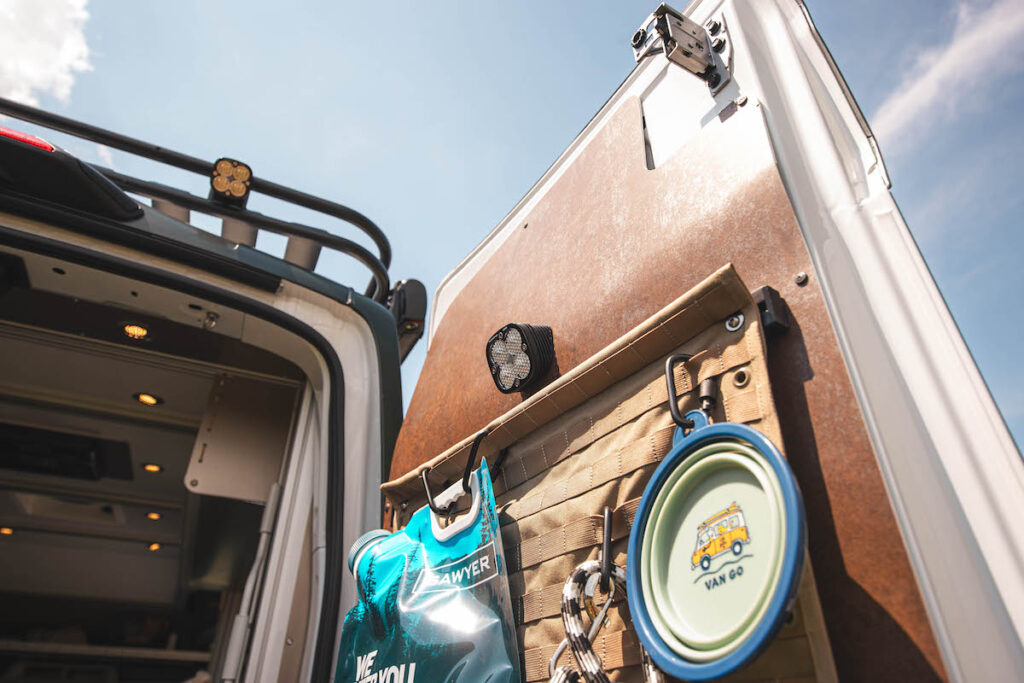 7. Honeycomb Panels
These lightweight panels consist of a honeycomb core sandwiched between durable outer layers. The result is a material that offers a remarkable strength-to-weight ratio. Honeycomb panels are used in various components of our campervans, contributing to their structural integrity and overall durability. Moreover, these panels support the modular design philosophy, allowing for easy customization and layout adjustments to suit your ever-changing needs.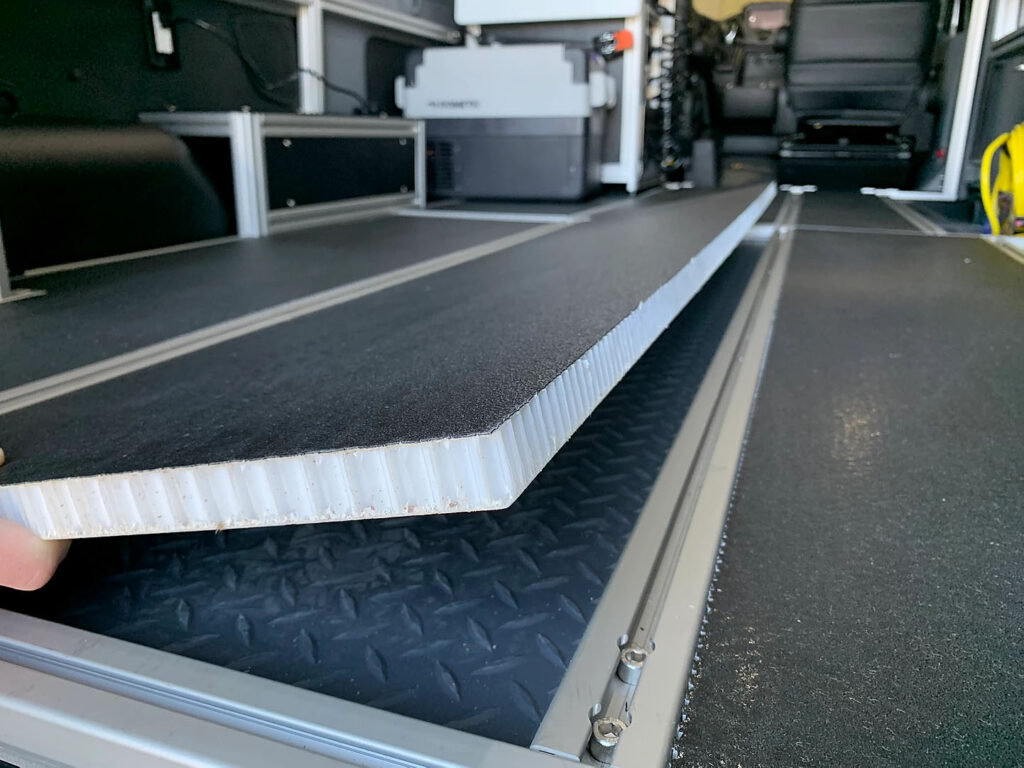 From the day we sent out the very first Vandoit to today, quality has been top priority. Whether you're seeking a mobile office, a weekend getaway, or a home on wheels, these materials come together to create a campervan that adapts to your desires and supports your adventures. At Vandoit, we don't just build campervans; we craft opportunities for you to seize life's moments and make memories that last a lifetime. Experience the freedom to work, travel, and play, all while journeying in a vehicle that's as reliable and dynamic as you are. Your adventure starts here!