When you think of multi-day cycling races, what comes to mind? Yellow jerseys, winding Alpine switchbacks, and the French countryside? Or cornfields, nightly concerts, and roadside dunk tanks?
RAGBRAI can be similar to races like the Tour de France…but distinct differences exist.
The 49th annual RAGBRAI (Register's Annual Great Bicycle Ride Across Iowa) took place July 23-30, 2022. Over seven days, a total of 40,000 cyclists (and a few inline skaters) traveled from Sergeant Bluff to Lansing, Iowa. This number of participants matched pre-covid editions.
Presented by Tipico Sportsbook, this iconic cycling event gives bikers from across the country the chance to experience Iowa from a unique perspective. "There's no better way to see a land and its people than on foot or bike," said bike mechanic and RAGBRAI XLIX participant Brent Borgmeister of Chicago.
The ride winds west to east across Iowa's cornfields and soybean crops, stopping in a small town each night to experience genuine Iowa hospitality. The organizers dedicated this year's ride to John Karras, co-founder of RAGBRAI, who passed away in November 2021.
RAGBRAI is far more than your typical organized bike ride.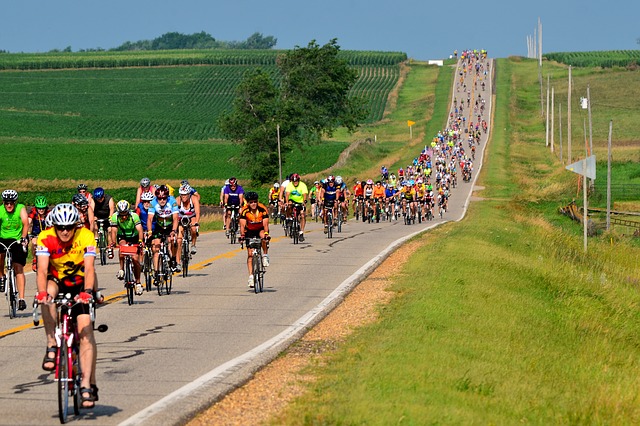 Like the Tour de France, cyclists complete the ride in daily stages. Unlike the famous French race, cyclists frequently stop for beer, homemade pies, and digging for fossils. RAGBRAI is less of a bike race and more of a carnival-meets-happy-hour.
Here's a glimpse of the rural roadside atmosphere: One Iowa farmer offered lunch to riders in hopes of collecting donations for his church. The trailside attraction expanded as he invited a local school district to hold a dunk tank fundraiser for its athletic programs.
Soon a lemonade stand, a petting zoo, and a giant bull added to the fun, and an ask-a-farmer booth helped satisfy riders' curiosity about the verdant landscape through which they'd spent the day pedaling.
At the end of the 454.1-mile ride, many participants dip their bikes in the Mississippi River for the perfect end-of-race photo op:
Video: https://fb.watch/eDPIvkL0Cf/
Ok, so it's nothing like the Tour de France.
The RAGBRAI vendor expo takes place the afternoon and evening before the ride begins in Sergeant Bluff.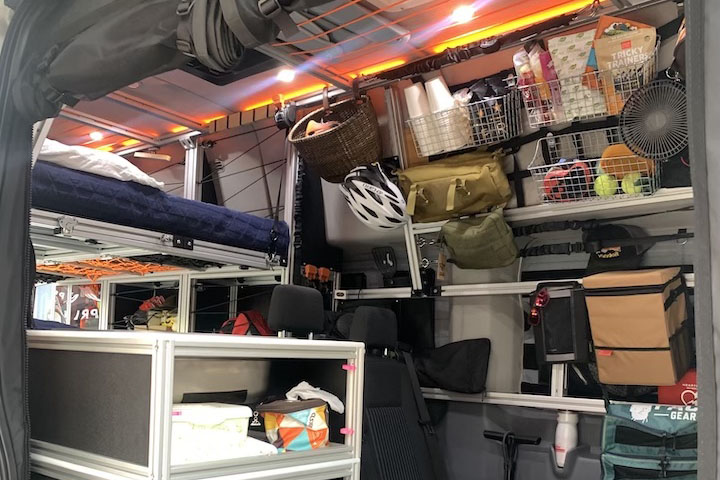 Vandoit was one of more than 80 vendors at this gathering that included a lineup of live music and the Tipico Sportsbook Fun Zone, where visitors could test their skills in baseball, football, basketball, and boxing challenges.
Vandoit Co-Founder Brent Kline and his family showcased a DO model Vandoit van at the expo that featured every storage solution imaginable.
Visitors adored the bungee cords stretched across ceiling sections and the cargo net under the bed platform. Baskets hung on the wall framing, and MOLLE panels (that also served as cabinet doors) created numerous attachment points for bike gear and gadgets.
Vandoit displayed a set of new galley storage modules in the van. They provided organization for the water system and drawer storage. They also served as a durable work surface, accommodating a twin-sized bed when not in use. This modular storage had campervan fans talking nonstop about the storage-oriented setup.
Ready to design your storage-to-the-gills camper van? Reach out to a Van Guru today!
[insert link: https://vandoit.com/contact-us/]