Hi! I am Jena Newman, and live full-time in my Vandoit van with my husband Derek. We have traveled over 40,000 miles from Maine to the bottom of the Baja Peninsula! The entire time we have had our chocolate lab, Barry, with us.
Barry goes everywhere with us! Our hobbies include Barry–biking, hiking, boating, and, my favorite, eating!
Where Can Barry Go?
One of our favorite things to do when we are exploring new places is to try new restaurants. We trained Barry to sit quietly while we eat, so we are able to take him to restaurants with us. Navigating this can be tricky when we are in a new place.
Some places are more dog friendly than others, so we have to do our research before showing up with Barry.
In general, we don't expect or try to take Barry inside a restaurant. We prefer to sit outside anyway, so we look for places with patios. Once we find a place we like with a patio, I call ahead to be sure Barry is allowed. If we want a quick and easy search for a dog-friendly restaurant, we have used websites like BringFido to help us narrow it down.
We have come across places where it is against the law to have pets at restaurants, even if there is a patio. We respect this and come up with another plan. If it is cool enough outside, then Barry will stay in the van, or we will order our food to go. There is almost always a beautiful park nearby to stop by and enjoy our meal!
Barry's Favorites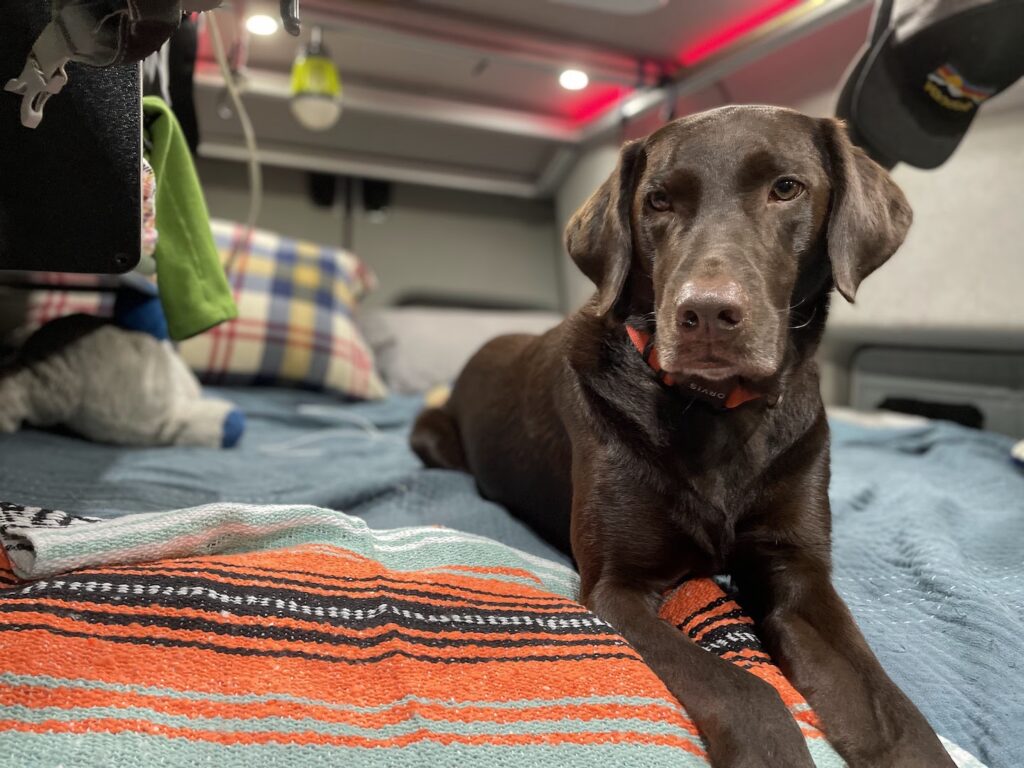 One of Barry's favorite restaurants is Mickey's Hideaway in Kansas City, Missouri. They have a very pet-friendly patio in the middle of the hustle and bustle of the city.
Bentonville Brewing Company in Arkansas is a favorite because it has a dog park attached to it. Barry is able to get his energy out while we enjoy our craft beer and meal. They also have a kids' bicycle pump track, and it's adorable!
We really enjoy the patio at Eddyline Restaurant in Buena Vista, Colorado. It is right next to the Arkansas River and has a great view of the mountains. Barry loves it because there are always other dogs there to meet, and he knows a long walk along the river is in his future.
It is safe to say every restaurant in Baja, Mexico, was my favorite. They are so dog-friendly that Barry was welcome almost everywhere we went. We spent a lot of our time at Lazy Daze Beach Bar in Los Barriles. We parked our van a very short distance away on the beach for about three weeks. Barry was able to go off and swim in the ocean and then hang out with us while we played cornhole during dinner.
Dog Training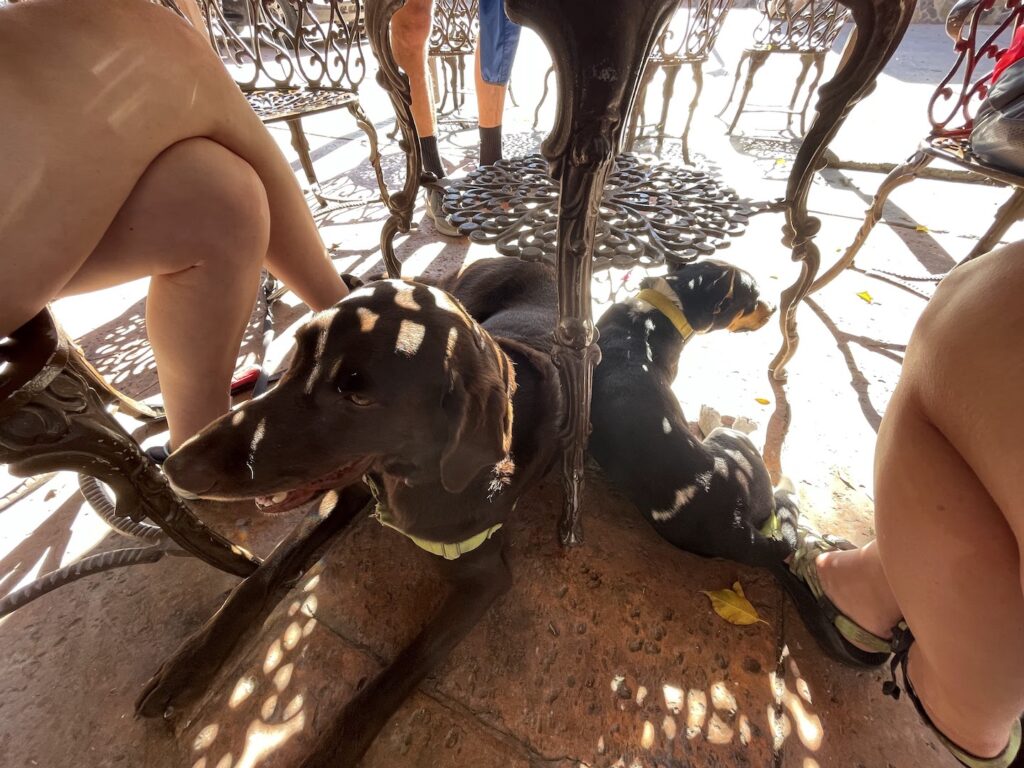 I have been training Barry since we got him at 8 weeks old. Being a dog trainer by trade, I knew that I wanted him to be a good canine citizen and be able to go everywhere with us. By starting young and focusing on certain behaviors, we have been able to give Barry the gift of adventure!
Here are a few of the behaviors I focused on with him to make taking him to the patios enjoyable. My personal favorite is sitting when he wants something. It is his way of saying please and showing self-control.
I taught him to lie calmly under the table while we eat our meals. He doesn't beg for food but is happy to clean up what is left over or what has fallen on the floor.
He is also very good on his leash. He never pulls, which allows us to attach him to the legs of the table for safety, and we don't have to worry about him pulling the table over.
Reach out if you are interested in training your dog to be better at restaurants! We do a lot of virtual training while on the road in the van, and I would be happy to help you.
Make sure all his needs are met so he won't get restless. We feed him and play fetch with him before expecting him to sit still while we enjoy our meal.
Make sure he is sitting out of the way so people can walk by. We never want him to cause someone to trip.
We will bring a Kong toy stuffed with peanut butter to keep him occupied if he starts getting bored.
We always attach his leash to our chair to be sure he can't wander off while we are deep in conversation.
Barry's favorite rule: If they have a special snack for dogs on the menu, we make sure to get him a treat, too! One of his recent favorites was in Canada at The Lockstreet Brewery in St. Catharines, Ontario. He thoroughly enjoyed his Beef Tendon Chew while we devoured our sandwiches!
When we find the perfect patio for Barry, we make sure he maintains his good behavior and doesn't bother other patrons. Here are our tips for the best restaurant experience with your dog:
Dogs And Vanlife
Our van makes these restaurant visits possible because we have everything we need to be prepared for any circumstance. We are able to store all of his toys to ward off any boredom he may have while on a patio.
It is also a safe place for him when he isn't allowed to join us. We are able to give him a puzzle toy while we are gone and not have to worry about him getting bored in the van.
What are your favorite dog-friendly restaurants? As we travel around, we are always looking for places to eat with Barry. Maybe we can stop by your personal favorite, too!