When it comes to outfitting your Vandoit campervan, there's no shortage of ways to enhance your experience. From comfortable sleeping arrangements to functional kitchen setups, every aspect of your van should be designed with your adventure in mind. One often underestimated aspect, but incredibly important, is the lighting in your van. Whether you're reading a book in bed, cooking a meal, or just creating the right ambiance, the right lighting can make a world of difference. In this blog, we're going to explore the various lighting options available for your Vandoit campervan.
Classic Light Bars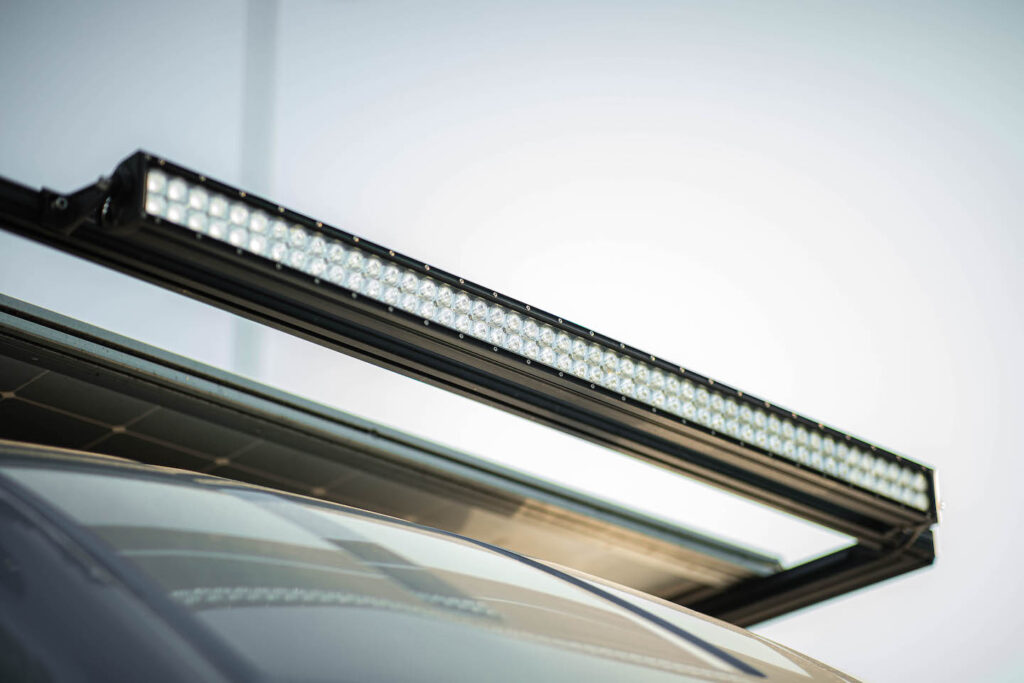 Vandoit campervans come equipped with classic light bars that are both practical and stylish. These are essential for providing bright, even illumination in the main living area of your van. Whether you're preparing a meal or hanging out with friends, these classic light bars will keep your space well-lit and welcoming.
Baja Designs Lights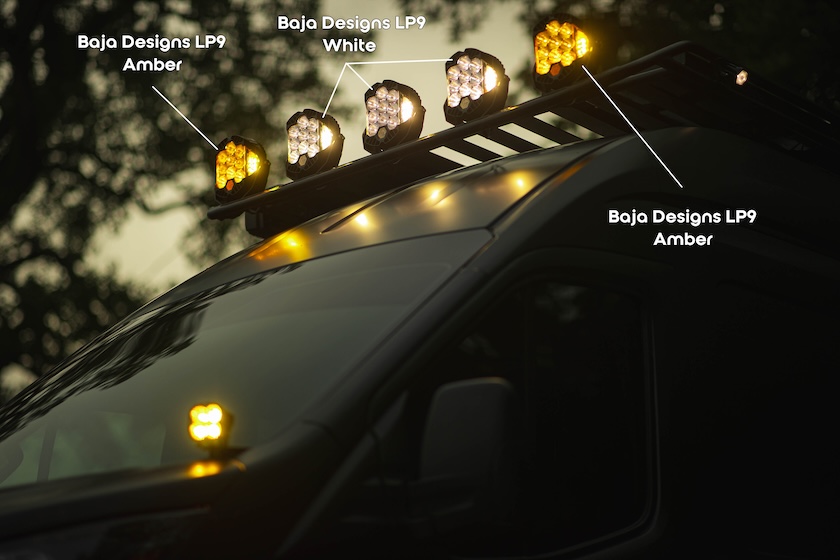 Vandoit has taken their lighting game to the next level by incorporating Baja Designs lights into their campervans. The Baja Designs LP6 lights, mounted on the front bumper, provide exceptional illumination for night-time driving or off-roading. Additionally, there are two Squadron Pro hood cornering mounted lights for improved visibility during turns and maneuvers. For those who like to explore beyond paved roads, five LP9 roof-mounted lights ensure that you're never left in the dark. Both the driver and passenger sides also feature two S1 work lights, perfect for setting up camp or doing some late-night maintenance. At the rear of the MOOV, two Squadron Pro lights up top and two S2 Sports Wide lights within the Backwoods rear bumper guarantee your surroundings are well-lit no matter where you roam.
With Vandoit's Baja Designs lights, safety and adventure go hand in hand.
Zoned and Dimmable RBG Lighting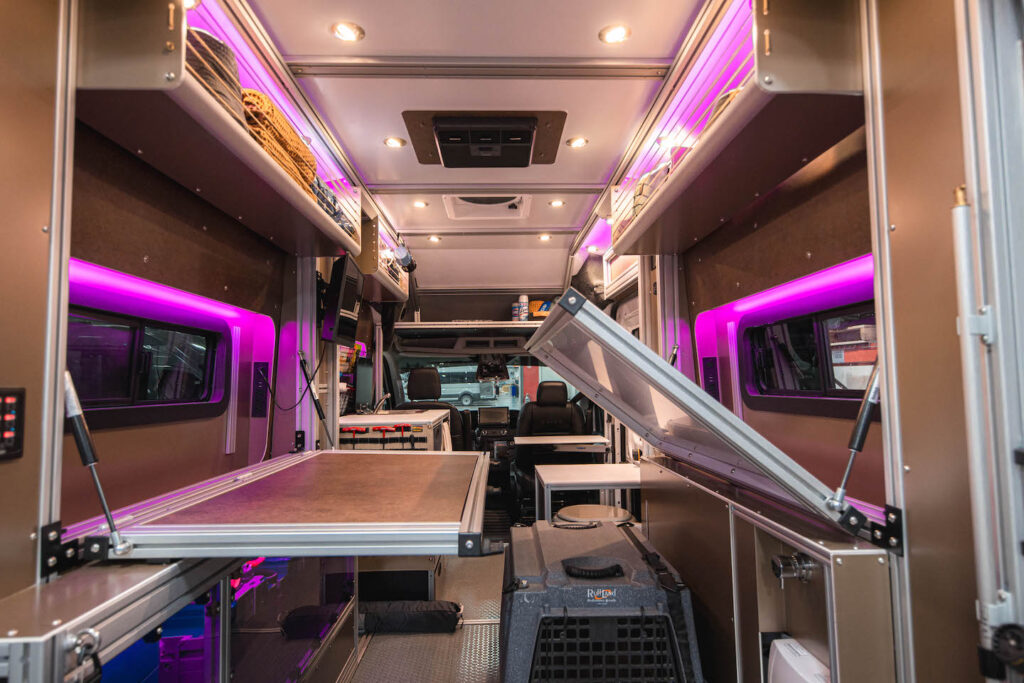 For those who want to take their lighting to the next level, Vandoit offers RGB million color lighting with a Czone touch screen controller*. This cutting-edge lighting system allows you to customize the color and intensity of your interior lighting to create the perfect ambiance. Want a calm, blue glow to relax by after a long day of hiking? No problem. Craving an energetic, vibrant red to get you pumped for the day's activities? Easily done with the Czone touch screen controller. This versatile lighting system puts you in control of the mood inside your campervan.
*Available only on Stage 3 Electrical Packages
LED Accent and Can Lighting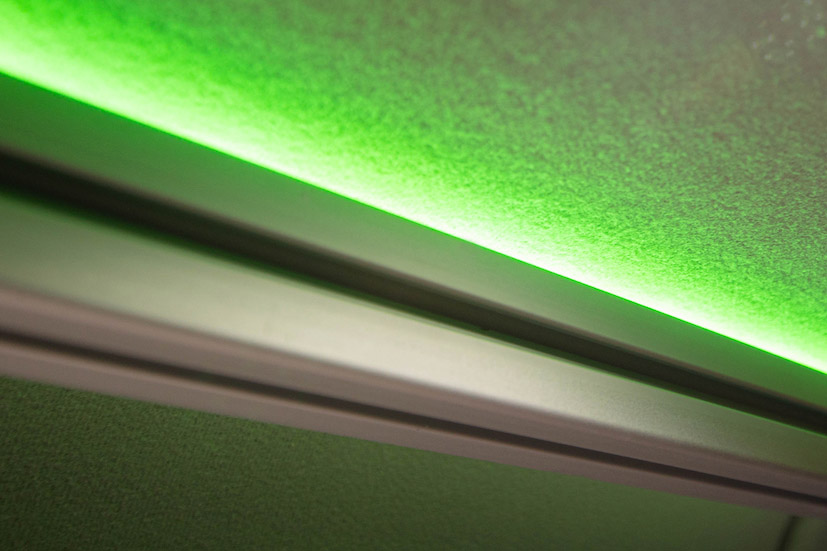 Accent lighting can make your Vandoit campervan feel more like a cozy home on wheels. These lights not only add a touch of style to your space but also make it more functional. Finding that snack you crave in the middle of the night becomes a breeze with a gentle glow.
In addition to accent lighting, LED can lighting provides a more dispersed and general illumination for your van's interior. These lights are perfect for creating a well-lit, inviting space where you can cook, work, or simply relax. With LED can lighting, your Vandoit campervan remains bright and functional, no matter the time of day.
Cargo Lighting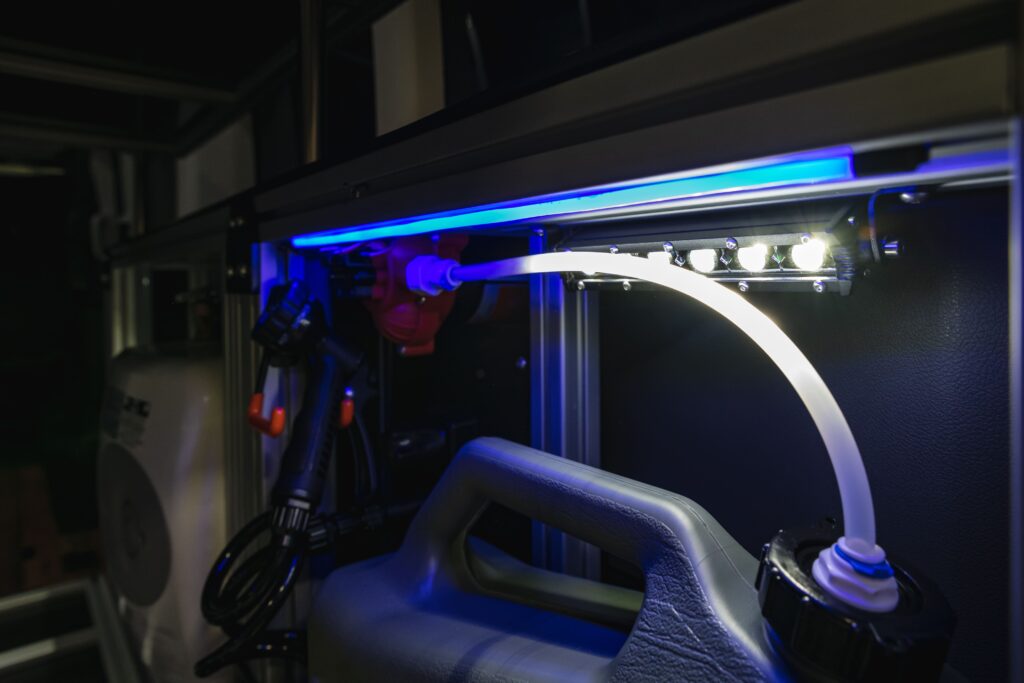 Efficiently storing and accessing your gear is crucial for any campervan enthusiast. Vandoit campervans come equipped with cargo lighting to ensure you can always find what you need, whether it's camping equipment, hiking gear, or your favorite board games. The well-lit cargo space simplifies packing and unpacking, allowing you to maximize your outdoor adventure time.
Overall, the lighting options available for your Vandoit campervan are extensive and versatile. From the practicality of classic light bars to the customization offered by the RGB million color lighting with the Czone touch screen controller, Vandoit has it all. When you're on the road or off the beaten path, the right lighting can truly light up your world and enhance your campervan experience. So, choose the lighting options that suit your style and needs, and let your Vandoit campervan shine, both inside and out.