Vandoit Owner's Experience (VOX) events are a gathering of Vandoit van owners, organized through the Vandoit Owners and Future Owners group on Facebook. The sole purpose of VOX is for Vandoit owners to share the love of their vans and the adventure lifestyle that comes along with them. Over 40 vans (and a couple of tents) from as far away as Washington state gathered to camp together for 5 days at the Applegate Property, adjacent to the Applegate Trail. Vandoit owners Kurt Schuler and Stephanie Kelly planned VOX#5. Vandoit and Visit Bentonville were privileged to help host this event. Staff from both organizations got to join in on the fun!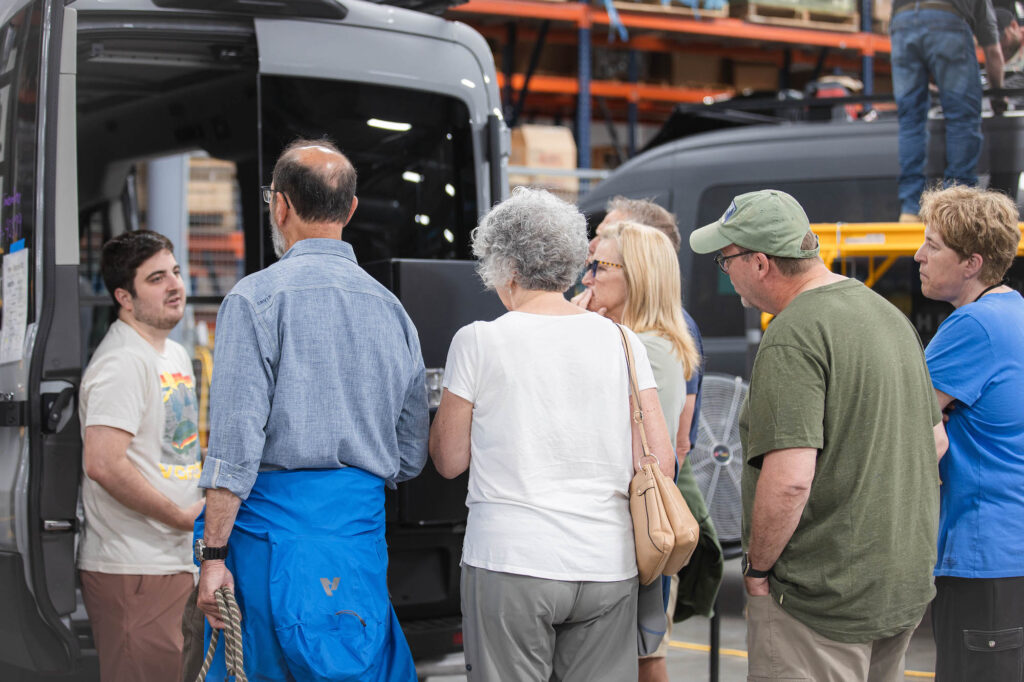 Because Bentonville is about a 4-hour drive away from the Vandoit headquarters in Blue Springs, Missouri, this VOX kicked off differently from past owner gatherings: With a factory tour and lunch at Vandoit! On the morning of Wednesday, June 1, a number of owners and their families got to see the van build process from start to finish. They also took a peek at some newly released components and even picked up some Vandoit swag. Owners from around the country chatted over lunch. Shortly after they departed in a caravan from Blue Springs south to Bentonville.
The Vandoit Owners Began Their Caravan To Bentonville
Vans began arriving at the Applegate Property on Wednesday afternoon, followed by the caravan from Vandoit. Upon arrival, owners began setting up awnings, chairs, cooking implements, and other van setups. Following setup, a group set out for a group ride at the Coler Mountain Bike Preserve, just a short ride away from the campsite. The following morning, Vandoit provided coffee at the campsite before everyone took off to explore Bentonville for the day. Shortly after, owners ventured out to the hiking and biking trails. Others visited museums and took part in other outdoor activities like kayaking and sightseeing. Later that evening, Local [moh-tiv] pulled their food truck up to the campsite. They served delicious pork tacos and beer braised brats. It was the perfect meal to end a perfect day.
Friday was another full day of exploring the Bentonville area–and beyond! Some Vandoit owners visited historic Eureka Springs, Arkansas, and the Buffalo National River. In the afternoon, everyone gathered back in town at Bentonville Brewing Company for a van owners' happy hour. The brewery's one-of-a-kind beers and cocktails–along with a dog park, kid-friendly outdoor area, and unique local food trucks–made for the perfect social atmosphere.
Saturday morning kicked off with more coffee served by Vandoit. Owners took part in adventures like the Women of Oz Ride and beginner's mountain biking clinic. In the evening, Whole Hog Cafe Barbecue catered a mouth-watering dinner at the Applegate Property, followed by the Van Owners' Talent Show. The show featured everything from singer-songwriter Charlotte Morris' original music, to phenomenal piano pieces performed by some talented Vandoit kids, to hula-hooping, to a little stand-up comedy and a magic show, finished off with a whole lot of karaoke. The talent show had everyone laughing, smiling, and singing along!
At the end of the night, Vandoit gave out awards for various van achievements:
VOX5 was a memorable opportunity for van owners to make new friendships and renew existing ones. There was plenty of sharing of creative ideas on outfitting and decorating vans. Some owners even collaborated with one another to install an awning, set up ground fold-out solar panels, and shared ideas on getting the most out of the Mastervolt lithium battery system.
Make plans to join the next VOX6, Return to Moab, in October 2022!