One of the more exciting days of our lives was when my wife Lana and I picked up our new first Vandoit camper van in Blue Springs, MO, almost 4 years ago. Another almost as exciting day occurred when we traded the first van in for our second Vandoit. We went from a LIV model (GO model back then) to a DO model.
So why the change? What is the difference between the two models?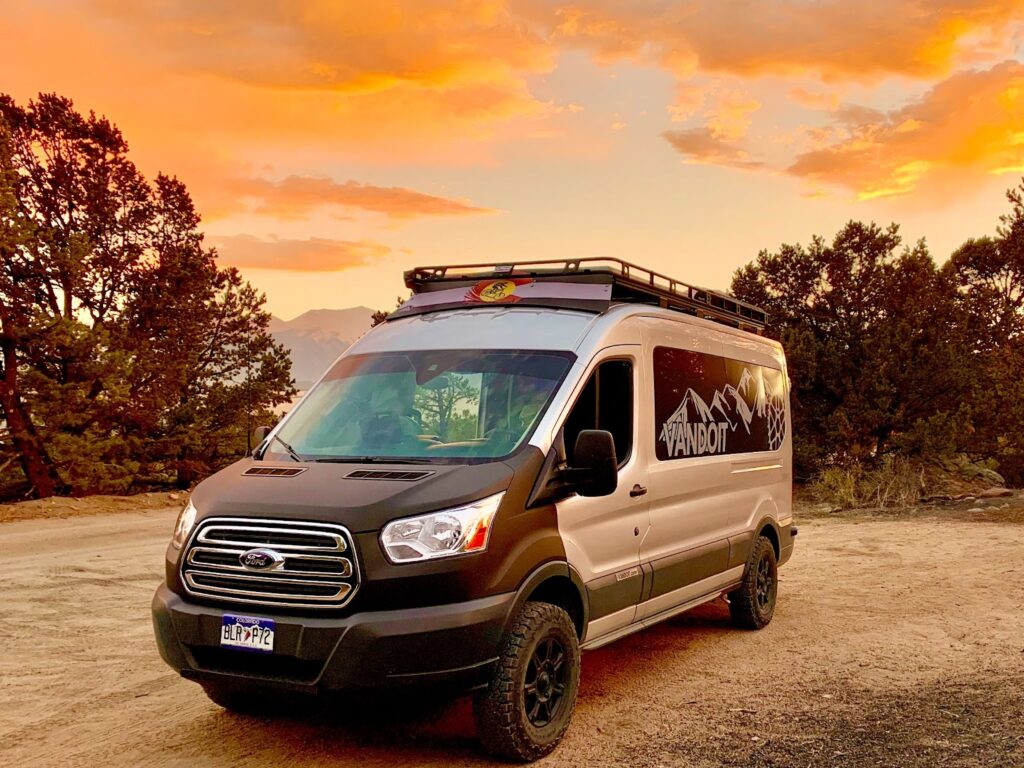 It's easy to visit the Vandoit website and see the technical difference between both. And there are definitely some differences and potential trade-offs between the two.
For example, the DO model has a full-sized bed, whereas the LIV model has a queen size bed. So going to the DO, we gave up about 6 inches of bed space side-to-side. My wife and I, who typically sleep in at least a queen size bed, were worried about giving up sleeping space. But we found that if you need more sleeping room, you can agree to "surf your side," and that works well. So we have no regrets about going to a slightly smaller bed.
The DO offers some other benefits as well, such as a more open floor plan. The Murphy-style or drop-down beds allow for extra space inside to work, and you can even walk the full length of the inside van when the beds are folded to the side.
The DO bed can also be raised up and down on a strap system. We found this a bit more time-consuming than the hydraulic raise and lower system in the LIV. If you are going to be carrying bikes in the garage area (below the bed) and will be raising the bed up and down regularly, the hydraulic system in the LIV is the way to go because it's almost effortless.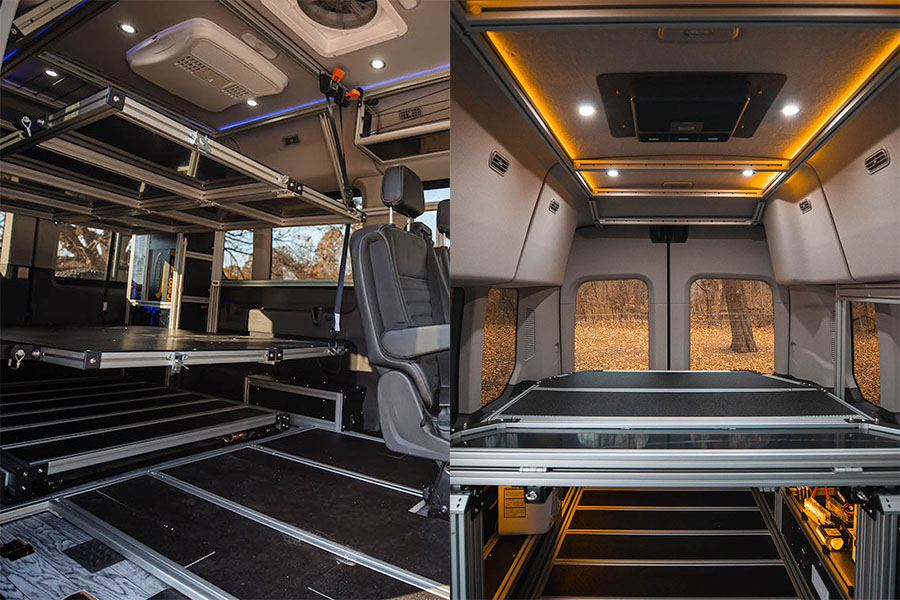 The DO also has unlimited attachment points for hooks, tie-downs, shelves, etc. The DO feels roomier than our LIV model did. However, the LIV model now has the option of a bed leaf that allows you to fold the front up for a bit more space when you aren't using it. This leaf definitely provides more area to move about the galley.
The LIV model also has a gear slide in the garage area. The slide allows easy access to equipment carried under the bed. You simply open the back doors, pull the knob and slide it out.
The DO model does not come with the slide; however, we've found that the DO configuration allows much easier access under the bed system without needing the slide. If the slide is just something you can't live without, you can add it as an accessory to the DO model. However, the addition of the slide takes a few extra inches of space from the bottom floor of the garage area.
Either adventure van build is an awesome choice. Choosing which model best fits you is a matter of your needs space-wise, how much and what kind of gear you carry, and what your van-living preferences are.
Choosing Vandoit Camper Van Build Options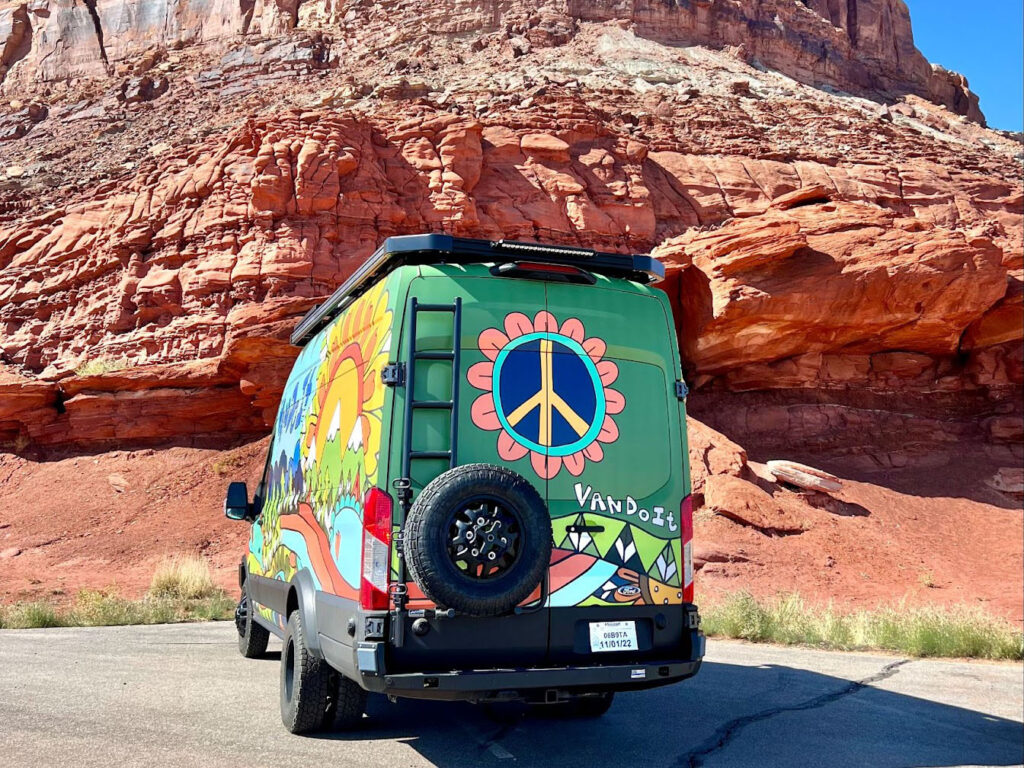 A couple of other things to consider when deciding on Vandoit camper van build options. Our first build was a medium roof. I am 5'11, and Lana is 5'7. I wish I could say that height never affected us. We both have bumped our heads on a shelf or crossbar a time or two. Also, I found it difficult to stand tall and put on a coat inside the medium-roof van.
The medium roof is workable if you are shorter or you learn to live with it. It's definitely a less-expensive build than a high roof. On our second van, we chose to go with a high roof and decided it was a great decision for us.
We also went with an extended-length van (EL) the second time around because we wanted a larger kitchen galley. Lana likes more room to prepare meals, and the extended length definitely gave us that.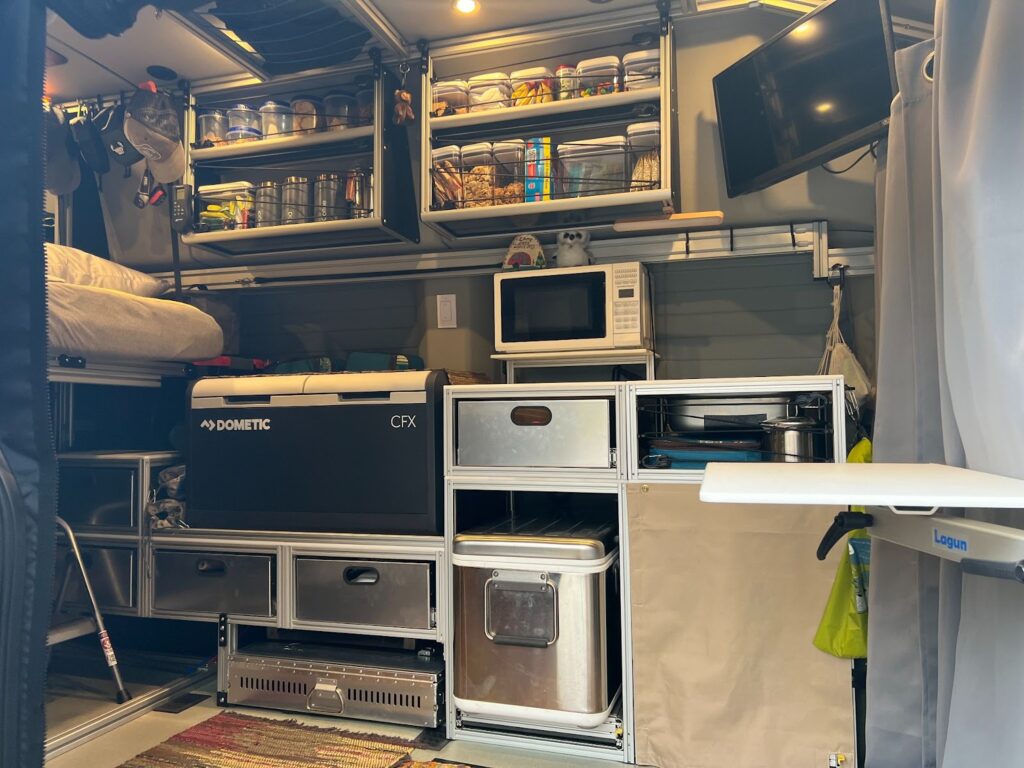 Something else to think about when you think about vans is the Ford Eco boost system. We live in the mountains of Colorado, and the EcoBoost has been phenomenal for climbing hills and passes.
We also went with a more substantial undercarriage build for the large potholes on some of the mountain highways.
No matter where you live or visit, you'll definitely want to add the Espar heater. We don't use it all the time, but it's nice to fire up on cold mornings and heat the camper van a bit before getting out of bed and getting dressed. It's a great heater! We've used ours over 11,000 feet, and it worked wonders.
With our second camper van, we also went with a lithium battery system as opposed to the AGM system in the first. We were able to operate a small microwave oven off of both. However, with the AGM batteries, the maximum cooking time is about 4 minutes, whereas lithium allows for substantially more cooking time. Both battery systems have advantages. The lithium system is stronger and allows for extended use, including using an air conditioner.
However, the lithium battery takes a bit longer to charge. The AGM system didn't allow as much overall output but recharged very quickly. We are definitely pleased with our decision to go with the lithium battery system, but all-in-all we managed effectively with the AGM.
A final suggestion is not skimping on solar. We highly recommend going with solar power. It will make your van life much simpler, to say the least, and you'll be glad you did.
The most difficult thing we found in choosing our new adventure van was deciding between the many cabinets, shelves and pods that Vandoit now offers. Their selection is pretty amazing and just short of mind-boggling.
Final Vandoit Adventure Van Thoughts
We've loved both camper van models, and when the time comes, we will be brain-storming our third Vandoit. We looked at many other van build companies before going with Vandoit, but I can promise you there is no upfitting company that is better than Vandoit. You'll never be sorry.
So take it from us: we've both LIVed and DOne. Now the choice is yours!