Vanlifers have longed for air conditioning without needing an outlet or generator. I found that the 12V Dometic RTX2000 and Vandoit Lithium 460 Amp Hour Power System make this former fantasy a reality.
Summer boondocking in many states meant suffering through hot and muggy nights. Sure, there have been 12V air conditioning systems, but they relied on custom battery setups, and the performance was mediocre at best. Luckily, 12V air conditioners and battery systems have advanced, making untethered air conditioning more reliable.
Dometic released its 12V RTX2000 air conditioner to the RV market in late 2020, coinciding with improvements in battery technology. Vadoit leveraged both and offered the 12V AC with a lithium 460 amp hour battery system. I heartily accepted the challenge of testing both in the brutal heat and humidity of the Texas summer.
The Dometic RTX 2000 and Vandoit's lithium 460 amp hour power system changed how I plan outings during the summer months. I don't look for sites anymore. I head out confident that my family and pets will get a restful night's sleep.
I don't use the term "game-changer" if I can help it, but that's what this system was.
Dometic RTX2000: Tech from the Trucking Industry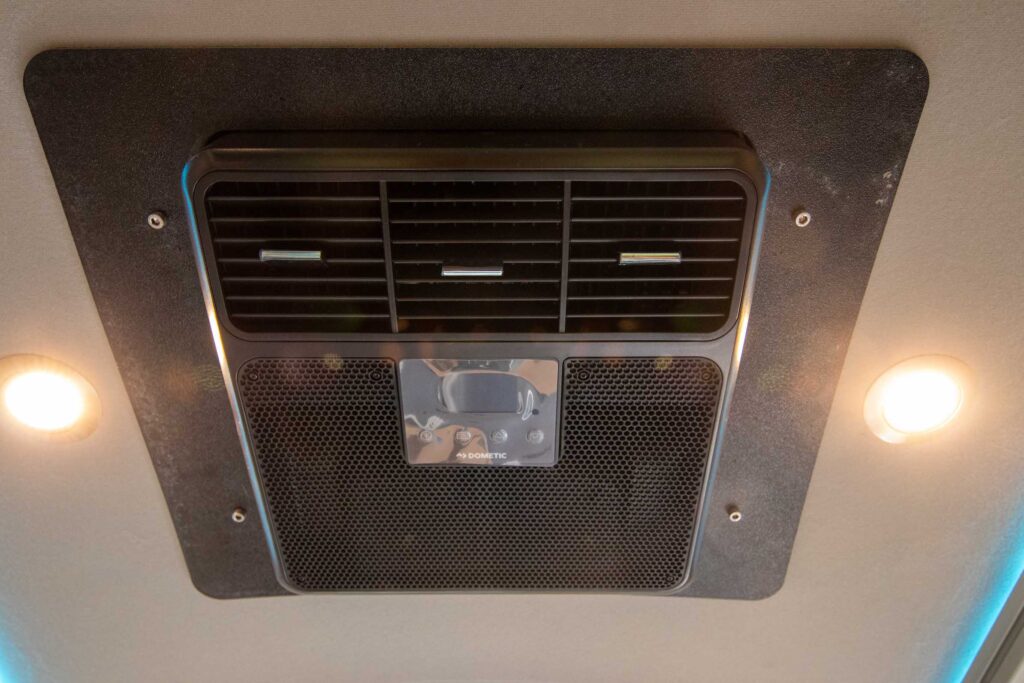 Dometic borrows the RTX2000 from its offerings in trucking. The air conditioners in that world are dubbed "parking coolers"; they keep the cab cool while parked overnight. The 12V parking coolers reduce fleet fuel costs because the drivers no longer idle the engines overnight to keep air conditioners going.
Dometic claims that the RTX2000 pushes out 6,824 BTUs of cooling energy, compared to many rooftop RV units with a 13,500 BTU rating. But campers must plug into shore power or a generator.
The obvious question surrounding the system is, "Can the Vandoit lithium power system run the RTX2000 overnight, and if so, how effective is it with the lower BTU rating." And concurrently, "Is the additional cost worth the benefits?'
The Vandoit Lithium 460 Amp Hour Power System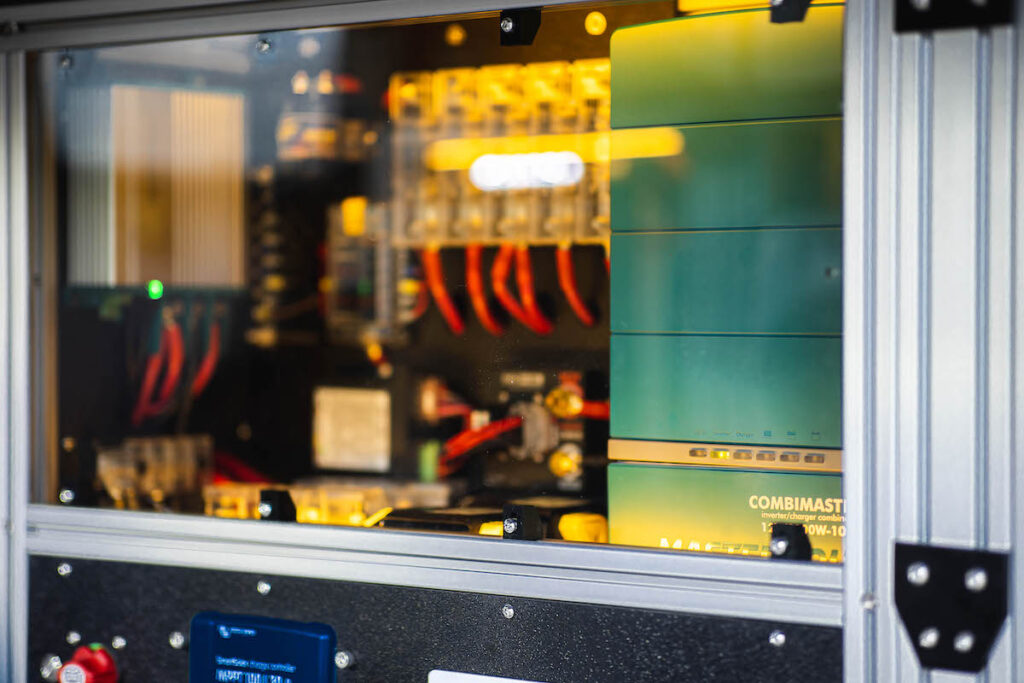 Dometic claims the RTX2000 pulls 19 amps in "Eco mode." Estimates show that 30 Ah/hour of power will drive 5000 BTUs of energy for every hour. A lead-acid battery would last 2 hours. 300 amp-hours should suffice for overnight duty.
The Vandoit lithium 460 amp-hour power system forecasts the ability to run the air conditioner harder or longer than "normal." I assumed this would be required to tame the heinous midsummer heat of Central Texas. Usually, the overnight lows are in the 80s or 90s. And I would need enough juice to power lights, computers, etc.
Hellish Testing of the Dometic RTX2000 and Vandoit Lithium Ion Power System
I purposely tested the Vandoit lithium-ion and Dometic RTX2000 combination during Texas' hottest and humid days. I also partnered with the most vocal sidekick, my 8-year-old daughter. The days were spent outside the van, enjoying our many spring-fed swimming holes.
But being a young child, she cratered at about 5 p.m. We cooked dinner on a grill outside, in the shade of mighty oaks, and scurried into the van around 7 or 8 p.m.
The overnight low during our testing period was in the 80s, and the humidity was at least 50%, but sometimes it was way more humid. I set the thermostat to 76 or 78, which was a 10 to 12-degree differential from the outside temperature.
The Dometic RTX2000 pushed much less air volume than a typical shore-powered 13,500 BTU RV air conditioning system. This meant it took much longer initially to cool down the long-wheelbase, tall roof Vandoit Do, compared to a 110V unit.
Another downside to the lower air-moving capacity was that any obstruction to the outgoing air on the RTX2000 was noticeable. When I had my upper Murphy bed out, it was much warmer on the lower bed. The person in the upper bed would be comfortable, but the camper in the lower bed would be too warm. This wasn't the case with plug-in RV air conditioners.
A 6-inch 12V fan pointed at the air leaving the RTX2000 was the simple and effective solution. It fixed both issues. The van's interior cooled down much faster, and the cold air spread evenly. This inexpensive fix mitigated every drawback I had with the smaller capacity of the Dometic RTX2000 and being unplugged.
A benefit of the smaller capacity of the RTX2000 was that it was much quieter than any plug-in RV air conditioner I've used. It still made noticeable noise, but I estimated it was 30% quieter.
Well, How Long Did It Run?
Long enough was my answer. I never ran out of battery power overnight throughout two Texas summers of use. The air conditioner typically ran for 9 hours with an ambient temperature differential of 10-12 degrees.
Where I live and travel mainly in the summer, reducing humidity is just as important for a restful night as lower temperatures. And I could see how much moisture the Dometic RTX2000 removed from the air because it produced vast puddles of water around the Vandoit Do model.
Most mornings, I had about 20% of my battery power remaining, sometimes more. Many factors affect how much the compressor has to run, etc., but I was confident in the Vandoit lithium-ion battery system. It never let me down in some of the harshest environments for an air conditioner.
Some campers would want more than my 10-12 degree temperature differential. But I predicted the 460 amp-hours I had on board would be fine overnight, running a 15-degree differential.
Final Thoughts on the Dometioc RTX2000 12V Air Conditioner and Lithium 460 Amp Hour Power System
Freedom. That is what the 12V air conditioner and lithium power system provided.
Summers here used to require logistics that revolved around the availability of limited electric campsites. Often, it meant choosing a destination based solely on acquiring a site with an outlet. It was ironic; I wanted to escape it all, but I couldn't cut the electrical cord if I wanted a good night of sleep.
But no more! I can park almost anywhere, even in the hottest summer months, and boondock comfortably overnight. The Dometic RTX2000 and Vandoit Lithium 460 Amp Hour Power System allowed us to break free of the grid. Summer camper van trips are now in an entirely different realm.
But it is a significant financial investment. The air conditioner and electrical system are significantly more expensive than shore power and lead-acid counterparts. But the Dometic / Vandoit system costs less than my friends' one-off custom 12V systems, which have all been troublesome.
For me, it's hard to put a number on the freedom to camp anywhere. It's invaluable.