The 2022 Oshkosh EAA AirVenture Air Show is "the largest annual gathering of aircraft and aviation enthusiasts" and has new Vandoit fans, too!
What is AirVenture?
During the week of July 23-31, 2022, fans got to enjoy aircraft "neighborhoods", The neighborhoods on the airfield showcased everything from homebuilt aircraft to seaplanes, twice-daily aerobatic air shows, a nightly fly-in theater, and flights in a MASH helicopter or World War II-era bomber.  
The nighttime air shows included fireworks, and there was a space to watch remote control aircraft or fly your own drone!  Daily workshops helped attendees grow their aircraft-building skills. The KidVenture area gave the littlest aviation enthusiasts the chance to build their own wooden planes. 
The AirVenture Air Show undertook what they call the One-Week Wonder. This is the building of a single aircraft by a team of volunteers throughout the week of the show.  More than 650,000 guests from 92 different countries and a record number of aircraft were in attendance – along with one remarkable campervan.
Vandoit at AirVenture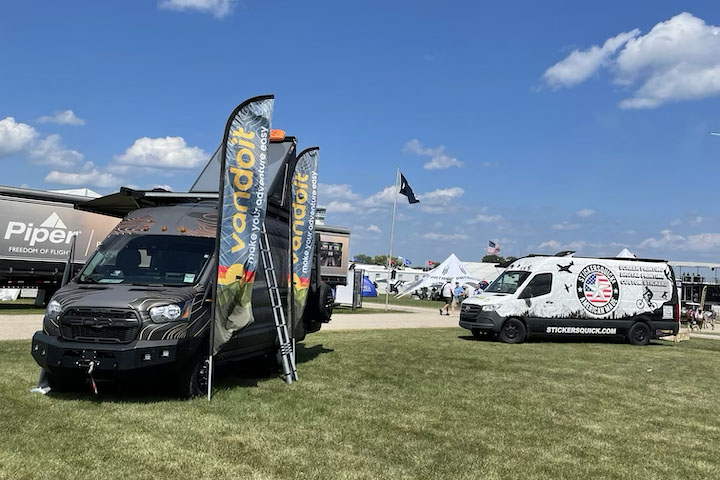 The Experimental Aircraft Association (EAA) Air Show has been running for over 30 years. This was only the second year Vandoit was among 839 vendors at the world's largest air show, and Vandoit was the only campervan brand in the exhibition.  
Vandoit Trade Show Rep Andy Brown brought a Vandoit DO model with a roofnest tent mounted on top. It drew lots of visitors looking for earthbound adventures, including Major Michelle "MACE" Curran, the second female lead solo Thunderbird Pilot. Curran shared that she would like to make a Vandoit her next vehicle purchase.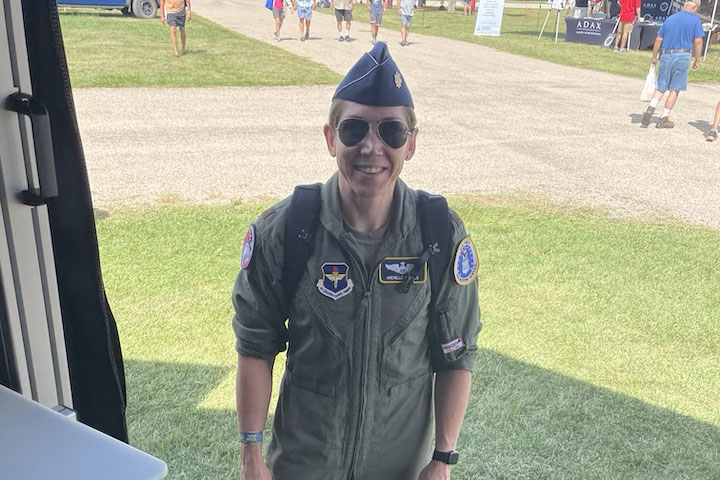 Other visitors commented on the van's great use of space and how open the interior felt. "I love the way you can move things around," one van enthusiast said about the new galley and storage modules. "Look at that electrical panel. I would show it off, too!" exclaimed another.
Why You Should Come To Oshkosh Next Summer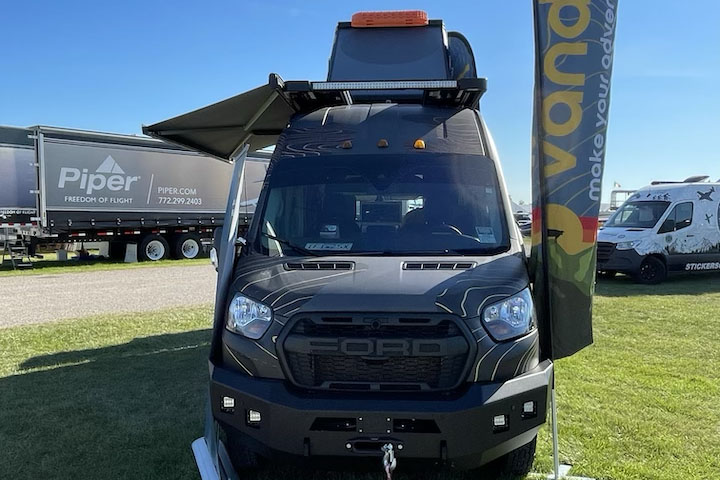 Brown described the AirVenture atmosphere this way:  "It is truly impossible to convey the magnitude of the event. Thousands of private aircraft are spread out camper-style on the tarmac, most with tents under their wings. The airfield was surrounded for miles by tens of thousands of tents and campers of all types.
The event is pretty much non-stop airshows in the afternoon. Including everything from bi-planes to the Air Force Thunderbirds and massive cargo planes doing flyovers. There are even mock bombing runs and dog fights. 
Everyone in the aircraft industry has an exhibit, from Boeing, Garmin, Beechcraft, Cessna, Piper, and anyone else who builds aircraft. Did you know that one of the Walton family member (the founders of Wal-Mart) builds carbon fiber planes in Bentonville (Wal-Mart headquarters)? It's like the LA auto show, only bigger and for aircraft! 
Vendors show up to sell salvage aircraft parts and anything related to flying. There is constant activity and noise. I met people from a dozen different countries, including lots of Australians and South Africans. The air show has a really positive vibe. Families and kids were excited about the air show, getting to tour a massive cargo plane, and watching a presentation on building a plane."
Recap video: https://fb.watch/eJalKHrdCW/
Event photo gallery: https://www.flickr.com/photos/eaaairventureoshkosh/albums/72177720300686785
At first glance, showing a campervan at AirVenture might seem a little out of place, but Vandoit has found that the air show community shares our sense of adventure, just in a vehicle that happens to be airborne. Vandoit is privileged to be part of an event that brings together so many people of diverse backgrounds with a shared sense of adventure.