Rock climbing is an exhilarating outdoor activity that challenges both the mind and body. If you're a beginner looking to embark on your rock climbing journey, the United States offers a wealth of breathtaking destinations to explore. From scenic cliffs to rugged mountains, here are some of the best rock climbing areas in the US that provide a perfect introduction to this thrilling sport.
Joshua Tree National Park, California:
Located in Southern California, Joshua Tree National Park is a rock climber's paradise. It is renowned for its unique granite formations and excellent climbing opportunities. With a variety of climbing routes suitable for beginners, Joshua Tree offers an ideal environment to learn and improve your skills. The park features numerous climbing schools and guide services. Thus, ensuring you can receive proper instruction and guidance as you venture into this captivating activity.
Red River Gorge, Kentucky:
Situated in the lush Appalachian Mountains of eastern Kentucky, the Red River Gorge is a world-class climbing destination, particularly renowned for its sandstone cliffs and dramatic arches. This area offers an abundance of beginner-friendly routes with well-maintained trails and clear markings, making it an accessible and safe choice for those starting out. The stunning natural beauty and supportive climbing community in Red River Gorge make it an unforgettable destination for beginners.
Smith Rock State Park, Oregon:
Widely regarded as the birthplace of American sport climbing, Smith Rock State Park in central Oregon is a must-visit for rock climbing enthusiasts of all skill levels. The park features towering volcanic tuff and basalt cliffs, offering an array of routes suitable for beginners. The popular climbing routes, such as the "Morning Glory Wall" and the "Picnic Lunch Wall," provide a diverse range of challenges for novice climbers. You're surrounded by breathtaking views of the Crooked River and the surrounding high desert landscape.
Seneca Rocks, West Virginia:
Nestled in the heart of West Virginia's Monongahela National Forest, Seneca Rocks is a prominent peak that attracts climbers from far and wide. The awe-inspiring multi-pitch climbs at Seneca Rocks offer a thrilling experience for beginners. It is great for those seeking to develop their skills in a traditional climbing setting. This area provides a fantastic opportunity to learn the fundamentals of climbing while embracing the beauty of the Appalachian Mountains.
Garden of the Gods, Colorado: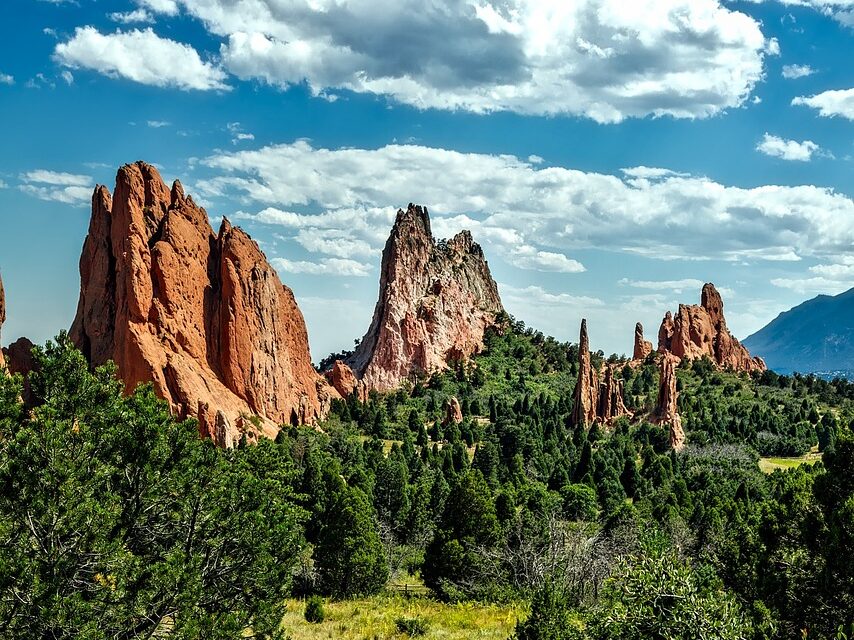 Situated just outside Colorado Springs, Garden of the Gods is a stunning rock climbing destination. It is characterized by towering sandstone formations against a backdrop of majestic mountains. This unique geological marvel offers a variety of climbing routes suitable for beginners. It is full of many easily accessible areas and shorter climbs. The park's well-maintained trails, educational programs, and breathtaking views make it an ideal choice for those starting their rock climbing journey.
No Better Time To Start Than Now
Embarking on a rock climbing adventure is an exciting way to explore the great outdoors and challenge yourself physically and mentally. The United States boasts numerous beginner-friendly rock climbing areas. Each offers a unique and rewarding experience. Whether you choose the granite formations of Joshua Tree, the sandstone cliffs of Red River Gorge, the volcanic tuff of Smith Rock, the traditional climbs of Seneca Rocks, or the sandstone wonders of Garden of the Gods, these destinations will provide an unforgettable introduction to the world of rock climbing. Remember to prioritize safety and seek professional guidance. Enjoy the exhilaration of conquering new heights while immersing yourself in nature's wonders. Happy climbing!