As the leaves start to change colors and the air cools, there's no better time to hit the road and embark on a fall van life adventure. Whether you're a seasoned vanlifer or just getting started, having the right essentials is crucial for a comfortable journey. Vandoit offers a range of components in their builds that are perfect for a cozy and convenient fall vanlife experience. In this blog, we'll explore the fall essentials you need for your van life journey
Insulation For All Seasons
Fall temperatures can be unpredictable (especially in Missouri where Vandoit headquarters are located), so having proper insulation is a must. Vandoit's builds feature insulation that keeps you warm during chilly nights and comfortable on hot days. This insulation is essential for regulating temperature and ensuring you're cozy no matter where your adventures take you.
Espar Airtronic Heater
Stay warm and toasty during those chilly fall nights with Vandoit's offering of the Espar Heater. Imagine waking up to a warm van interior while the outside world is covered in frost – that's the beauty of having this reliable heating system. The Espar is an extremely effective and efficient gasoline fueled air heater that taps into the vehicle's gasoline tank. It will automatically shut off when the fuel level dips below ¼ tank and the overall runtime operates off a programmable timer. It will also ensure your water system stays thawed and ready to use even on chilly autumn nights.
Storage & Organization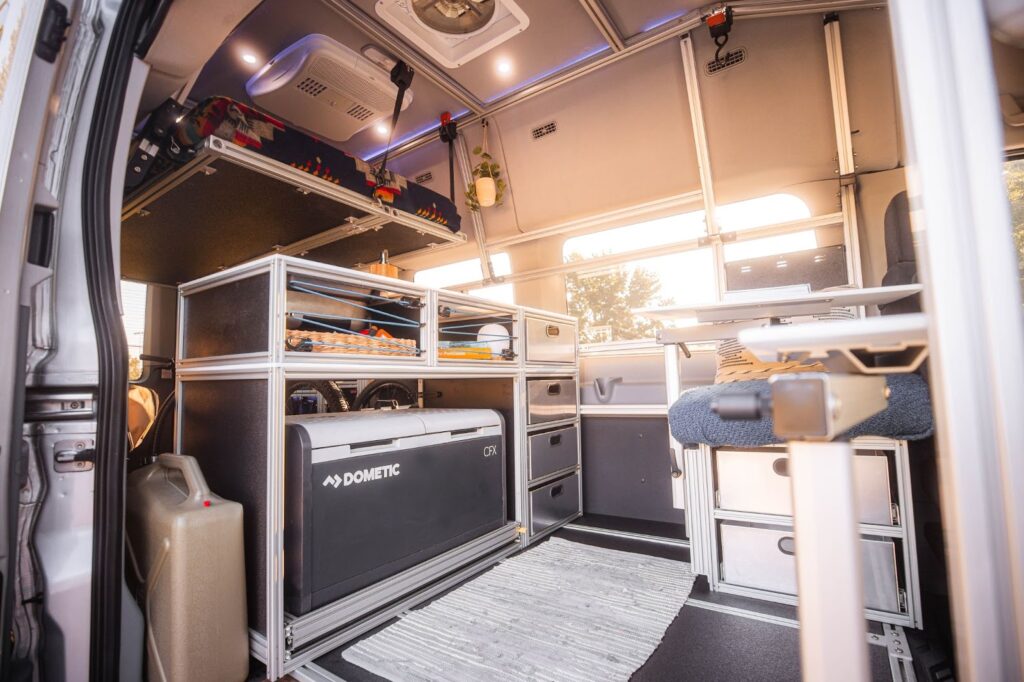 Fall adventures often mean packing bulkier clothing and gear, and Vandoit understands the importance of ample storage space. Their builds feature clever storage and organization solutions, including overhead compartments, under-bed storage, and modular drawers and cabinets, to help you stay organized and make the most of your van's interior space.  And when bulky-gear season is over, many of these items can be rearranged or removed from the van altogether to make way for warm-weather gear.
Cozy Beds
Nothing beats snuggling up in a comfortable bed on a cool fall evening. Vandoit offers customizable sleeping arrangements, with many bed sizes and layout options. Their vans come with murphy-style platform beds or a hydraulic queen size bed in their DO Model and LIV model, respectively. All bed options come with memory foam mattresses, ensuring you get a good night's rest after a day of exploring the autumn landscapes.
Thule Awning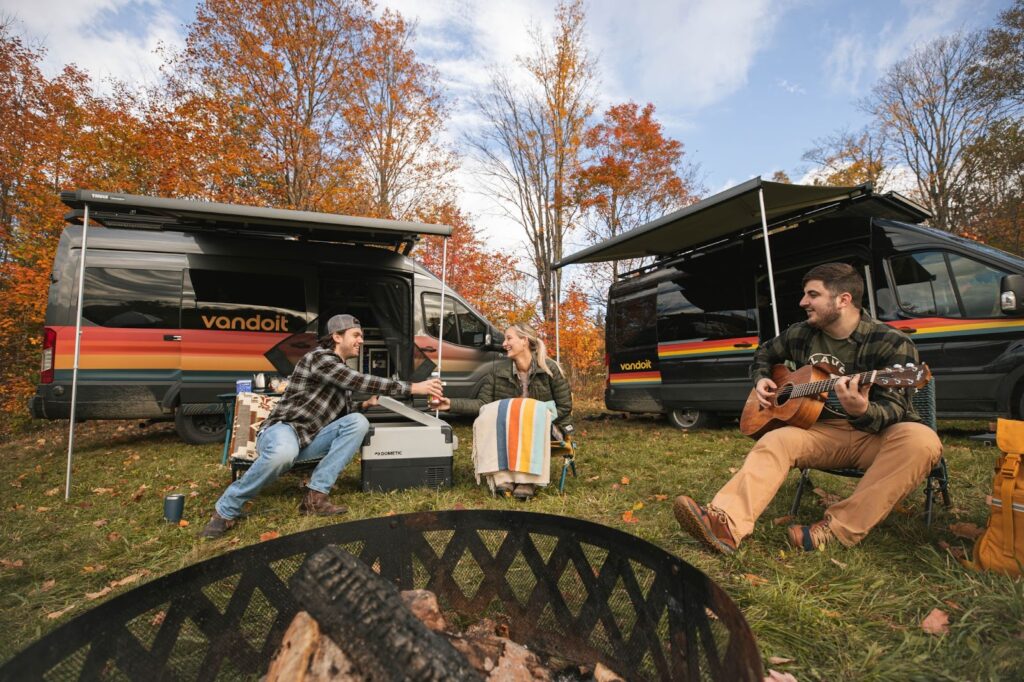 After a long hike, you can find yourself underneath the 10-foot awning attached to the roof rack. You'll be protected from the elements as you roast marshmallows with your loved ones or simply watch the fall colors make their turn. The awning is also great for tailgating at every sporting event or family cookout you have in the fall season.
All-Terrain Tires
Worried about getting up the mountain to the most desireable hikes? Vandoit vans have aftermarket wheels and tires you can choose from so that you can get anywhere you need to go! Even if you aren't planning to go off-road, these tires are great to get you out of sticky situations. With overall greater traction than stock tires, you'll be zipping through every backroad to find the perfect campsite with a gorgeous view.
Roof Rack Platform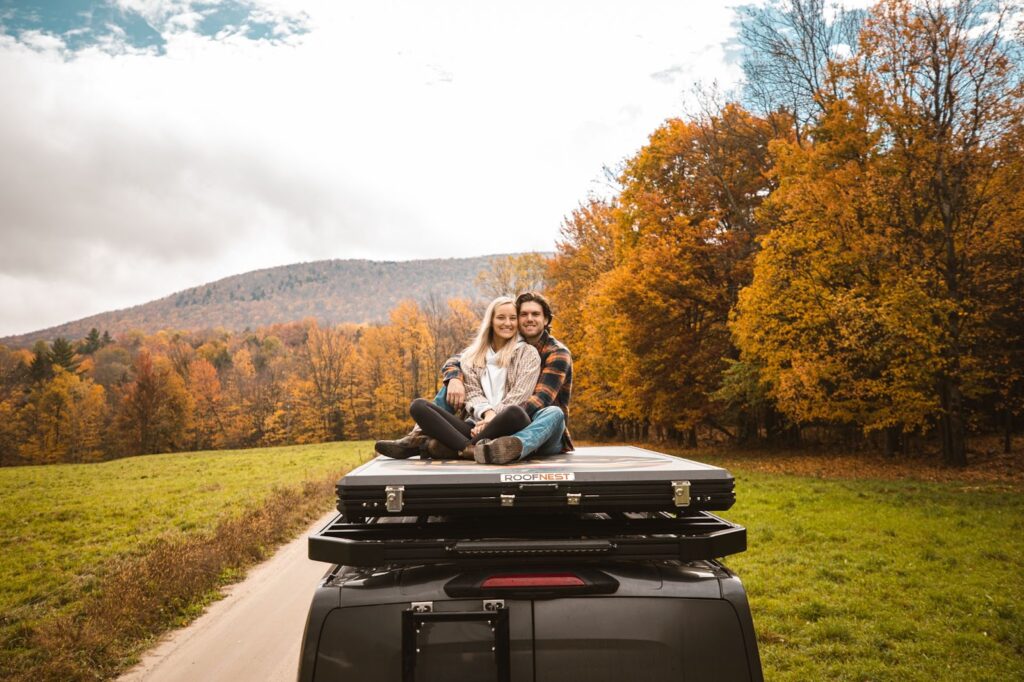 Just when you think it cannot get any better, Vandoit has given you another element to elevate your van trips this fall–a roof rack platform. As an addition to the Vandoit roof rack, the platform can be used to pack up and secure your gear as well as for lying under the stars on a crisp fall night. If you like to stay up top for the night, you can also add a Roof Top Tent. This is great for additional sleeping room or being closer to the classic tent camping feel!
Fall is a magical season for vanlife, with its vibrant foliage and cool air. To fully enjoy this season, having the right essentials in your van is key, and Vandoit's van conversions offer a range of components that make your fall adventures comfortable and convenient. So, pack your bags, hit the road, and experience the beauty of fall vanlife with your Vandoit as your trusty companion.