At Vandoit, We Are More Than Just Campervan Builders
Vandoit is a leading provider of commercial vans and has been for decades. Commercial van and vehicle upfitting has been a core aspect of our business since the founding of a dealership in 1947, and continuing with Kline Van in more recent years. In all this time–and after upfitting many vehicles–we have found that business and adventure can happen in the same vehicle. Vandoit vans can be used just like the great American pickup truck: use it to have fun on the weekend and get work done during the week. See below for examples of the business functions Vandoit vans perform on a daily basis.
Services Vans Are Supporting
Disaster Relief Support
Mobile Office
Cargo hauler
Cycling Race Support 
Bike Training and Race Support Vehicle
Advertisement
Construction Base (work/field truck)
Media Van
Van Rental
Toy Hauler
Passenger Transport Shuttle
Catering
Event Coffee and Bakery Service
Landscaping 
Plumbing
Electrical 
Mobile Repair (bicycles, electronics, home repairs, etc)
Insurance adjuster 

Law Enforcement 
Mobile Therapy
Mobile Medicine and Distribution

Personal Trainer

Van Rental

Ski Rental

Tour Van

Florist

Mobile Dog Grooming

Mobile Veteranarian 

Event Supply Delivery
Mobile Retail and Distribution
Traveling Sales Rep 
Band Tour
Jewelry Making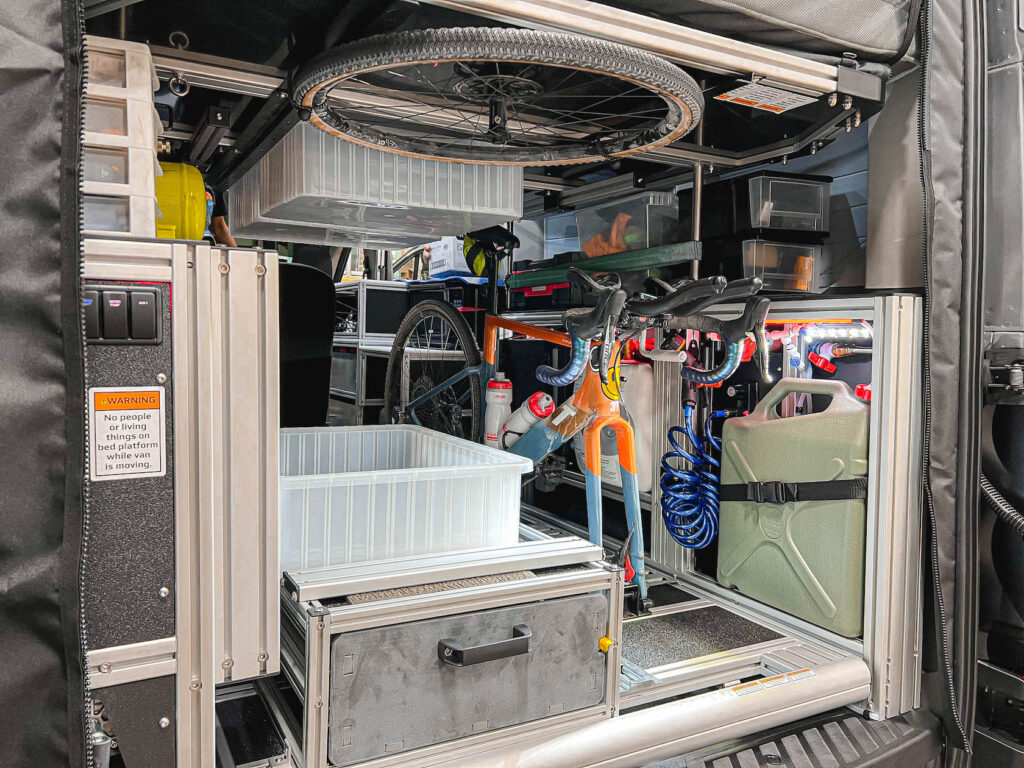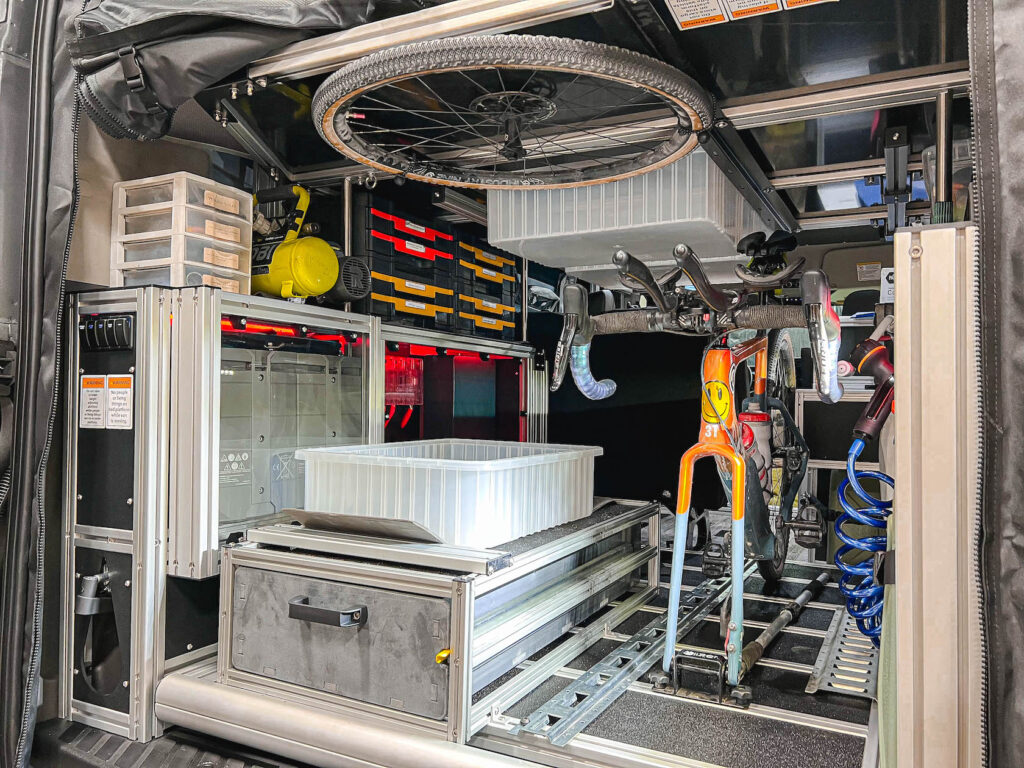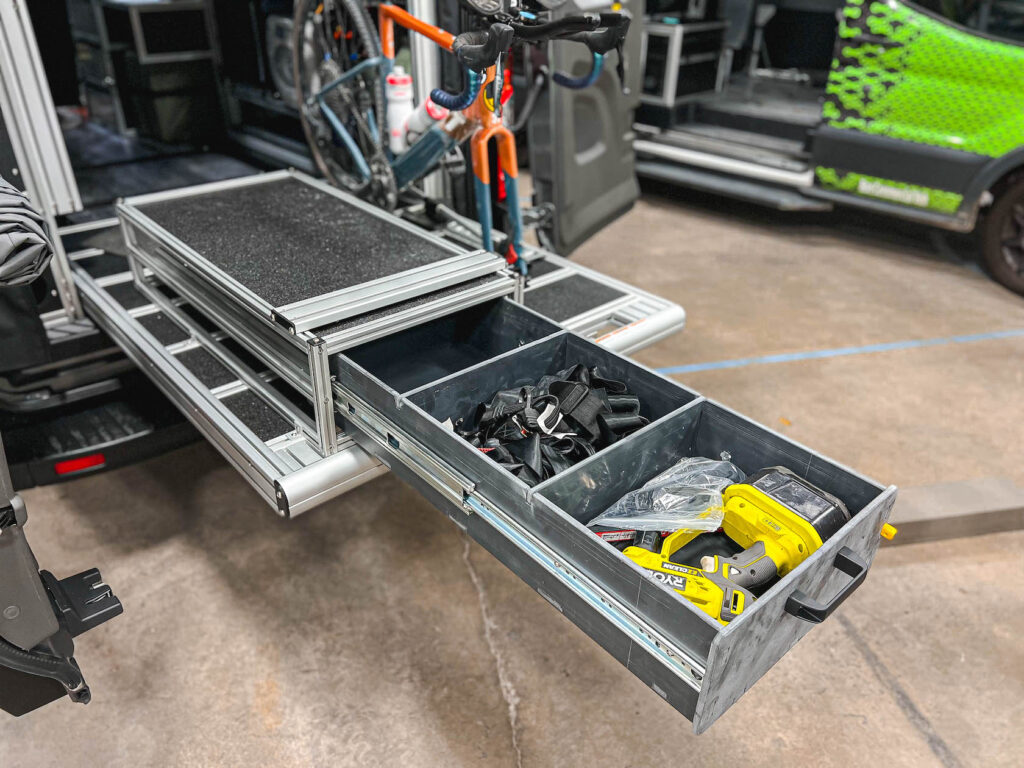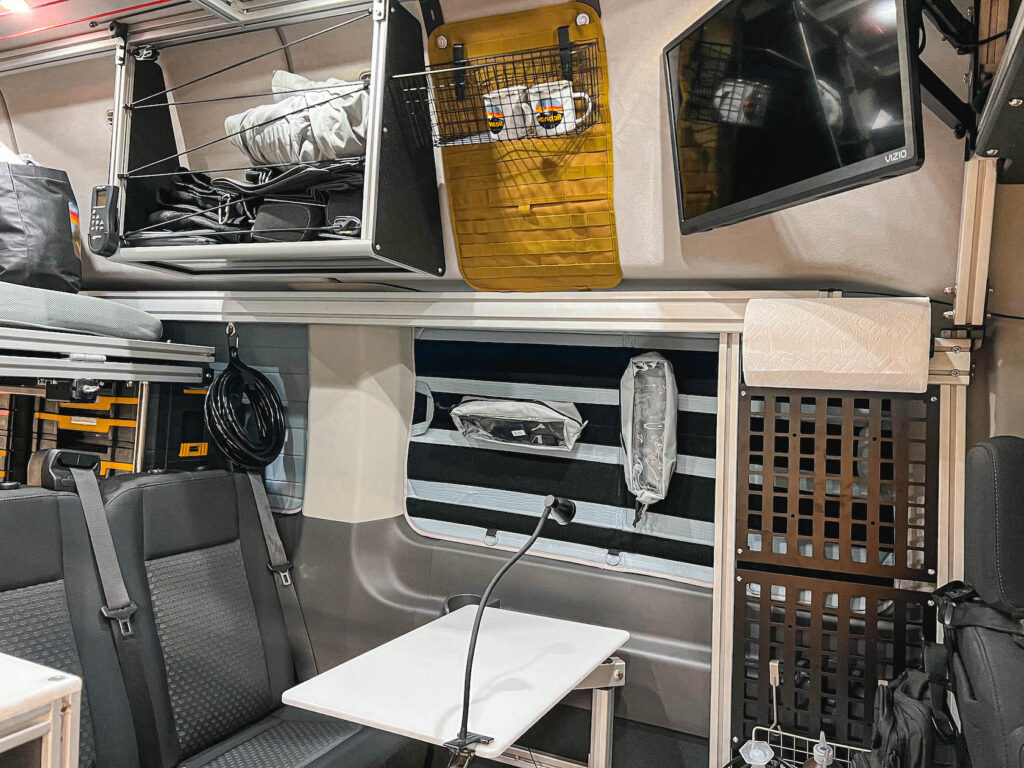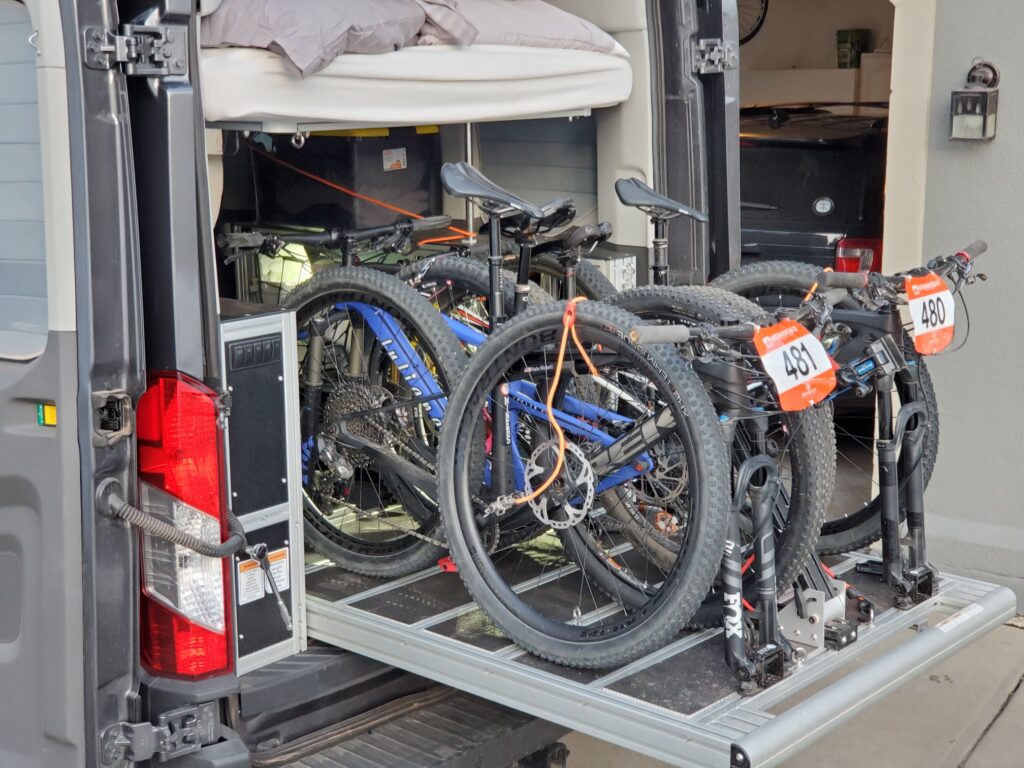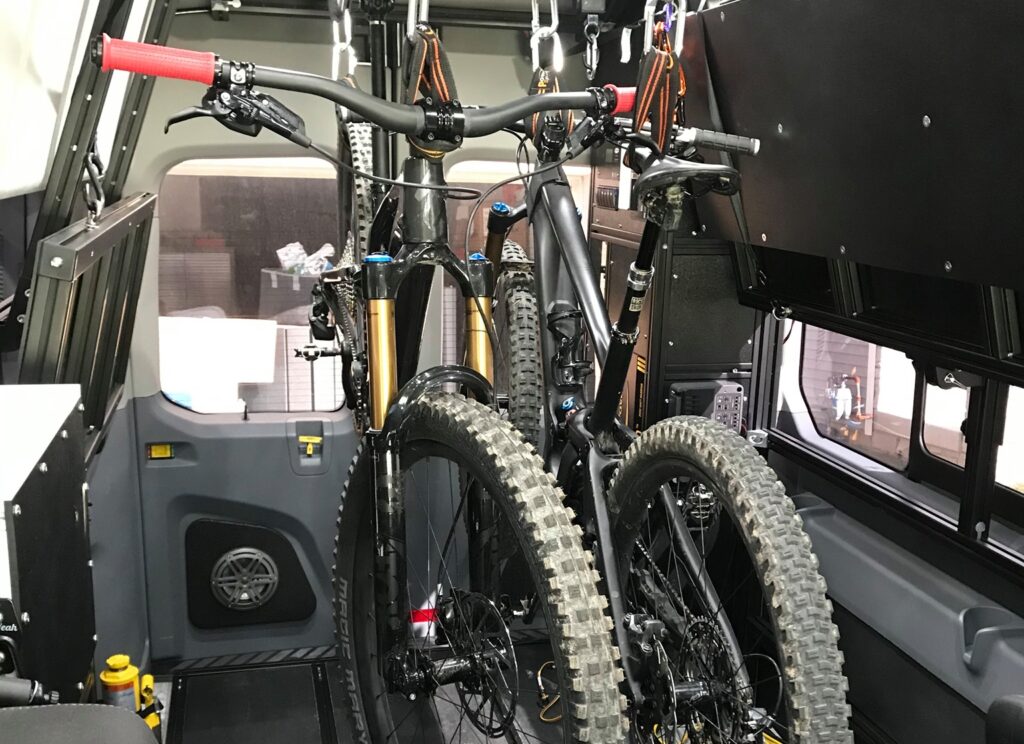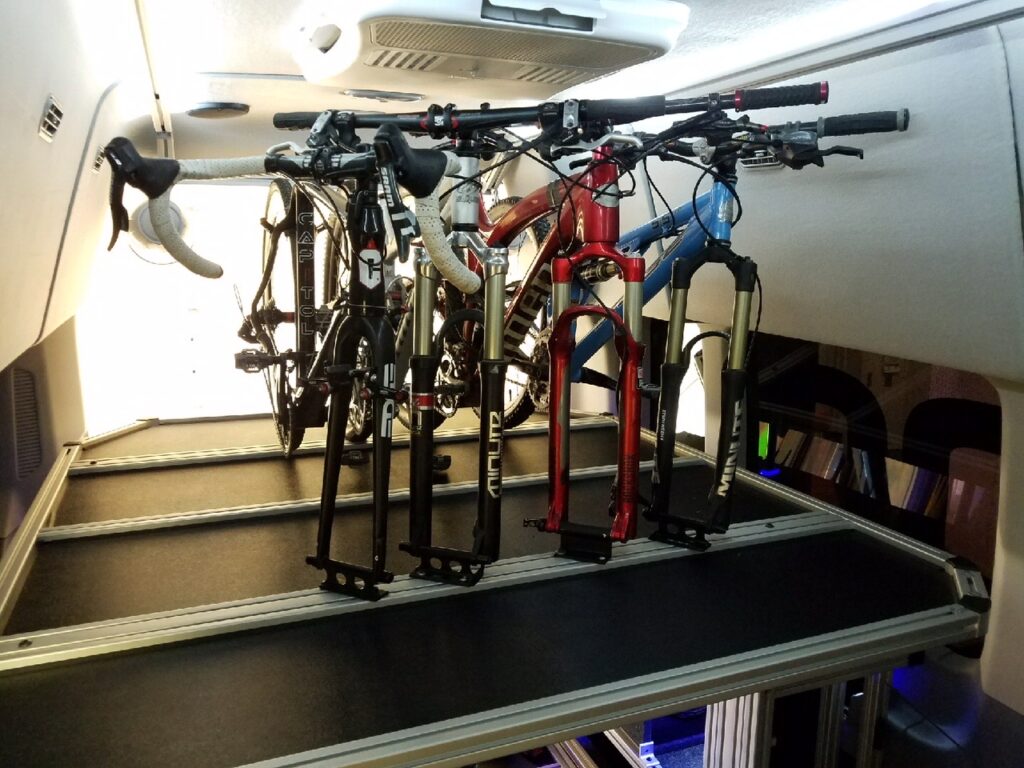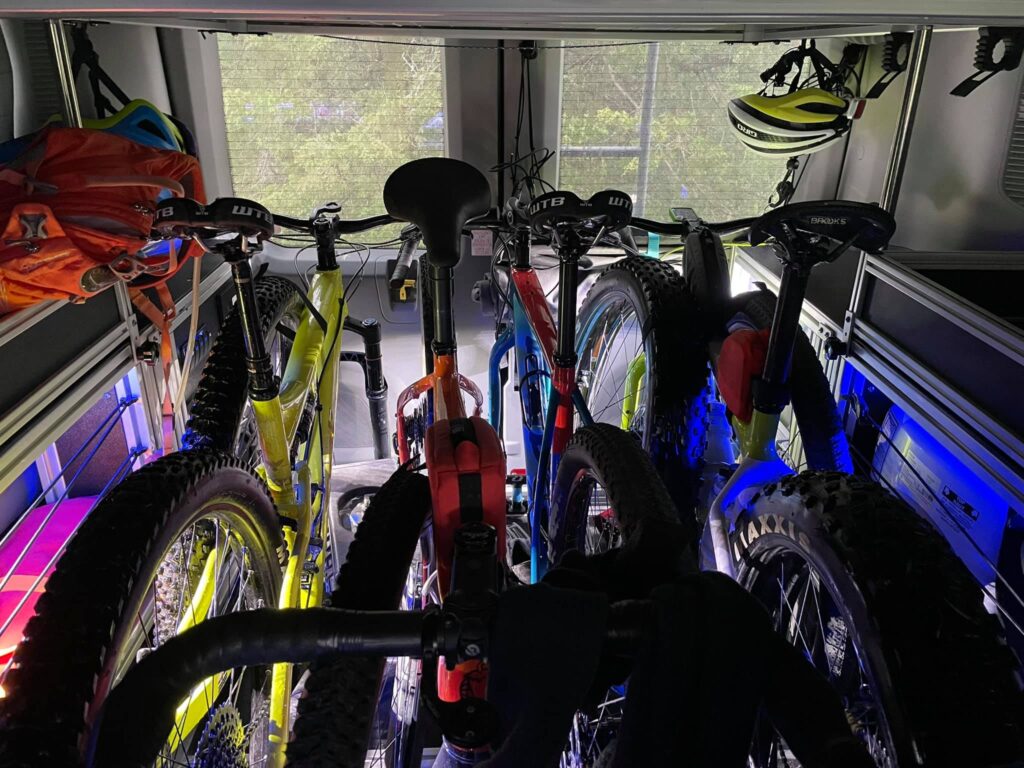 The T-Track skeleton throughout our builds allow for endless options for mounting tool boxes, bikes, hooks, repair mounts, and other tools that make for a great mobile repair vehicle. 
First Responder Mission Support Vehicle
First responder vans built for surveillance, transportation, SWAT Team, CIRT (Critical Incident Response Team), Tactical Dispatch, and Fire Respite.

This van is equipped with a desk set-up with a radio, and has enough power to run multiple computers and monitors. It also has Vandoit drawer storage modules to maximize storage capabilities for equipment such as drones, cameras, and EMS equipment.  

Storage options such as MOLLE panels and hanging cabinets create endless secure possibilities for all mission equipment.

Mission Support Vehicle": The power system charges 3 ways, so no generator is needed–ensuring the security of covert operations.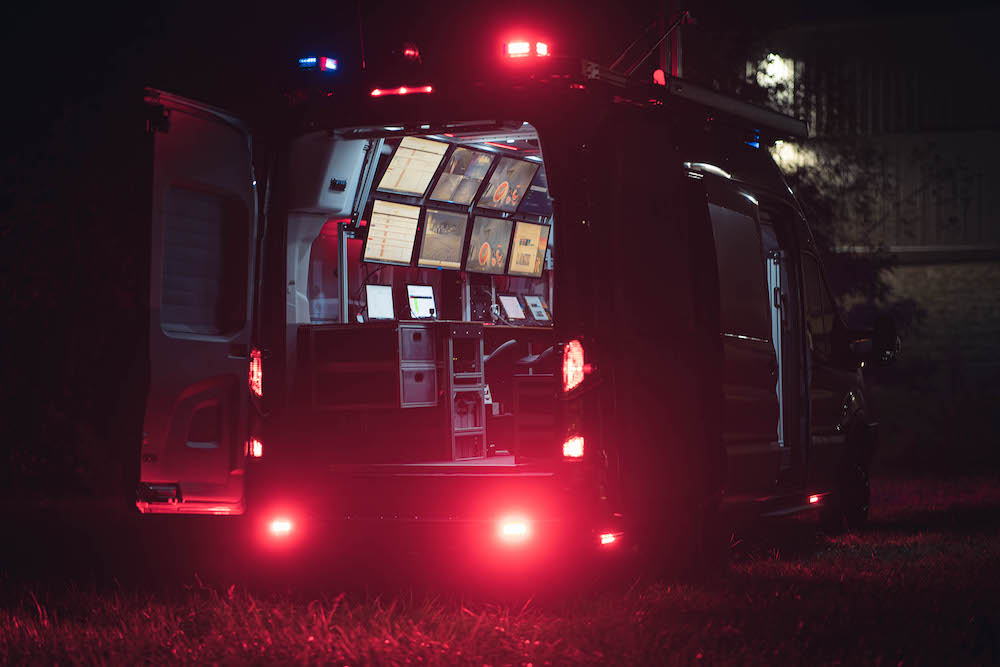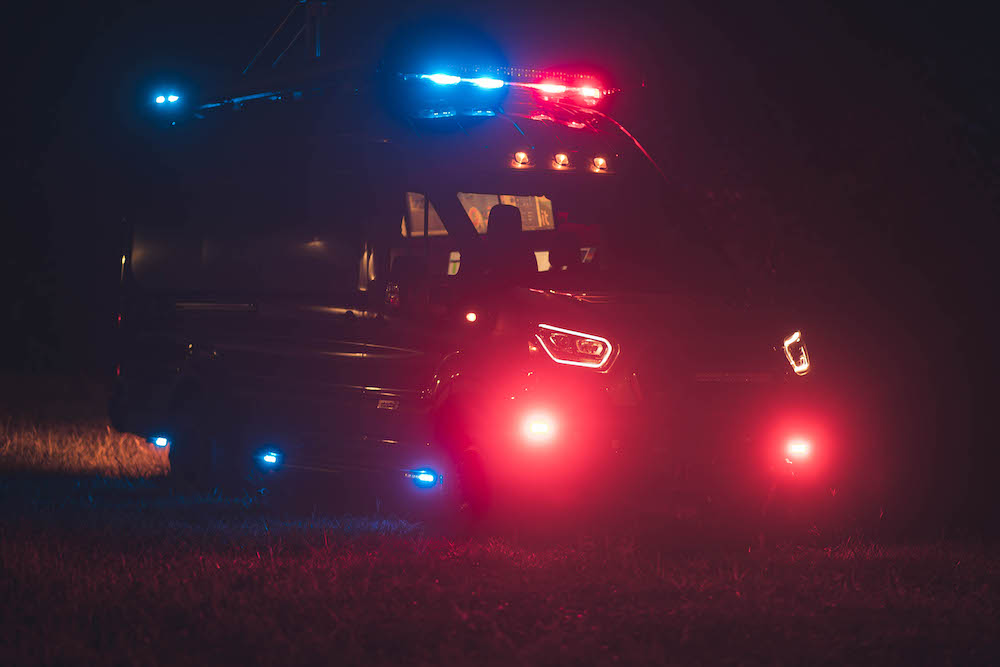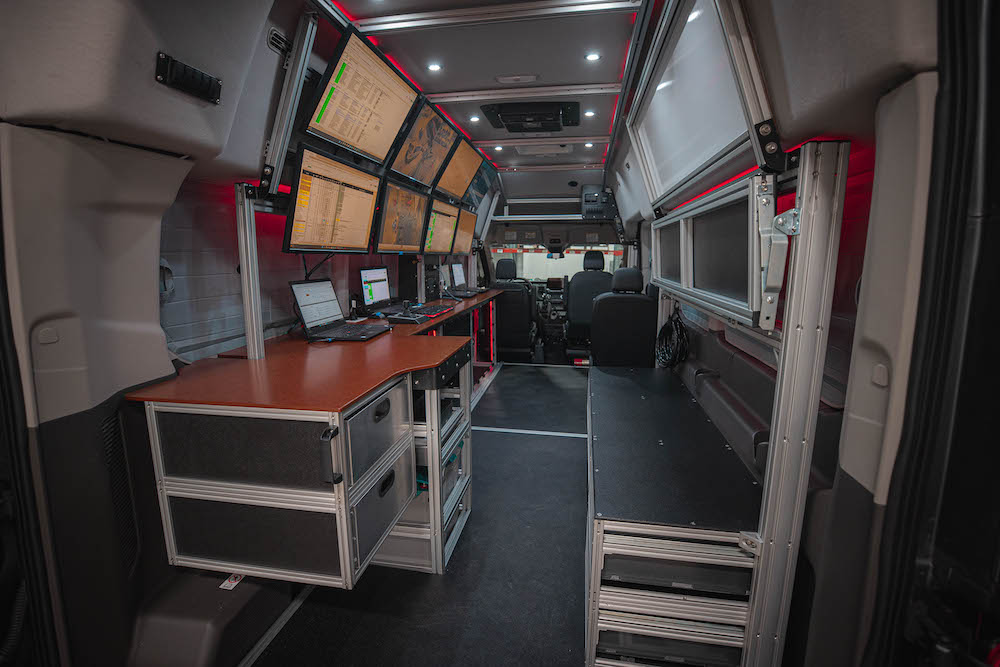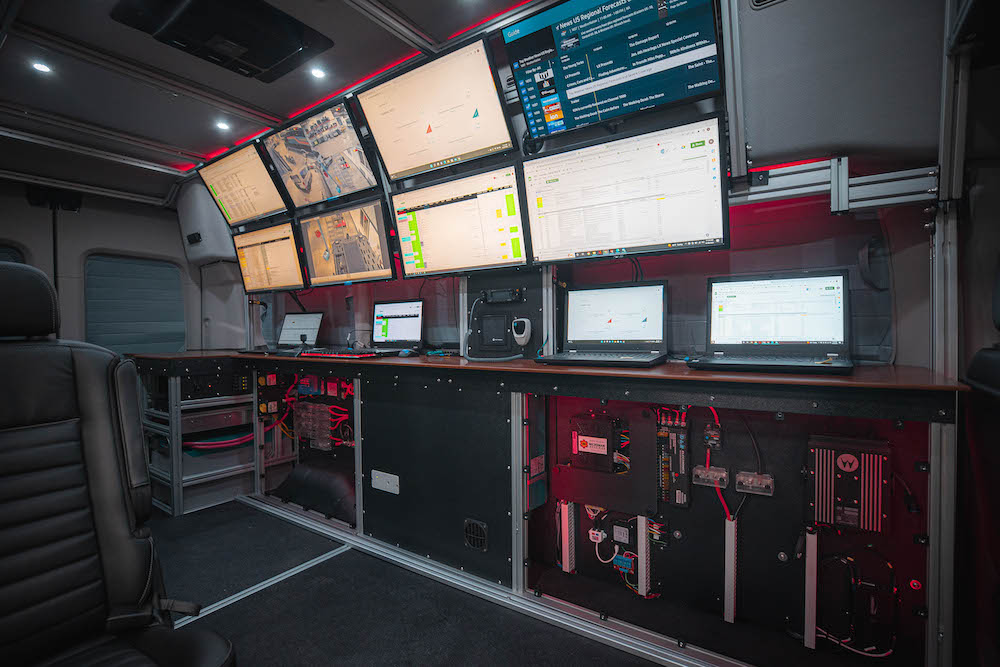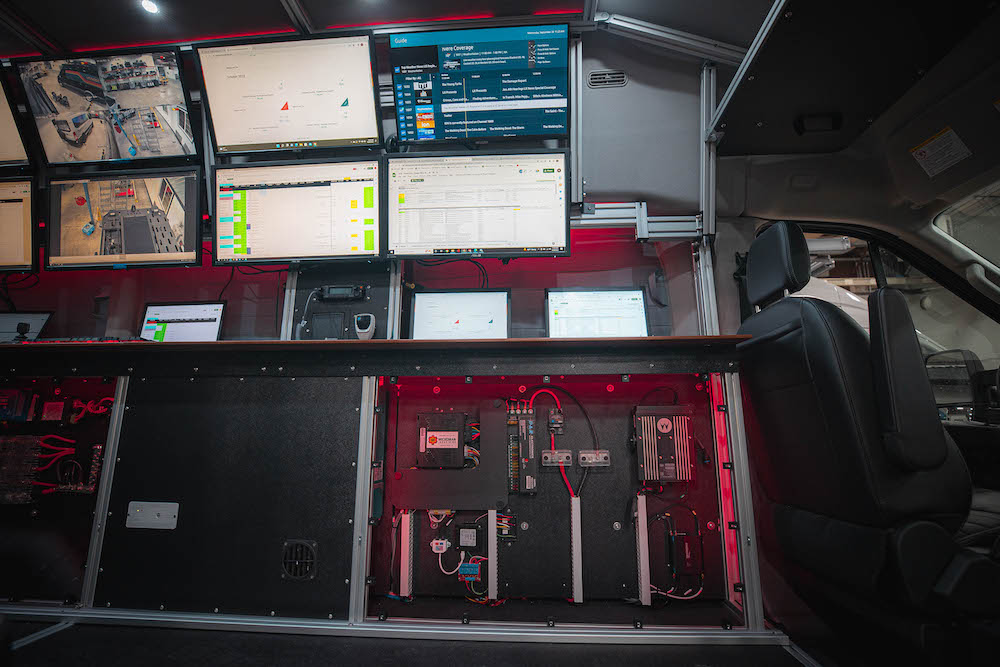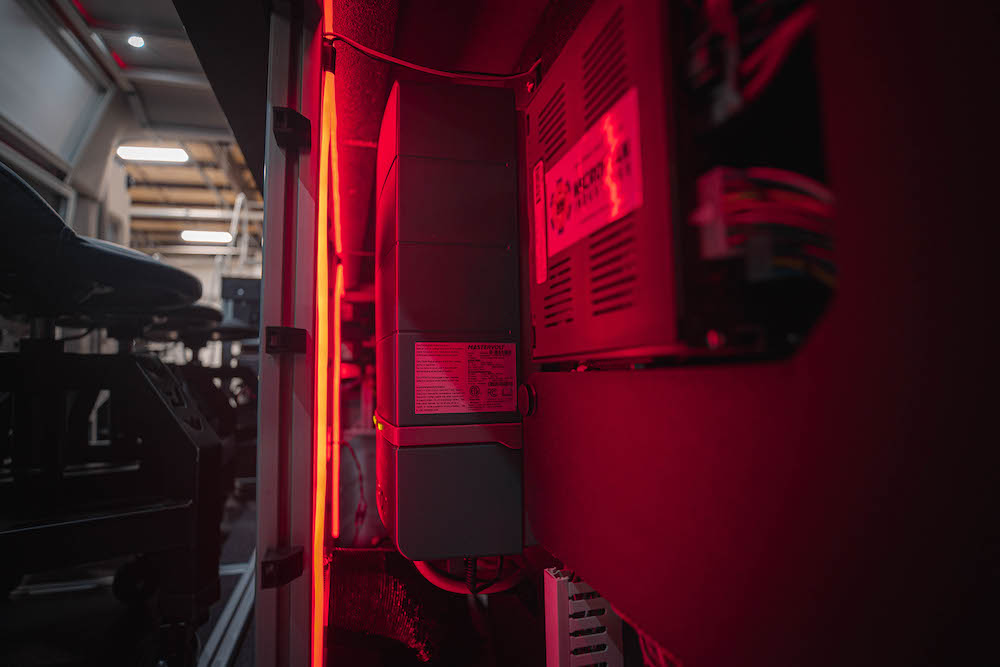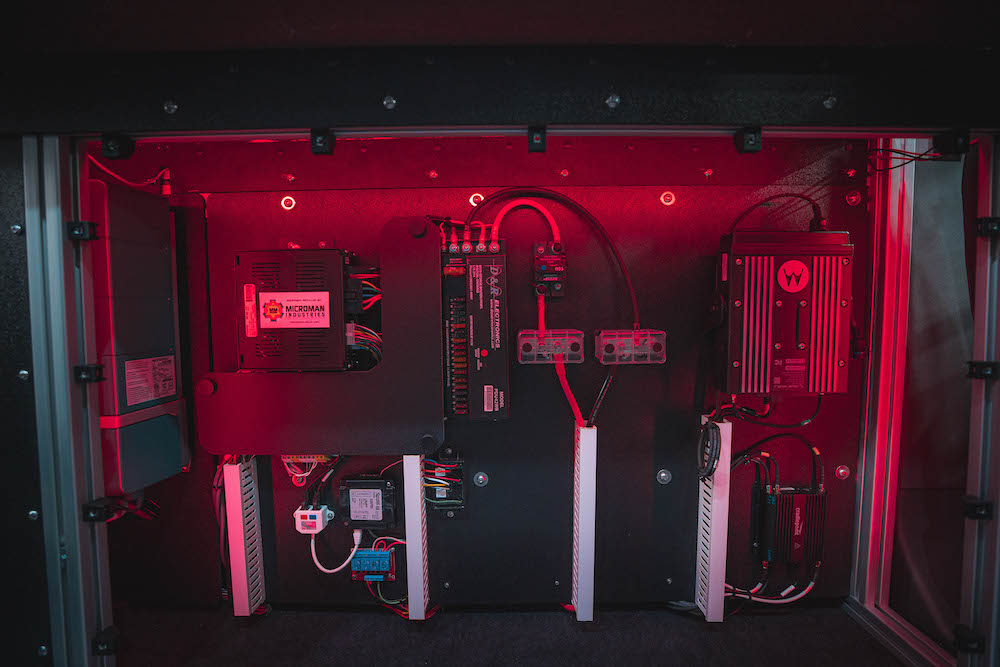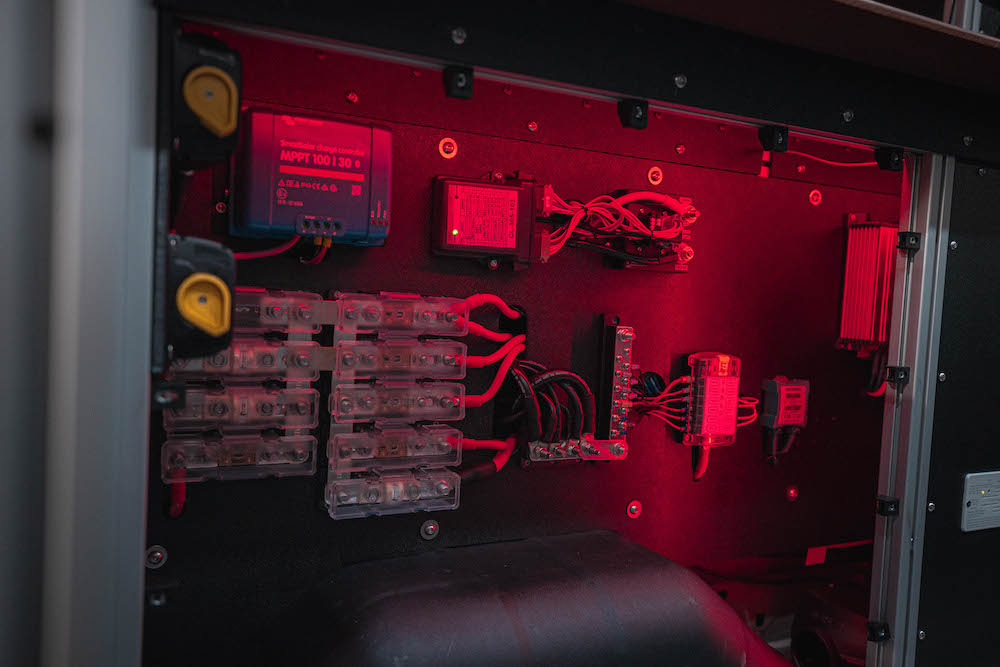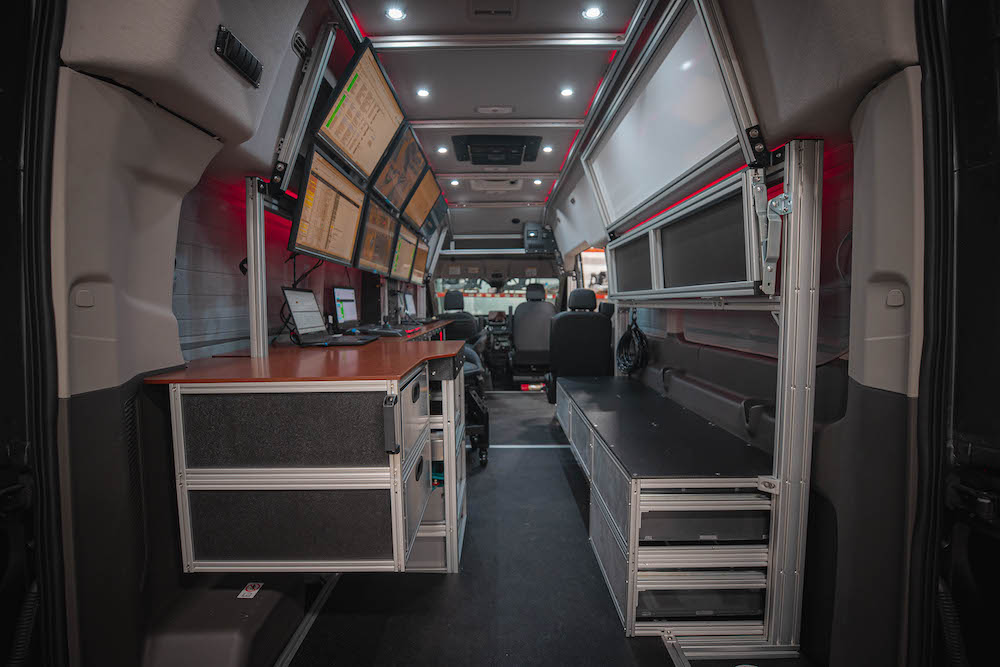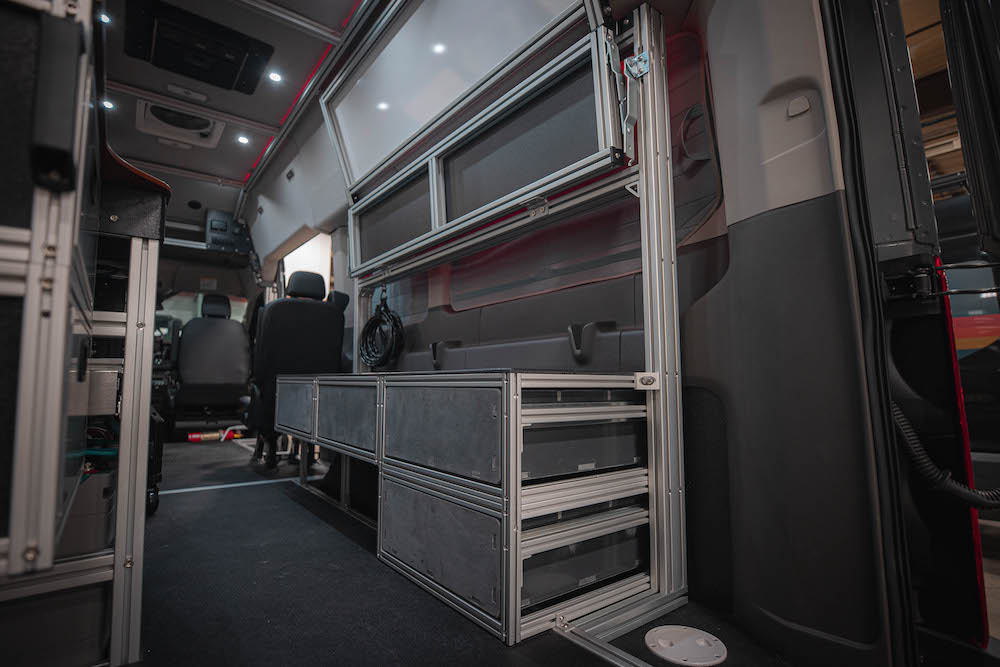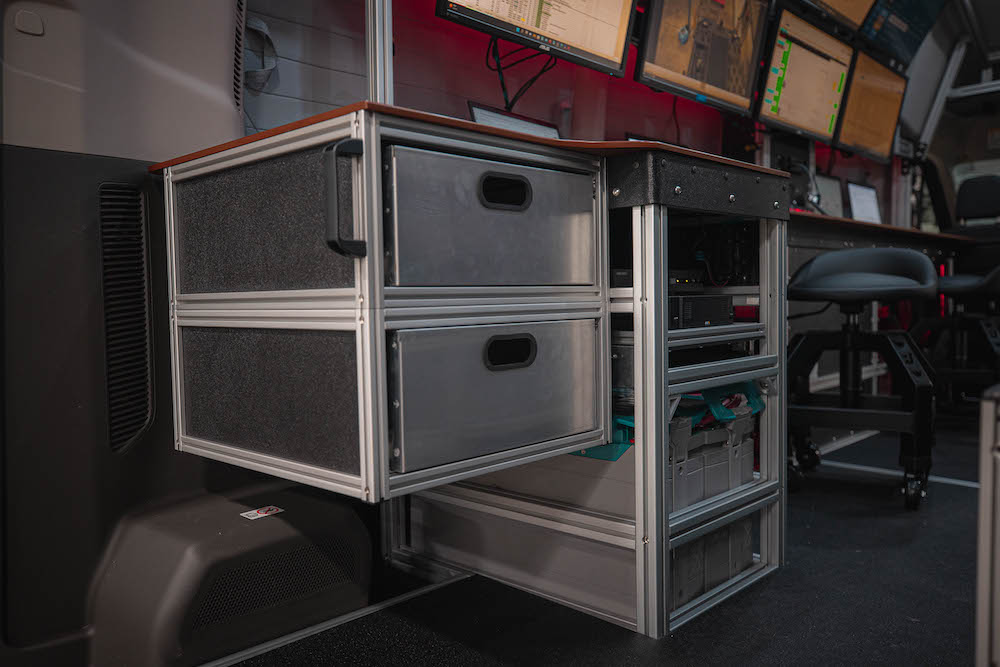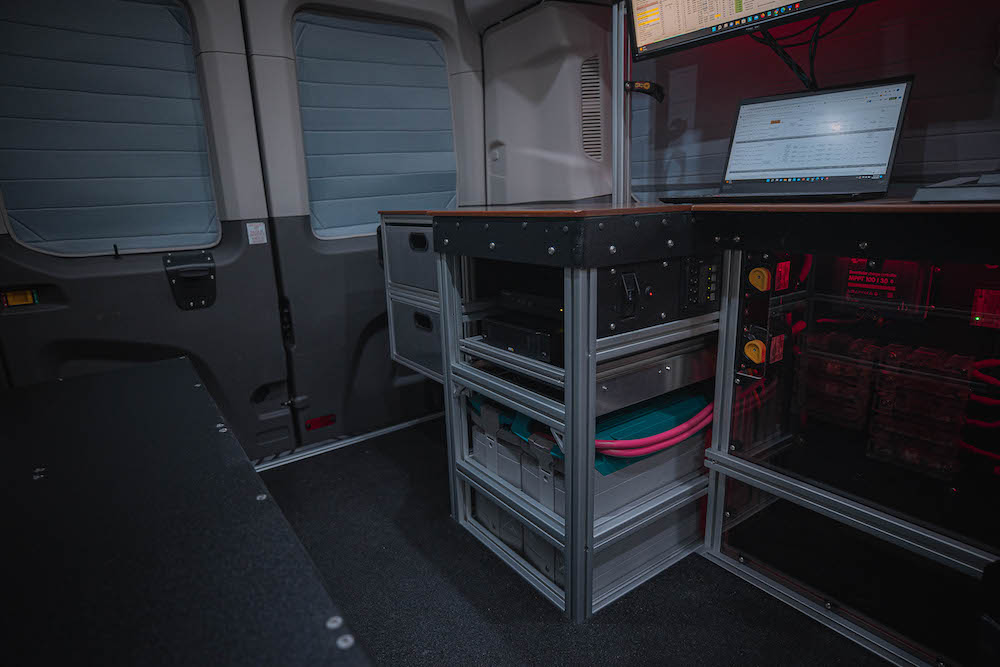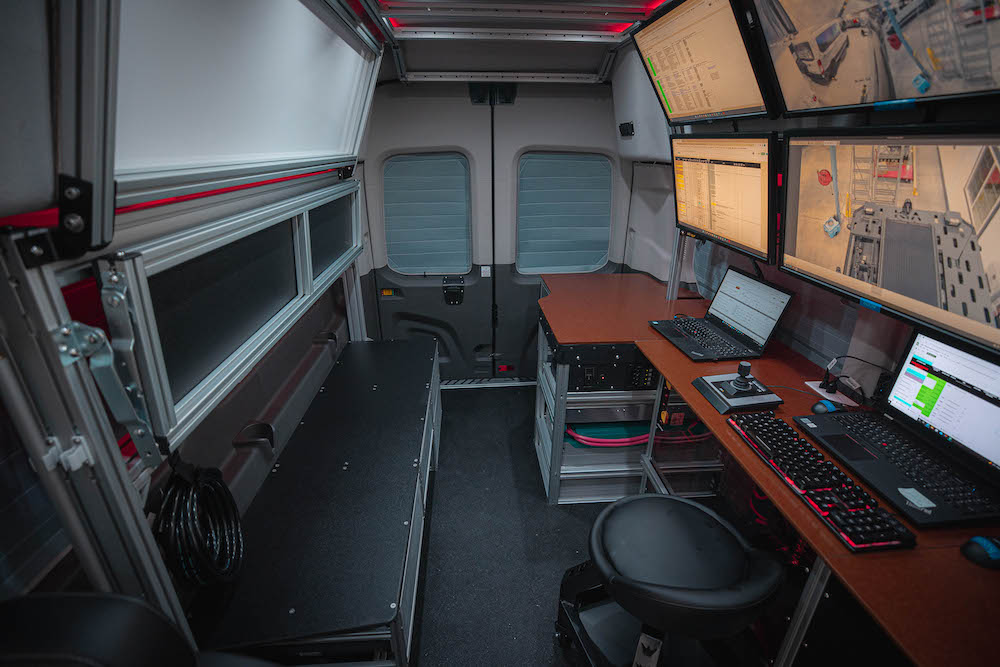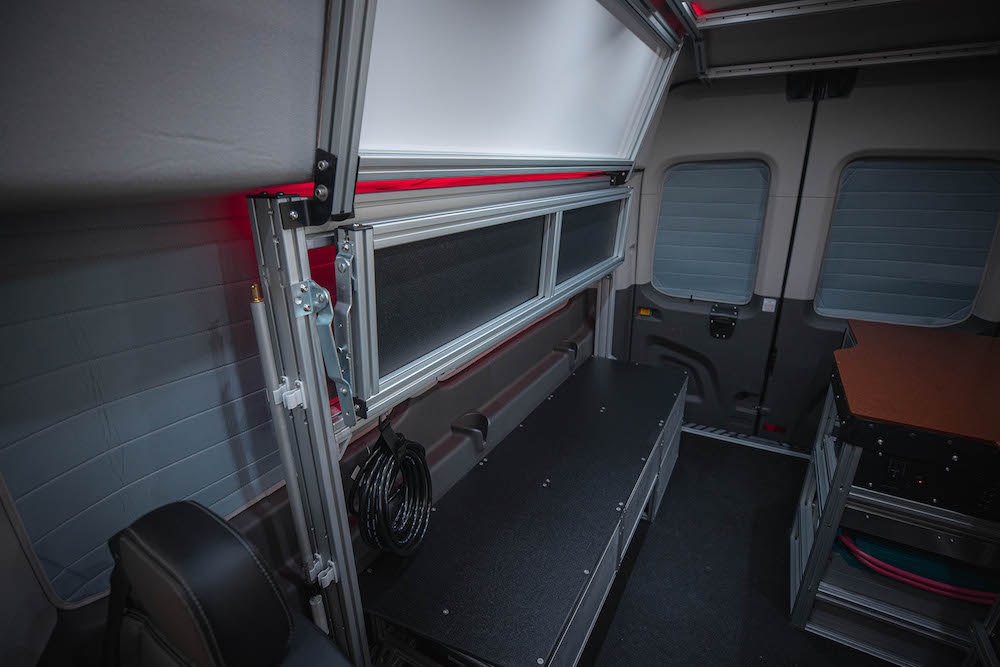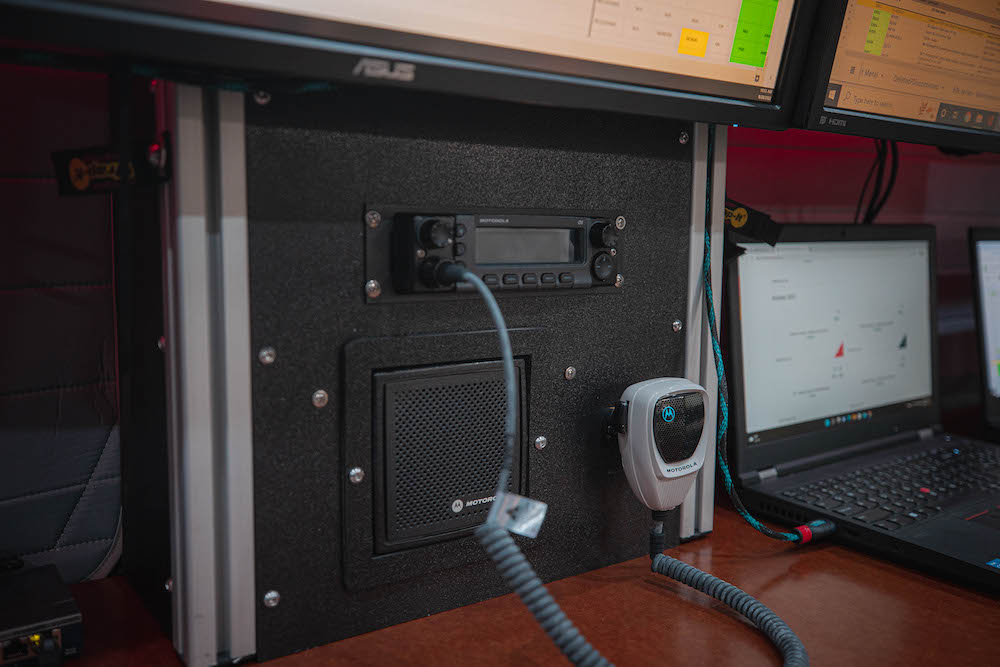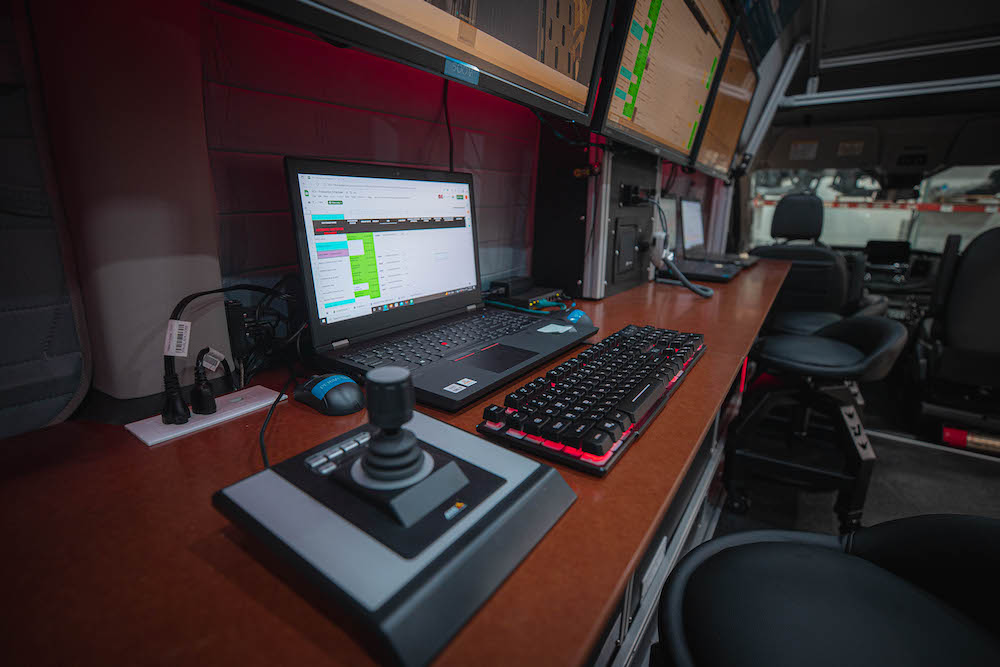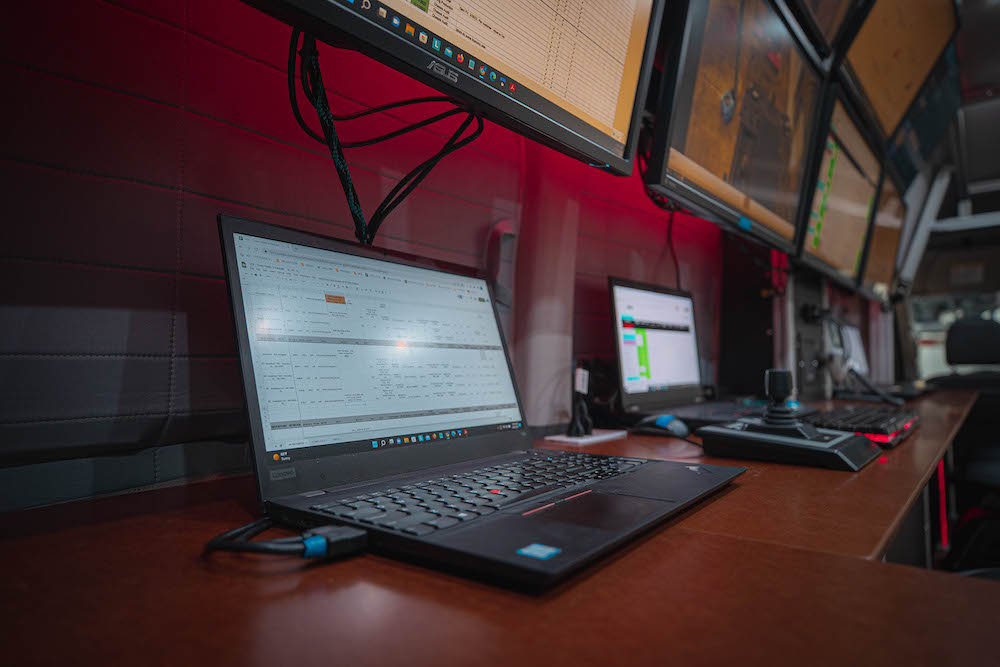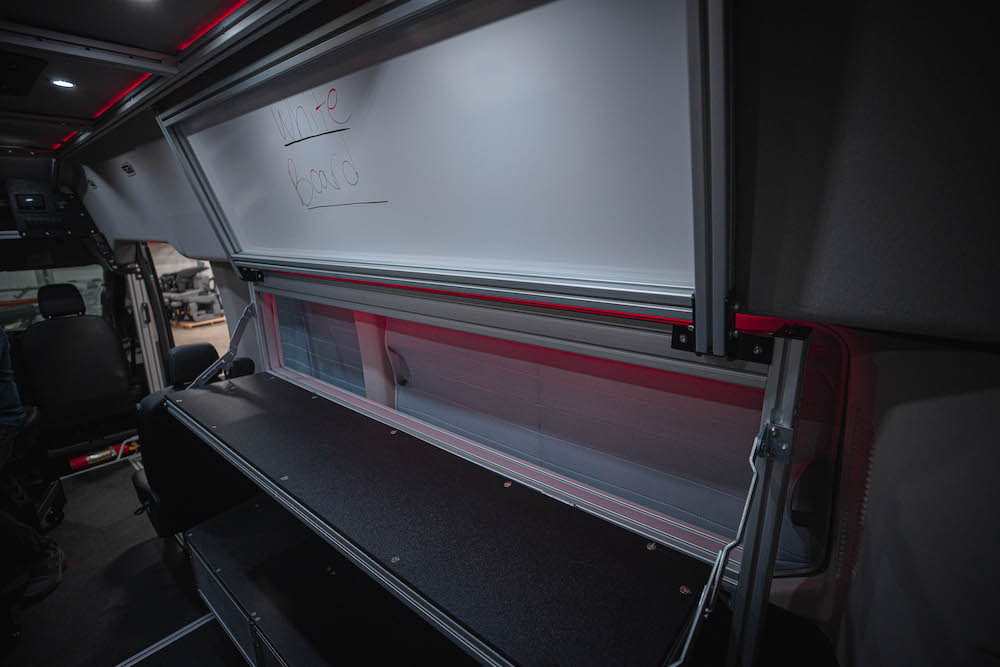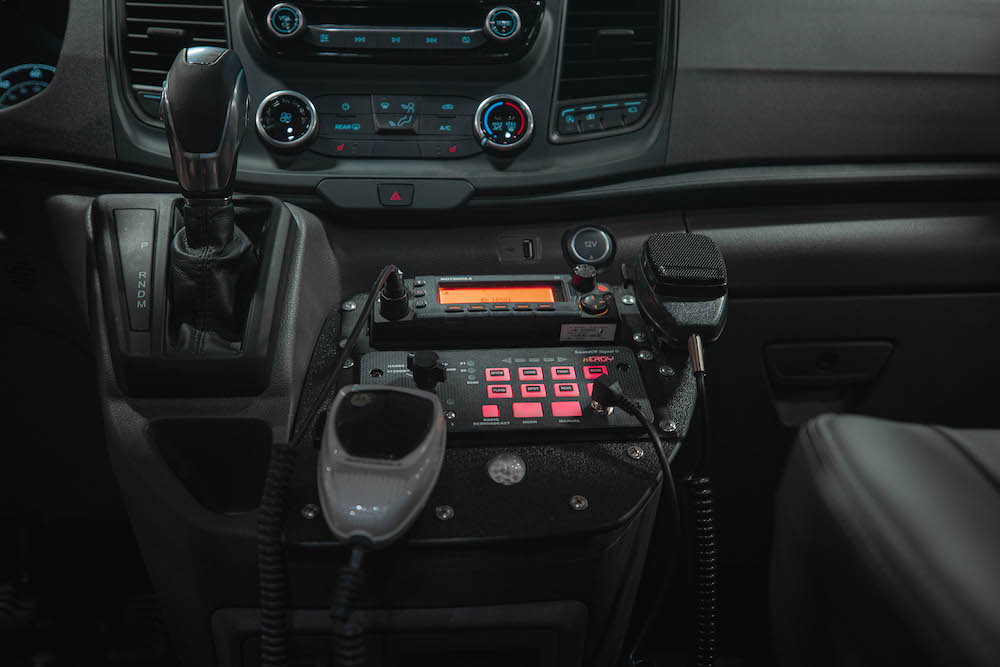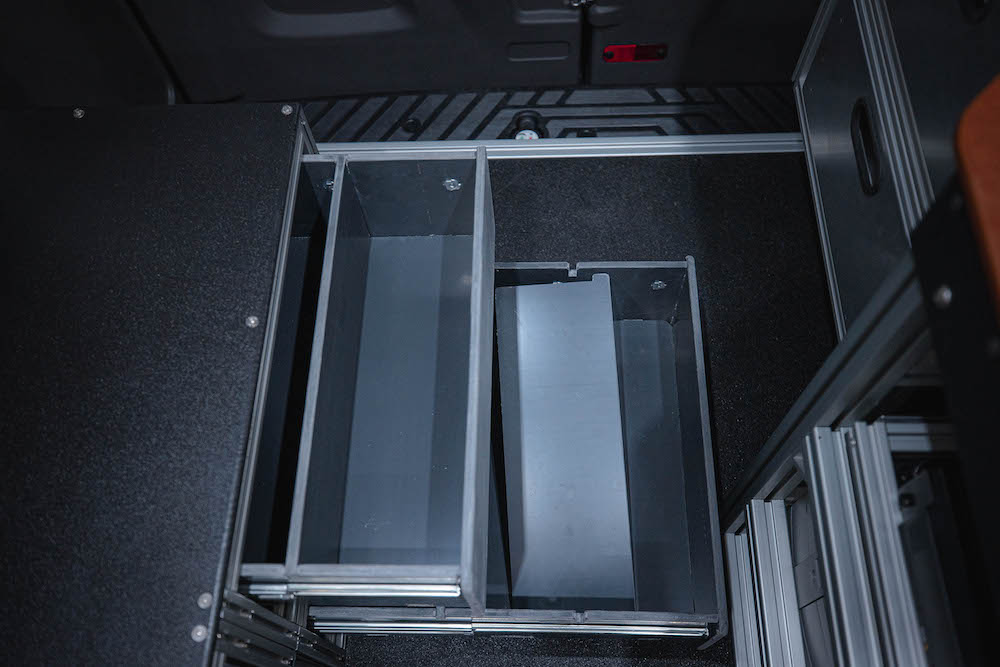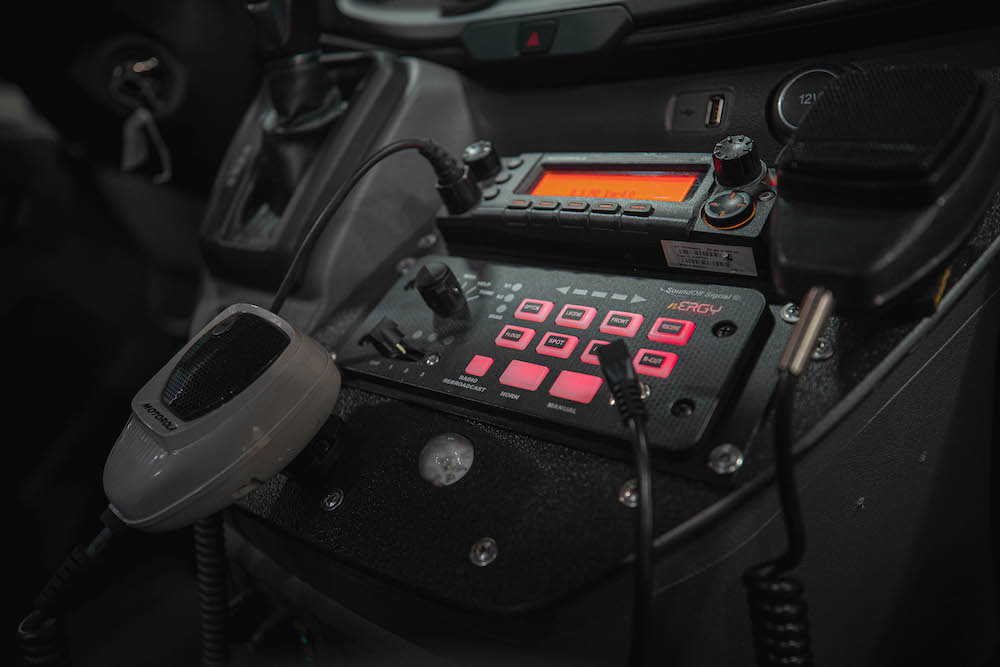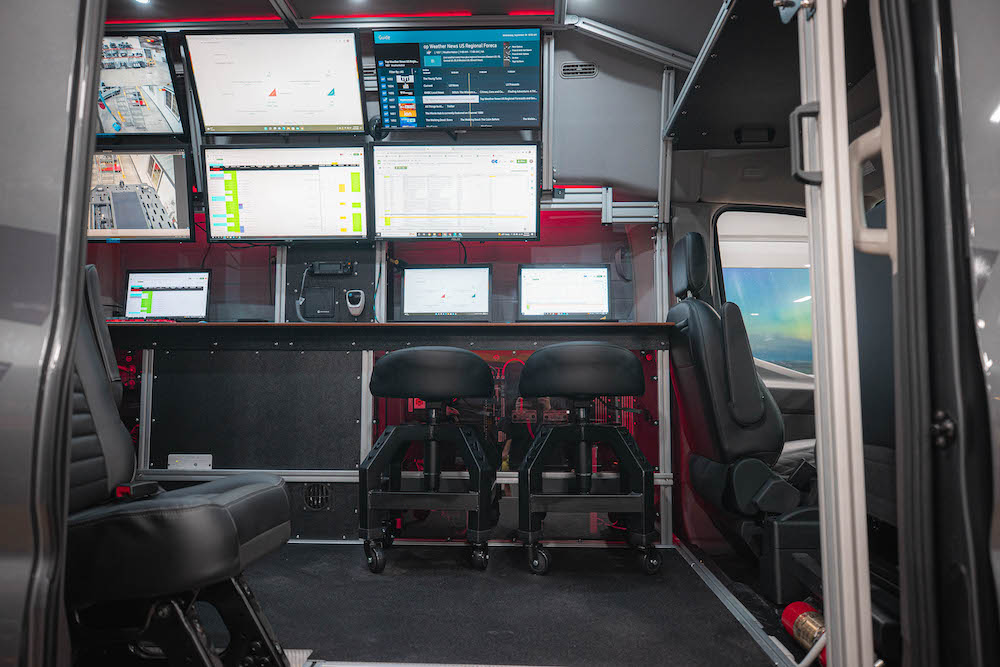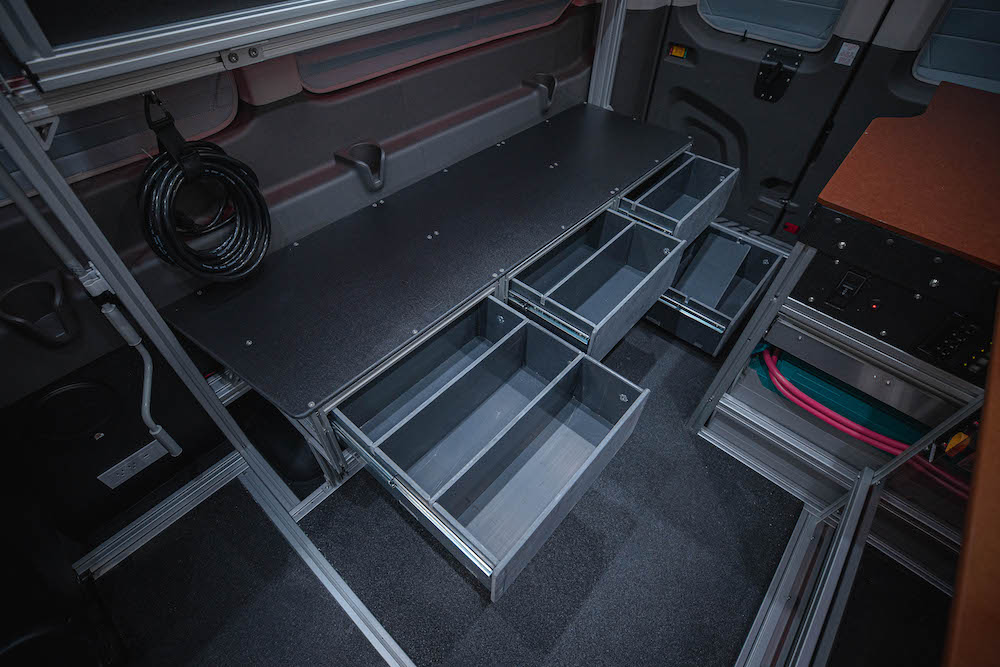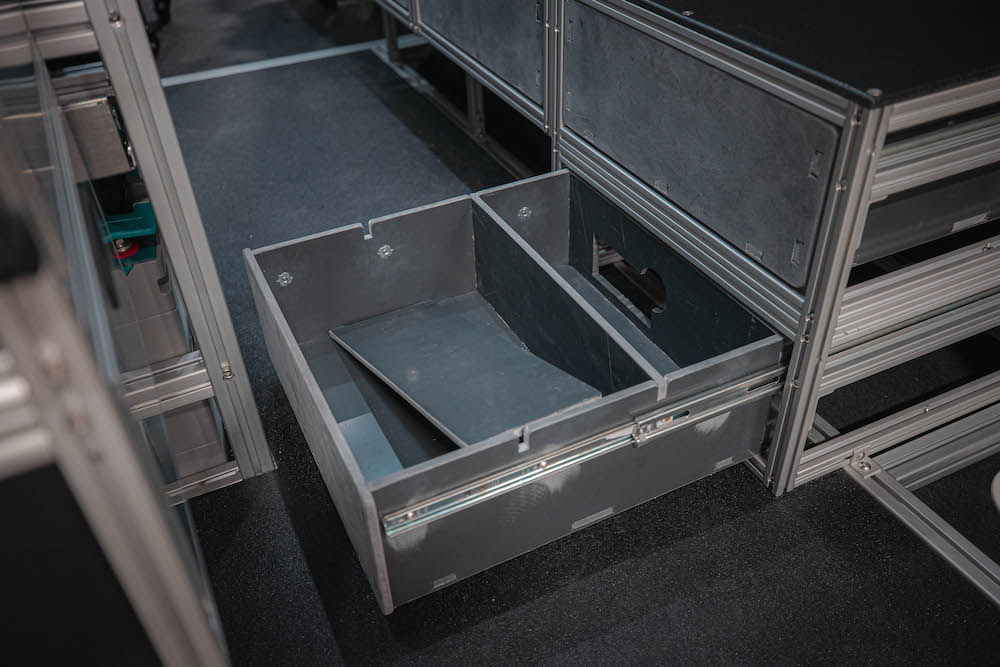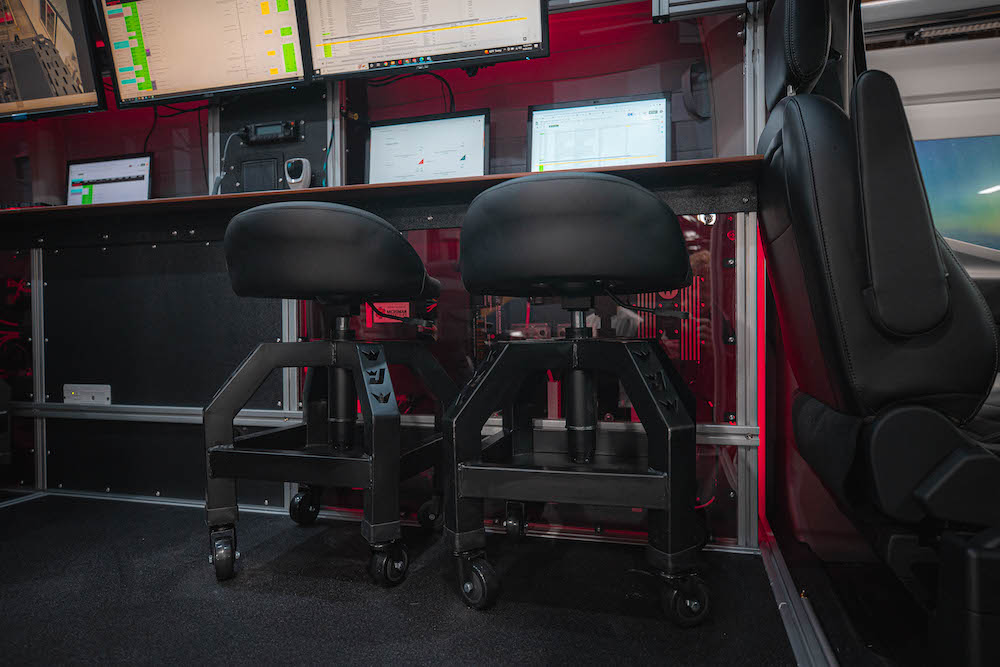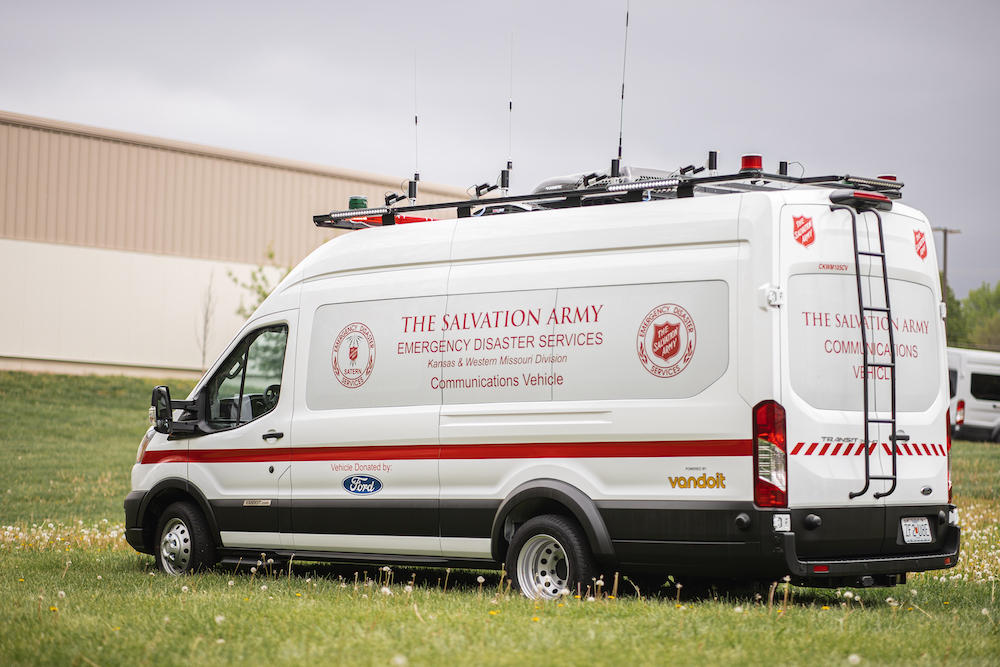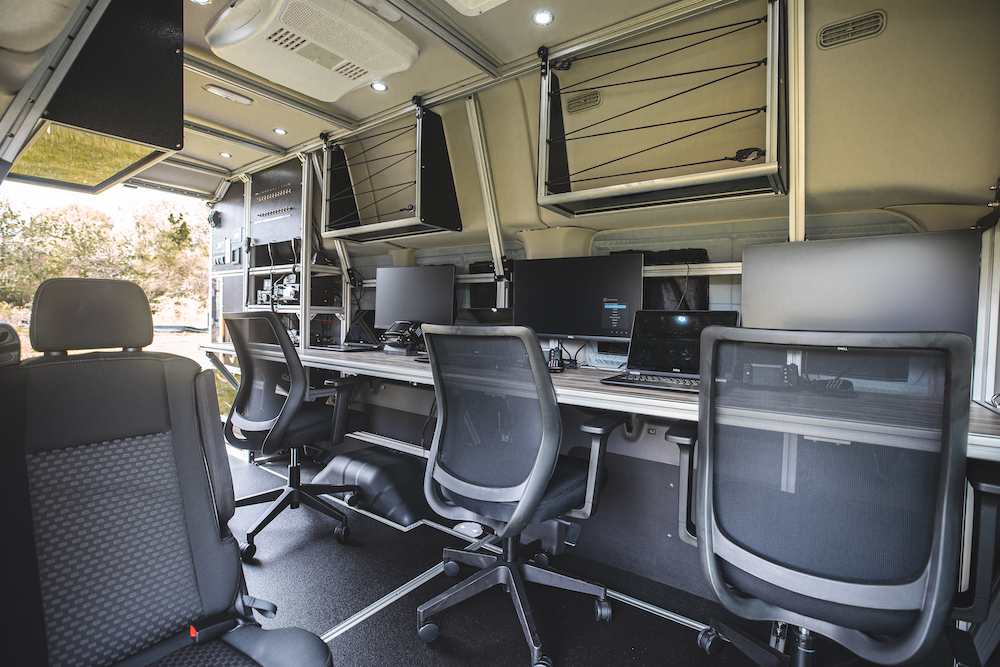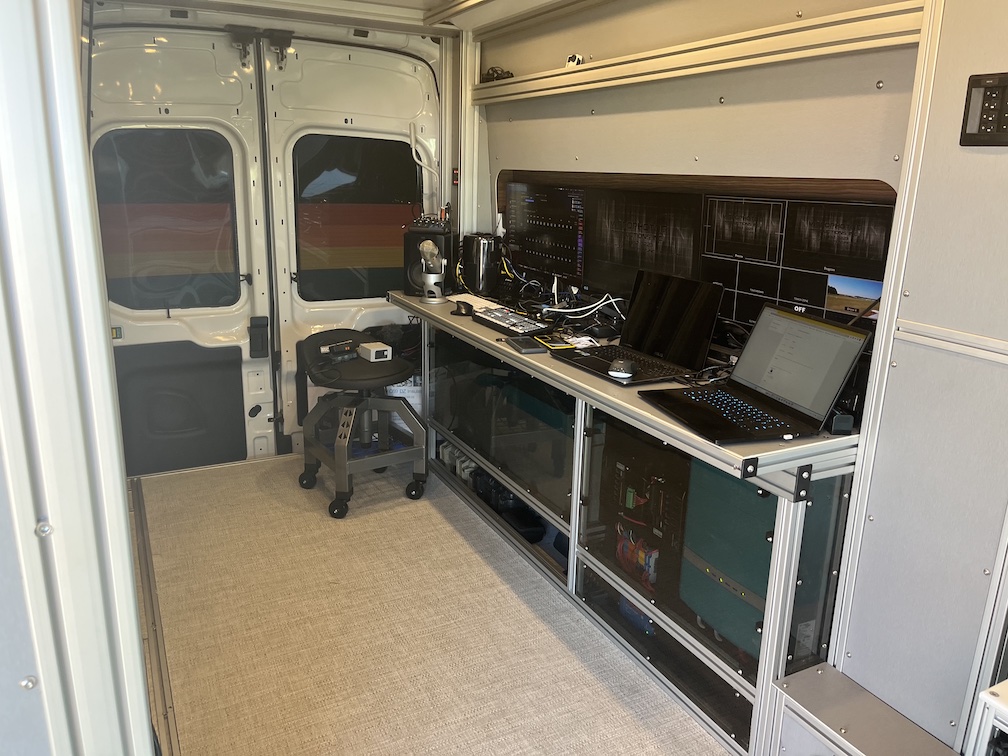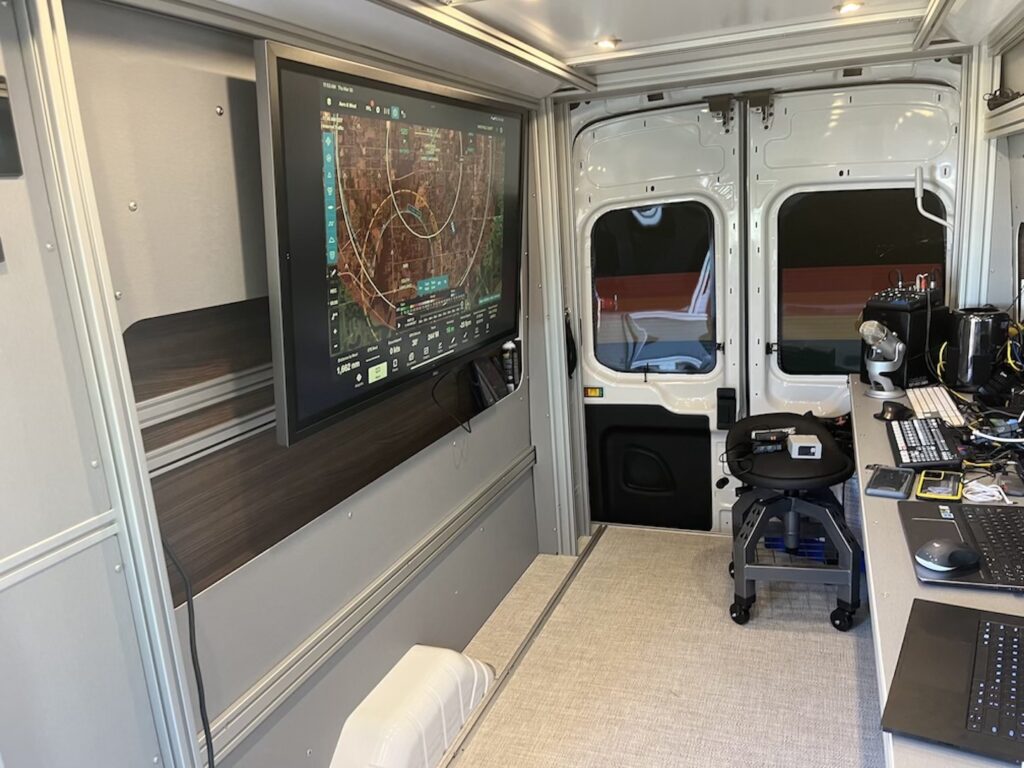 Disaster Relief Support Vehicle
This van interior is transformed into a mobile communications vehicle.  It accommodates three separate radio setups and can hook up with cell phone services and the internet. Virtually every type of communication can take place including VHF, UHF, digital — even Morse code. Depending on the power of the radios, SATERN (Salvation Army Team Emergency Radio Network) volunteers can talk to people all over the country, and if permission is granted to transmit to a larger tower, they can talk with people worldwide.

There are also six radio antennas located on top of the vehicle. They raise up and are lowered with the push of a button, which offers safety and convenience. It eliminates the need to stop the van, get out, climb a ladder and physically unbolt the antennas before each use.
This van is built for mobile talk therapy and other mental health services.

Attending therapy in a van is a helpful setting for those who experience social anxiety or anxiety about therapy in general, as meeting in a van preserves anonymity, and the client only interacts with the therapist during the appointment.

The van is the perfect quiet, peaceful setting for mental health support.

This van is equipped with a desk, couch, a large power system, a dc powered air conditioner, and zonal lighting that is dimmable to create a variety of atmospheres.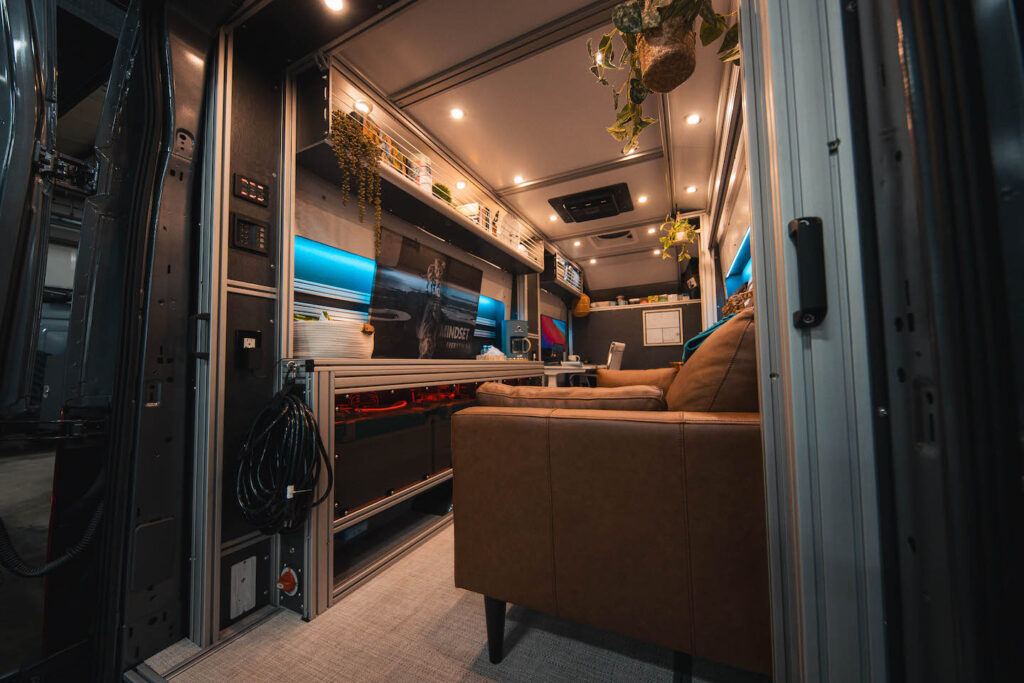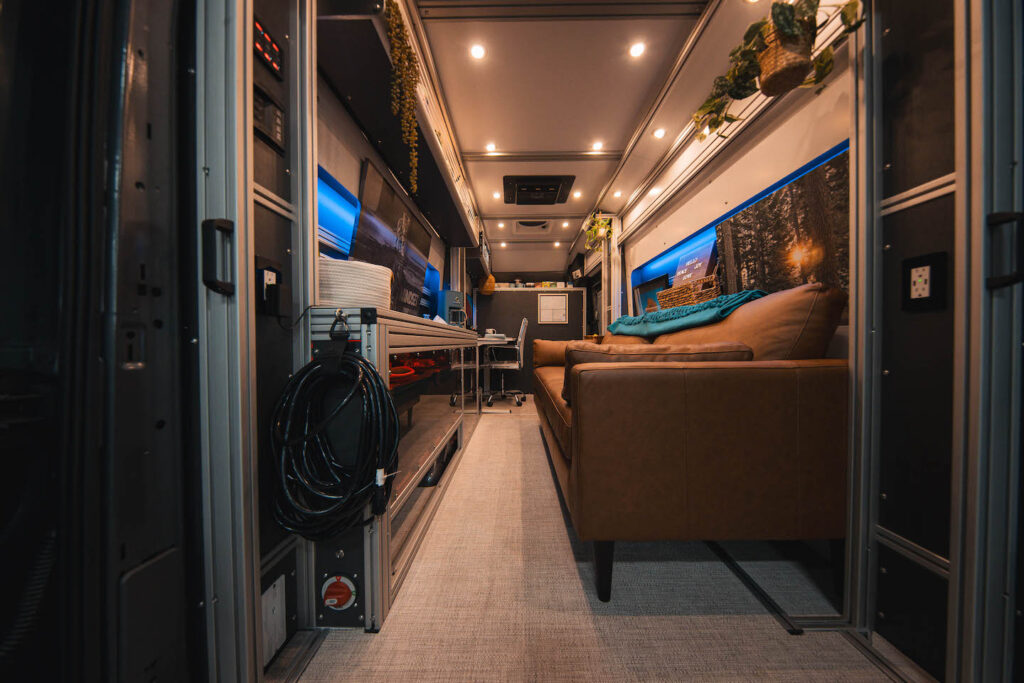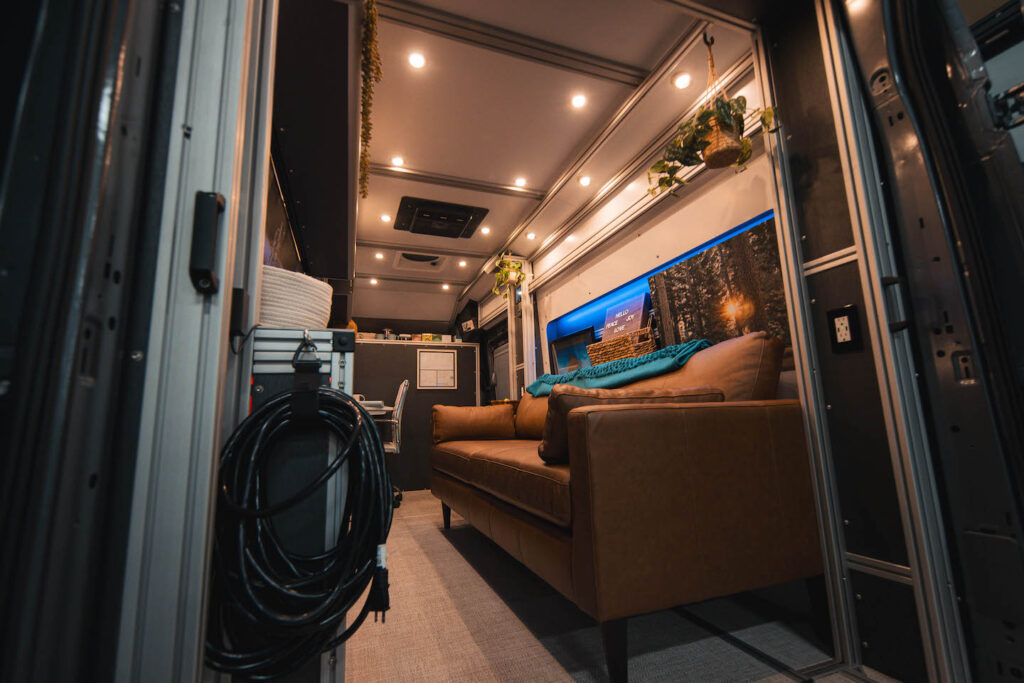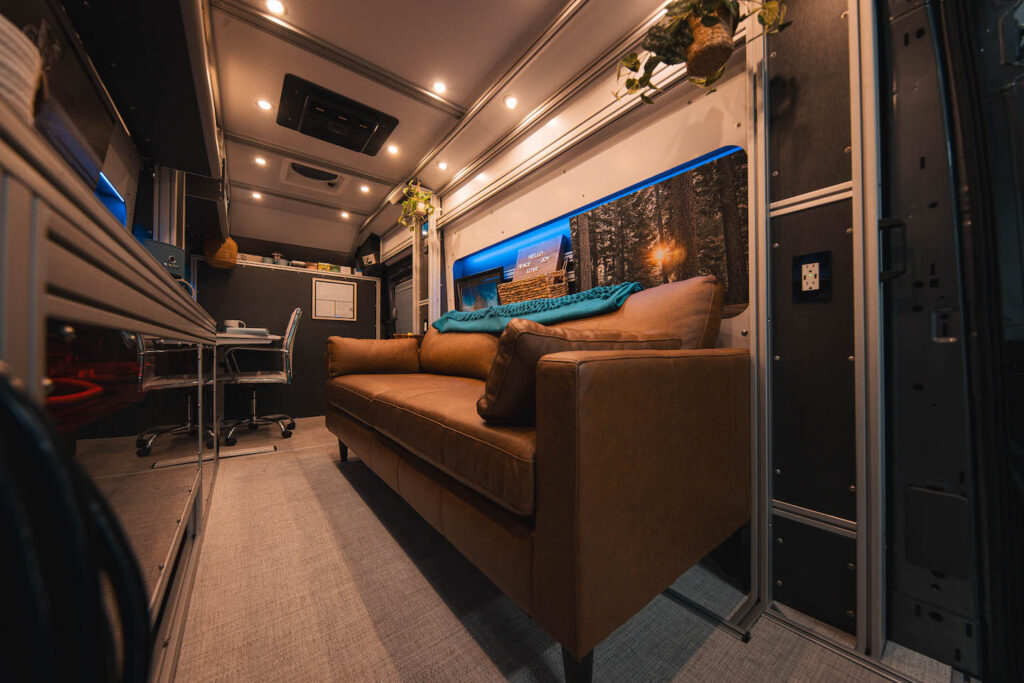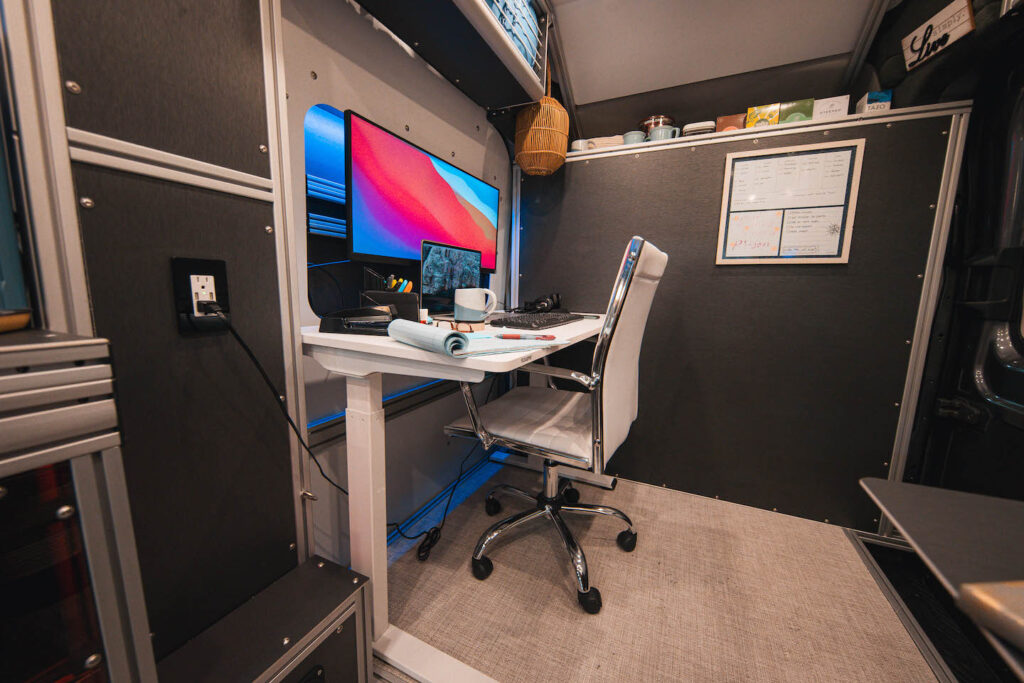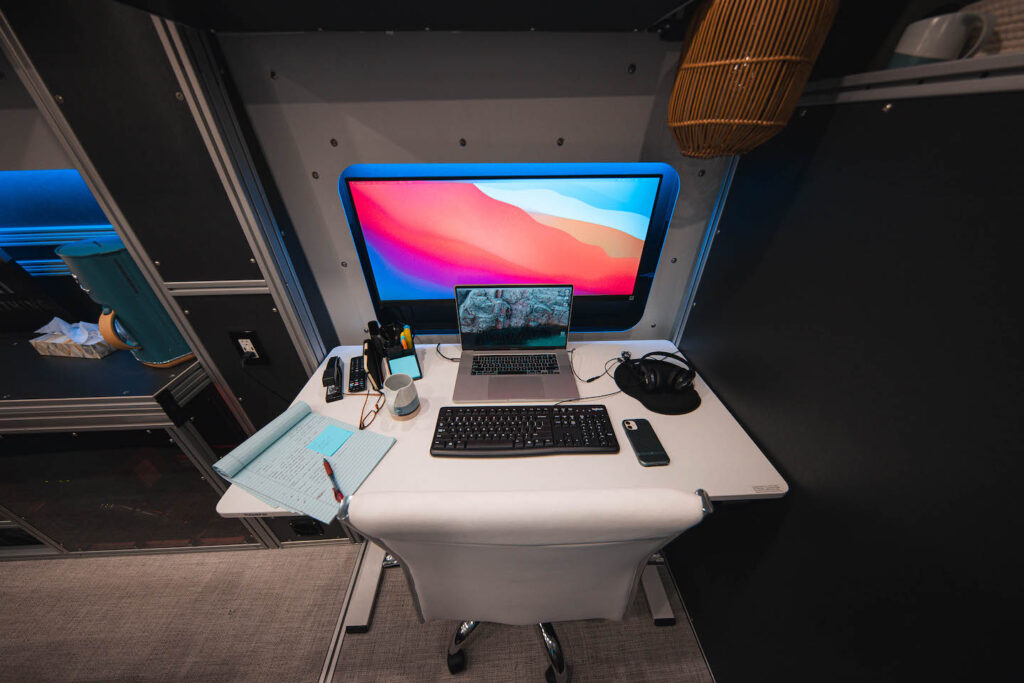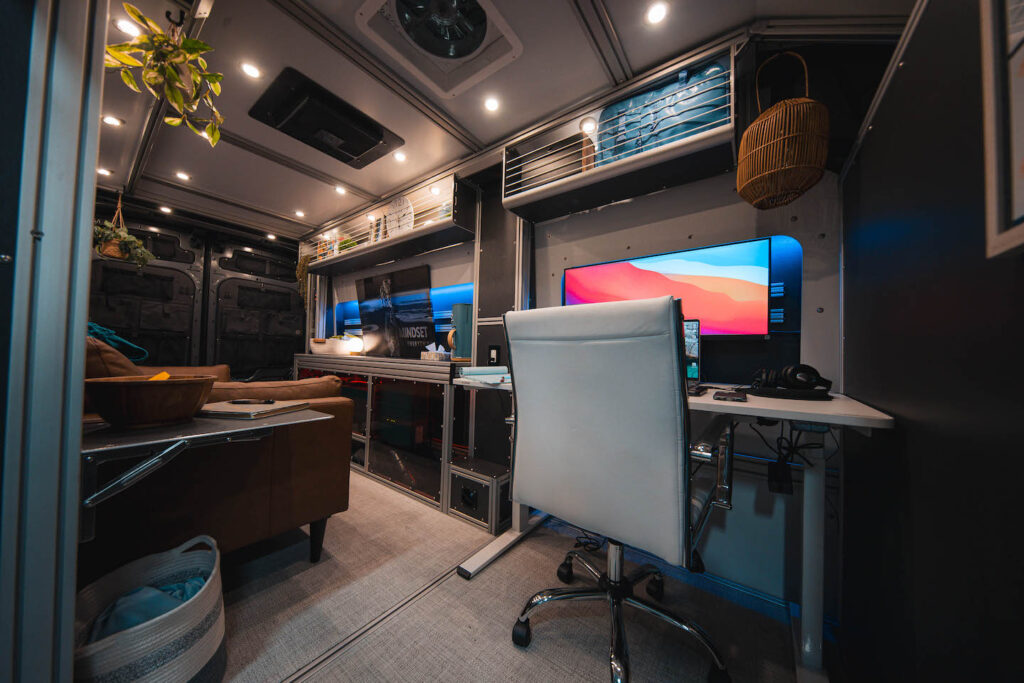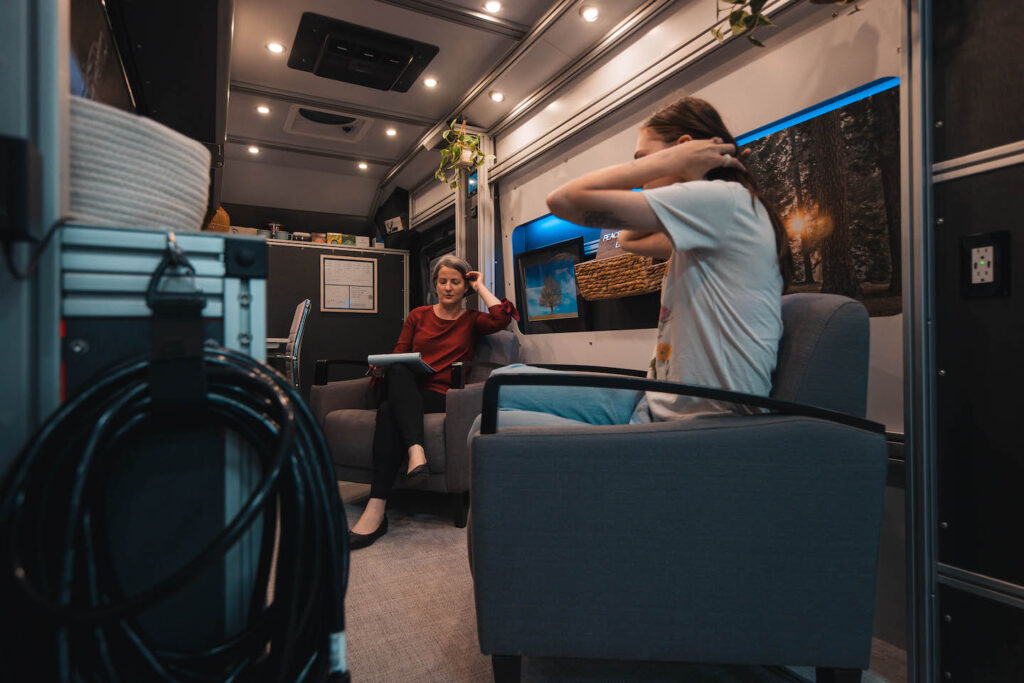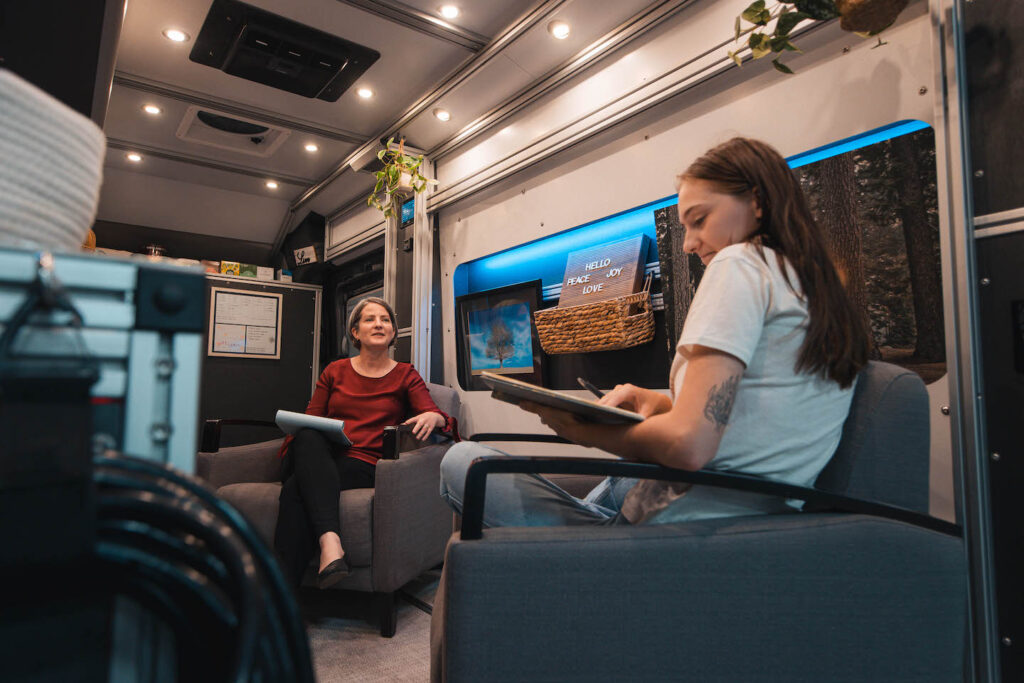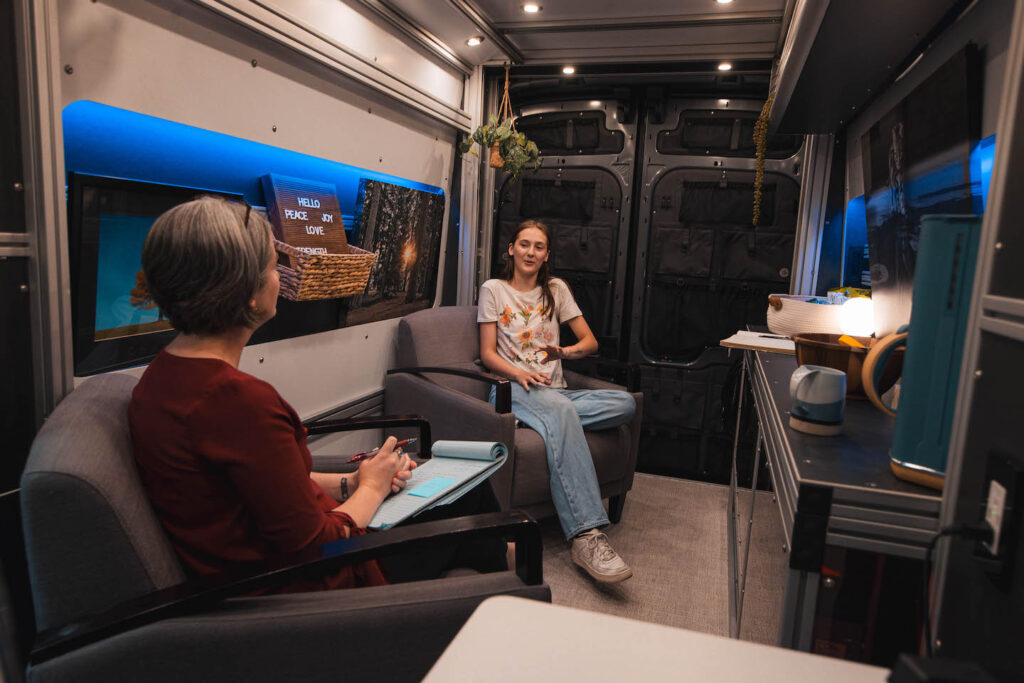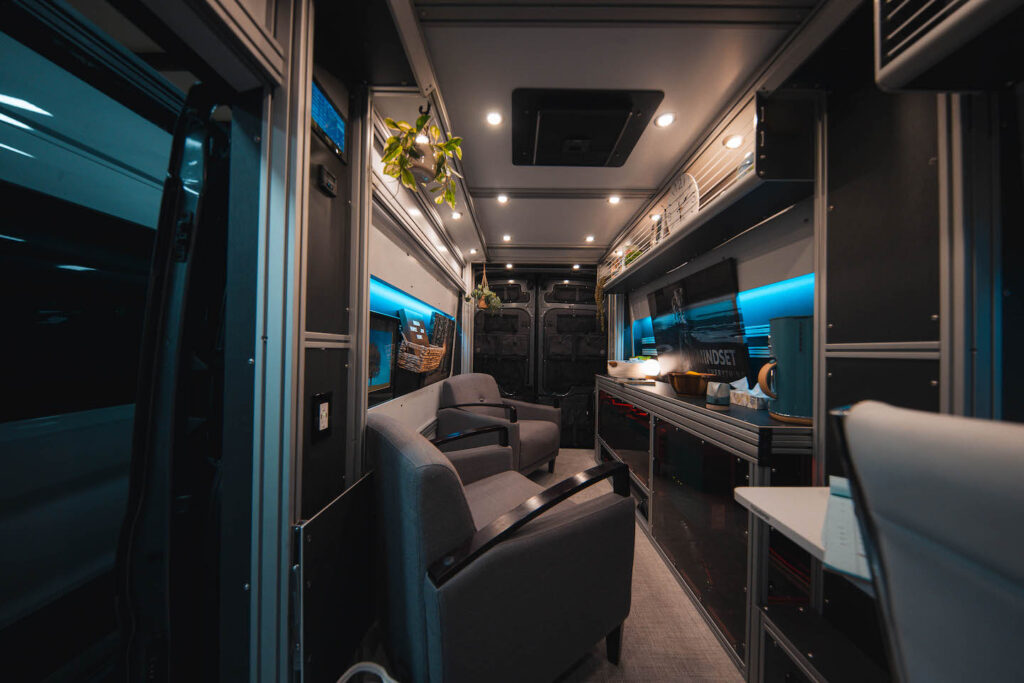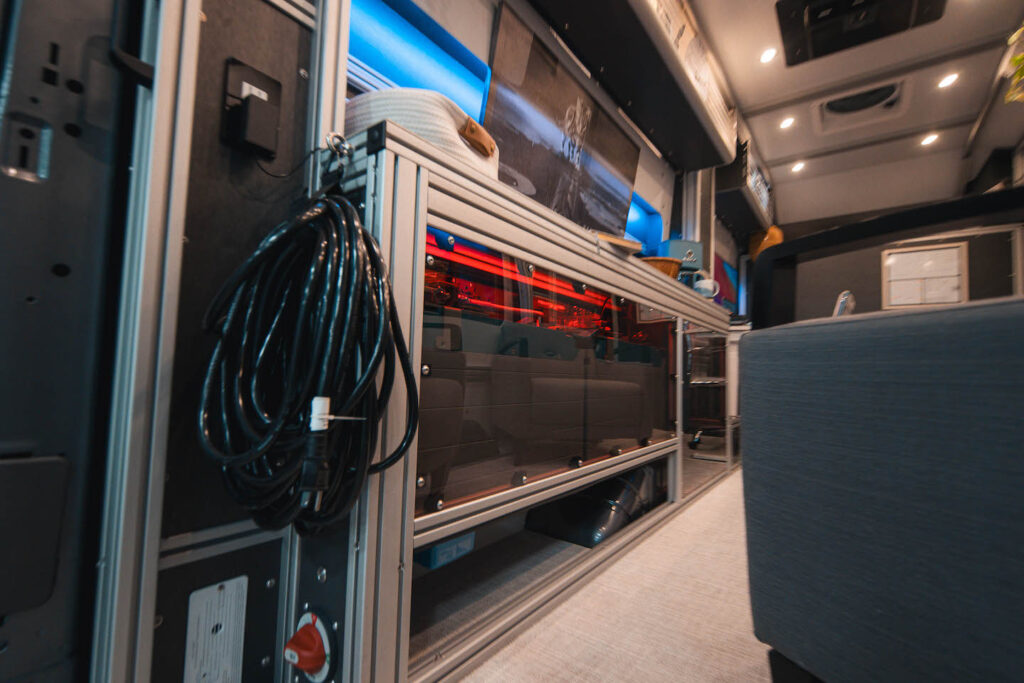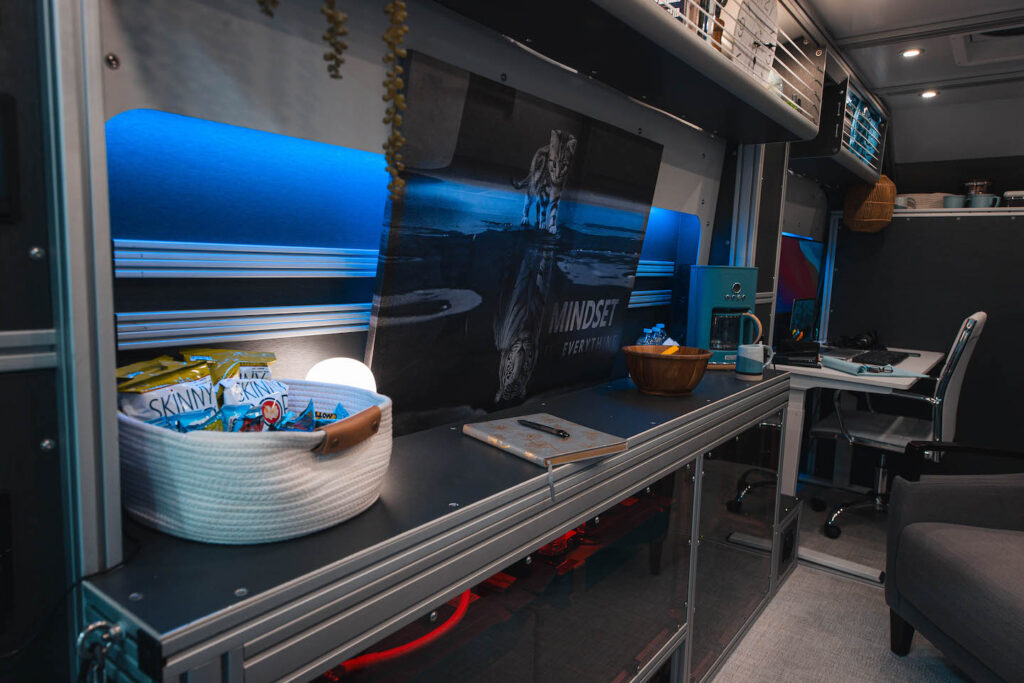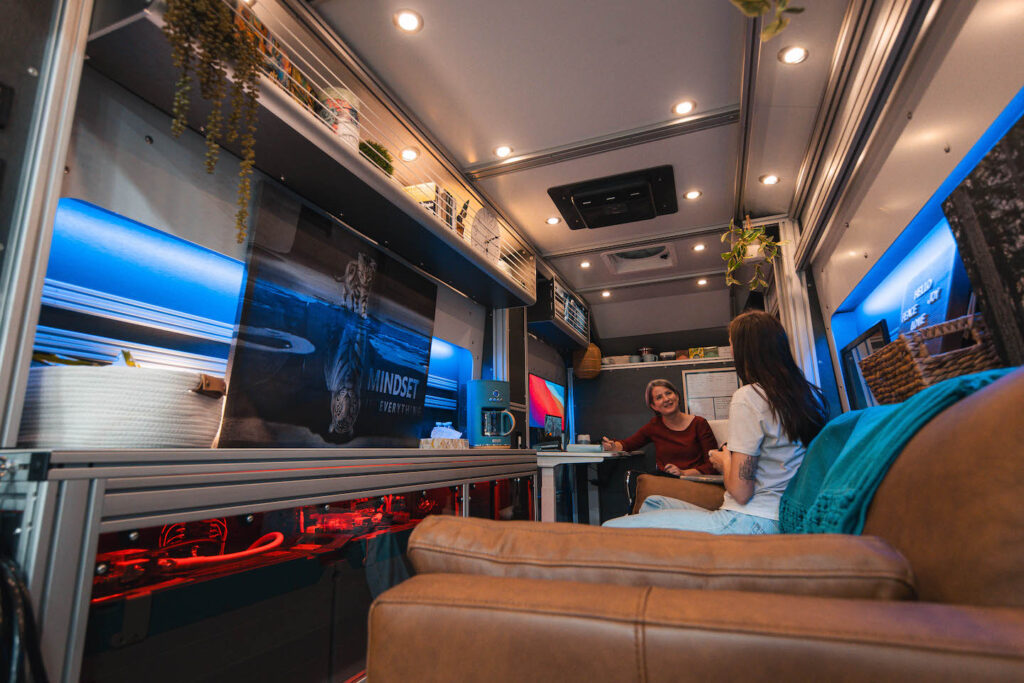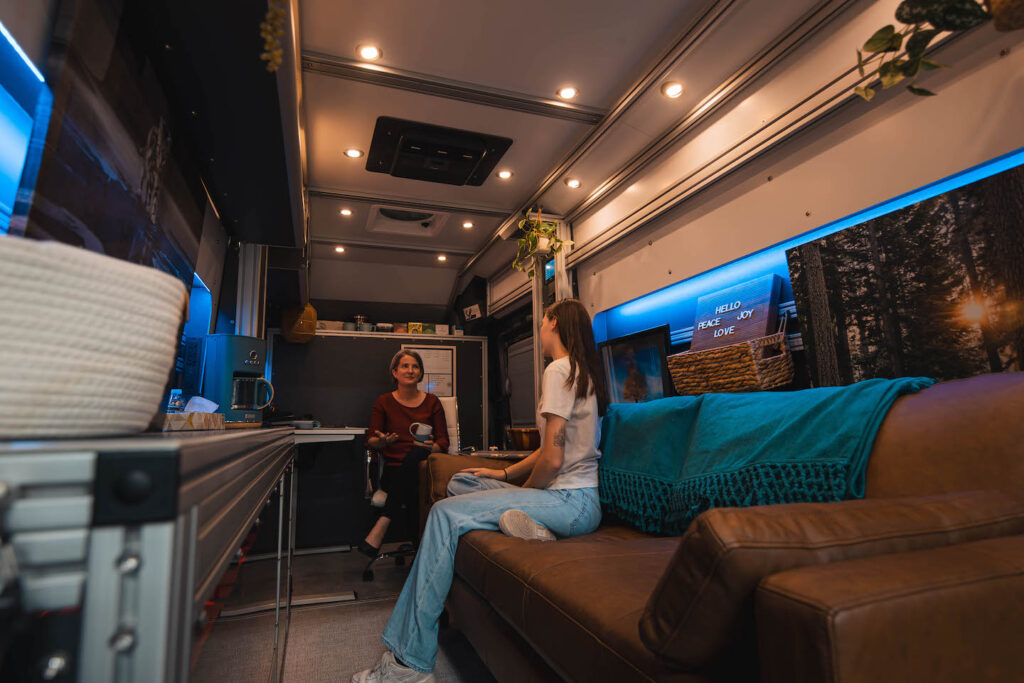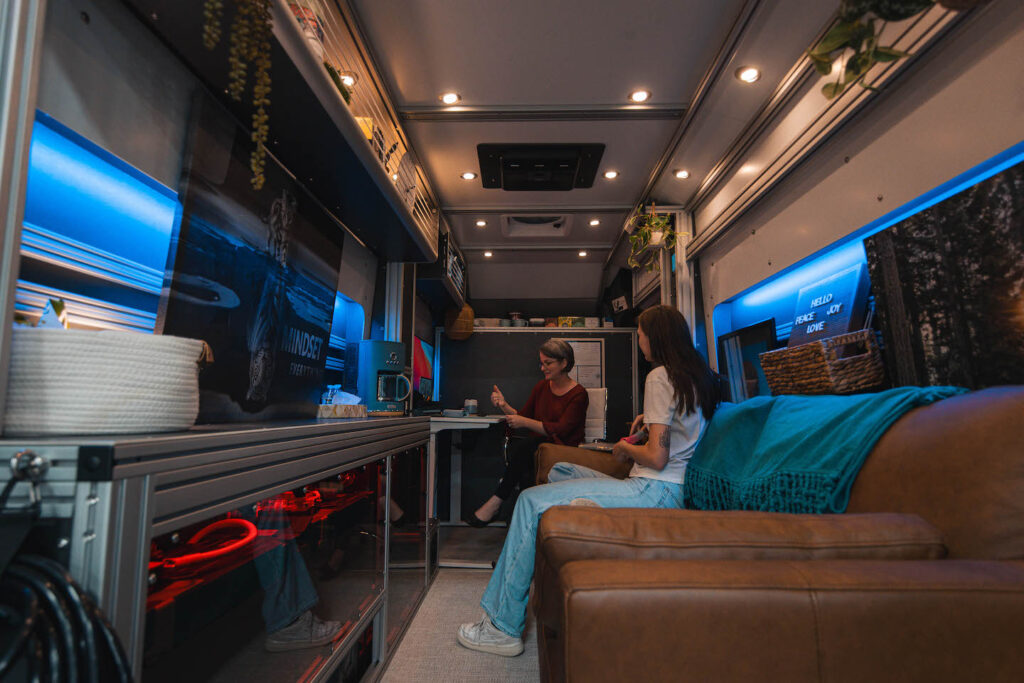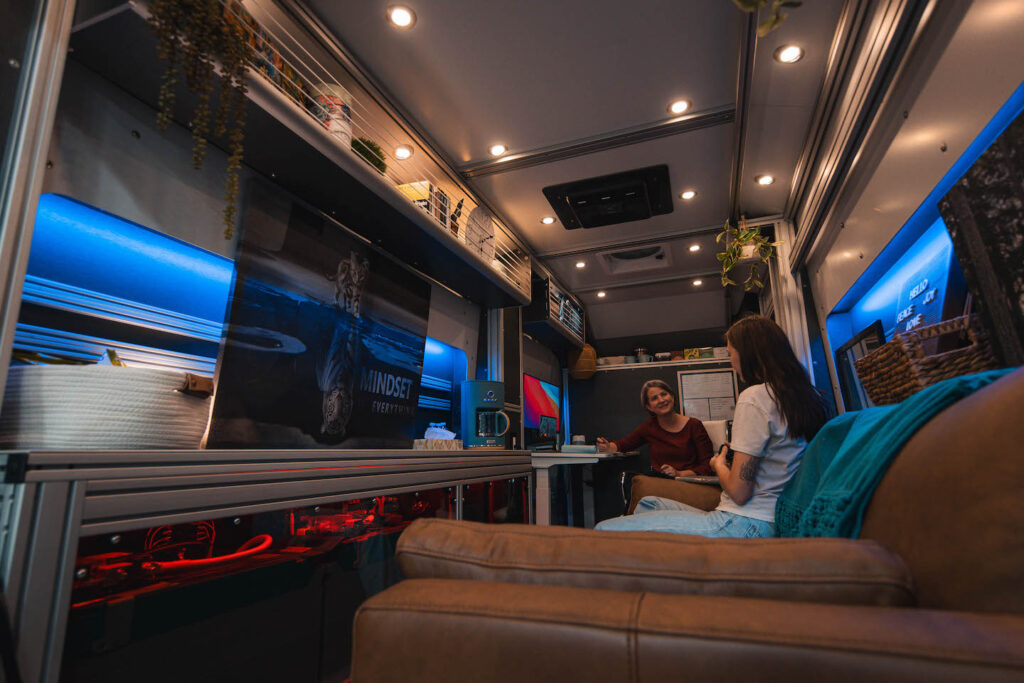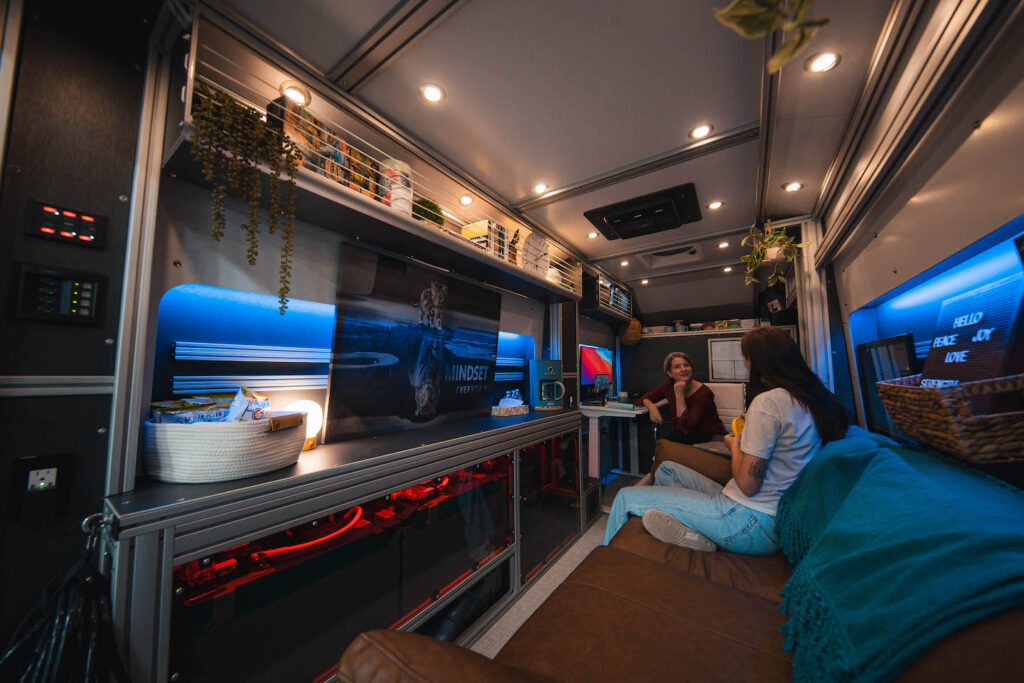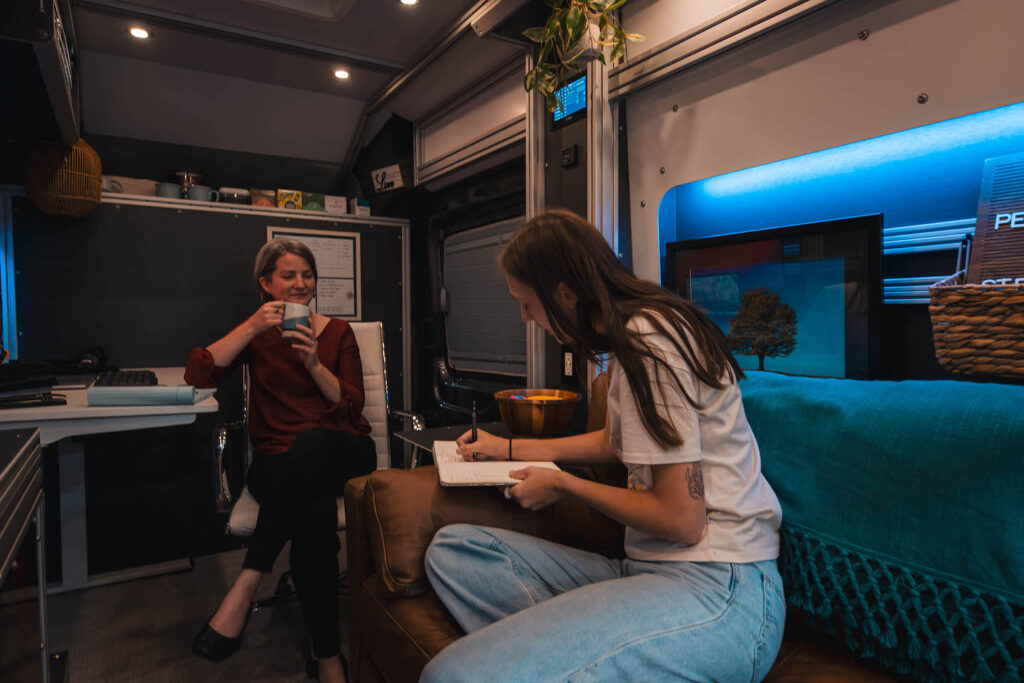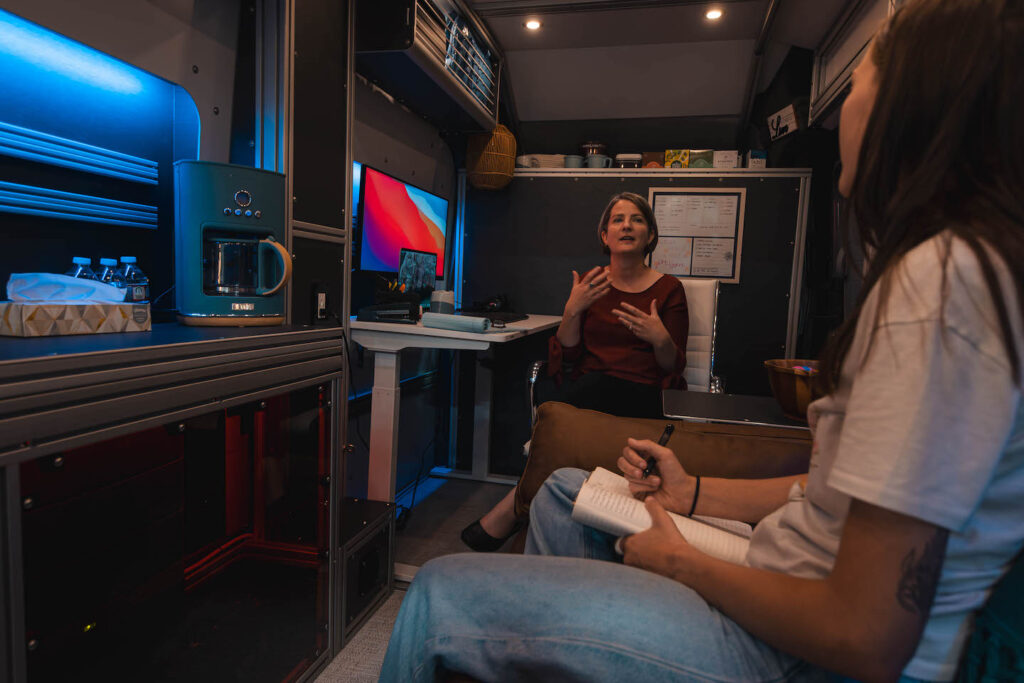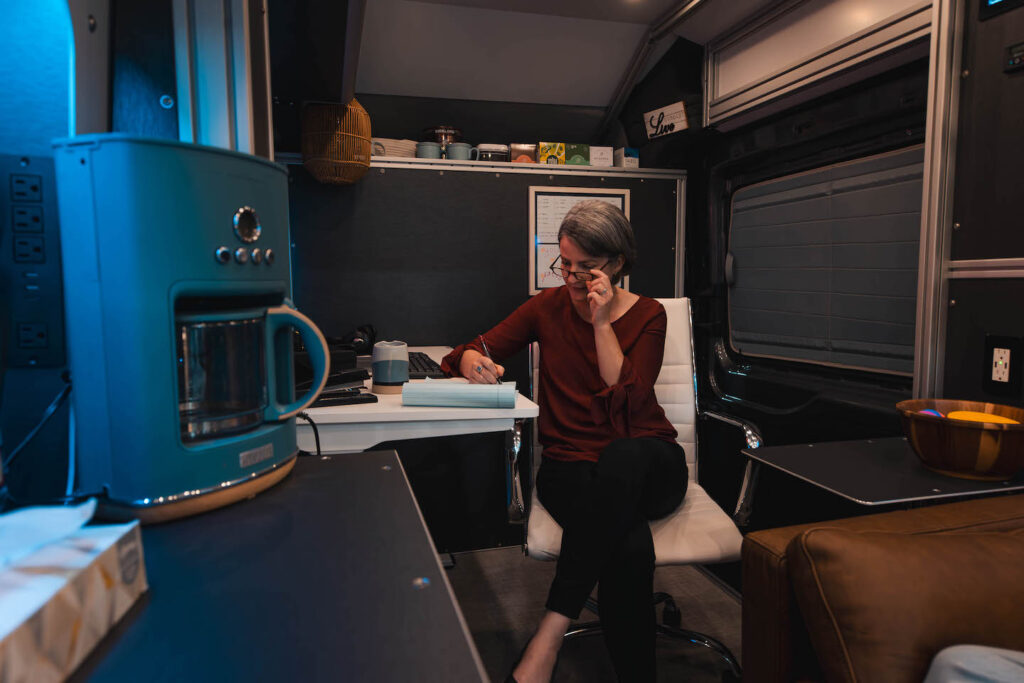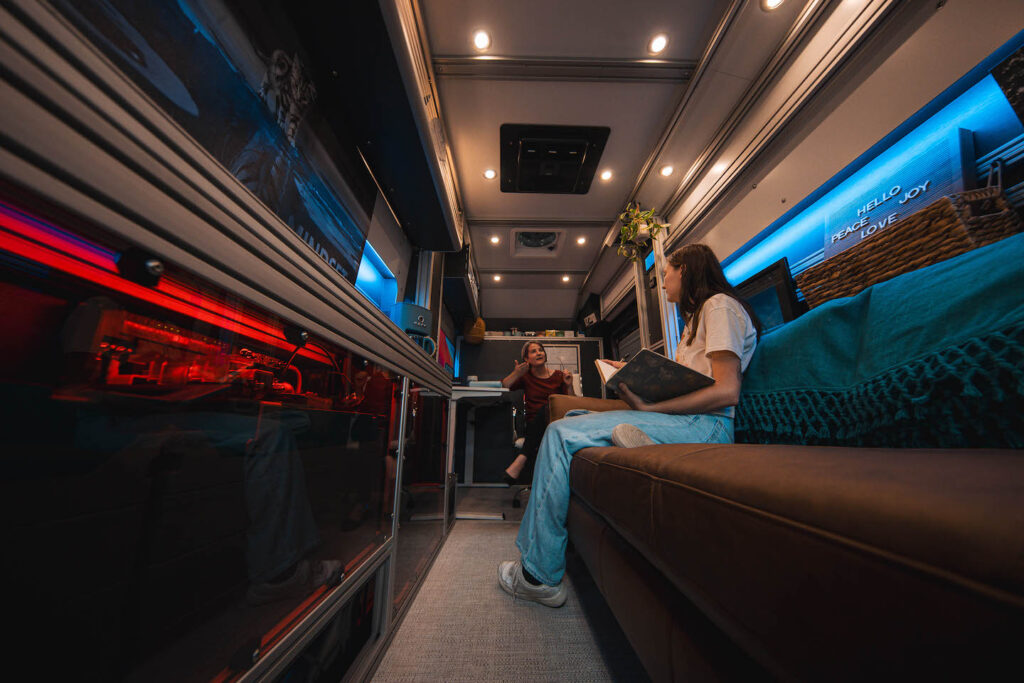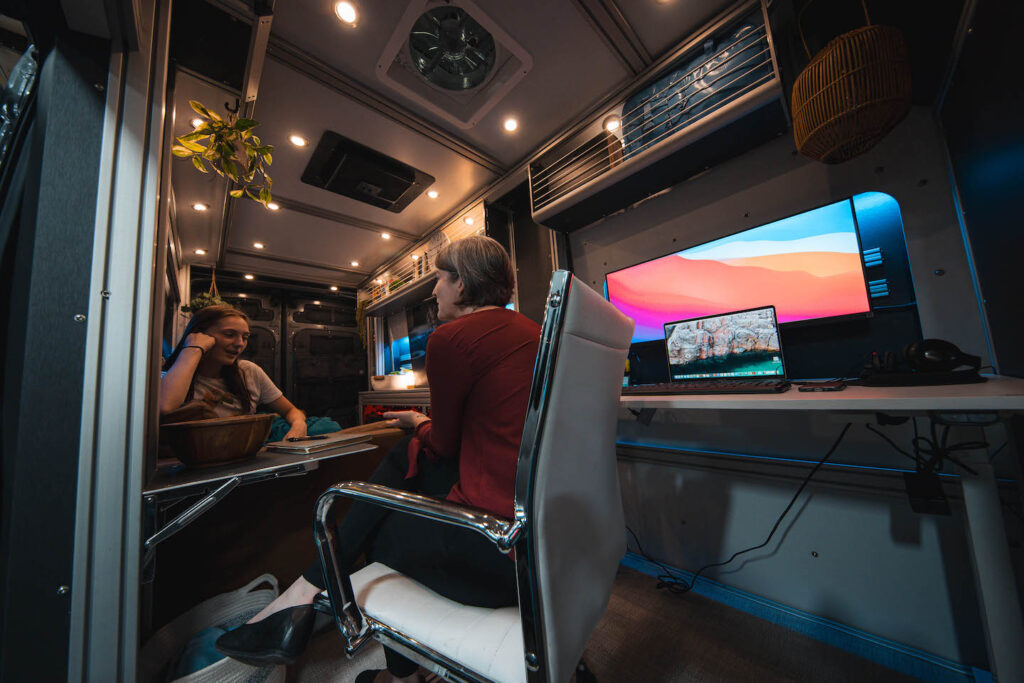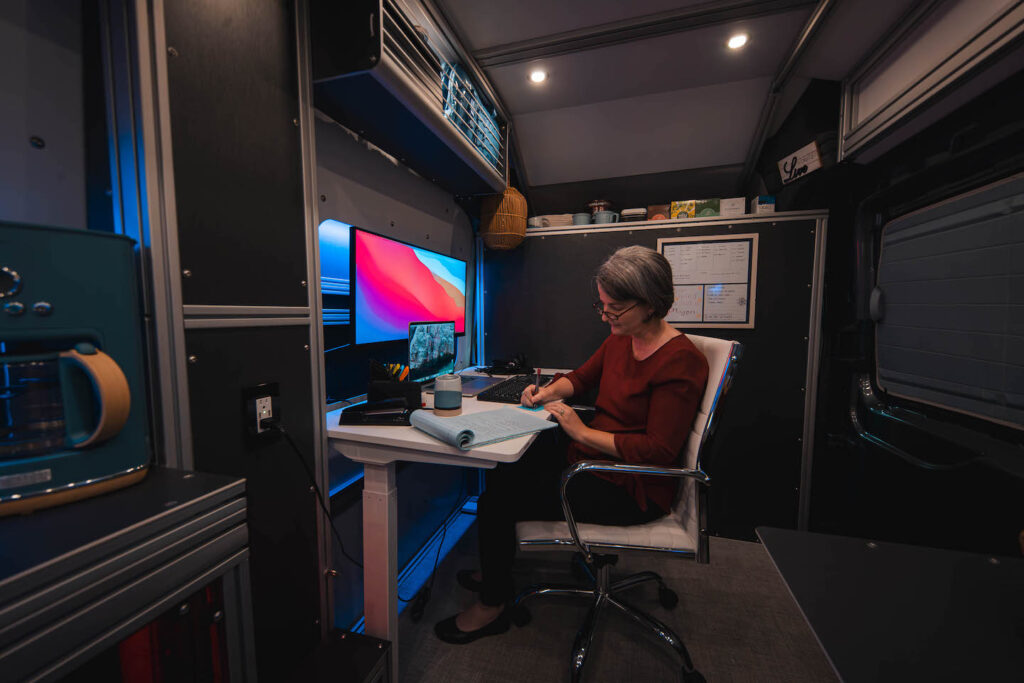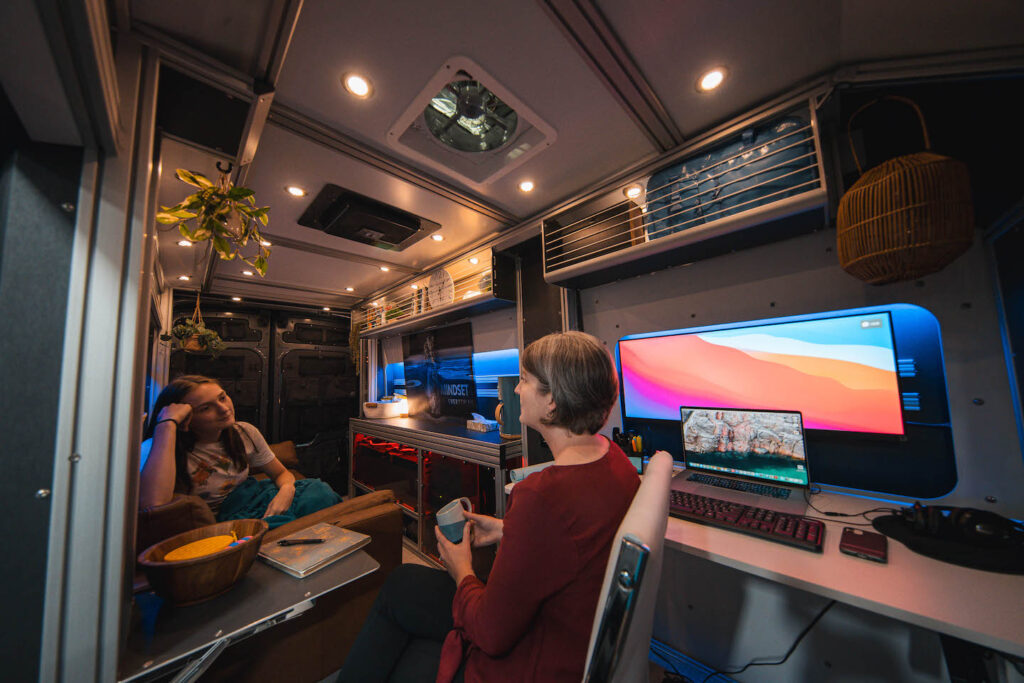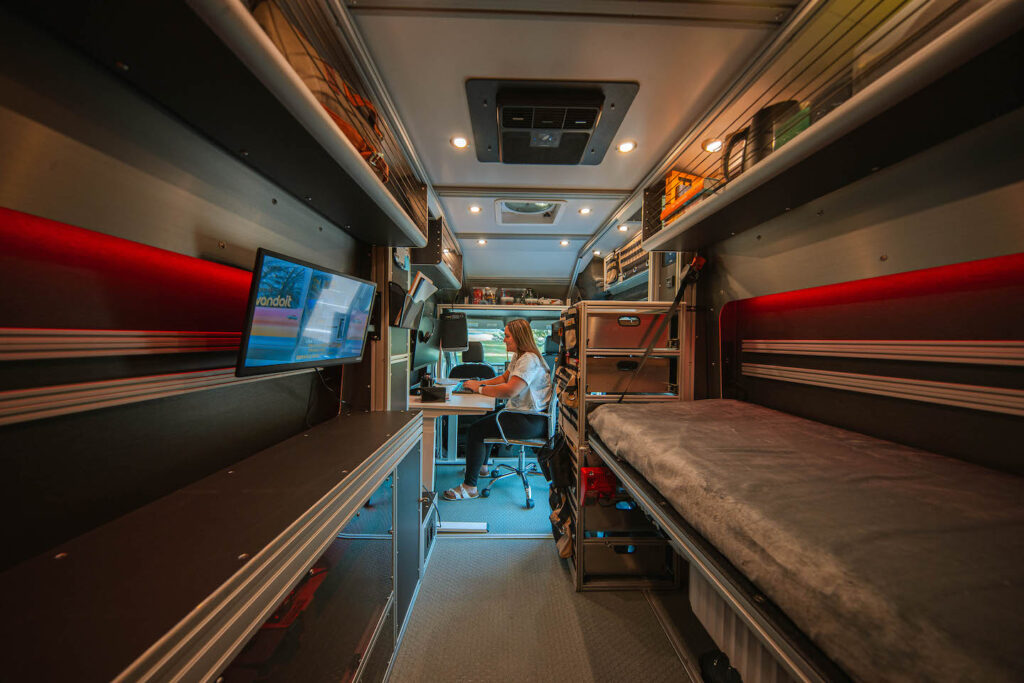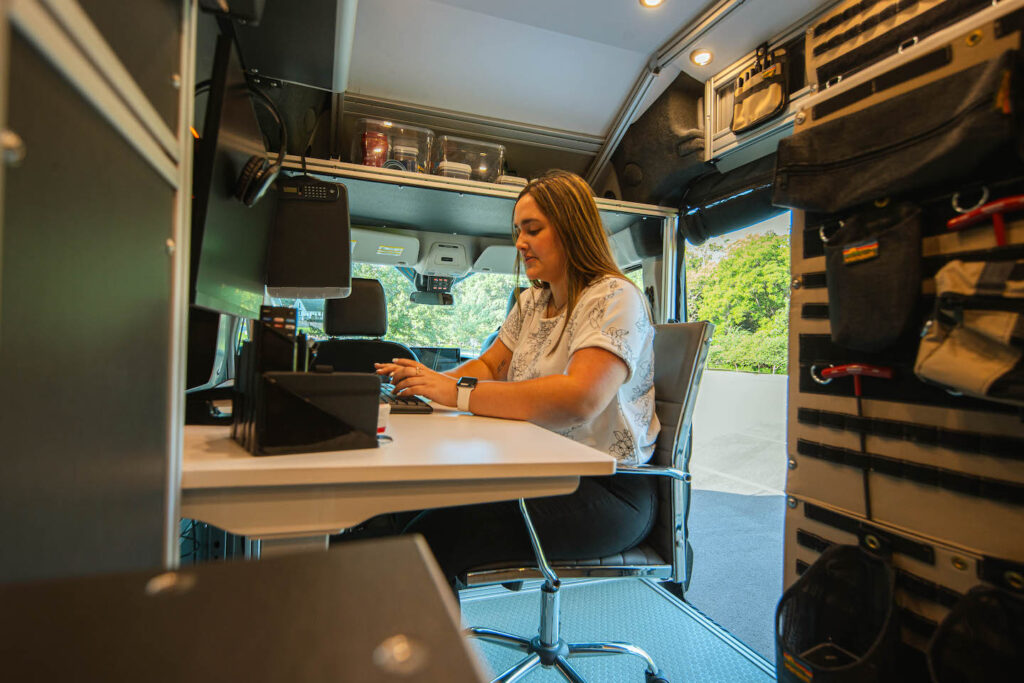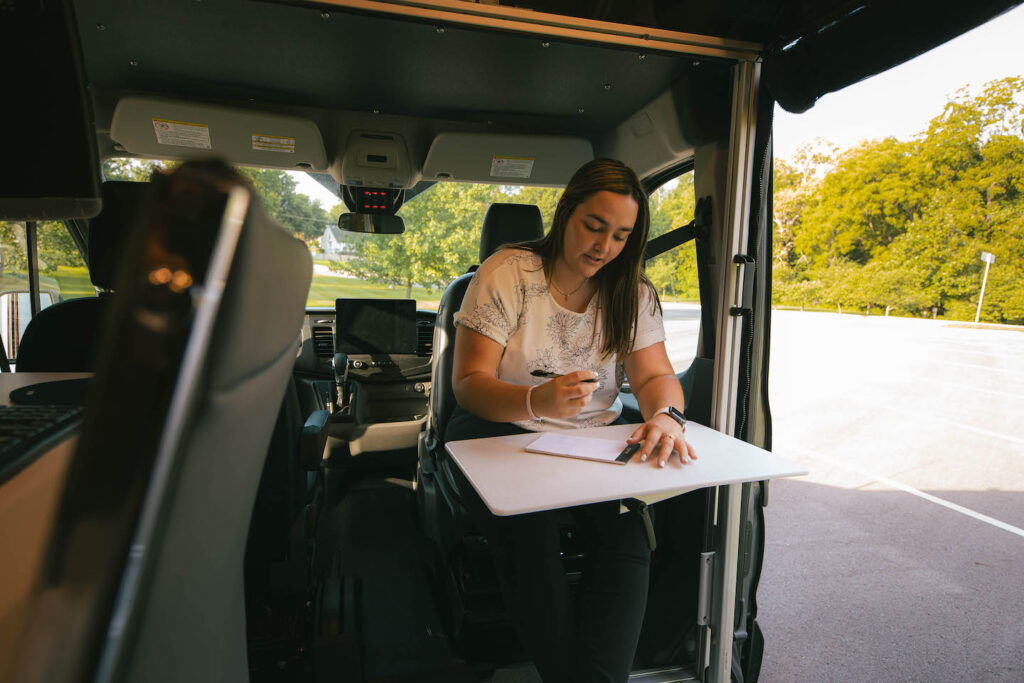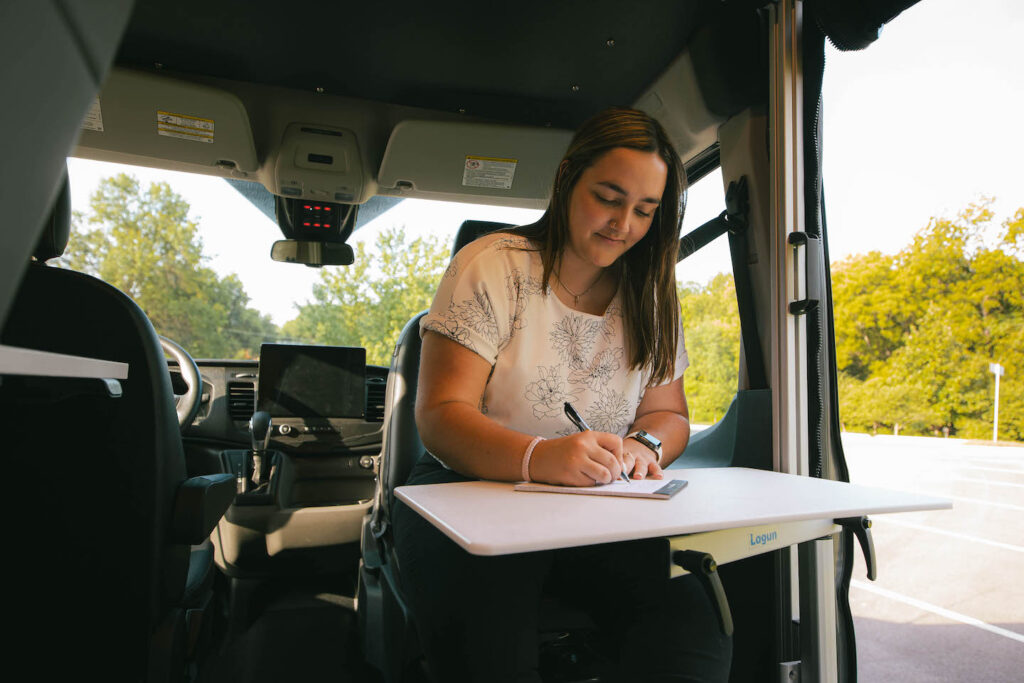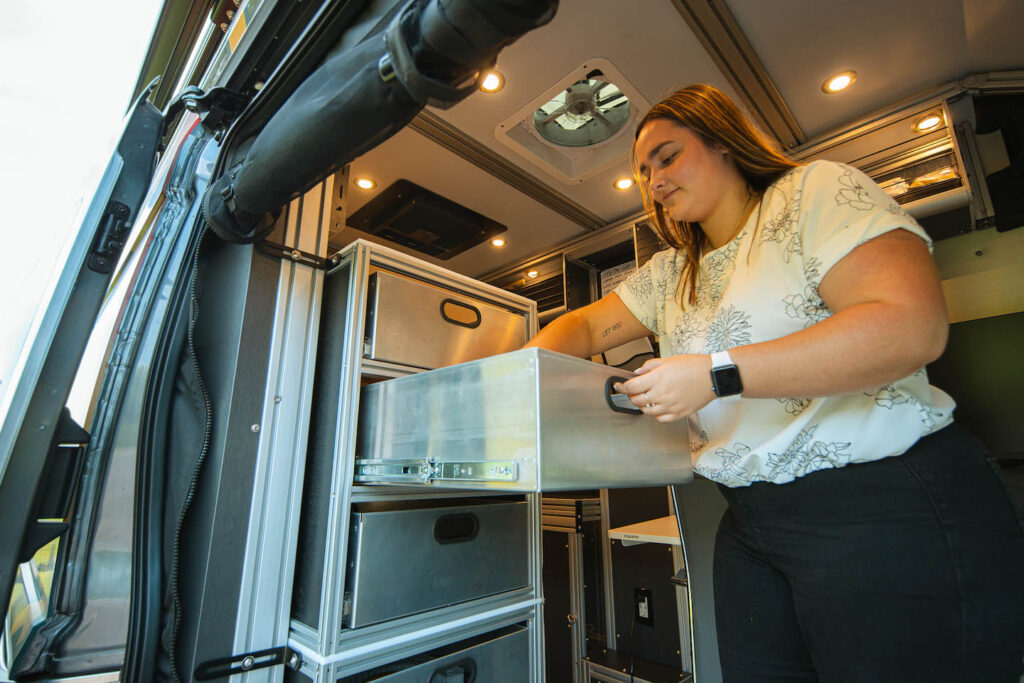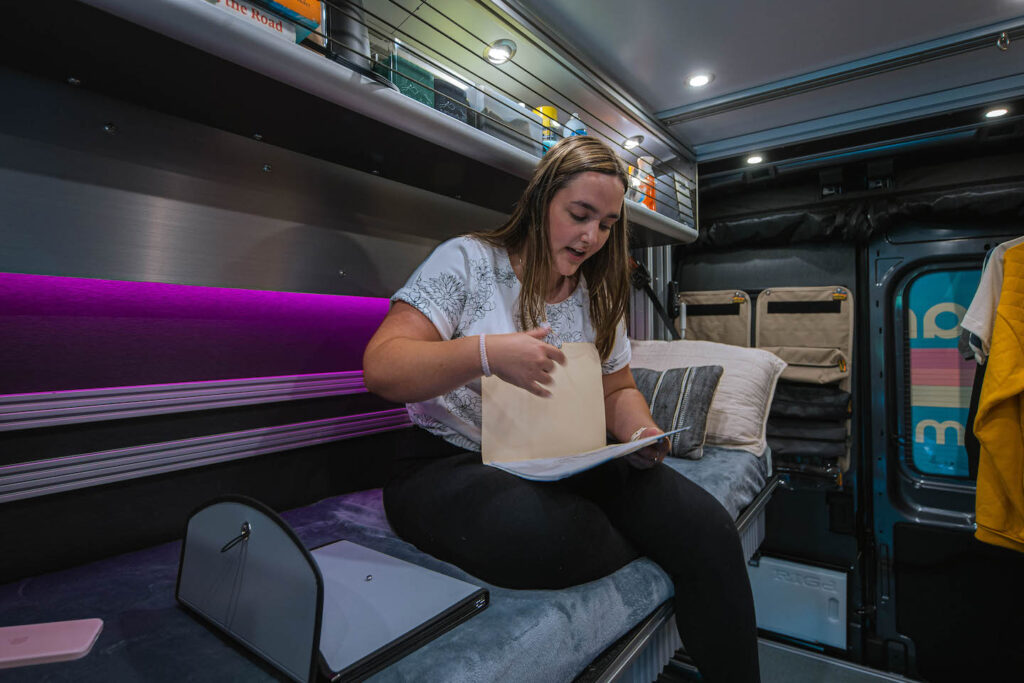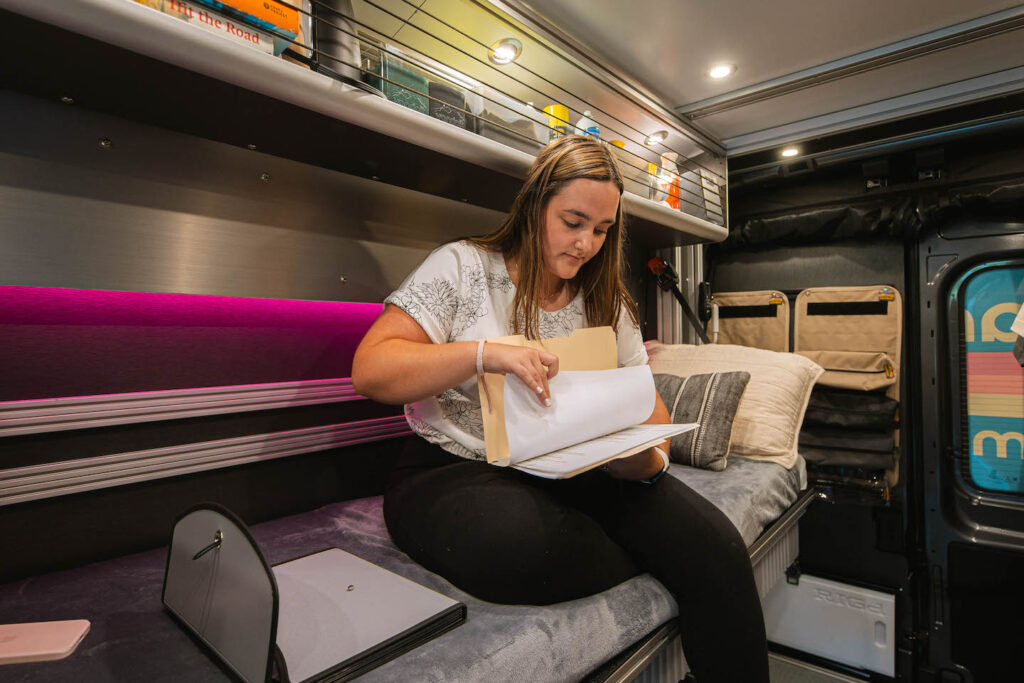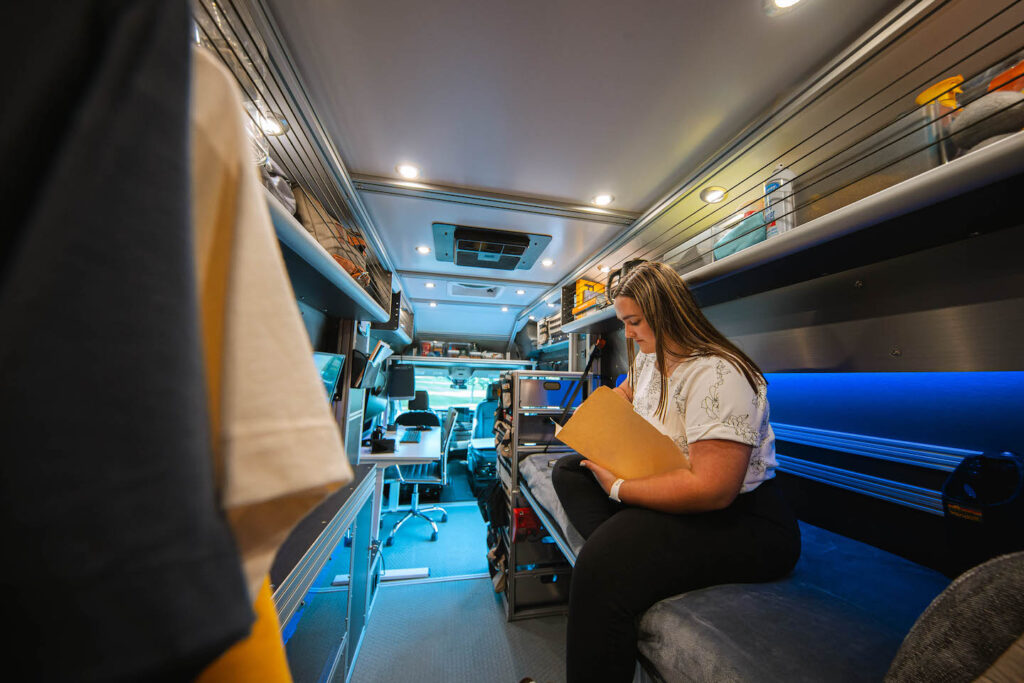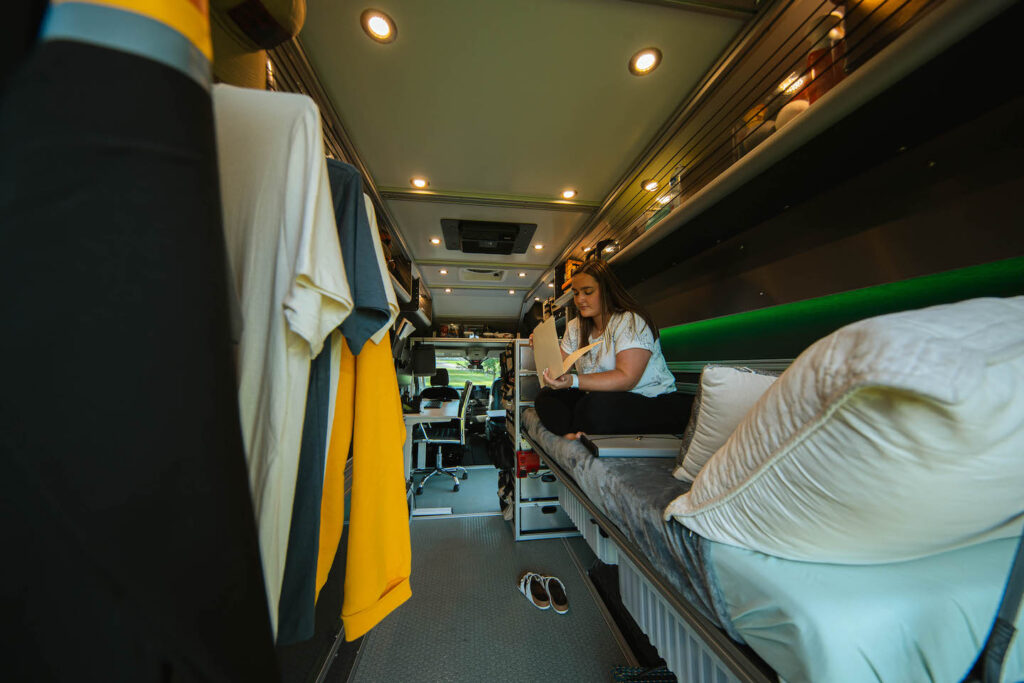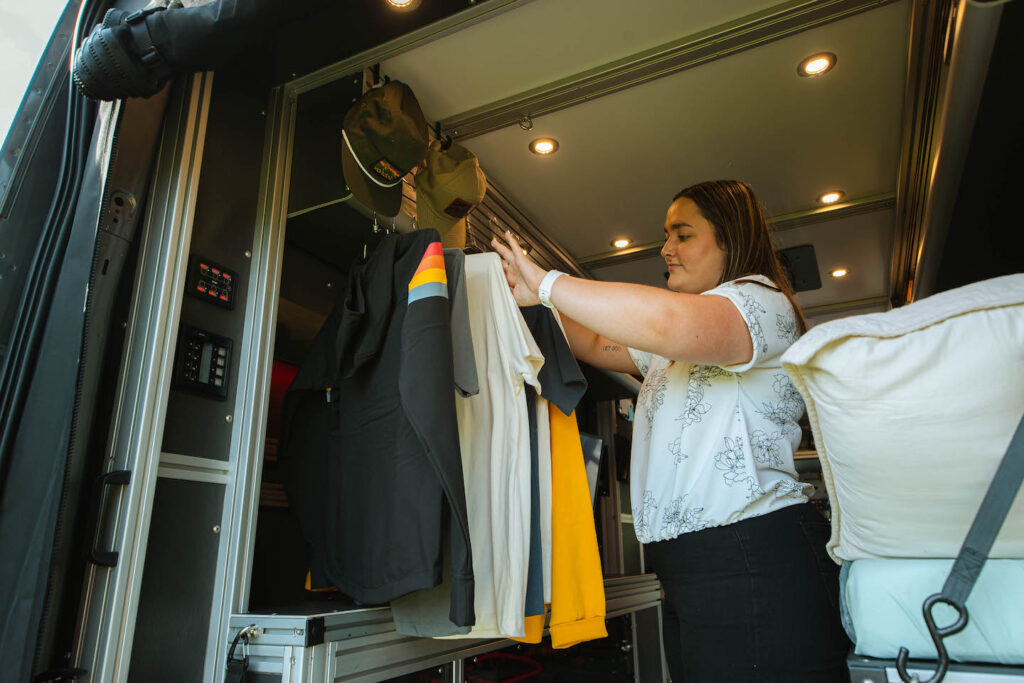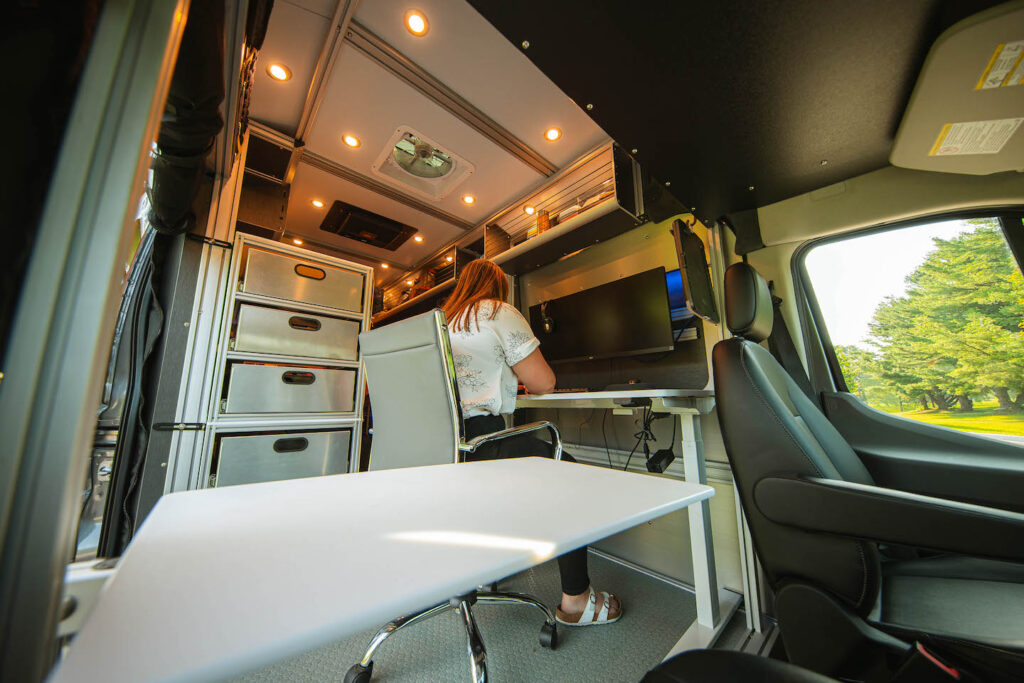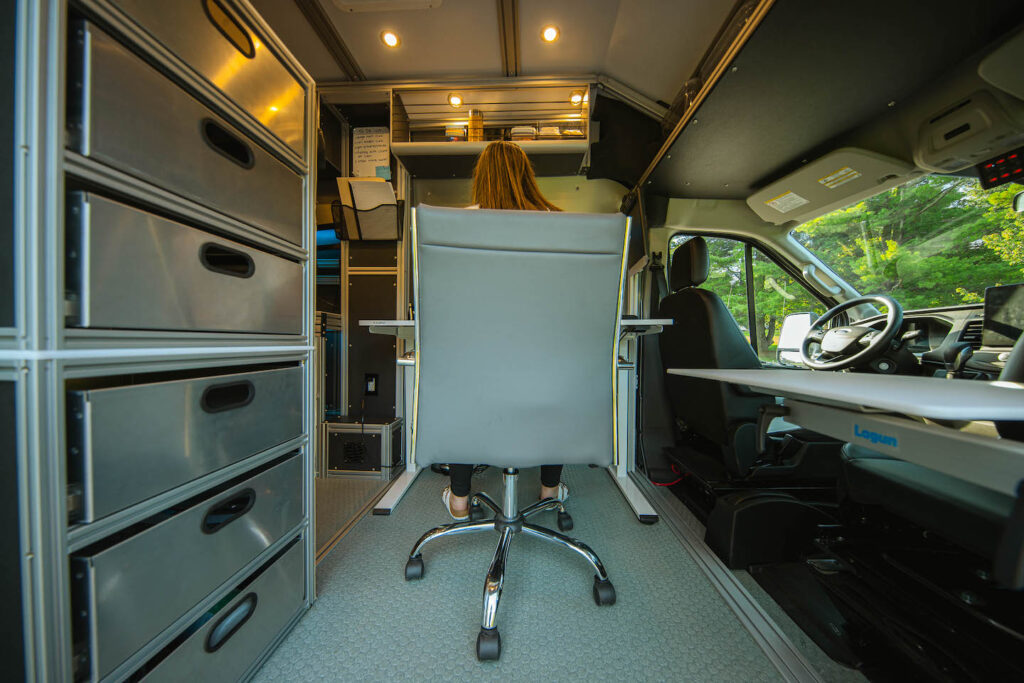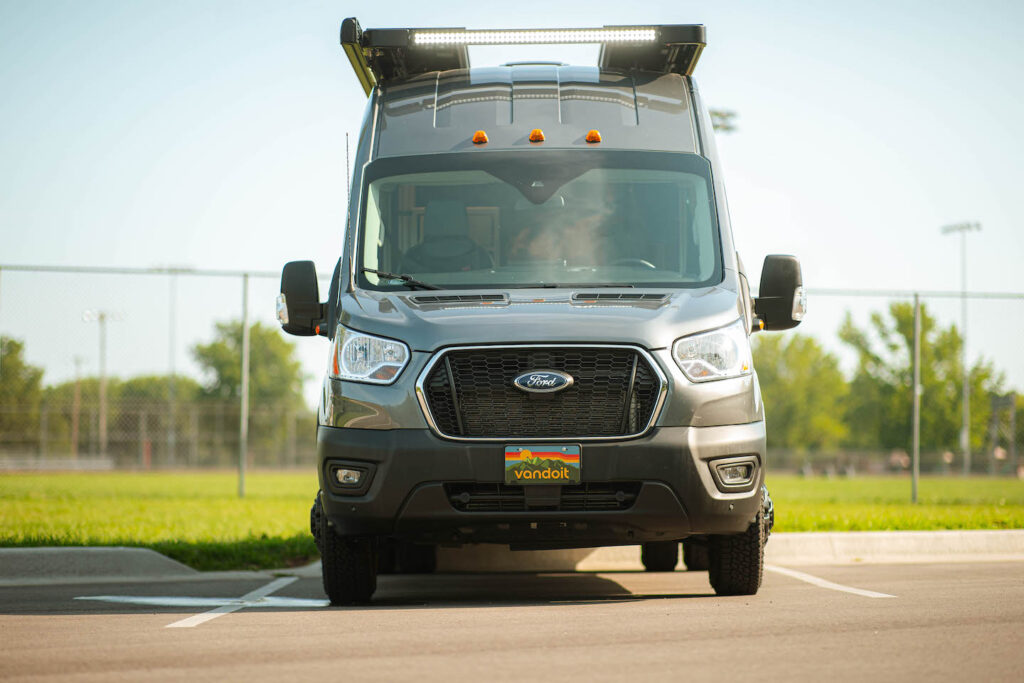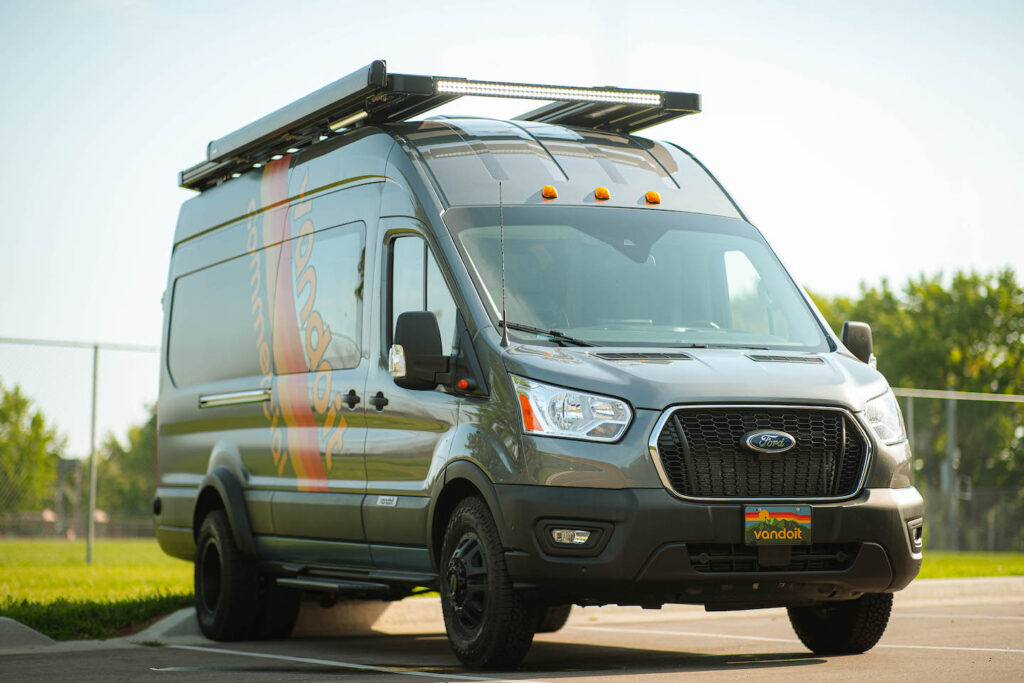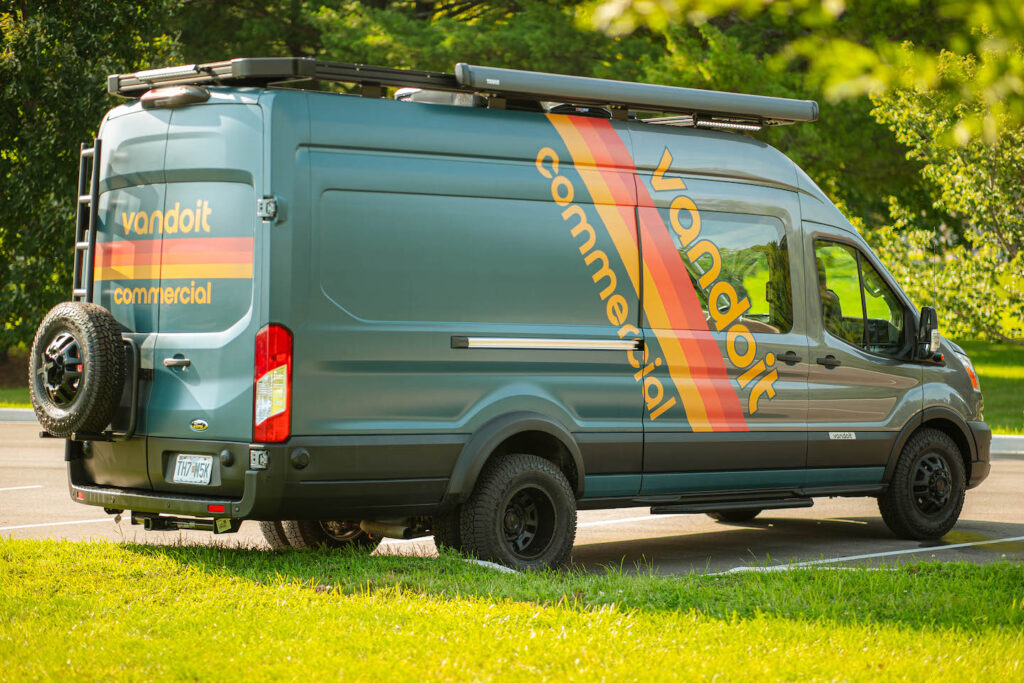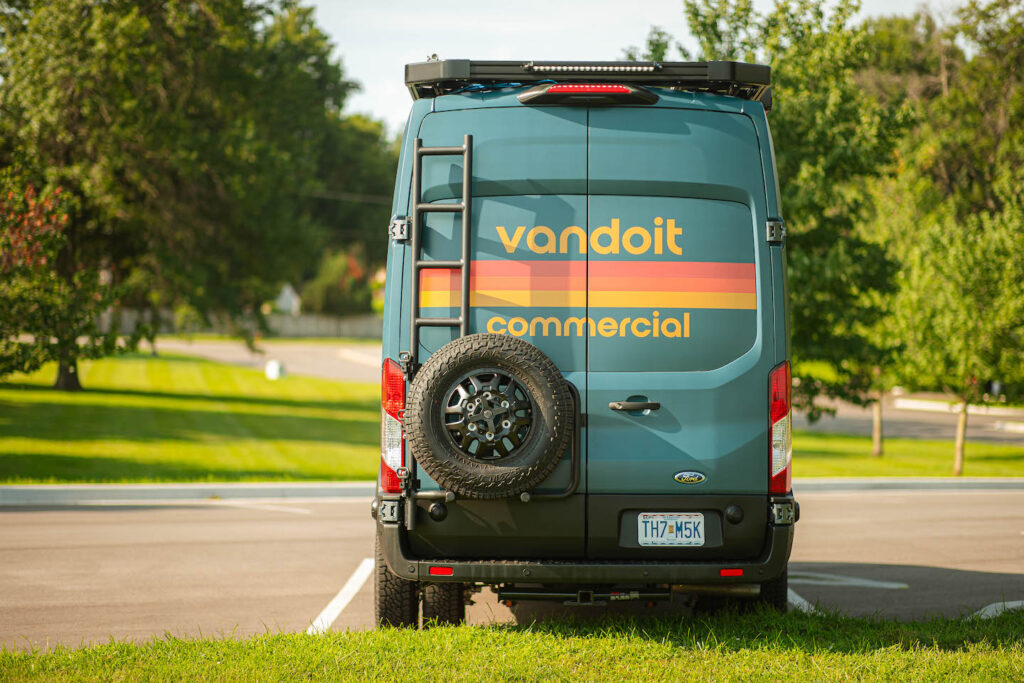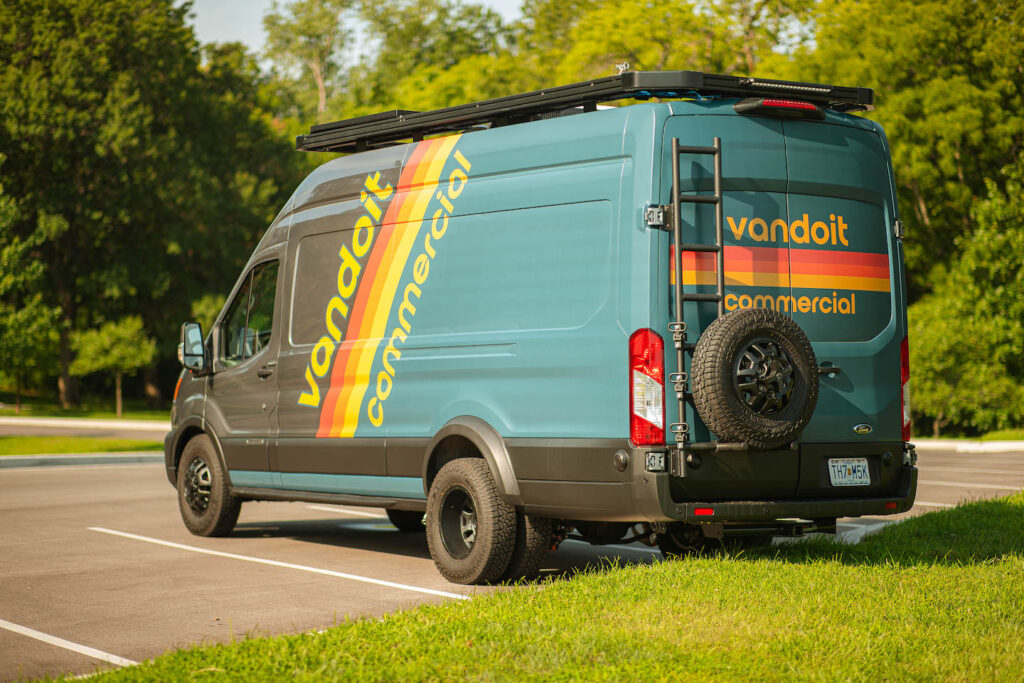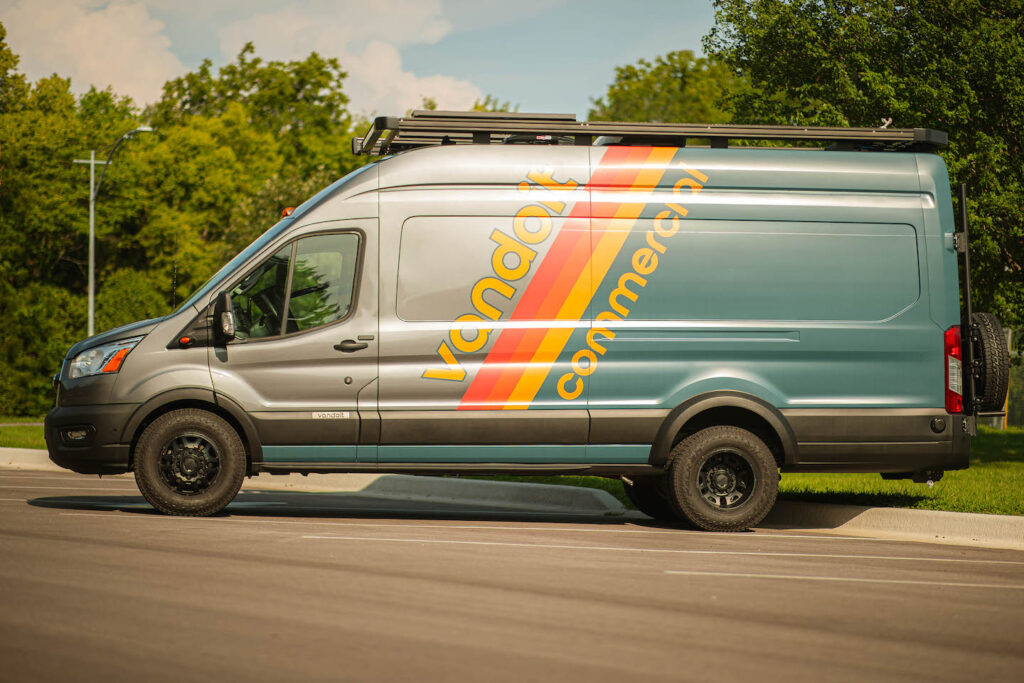 This van is built to be a sales representative van for businesses and entrepreneurs.  

This van is equipped with a desk, single bed, storage modules for products as well as personal items, a large power system, a dc powered air conditioner, and zonal lighting. 
Mobile CPOD (Community Point of Distribution)
This build provides all the storage, preparation surfaces, and equipment needed for safe, sterile mobile medicine distribution.

1600 amp hours lithium battery.

30 amp 220V service.

12,000 watts total inverting power.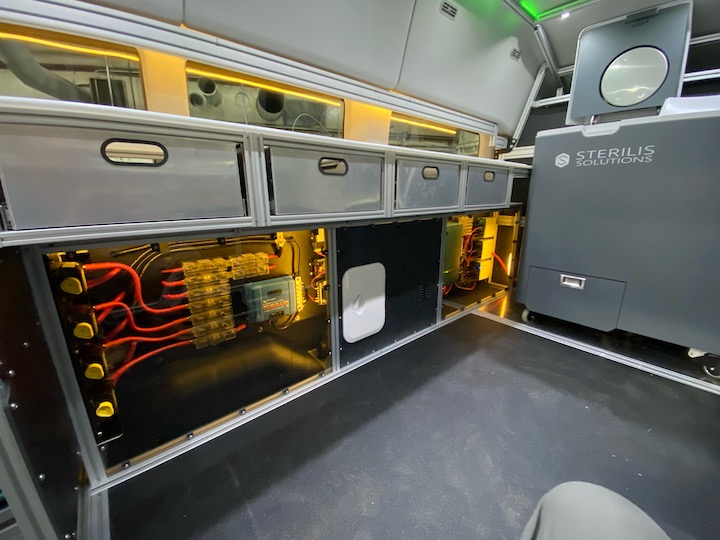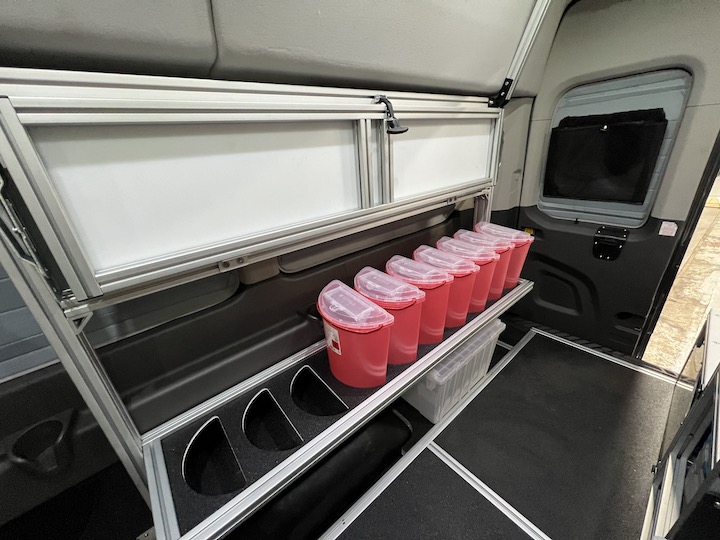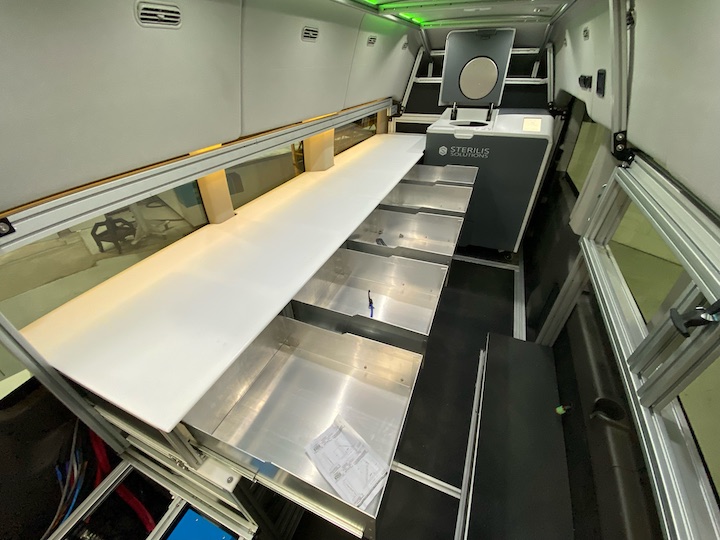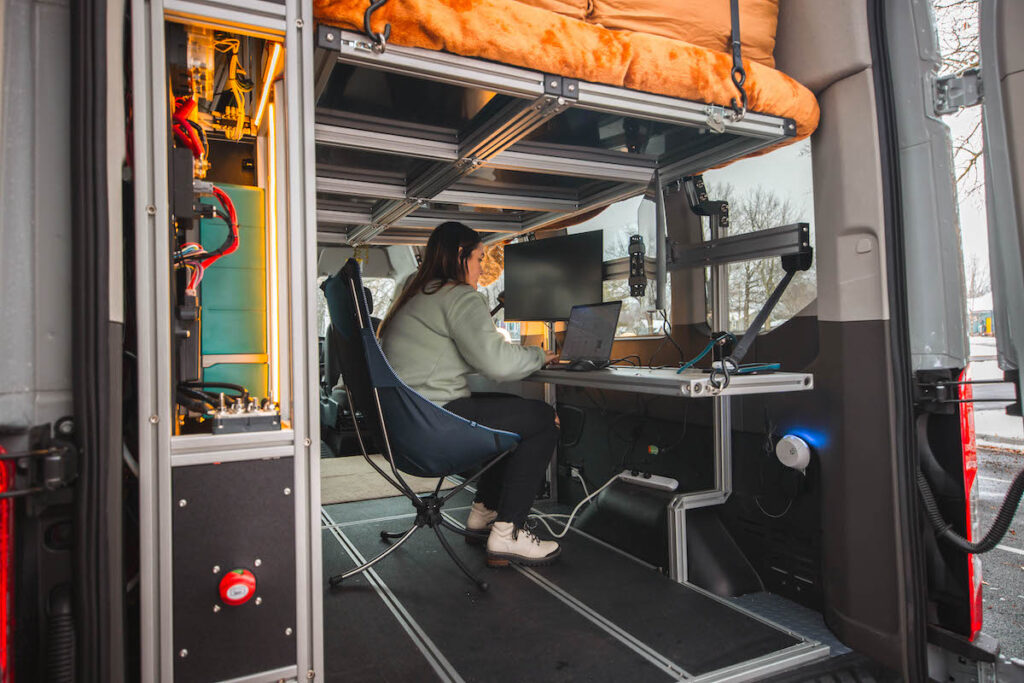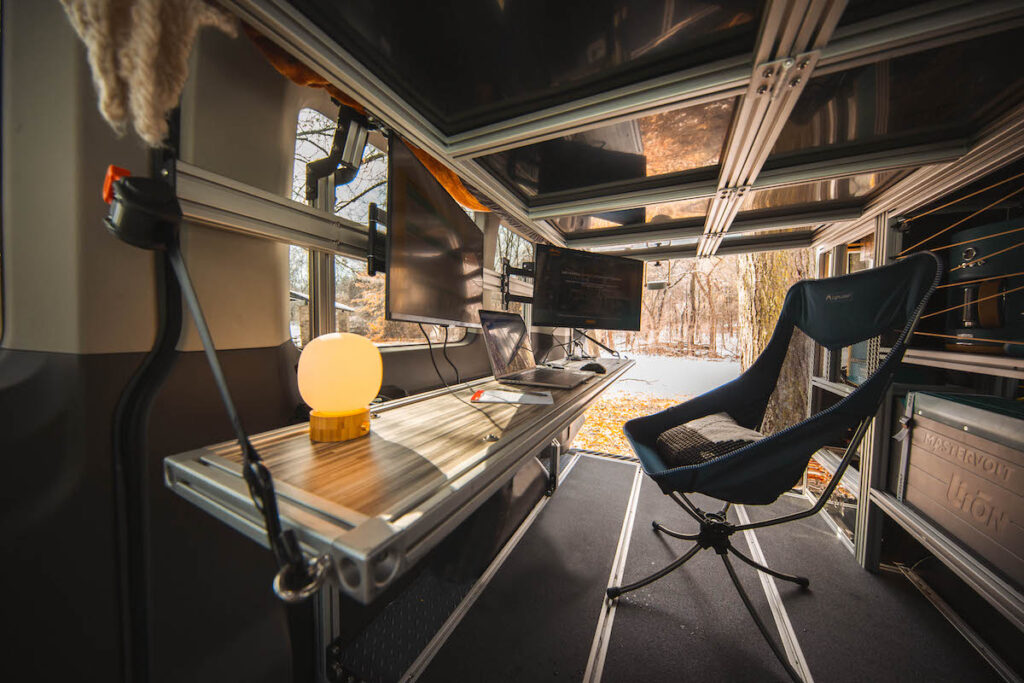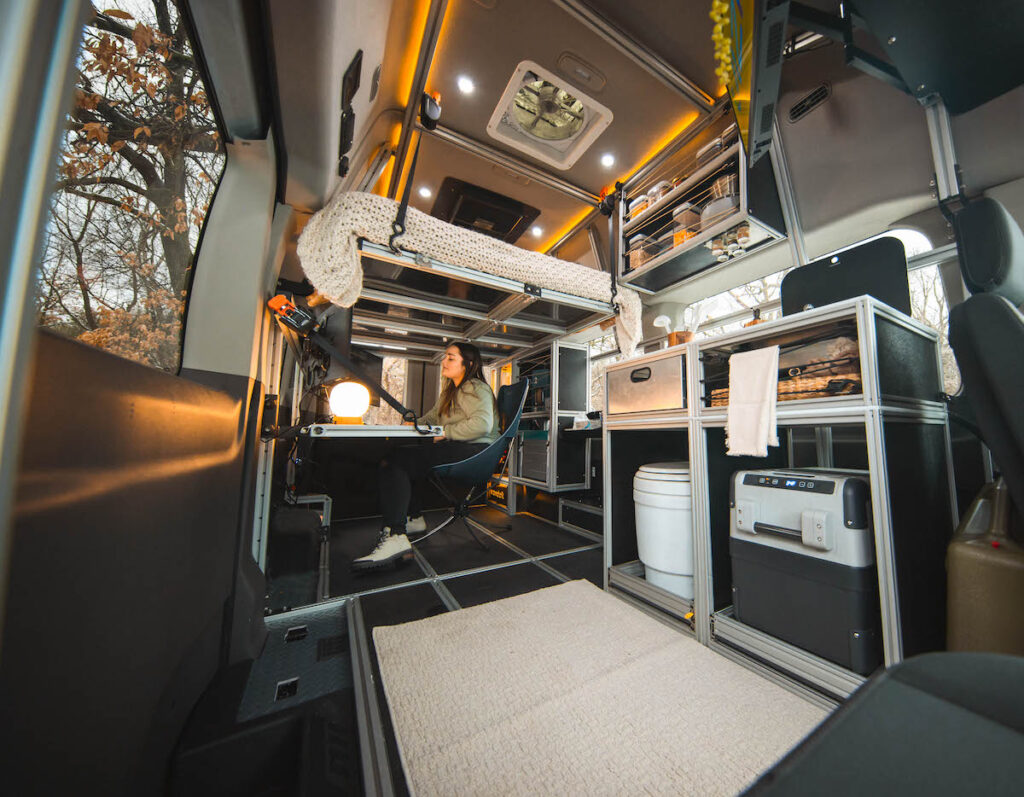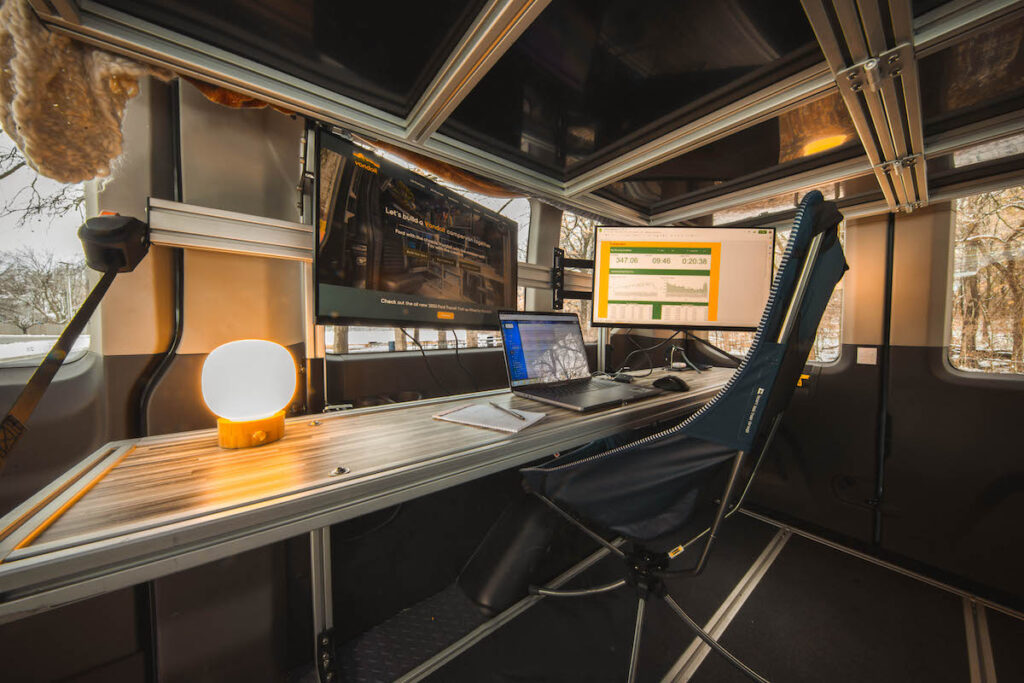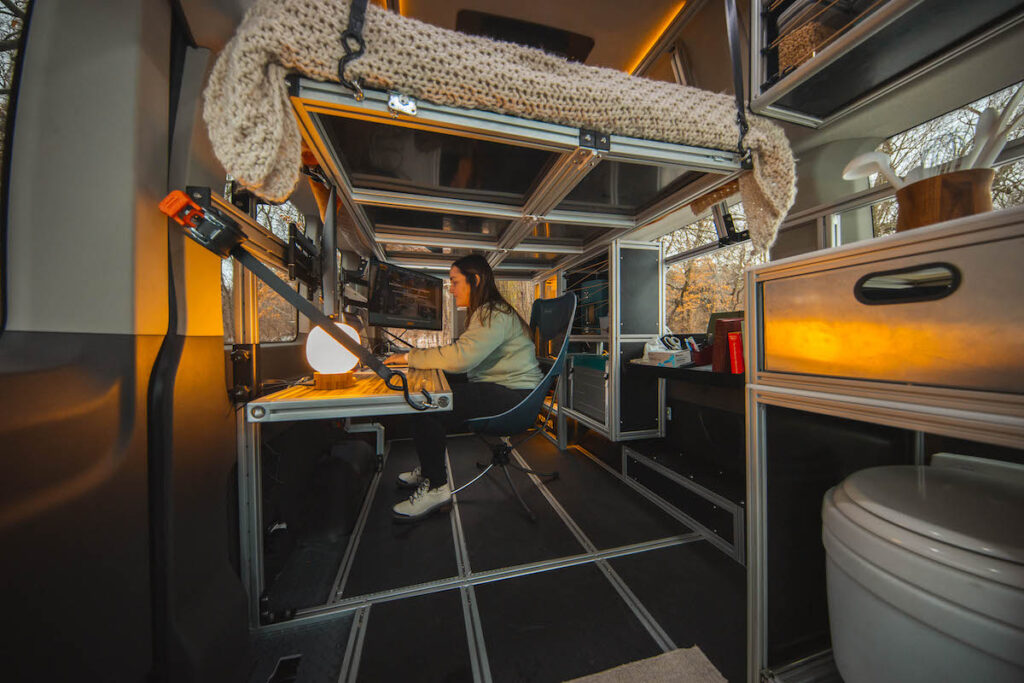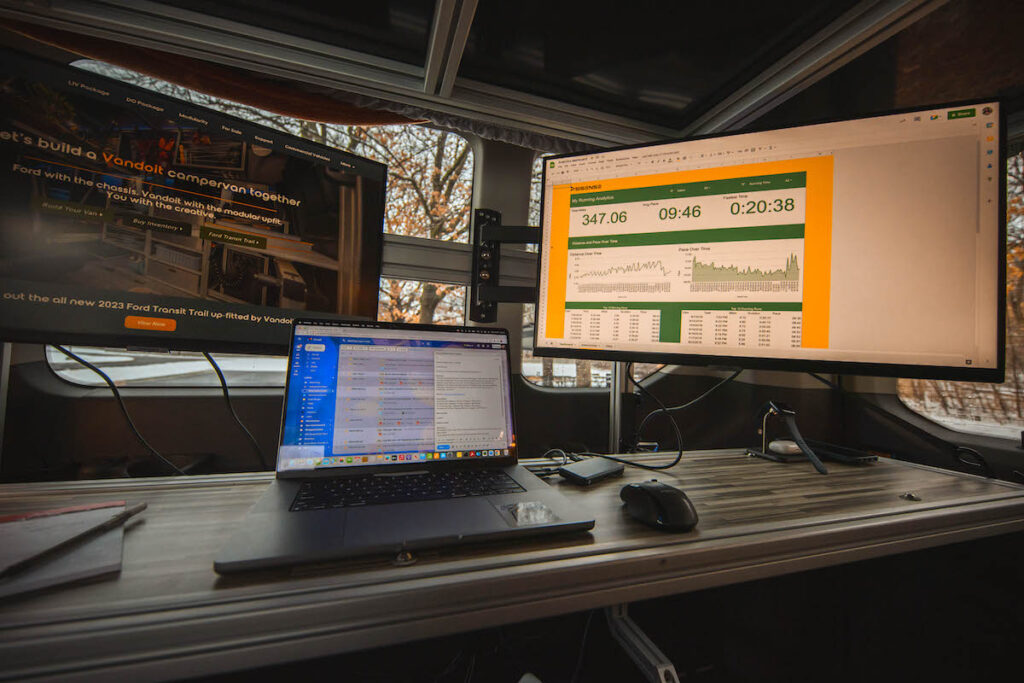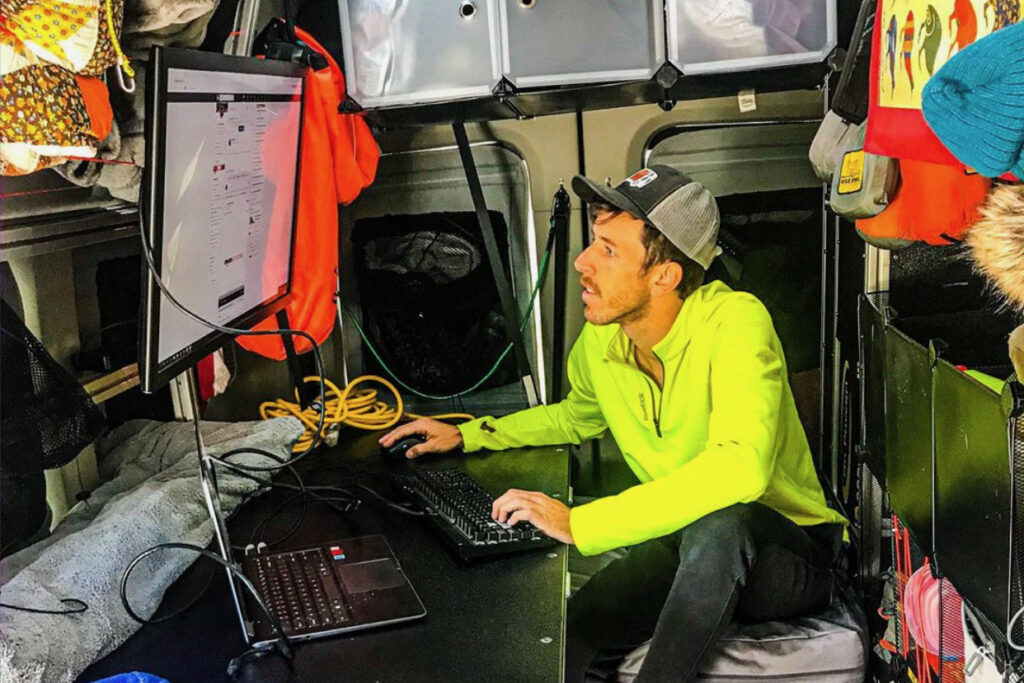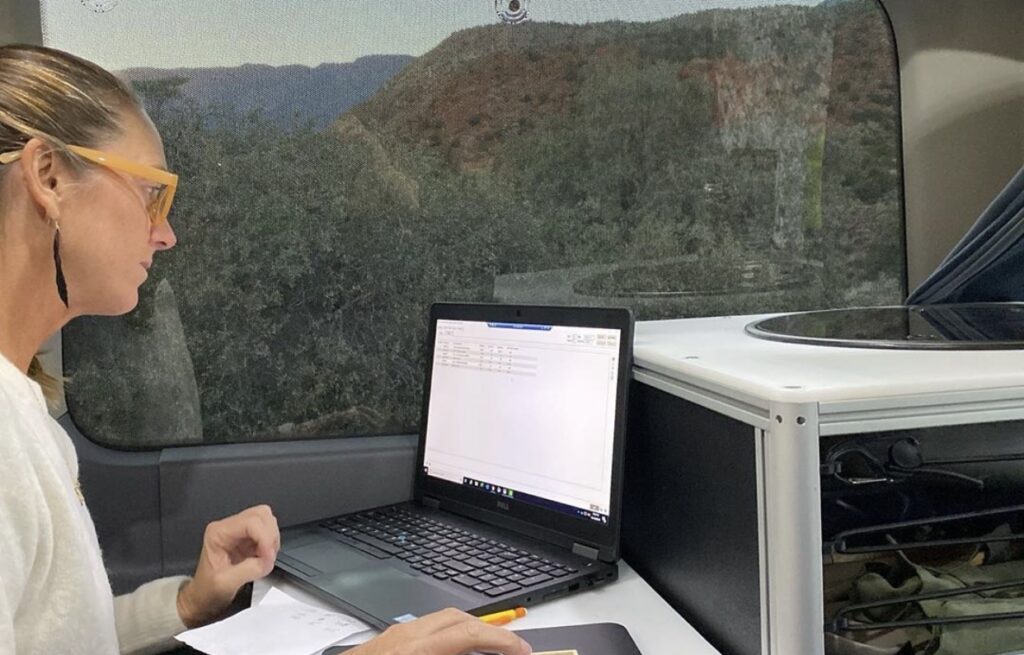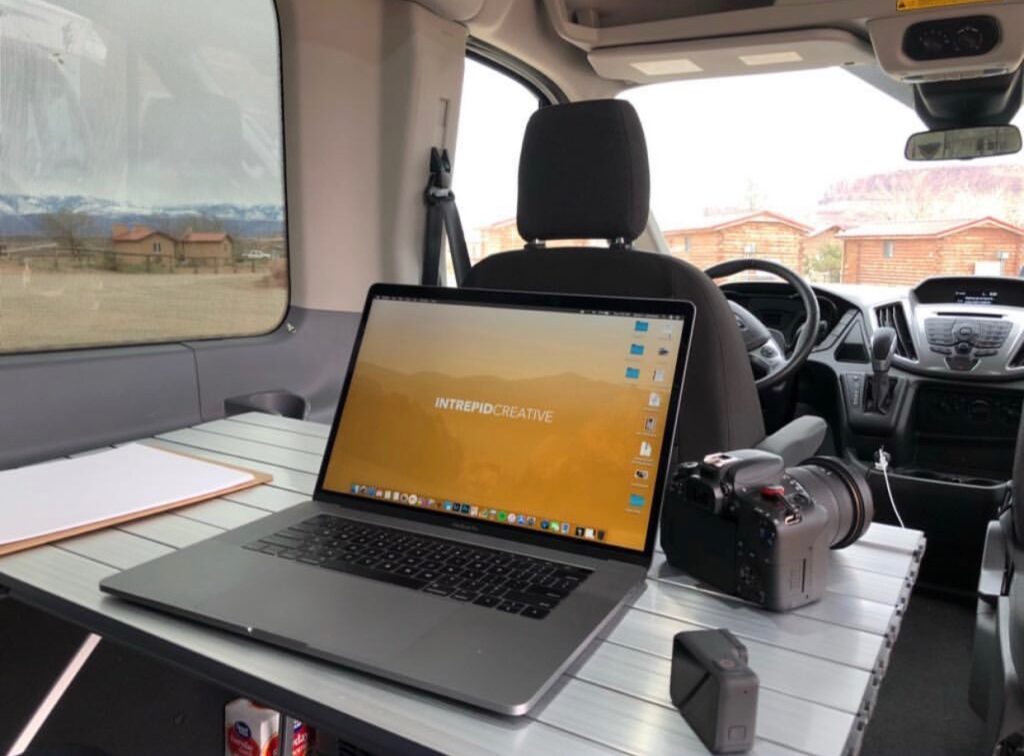 A van build that can be used for both pleasure and business alike, with optimized mobile work space.

A desk can be set up in multiple locations through a van, as well enough battery power to set up multiple monitors to maximize your work capabilities. 
This van was modified to make jewelry out of the back of the van. This is just one example of possible shops that can be set up in a van.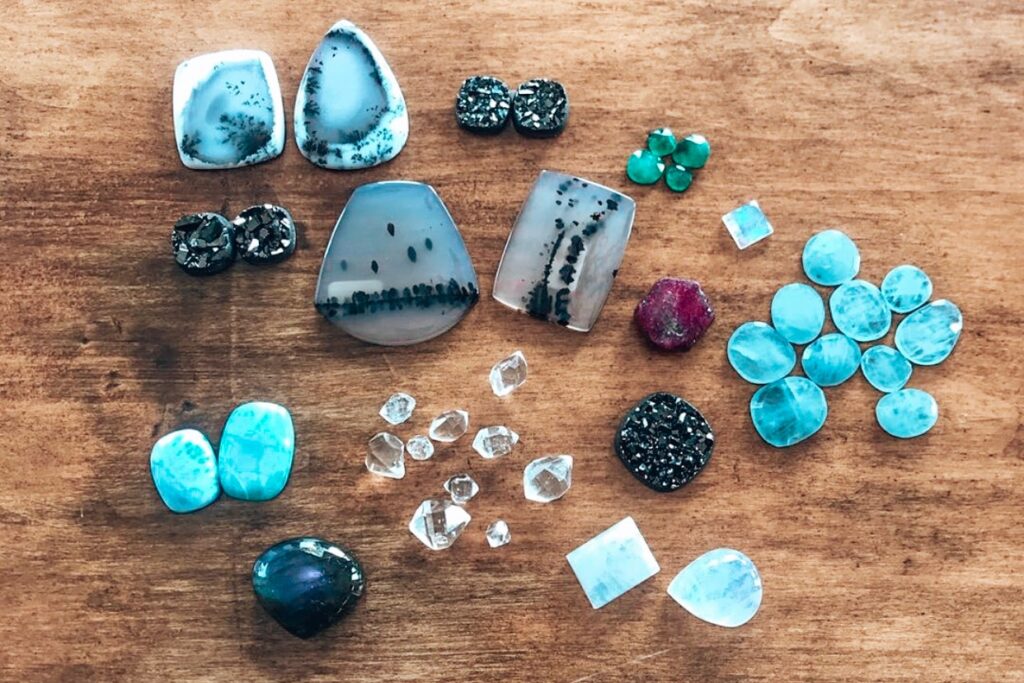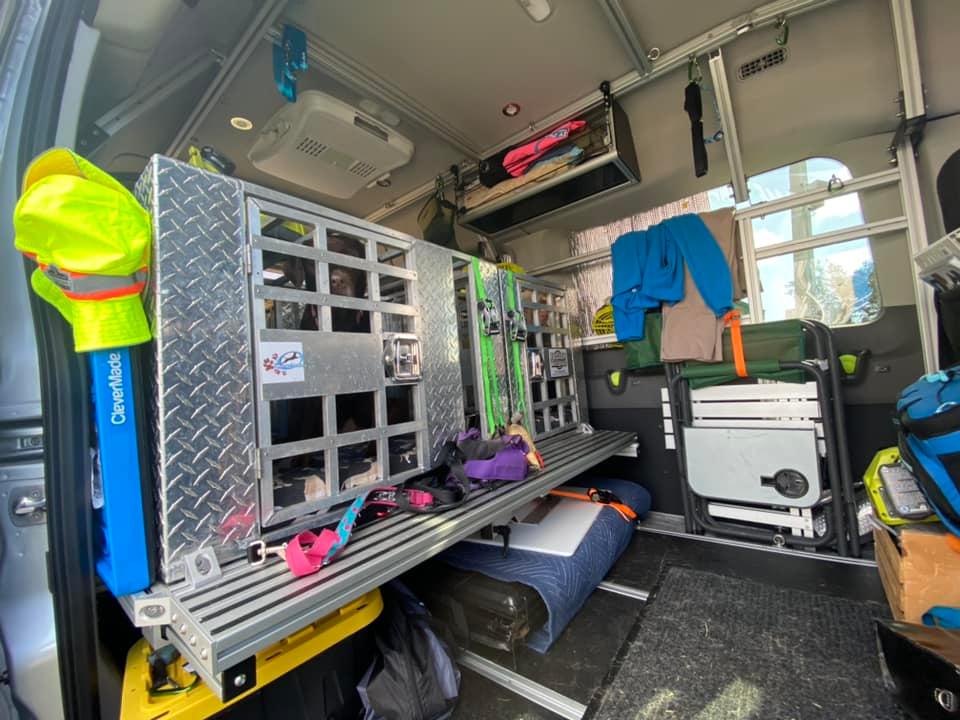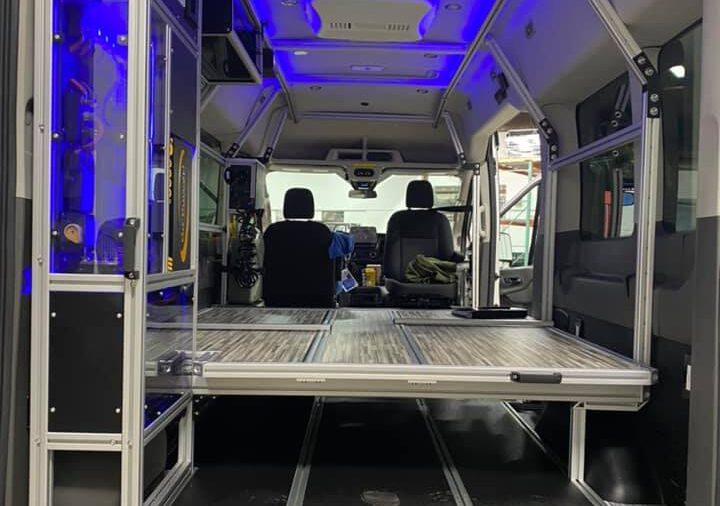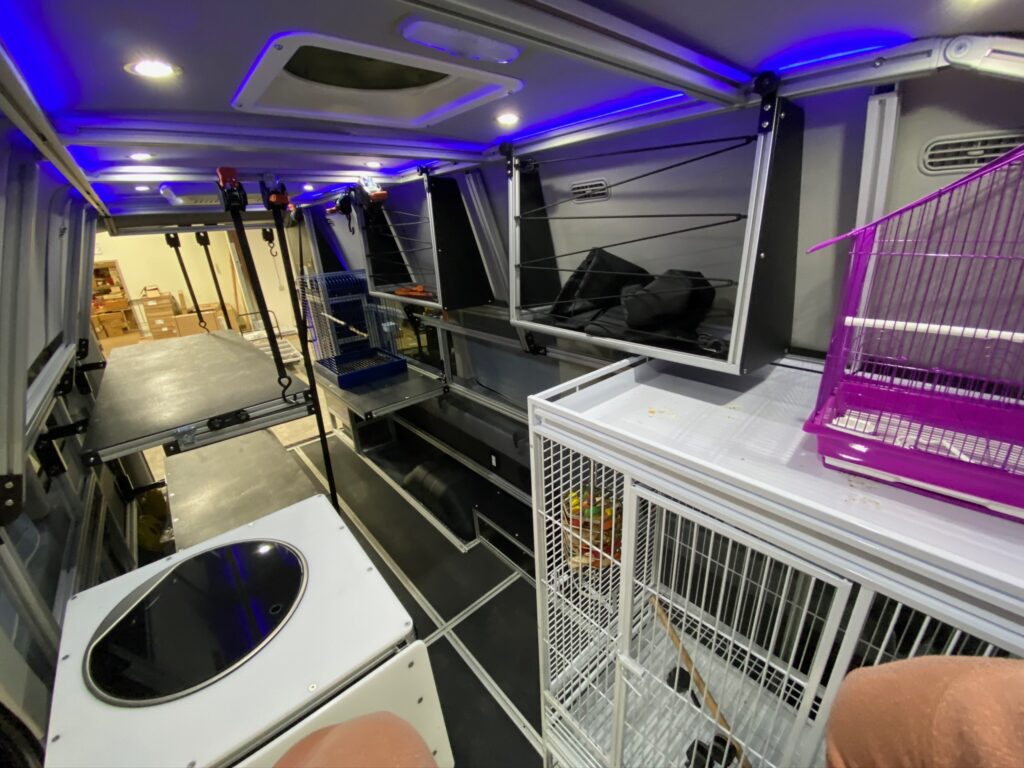 Pet Transportation/Training
The van is a perfect option for pet transportation and training. The t-track makes it easy to strap down and secure your pet carriers to prevent them from shifting around the van. 
Commercial Inventory Units Available For Purchase
Ultimate Mobile Office with Sleeping Quarters
Chassis Year: 2023

200 Miles

3.5 Ecoboost Engine

All-Wheel Drive

400 Amp Hour Lithium Power System

Espar Airtronic B4 Heater

*Upgrades Available