Do you ever just look at your dog and know they need to run and get its energy out? Are they so close to driving you nuts that exercise is the only option?
This is a genuine concern when traveling in our camper van with our 70-pound chocolate lab, Barry.
Hi, I am Jena Newman, and we have been traveling in our Vandoit since 2020. My husband, Derek, and I take our dog everywhere. Barry has gone with us from Quebec City, Canada, to the bottom of the Baja Peninsula. No matter where we are, his needs are always in our minds.
Camper Van Reality for Dogs
Camper vans are small. There is no room for Barry to run and chase a toy. Our job is to make a point to take him places where we can run freely and get all of his energy out. If we don't, we pay the price.
Traveling in the van makes this easier and harder at the same time. We will sometimes be in a dog-friendly place, and using a park or beach is perfectly legal and acceptable. Then there are times when dogs are not allowed anywhere, and we must find alternatives to getting Barry exercise.
Vanlife Solutions: Dog Parks
As a dog trainer, I avoid traditional dog parks. We have worked hard with Barry to set him up for success and keep him safe. Dog parks are typically unpredictable; most trainers tell you to avoid them like the plague. But living on the road means bending my rules and going to dog parks. It may be the only way for Barry to exercise and follow the local laws.
When choosing an off-leash park, I try my best to go at less busy times, and there aren't a lot of other dogs there. Barry is excellent with other dogs but would rather play fetch and swim than run around with other dogs anyway. We are just looking for an open space for him to run around safely.
Our favorite dog park states are California, Arizona, and Colorado! The Carmel by the Sea dog-friendly beach in California was our favorite—Barry's first experience in the ocean.
In Sedona, Arizona, there is a fantastic Dog Park where Barry could run around and enjoy the different smells. They have done a great job of keeping it clean and well-maintained. There was a flat area at the bottom of the hill for full-out sprinting and playing fetch, and then there was another area fenced in that had more trees and foliage for Barry to explore. We went at a slow time, so Barry had the place to himself.
In Colorado, our favorite park was the Durango Off-leash dog park. If I were a dog, this is where I would want to spend most of my time! There was plenty of space to run and play fetch, and we didn't have to be face-to-face with other dogs if we didn't want to be. There is also access to the river to swim and chase balls in the water. There was so much space that this could be great for any dog who needs exercise.
No Dog Park? No Problem!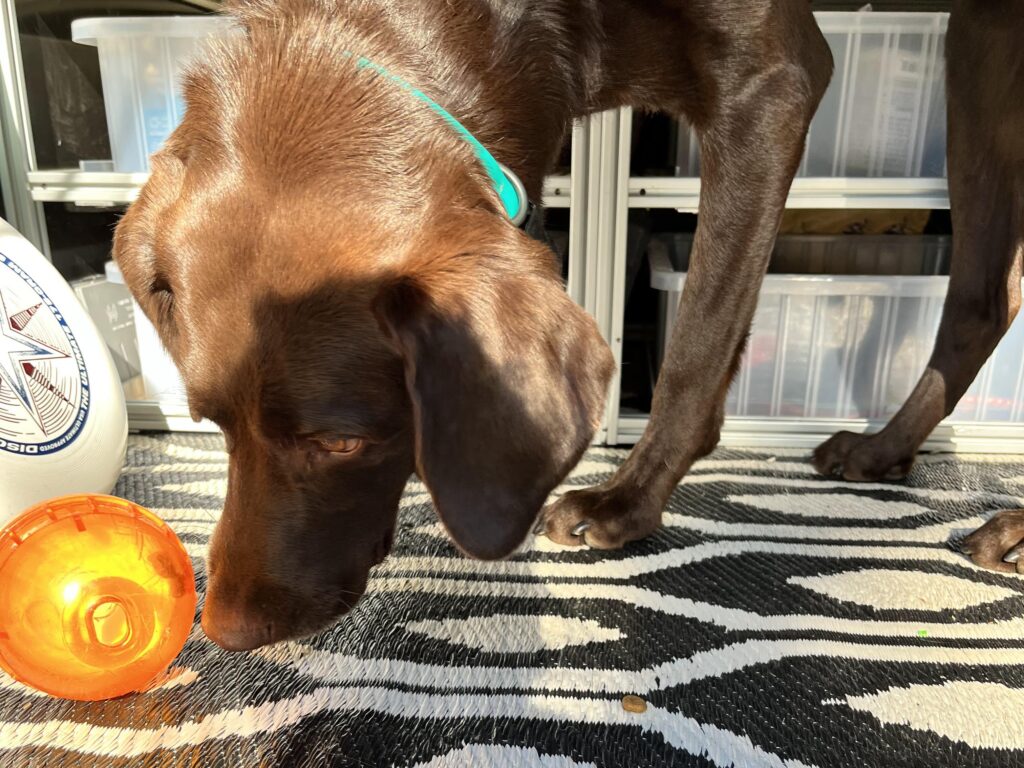 When we aren't in a place with specific dog parks or secluded, we will take Barry to other controlled environments to set him up for success. This might include a baseball field that is fenced in. Or disc golf courses that aren't busy.
Some rest stops off the highway also have designated dog running areas, which work great in a pinch. We have also used the website and app iOverlander; there is a setting to search for "Pet Services" and some dog-friendly parks.
If we are in a pickle and there isn't a place for Barry to safely run, then we will put him on a long leash and go on a sniffari. We take Barry on a sniffing safari. We use either a 15 or 30-foot leash and follow Barry and his nose. Mental exercise is as important as physical exercise. Thirty minutes of him taking in all the smells works well at tiring him out if we can't give him a good run.
Vanlife for Dogs: Final Thoughts
Our end goal is to camp in places that aren't too busy, and typically this is where Barry will get most of his exercise.
We continually monitor the surrounding areas and keep him from running away or bothering other dogs and campers if they are nearby. Having a solid recall has given Barry the freedom to not always be on a leash so that we can give him the exercise he needs after a long day of driving.
Where do you exercise with your dog while on the road? Is there a place we haven't thought of that is a safe option? Please share in the comments below.