Cycling is a popular activity that many people enjoy during their camping trips. If you plan on taking your bike on your next campervan adventure, there are a few essential tools you should have with you. These tools will help you maintain your bike and ensure that you are prepared for any unexpected issues that may arise while on the road. In this blog, we will discuss the essential tools you should keep in your campervan for cycling.
1. Multi-Tool
A multi-tool is an essential tool for any cyclist. It is a compact and lightweight tool that includes various functions such as screwdrivers, wrenches, and pliers. A multi-tool can help you fix a wide range of issues that you may encounter while on the road.
2. Tire Pump
A tire pump is another essential tool that you should have with you. It is important to ensure that your bike tires are inflated to the correct pressure for optimal performance. A tire pump will allow you to inflate your tires when needed and ensure that you are ready to hit the road.
3. Spare Tubes and Patch Kit
Flat tires can happen unexpectedly, so it's important to have spare tubes and a patch kit on hand. These items will allow you to repair a punctured tire quickly and efficiently. Make sure to bring the right size and type of tubes for your bike, and remember to practice changing a tire before you hit the road.
4. Chain Lubricant
Chain lubricant is essential to keep your bike's chain running smoothly. It is important to keep your chain lubricated to prevent it from rusting and wearing out. A small bottle of chain lubricant is all you need to keep your bike running smoothly.
5. Bike Lock
When you're on a camping trip, you'll likely be leaving your bike unattended at times. A bike lock is an essential tool to keep your bike secure and prevent theft. It is important to invest in a high-quality lock to ensure that your bike is protected.
6. First Aid Kit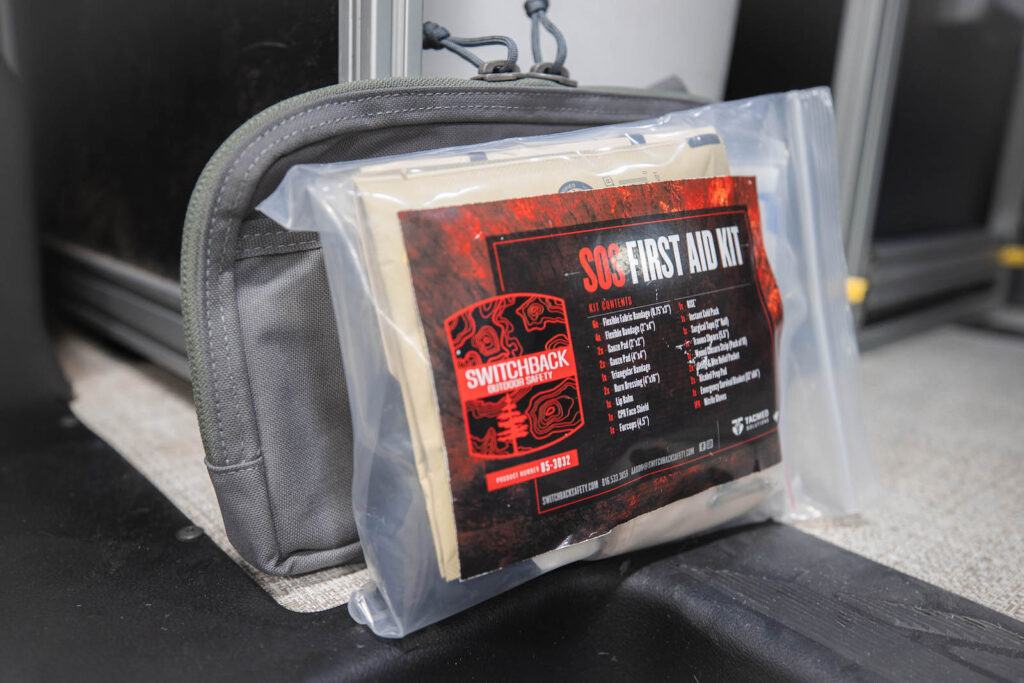 Cycling can be an adventurous activity, and it's important to be prepared for any accidents that may occur. A first aid kit should be a staple in your campervan, and it should include items such as band-aids, antiseptic wipes, and pain relief medication.
7. Bike Fork Mounts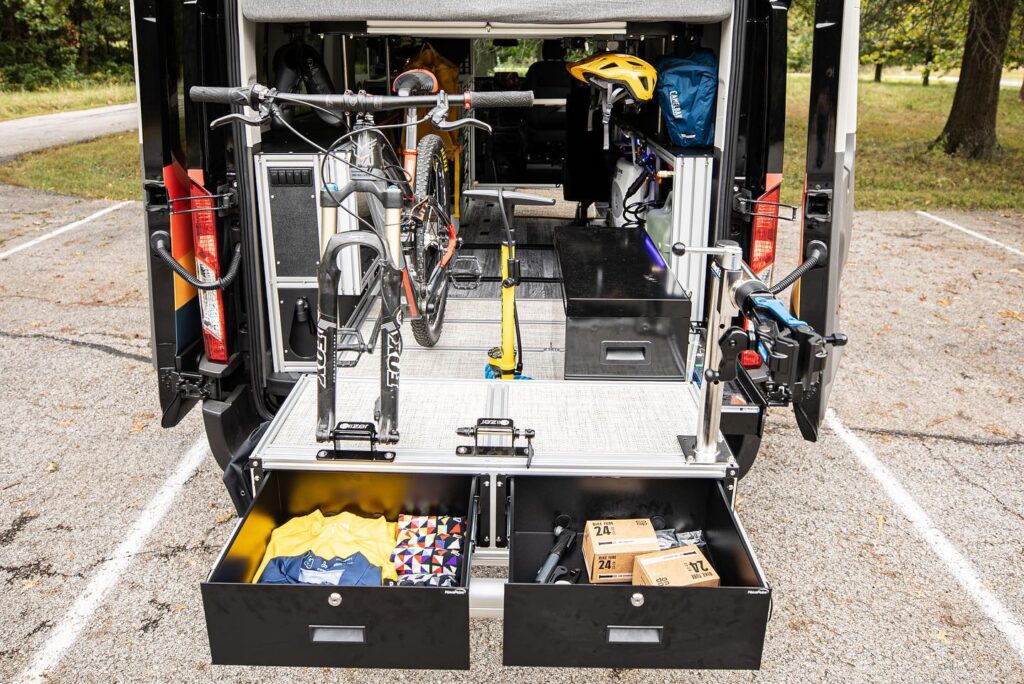 One this that is great about Vandoit vans is the ability to mount bikes on the inside of the van. This helps keep your bikes safe from theft in comparison to using a bike rack. Bike fork mounts secure to the t-track system in the campervan. I the LIV package, the bikes can mount to the gear-slide under the hydraulic bed lift. You should keep multiple mounts to secure all of your bikes in the van.
In conclusion, cycling is a fun and exciting activity to enjoy during your camping trip. By keeping these essential tools in your campervan, you can ensure that your bike is well-maintained and that you are prepared for any unexpected issues that may arise. Happy cycling!