Where to park your van overnight from VanDOit CEO Brent Kline
Many aspirational van dwellers and would-be VanDOit owners come up to us at events, campgrounds and parking lots, curious to know about our sweet van setup, and what our lives look like on a day-to-day basis.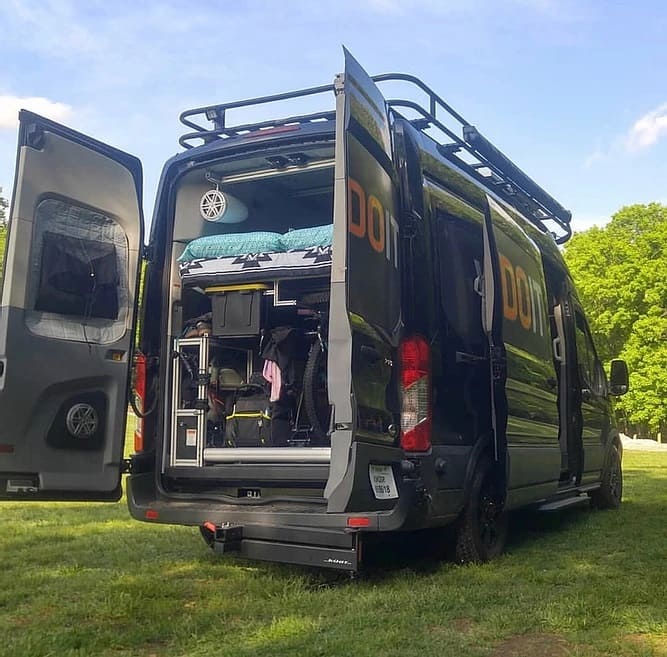 Besides the most-asked question of, "where do you go to the bathroom?"the other thing people tend to be most curious about is where you can park and camp while out on the open road.
And I think that's a fair question. It's something I've been experimenting with and learning over the last 27 years, since I picked up my first van during college, a 1985 Vanagon Wolfsburg Edition.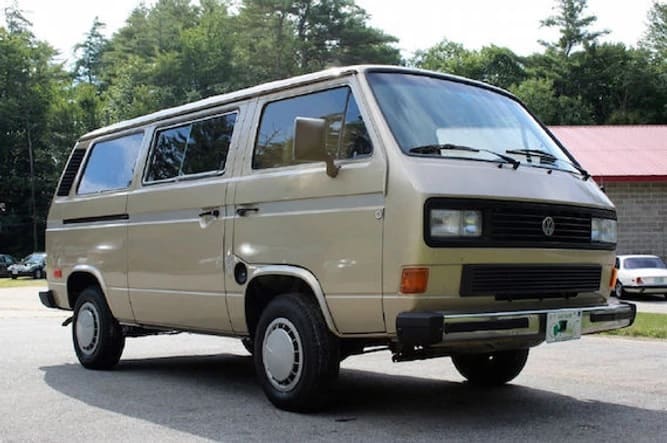 Things have sure changed since then, but really, the best places to camp and stop overnight really haven't.
But don't take my word for it…to get to the heart of this question, we tapped into the founder of VanDOit, a man who has probably spent more nights in Ford Transits – not to mention many, many other types of vans, campers and RV's over the years – than anyone.
We swiveled our seats and sat down with VanDOit CEO, Brent Kline for this insider interview. Hope you enjoy his insights!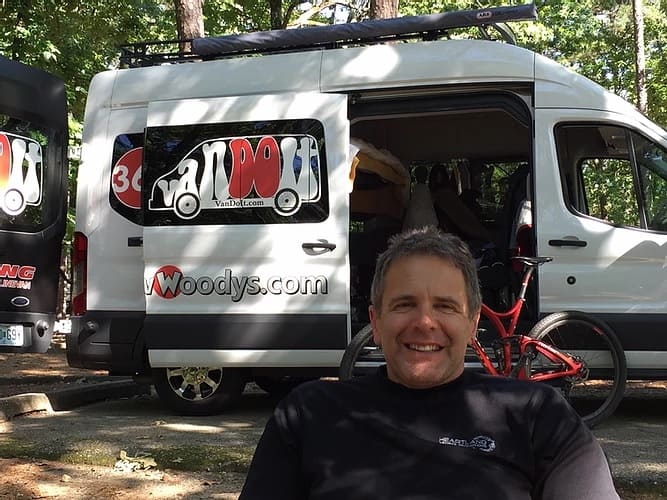 >>What's the ultimate go-to overnight parking spot, when you're on the road?
My ultimate go-to overnight spot is a place that is free and also boasts a beautiful nature setting. The spot doesn't have to have specific camping sites or other camping amenities, but on the other hand, I'm not opposed to it. We are a bit spoiled here in the state of Missouri, as we have "conservation areas," which are park-like areas maintained by the Missouri Department of Conservation (MDC), and a high percentage of them allow free overnight camping; and many of them actually have camp sites, restrooms, fire pits, nature education opportunities and other camping amenities.
Many of the MDC sites have nature-based amenities like hiking and mountain biking trails, hunting areas, fishing lakes, creeks and rivers, nature and wildlife areas, tree plant and horticulture viewing areas, bird watching and more. I happen to live by the Indian Creek Conservation area in Northwest Missouri and often fish, mountain bike and camp there with my family in a VanDOit.
Kudos to the State of Missouri for these tremendous opportunities they afford to outdoor lovers and campers at the ultimate affordable price, and for setting a standard concerning how our tax dollars should be spent. These MDC areas motivate families to introduce their children to the wonderful gift we have been given called nature, and allow families to learn how to enjoy our planet, which belongs to every living creature.
(MDC areas can be found at www.nature.mdc.mo.gov)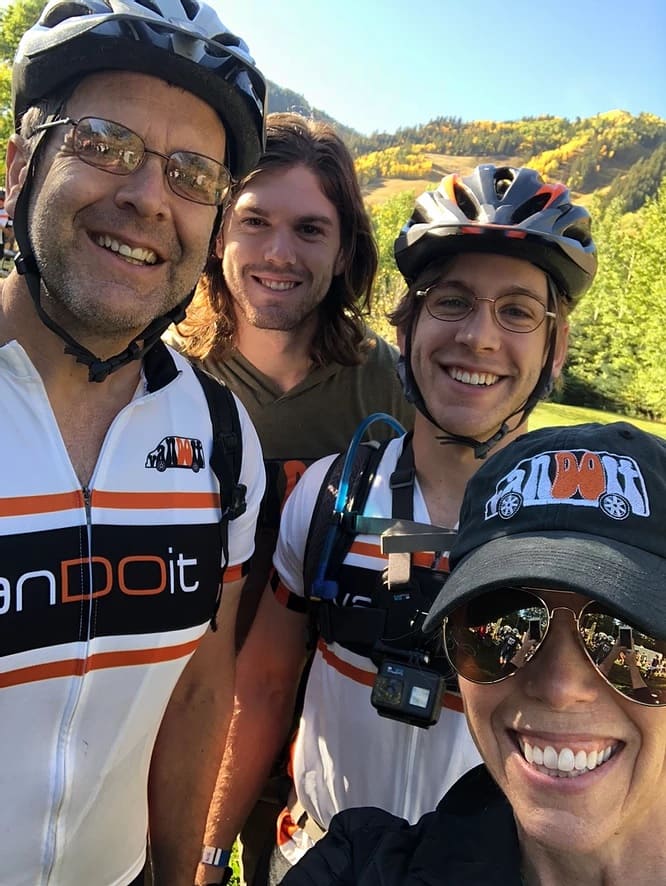 Brent & Jill Kline with sons Jon & Alan
And while I have found similar opportunities in other states, there are other ways to achieve this ultimate camping spot, including some very beautiful rest areas while out on the open road.
As we traveled to Overland Expo East at REEB Ranch in Asheville, North Carolina, we found a beautiful rest stop area somewhere near the Shawnee National Forest in Carbondale, Illinois. Out front were of course plenty of "big-rigs" lined up for the night, but behind the facility, a long way from the trucks and up next to a lake was a wonderful area for automobiles. There were many parking areas available (lakeside) and when we woke up the next morning the scenery was breathtaking. This particular rest area was complete with a park area and jungle gym for children, restroom and showers. Many states offer this same type of set up.
I have found that if the commercial haulers are lined up at a rest area at night, then sleeping at the rest area is acceptable. It is very rarely acceptable to sleep in tents, with the exception that a rest area may have an adjacent tent camping area.
Unofficially…from my experience, the states that allow for automotive camping at highway rest areas, with some limitations, are: Arizona, Arkansas, California, Connecticut, Idaho, Illinois (toll roads), Indiana (toll roads), Kansas, Missouri, Montana, New Jersey, Nevada, New Mexico, New York, Ohio (turnpike), Oklahoma, Oregon, Texas, Utah, Virginia, Washington State and Wyoming. I've camped in vans this way since I was a child and have yet to be asked to leave. I assume part of that is because I was always in a van!
And one of the greatest things about VanDOit Vans is that they are incognito and don't look like motorhomes or RV's. They don't take up a lot of space, don't empty out waste and don't have jacks that can damage the tarmac of any given place.
Other overnight camping options include:
Beaches that allow for vehicles and camping. Waking up on a beach is pretty awesome. Pismo Beach is a good example.

More ski resorts are starting to allow van camping since the popularity of vans has skyrocketed. Mt. Bachelor is a great one.

Friend's homes, farms and property. When a person really thinks of all the people they know around the country, it is pretty amazing, especially nowadays with social media. You have to work your network!

United States Forest Service land and campgrounds (USFS).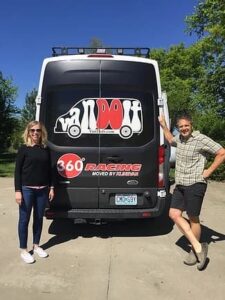 >>How do you feel about Wal-Mart parking lots?
Thank God for Wal-Mart! Nothing is perfect and one can find positive and negative in anything, but I personally appreciate the fact that Wal-Mart, with some exceptions, allows for overnight camping in an RV. While a Wal-Mart parking lot isn't necessarily my ultimate campsite, they offer a lot of positives. Coffee, groceries, water, or about anything you might need is conveniently located a short walk away when you wake up. And, you won't get stuck on a Wal-Mart parking lot in bad weather, since it's paved and flat! Wal-Mart parking lots are also quite safe because they are well lit and usually have other campers around, and law enforcement patrols them. With the VanDOit thermal storage curtains, the van is so dark inside that we have slept well past our normal wake up time.
>>What about truck stops, or other places like that?
I love truck stops. We are not picky about what brand of truck stop we stay at, as long as they are clean. However, I am very picky about being able to escape the fumes of the diesel engines, which will generally run all night long.
Most truck stops have a large area for commercial trucks and a separate area for everyone else. I make sure to look at the distance between automotive parking vs. commercial truck parking first thing. Truck stops have similar assets to Wal-Mart with a few additional positive and negative attributes. While one can buy most of what one needs in a truck stop, certainly there isn't nearly the variety of Wal-Mart. However, one of the best things about a truck stop is that most of them have restaurants, café areas and showers. Even though one can shower out of their VanDOit, variety is the spice of life, and since a person has to refill the water on the VanDOit, it's nice to use someone else's water occasionally. Speaking of water, a truck stop usually has an available hose for adding fresh water to the tanks. Likewise, you can fuel up, have breakfast the next morning and clean up the windshield with the longer squeegee sticks usually found only at truck stops.
>>How do you know when it's OK to park somewhere overnight? What are some of the safe/legal stealth camping tips you might have for people?
I have found that with a van you can really camp just about anywhere because they are incognito and don't look like motorhomes. I am not at all suggesting a person camp where they will cause harm or make someone mad, but there are many places everywhere you travel where cars are parked overnight, and are often taxpayer-funded entities. Hospitals and health centers are a great example. Likewise, a large percentage of towns and cities across the U.S. have certain streets where overnight parking is the norm. As an example, our crew camped in two VanDOit Adventure Vans in downtown Bentonville, Arkansas, right across from a neighborhood market before a mountain bike race. Many cities have carpool lots which have overnight parking available. Likewise, county fairgrounds and recreation centers have always worked for us as well.
We have also never had a problem parking at a casino, which also allows for overnight parking. Church parking lots tend to be a good place to camp. I typically just ask someone in the church for permission and offer to leave a donation should they allow me to charge my batteries through shore power. Like churches, civic organizations tend to be good sports about allowing overnight camping if one simply asks permission.
One of the best-kept secrets is a nationwide fitness centers that are open 24 hours a day. They are used to cars parked in their parking lot overnight and a person can grab a great workout and a shower. Hotels and motels can be a great place to camp, but we are transparent with them. We pay for breakfast the next morning. The request is usually accepted, especially if you can show that you are a rewards member and do business with the hotel. They usually ask what type of vehicle you are driving and give a smiling approval. Cracker Barrel is a great location as well…and of course we are patrons the next morning.
Many retail style farms and vineyards are usually happy to allow you to stay, as they tend to benefit from this type of tourist. Harvest Hosts is a cool resource to find the farms and vineyards who allow overnight parking/camping. Companies who "get it" and benefit from outdoor-oriented people generally love to have you stay. Retailers such as Bass Pro Shop, Cabela's, REI and nearly every privately-owned sporting goods/camping store are almost always happy to have us, and of course we try to do business with them.
I've found that camping in a van without ruffling feathers is really easy due to its size and appearance. I have also found that being transparent and asking permission gets the job done almost anywhere if you are in a VanDOit. I have also found that if a person tries this in a motorhome…one is usually disappointed. Lastly, we can always find a state campground and hook up to shore power for the night.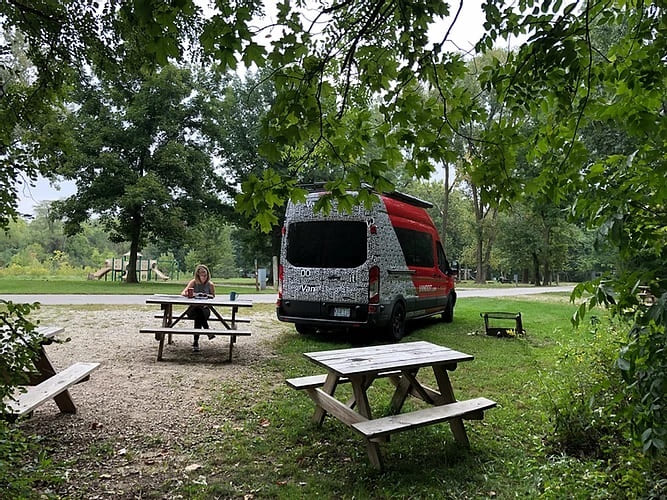 >>What's your favorite place you've ever van camped?
I have literally been camping in conversion vans my entire life, as my grandfather started in the RV business in 1947. It's not always about the campsite, the amenities, the weather, the beauty…often it is about the memories created.
One of these great memories was when my wife and I were on a VanDOit camping trip in one of our early prototypes, and we drove late into the night in order to get to Monument Valley, Utah, to celebrate my wife's 48th birthday. When we arrived it was pitch dark and we couldn't see the outline of any of the monuments. We camped in our van and made a commitment to get up early the next morning to watch the sun come up amongst the stunning natural landscape. Little did we know that we parked in just the right position. When we woke up, the sky was beginning to glow from the sun's soon arrival, and we opened up our back doors to the most beautiful scene we could imagine. Afterward watching this incredible sun rise from our cozy bed in our PJs, we went into the nearby facility for breakfast and some hot coffee, and then went hiking in the valley.