Ultra Racer, Christie Tracy Rises From the Ashes to VanDOit
The back of Christie Tracy's VanDOit Ford Transit camper van reads, "She believed she could, so she did." After multiple injuries, she's come back to win national and world championships in ultra cycling, and is chasing her dream of becoming a professional cyclist with a VanDOit to get her there.
The Austin-native started riding in April of 2012 when a friend from the CrossFit Gym she coached at dared her to enter a local Sprint Triathlon on her birthday. That was the day she fell in love with cycling, even though she was riding a borrowed road bike three times too small for her.
"I fell in love with it. I don't know how to explain it," she said. "It was white noise. I got on and it was nothing, and I was going as fast as I could with the wind in my hair."
The next day she told her husband Jamie she wanted to get a bike for her birthday. She hired a coach the next week. She continued to do CrossFit for a year, but gradually started cycling more.
"I learned that my body type is genetically predisposed to being really good at cycling," Christie said. "I never would have made it to the CrossFit Games. Being the competitive person I am and finding something I was naturally good at made me think, 'Why don't I just try this?' and I haven't looked back since."
Her first official USA Cycling Road Race was the Texas State Road Race Championship that September.
"It was pouring rain, and I showed up in my off-brand puppy dog jersey and shorty-short bike shorts, and no-show socks looking completely out of place among girls in their team-branded, sponsor labeled kits, and bike shorts and socks of more 'acceptable' lengths," Christie said. "Nevertheless, I finished the race completely hooked on this bike racing thing."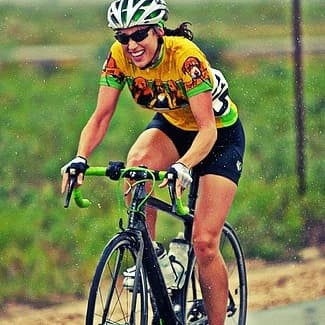 Christie has had the misfortune of breaking her collarbone three times while riding, requiring surgery each time: first, in 2012 in a criterium race at the Driveway Series in Austin, Texas, in 2013 at the Iris Stagner Memorial Stage Race in Mineral Wells, Texas, and in 2014 during a local group ride in Austin. Each time, she was determined to come back stronger than ever in pursuit of her newfound passion.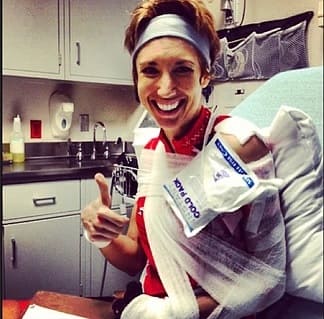 As she continued to train and race, she set her sights on winning the 2016 Master's National Time Trial Championship in Winston Salem, North Carolina, comprising of a road race, criterium race and time trial. She decided to race the criterium race in addition to the time trial, so her parents could watch and cheer her on more. (Criterium races allow spectators to see the racers more because they pass by every few minutes around the track- usually less than a mile long.) Tracy was in second place a few laps into the race, when the person in front of her went down going into a corner, taking her down with them. She spent several days in the hospital with a few cracked ribs and vertebrae and a collapsed lung.
As soon as her doctor cleared her, she returned to training with a renewed passion and determination to come back and win the Time Trial Championship title in 2017. This time, she chose not to race the Criterium Race and registered only for the time trial and road race. All of her hard work and training paid off, and she won the time trial- her first national championship title, and placed second behind a friend from Austin in the road race the next day. Her first and second place finishes resulted in her winning the BAR (Best All Around Rider) Award for the 2018 Master's National Championship Race Weekend.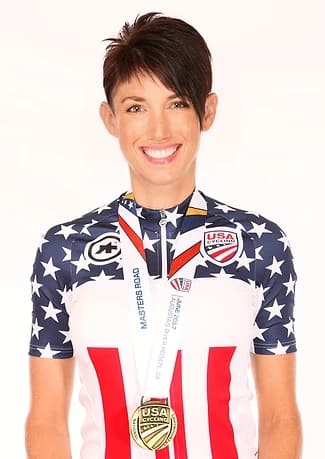 "I came home with the stars and stripes on my shoulders, and a fire in my belly to keep pushing the envelope and see how far I could take this bike racing thing," Christie said.
She went on to win the Ultra Marathon Cycling Association 12 Hour Time Trial National Championship at the Texas Time Trials, and months later, the World Championship in the 12 Hour Time Trial. This form of ultra racing requires cyclists to ride for 12 hours straight. Time trials are known as "the race of truth," determining who's able to go the hardest over a set distance or amount of time.
"I specialize in time trialing and ultra racing," Christie said. "I have a really strong engine. I go into the pain cave and hold it. I love it there, that's the thing. Everybody is different. I love that white noise. I'm a Type-A person, always thinking I have to do something. When I ride, it's 12 hours of silence. I like pushing myself hard and I'm comfortable with suffering."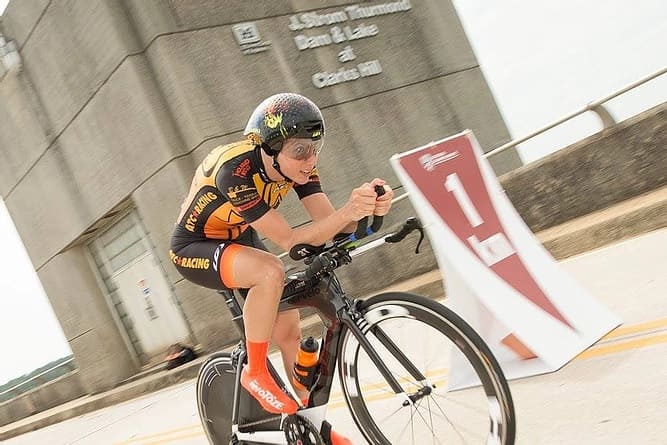 When asked what keeps her fueled for twelve hours of racing, aside from her sponsor Nuun Hydration, she said her favorite is Trolli gummy worms and frozen Peanut M&Ms.
She finished out 2017 with back-to-back wins at the Texas-State Road Race Championship in both the Women's Skill-based race and the Age-Based Race.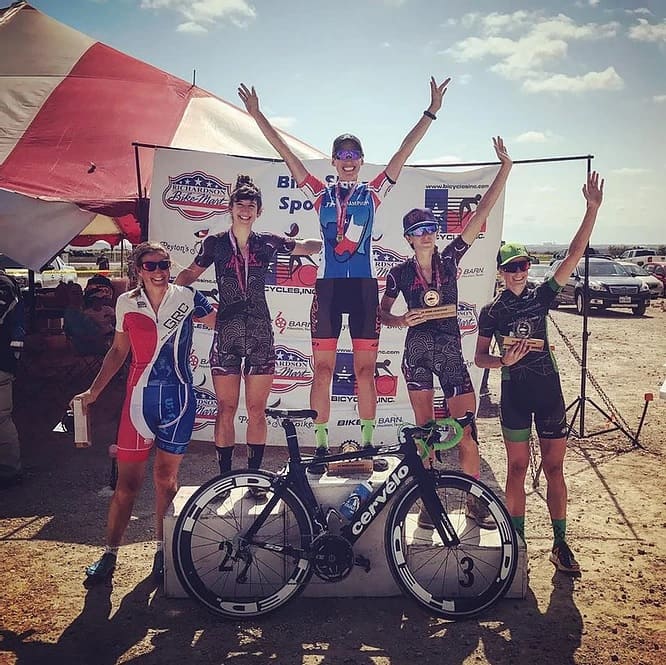 After having a very successful racing season, she decided to take things to the next level in 2018 and race as many pro road and stage races as possible, with the hopes of being picked up by a professional team in 2019.
"This would require tons of travel, and doing it in our little Mazda CX-5 would have been next to impossible, so I started researching Sprinter and adventure van options, and stumbled across VanDOit," Christie said. "I really loved the features of the VanDOit builds, and the fact that they were rugged adventure vans, which could cater more to someone like me who'd be throwing dirty bikes in the back and using it as a mobile garage to store and work on bikes, as well as a mobile office, kitchen, and bedroom for me, my husband and our two dogs."
Christie and her husband Jamie were interested in VanDOit Ford Transit camper vans because of the affordability and opportunity to custom design their van.
"I don't mind spending money on something quality, but it was about finding the most value for what we're spending," Christie said. "We didn't want to buy something with a ton of features we would never use- that's throwing away money in my opinion. There is a lot out there, so when we found VanDOit it was perfect because we were able to customize it to get exactly what we needed."
Christie also appreciated that VanDOit's CEO Brent Kline and Sales Director, Ted Vandevort were cyclists. 
"It was so nice talking to people who were very familiar with cycling and intimately understood my needs," Christie said.
Christie designed her dream adventure van in a lime green and black wrap with matching leather seats. She chose the unique colors to match her bikes and because her mind "interprets green as speed." Her van wrap has a phoenix on the side and those powerful words, "She believed she could, so she did."
Christie and Jamie got their VanDOit in mid-March just in time for a five-week road trip of racing. Jamie is retired from the Coast Guard, allowing him to do all the repair work on Christie's bikes and most of the driving during their road trips while Christie does accounting work in the backseat of the van (making it a mobile office whenever needed.)
"Our van has #TeamTracyATX on it, because we are a team," Christie said. "I'm the cyclist and he is my support. I couldn't do it without him."
Their road trip began in Texas with the Tour of Corsicana Stage Race, where Christie won first overall. From there, they travelled to Fayeteville, Arkansas where she raced her first professional stage race of the year with the Amy D Foundation Composite Team. Next, they were on to Monterrey, California for several race events at the Sea Otter Classic where they got to spend some time with the VanDOit team.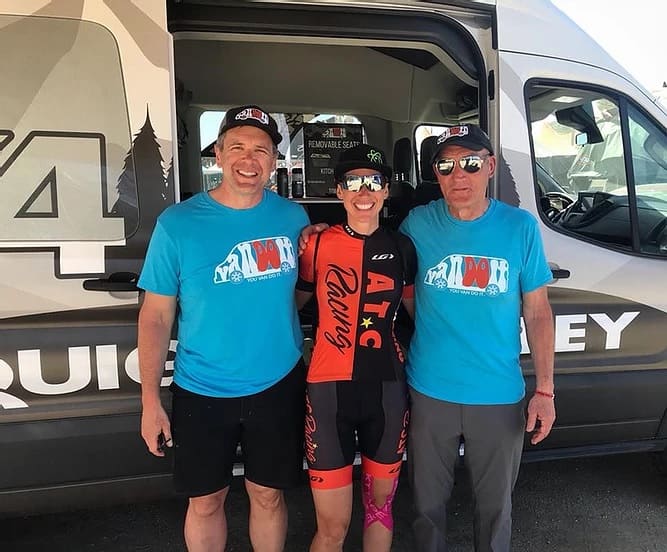 Christie with VanDOit CEO, Brent Kline and Midwest District Manager, Andy Brown at the Sea Otter Classic
"Lodging in Monterey during the Sea Otter Expo is crazy expensive, so we were stoked to be able to make an economically priced RV park home," Christie said. "We stayed just steps away from the beach, and ideally located just a block from a bike highway that I was able to ride in to the expo and race venues daily. This was our first opportunity to really break in the van, and we found it very comfortable. We were plugged in, and the air conditioner kept it plenty cool throughout the day with temps reaching the lower 90's, and the heat pump kept it nice and warm in the evenings, when temperatures dropped down into the upper 40's. We were able to cook most of our meals using a little electric hot plate and our microwave."
From Monterey, they drove up to the mountains of Crestline, California so Christie could spend the week training at altitude in advance of the Redlands Pro Stage Race. After the four days of racing in Redlands concluded, their VanDOit made its way back home to Austin.
They were only home for a few weeks before departing for their next road trip. This month-long adventure took them to Tulsa, Oklahoma with the DNA Pro Cycling Team for the Tulsa Tough Crit Weekend. From there, they were on to Augusta, Georgia so Christie could attempt to defend her Master's National Time Trial Championship title. Unfortunately, she got a flat tire in the middle of the race, but still managed to pull off a fourth place finish. From Georgia, they hit the road for Knoxville, Tennessee, where Christie raced her first professional national time trial and road race championships. They stayed in Knoxville for several days in advance of the races, which gave Christie the opportunity to pre-ride the courses in the afternoons after her nine-hour workdays remotely from the van.
"Rain was forecast for the time trial, so we set up the VanDOit canopy for me to warm up under," Christie said. "It provided awesome shelter from the elements, while still allowing enough airflow to keep me cool during my warm up."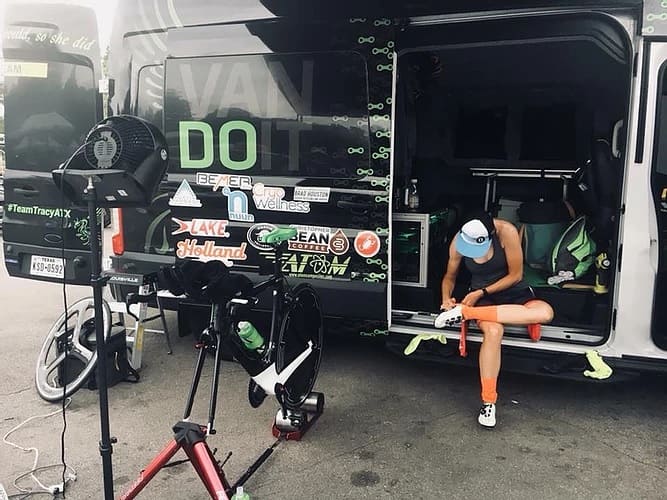 She raced to 18th place in her first professional national time trial, and was happy with her top 20 finish, given the caliber of the field and the technical nature of the course.
Christie and Jamie got one more bike trip in their VanDOit Ford Transit camper van in late June when they headed to Rosebud, Texas for the Texas State Gravel Championship Race where Christie claimed the championship title.
"There were on-site overnight parking spots available, but no plug-ins or running water," Christie said. "We hooked up to our portable generator, and the air conditioner kept us very comfortable despite the 90+ degree temps outside. After winning the championship title on Sunday, it was awesome to be able to shower all of the dirt and grime off using the van's portable shower before beginning the three-hour drive back to Austin."
In early August, Christie was involved in another collision during a criterium race, fracturing her hip. Of course, she's not letting that stop her. After therapy, she is recovering to defend her 12 Hour Time Trial World Championship title on October 27 in Borrego Springs, California. Coming full circle, she will also be at the 2019 Gravel National Championship Race in Lawrence, Kansas, one year from the day she got her VanDOit in nearby Lee's Summit.
"The phoenix is my spirit animal," Christie said. "It's a reminder to me that no matter where I'm at, I have to look at everything I've overcome. I've overcome three injuries and come back to win national and world championship titles. Never count yourself out. You can always come back, so never give up."
In 2019, Christie plans to switch her focus to racing primarily gravel and ultra cycling events. A few of the races that she's planning to tackle include Dirty Kanza, Iowa Wind & Rock, The Belgian Waffle Ride, Rebecca's Private Idaho, HooDoo 500, and The Silver State 508 among others. Team Tracy has a full year of road-tripping in their VanDOit planned for 2019. They will get to call their van home in Texas, Arizona, Louisiana, Oklahoma, Kansas, Missouri, Iowa, California, Georgia, Tennesee, Utah, Nebraska, Idaho and Nevada next year. You can follow Team Tracy's adventures on their website and blog at www.TeamTracyATX.com and on Instagram @TXPaleoRacer.