Meet the Bible's, traveling the continent in a VanDOit Ford Transit Camper Van with their baby
When not at home somewhere above 8,238 feet above sea level in Nederland, Colorado, Aaron, Jasmine, Lavender Bible and their two dogs Peanut and Zoe Belle (otherwise known as Team Bible Travels) can be found traveling the continent in their VanDOIt Ford E350 Transit van.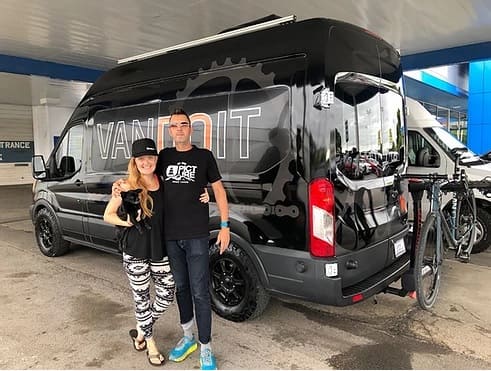 A lifelong outdoorsman and an award-winning journalist covering the outdoor sports and adventure travel industry, Aaron was always obsessed with the van life, long before hashtags and smartphones. Married and traveling together for six years now, Aaron and Jasmine have owned five VW vans, two vintage trailers, and a Ford E150 cargo van they converted by hand over the course of three years – until little Lavender came along.
As fate would have it, this past summer they ran into the VanDOIt crew at the Outdoor Retailer trade show in Denver, Colorado, at just the right time. They needed a finished van with the ability to comfortably house their growing family, not a project. Having researched vans and off-roading for the two decades, they knew what they needed, they just didn't know where to find it, or how to afford it. Enter VanDOit.
"The ready-to-roll outfitting, simple elegance, convenient customization, and instant upgrade of the Ford-based VanDOit, combined with the ability to trade in our old van and finance through VanDOIt, made this upgrade a no brainer," Aaron said.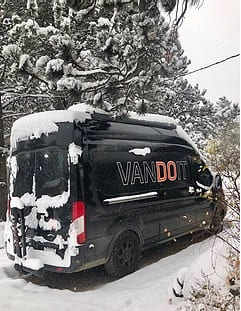 It just so happened that the company is based in Kansas City, where Bible's parents live, conveniently located right in the middle of the country for any adventure.
Now that they're off and rolling, Team Bible Travels is integrating their VanDOit into every aspect of their adventure lifestyle and representing VanDOit on the road. From trail and bike races, to family vacations, content gathering missions coast to coast, skiing, stand-up-paddleboarding, climbing trips and more, follow along here for all of their tips, tales and inspirations from behind the wheel of their high-top VanDOit camper van in the words of Aaron himself. You can also keep up with their adventures on Instagram @team_bible_travels