In 2022, Vandoit faced an exciting challenge that would lead to a significant transformation in their camper van offerings. Ford approached the company with a tall order: build out the new Transit Trail, the ultimate two-person campervan. Up until that point, Vandoit had primarily focused on upfitting the Ford Transit passenger chassis, which offered numerous perks of its own. However, with the new Transit Trail or Transit Cargo chassis, Vandoit saw a world of possibilities and a chance to take their camper van creations to the next level.
The Addition of Cargo Vans to A Passenger Lineup
For years, Vandoit had been building campervans on the Ford Transit Passenger chassis, and this choice came with several benefits. These passenger vans provided extra seating, rear climate control, and rear passenger safety, making them ideal for larger groups or families looking to hit the road in comfort. These features made them a popular choice for Vandoit and their customers.
However, with the Ford Transit Trail project, it was time to expand focus to include cargo vans. The Vandoit engineering team understood that cargo vans brought unique advantages to the table, especially when designing campervans for one- or two-person travel. With the absence of rear passenger safety as a primary concern, they could explore innovative features that catered to the needs and desires of solo or couple travelers.
The Birth of the MOOV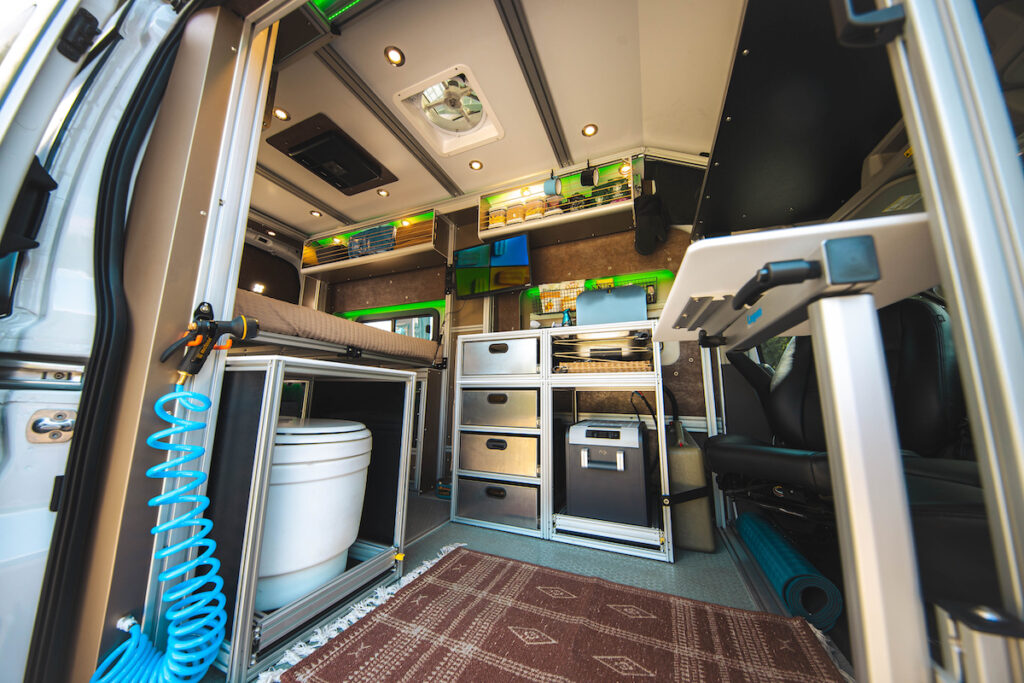 The team took inspiration from the requests made by van owners over the years and integrated many of these into the new Transit Trail camper van, aptly named the MOOV. This remarkable creation introduced a host of new features and finishes, all aimed at enhancing the one- or two-person travel experience. Some of the standout features included:
Drawbridge-Style Bed: This ingenious design allowed for side-to-side sleeping, while also providing front-to-rear storage and walking access. It maximized space and comfort, transforming the interior into a cozy sanctuary on wheels.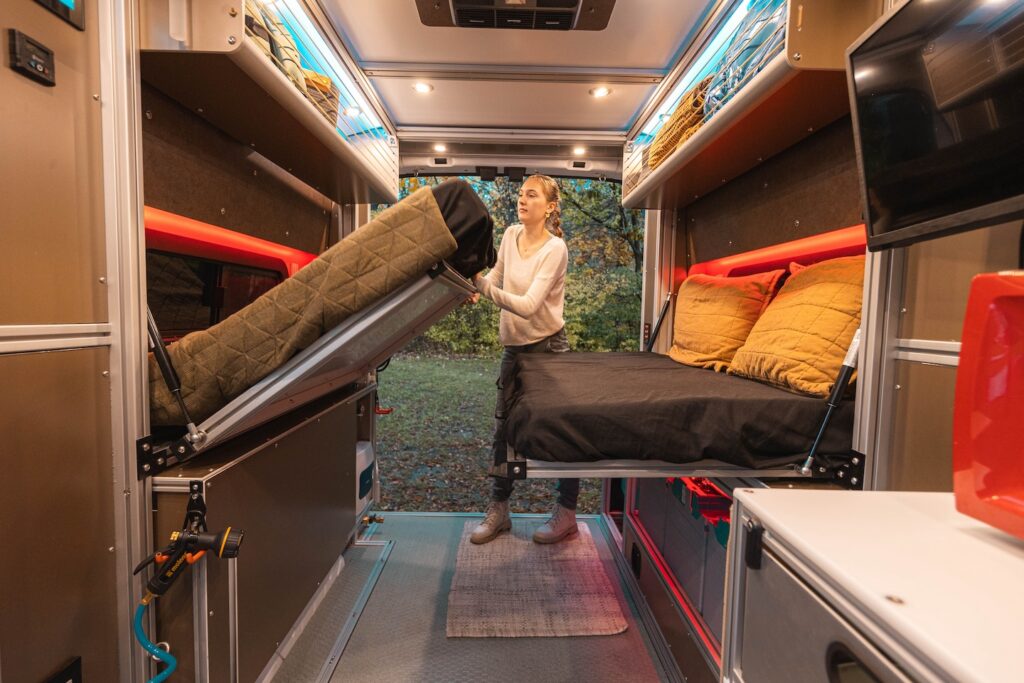 Indoor Shower: A luxury rarely found in camper vans, the MOOV included an indoor shower, offering travelers the convenience of staying clean and refreshed, even in the great outdoors.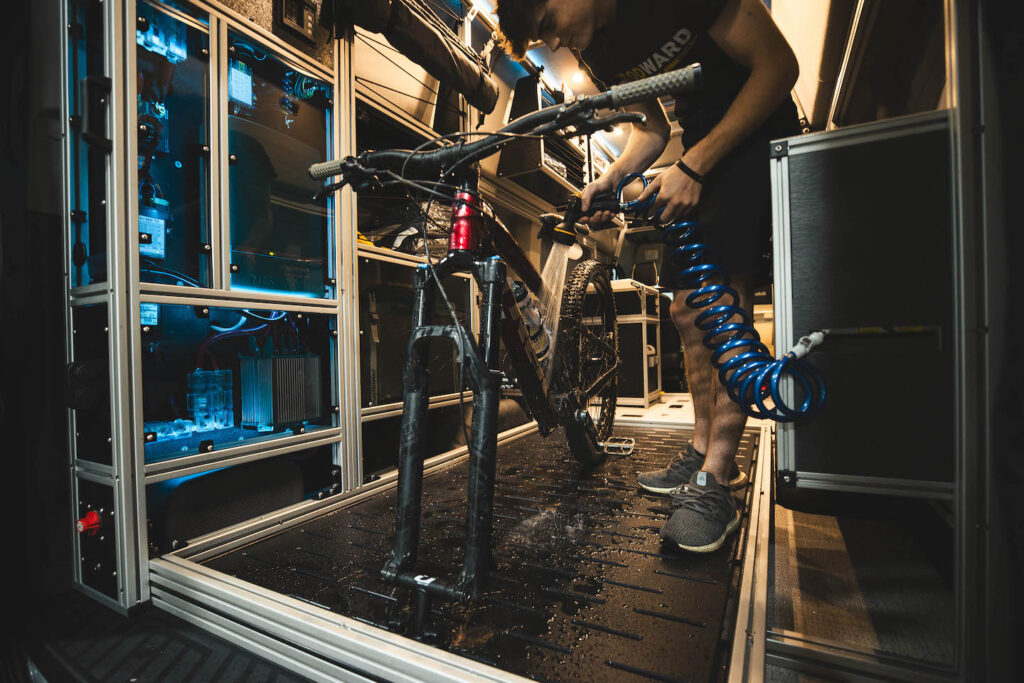 Increased Water Capacity: For extended journeys, a generous water supply is essential. The MOOV addressed this need by increasing water capacity, ensuring that travelers could stay hydrated and maintain their hygiene without worries.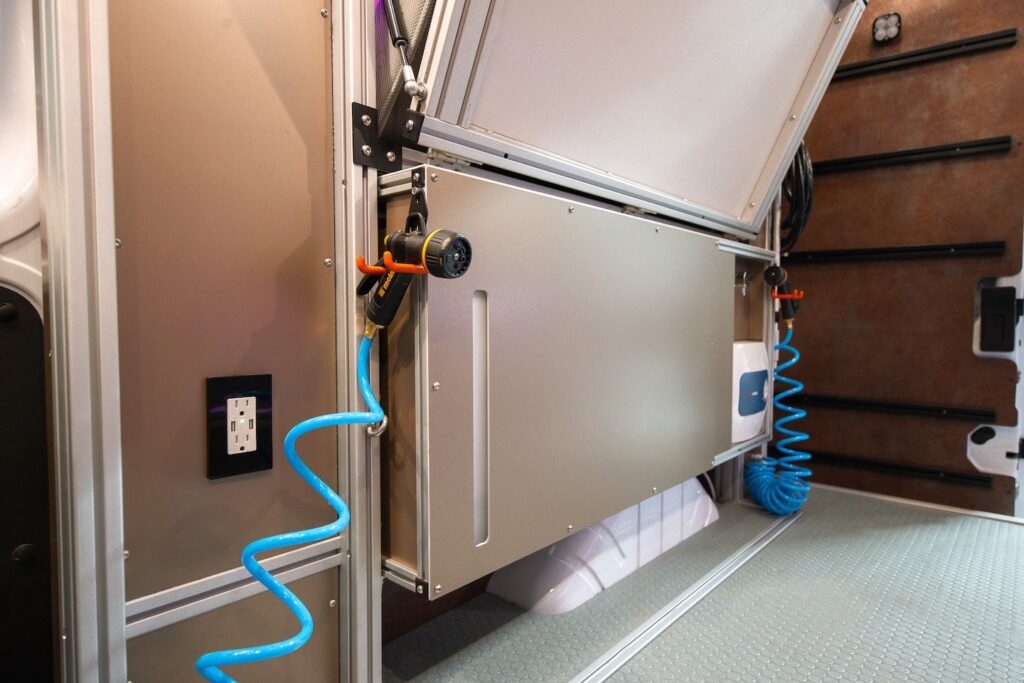 Dimmable Zoned RGB Lighting: Customizable lighting was introduced to set the mood, whether it was a cozy evening in the van or a vibrant atmosphere for socializing with fellow adventurers.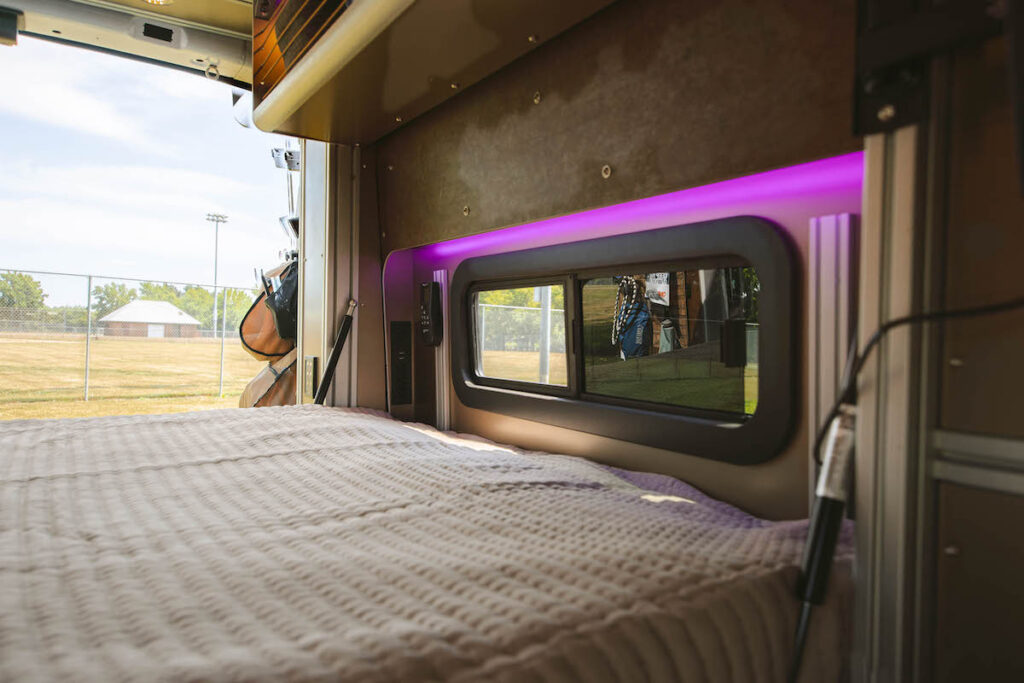 Expanded Power Options: The MOOV provided a wide range of power options to support everything from weekend getaways to off-grid living. This ensured that no matter where your adventures took you, you could count on reliable power sources.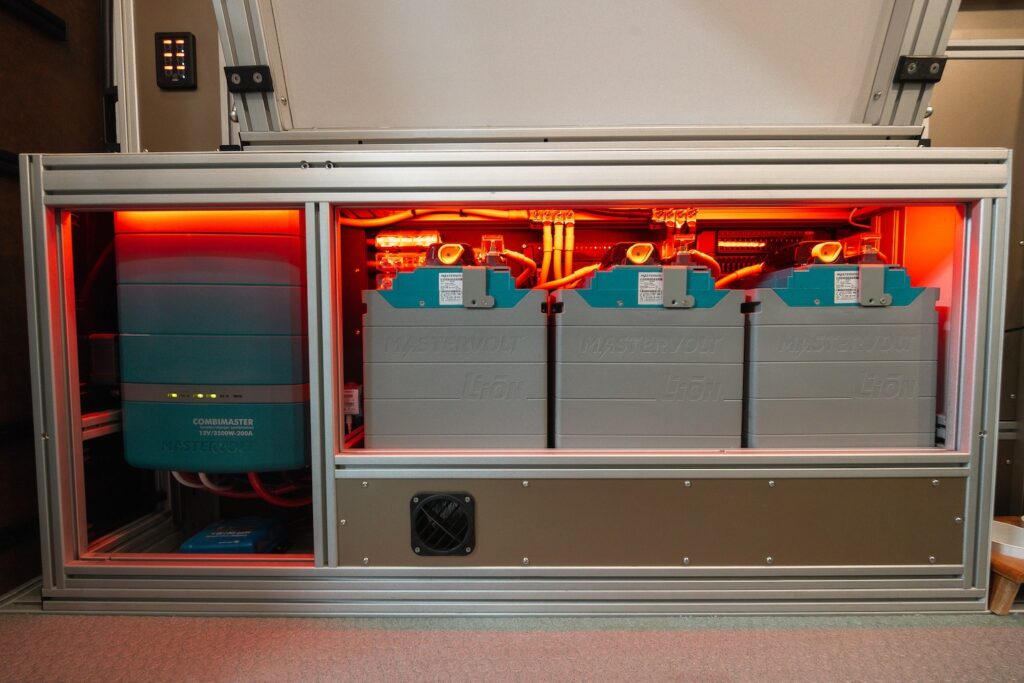 Cargo Vans: A Canvas for Innovation
One of the primary reasons behind Vandoit's transition to cargo vans was the enhanced space they offered. Cargo vans provide an expansive, open canvas for the installation of Vandoit's modular components. This space allowed for more creativity and versatility in creating campervans that catered to the specific needs of travelers. Whether it was custom storage solutions or kitchen setups, cargo vans provided a flexible foundation for Vandoit's designs.
Additionally, the innovative aluminum frame found in cargo vans was designed for a wide range of business and recreational adventures. It ensured durability, making it a perfect choice for those looking to explore rugged terrains and embark on thrilling journeys.
The Rep Van and the Introduction of Vandoit's Commercial Division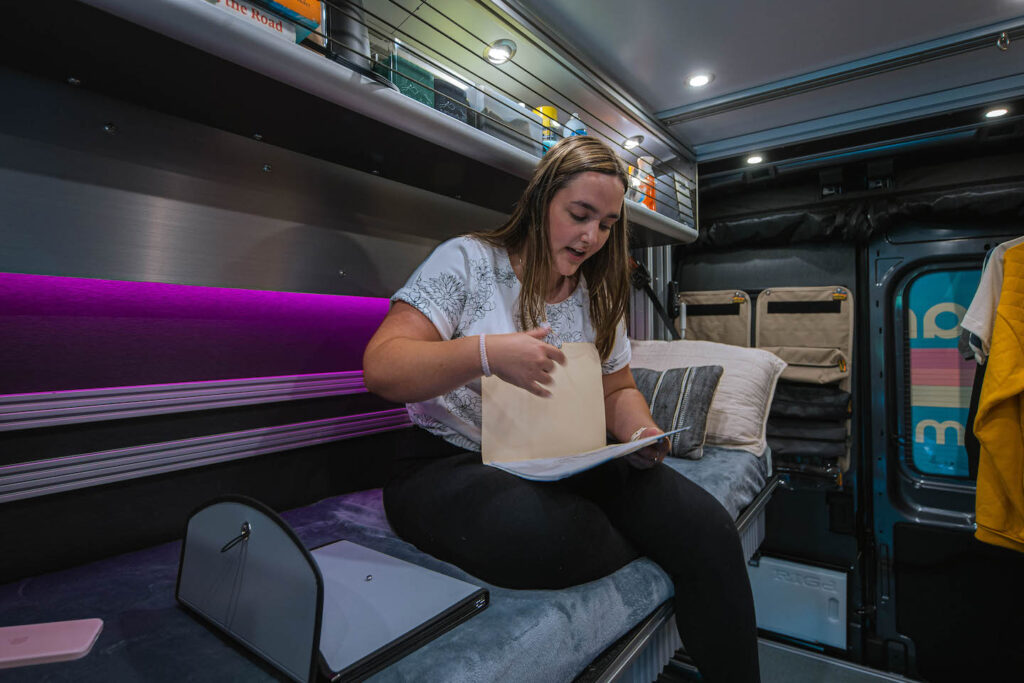 Vandoit is not just a specialist in the realm of camper vans. In fact, the company has been a leading provider of commercial vans for decades, with a rich history in commercial van and vehicle upfitting that dates back to the founding of a dealership in 1947. They continued to expand their commercial offerings through a fleet rental business in more recent years. In all this time, after upfitting numerous vehicles, they have honed their expertise in designing reliable, modular, multipurpose vehicles that can go anywhere and do anything.
In early 2023, Vandoit launched a dedicated commercial division. The Missouri-based brand showcased a sleek, professional, and durable "Rep Van" at the Summer Outdoor Retailer in Salt Lake City, Utah. This commercial van was designed to accommodate the needs of traveling company representatives in any industry.
The commercial division was a natural progression for Vandoit, as they had been building vans for "commercial" purposes since their inception in 2017. However, the young company dedicated most of its resources to custom camper vans during the Covid-19 pandemic when the campervan market skyrocketed.
The industry has only grown since. But with a more streamlined production process, Vandoit is able and excited to move forward with the expansion into commercial builds like the Rep Van. Vandoit's parent company, Kline Van & Specialty Rental, planted the seeds of the business uses that its commercial vans would serve well. And it naturally aided in the creation of the Rep Van floorplan.
Vandoit's journey from building campervans to venturing into the commercial division showcases their dedication to innovation and their ability to adapt to the evolving needs of their customers. Whether you seek the comfort of a passenger van or the functionality of a cargo or commercial van, Vandoit has a solution that caters to your specific travel and business requirements. The road to adventure and success is wide open, and Vandoit is here to help you explore it.