Enduro racer Angie Hyndman quit her job to VanDOit
Have you ever felt like quitting your job and living your dreams? Well that's exactly what enduro mountain bike racer, Angie Hyndman decided to do at 37 after discovering VanDOit.
That's right. She quit her job, designed her dream VanDOit, loaded up and set out with her dog for a five-month journey across the country to live out her passion—enduro mountain bike racing. We caught up with her on her journey to hear her story and what racing titles she has already won.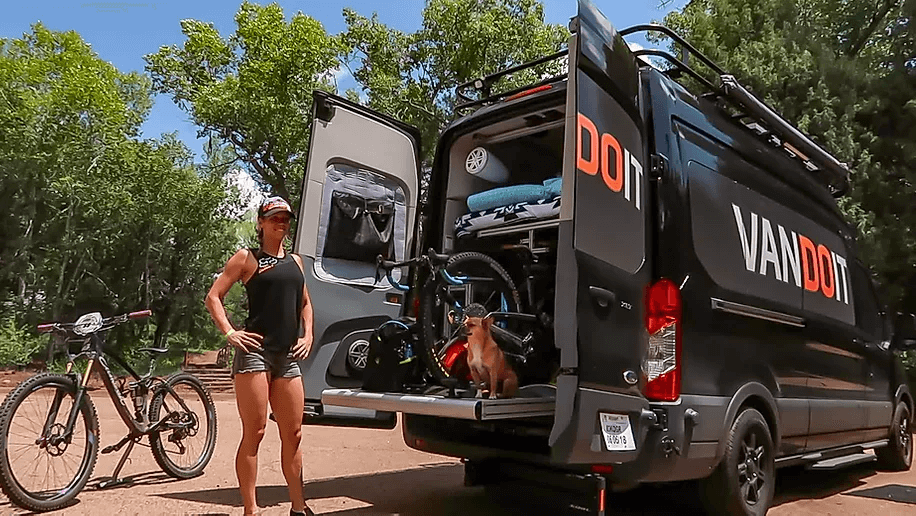 After working in sales for more than ten years, Hyndman found herself bogged down by the day-to-day corporate routine. The Texas-native began working in business-to-business sales in 2004 and medical sales in 2009.
"My major was environmental studies and I've always wanted to do a job outdoors," Hyndman said. "I chased money instead of chasing an outdoor career. I just think overtime, being so engrained in the corporate world and chasing doctors every day wore me down. I found myself just not happy the past three or four years. I would wake up angry and not a happy person. I didn't like that."
Angie discovered her love for mountain biking in 2003. Her job allowed her the flexibility to take long weekend trips to the mountains where she chased snow storms for crazy snowboard adventures. In the summer she discovered downhill mountain biking.
"When I started taking mountain trips to do downhill mountain biking, that's when I really fell in love with mountain biking as a sport," Hyndman said.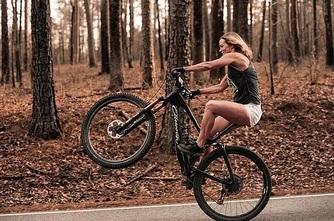 Two years ago she discovered enduro mountain biking and hasn't stopped since.
Enduro mountain biking is a hybrid between cross-country biking and downhill mountain biking. Riders are timed in stages that are primarily downhill involving technical jumps and turns with "transfer" stages in between for climbing up the mountain. The transfer stages are not part of the accumulated time, but usually must be completed within a time limit.
Enduro races consist of a two-day format, where riders are expected to be on their bikes anywhere from three-eight hours. Racers are given five different downhill courses to pedal up to, and are timed on the downhill portions with a timer on their bikes.
"It requires a ton of endurance," Hyndman said. "That's where the cross country portion comes in. It takes a great bike handling skillset to go downhill that fast and hit big features, drops and jumps. It's really technical terrain."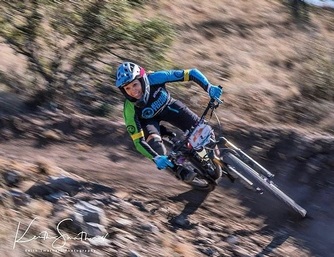 It turns out she has a knack for it—winning eight races, and making the podium at all seventeen races she has competed in. She has a coach to help her hone her skills and become stronger.
Angie decided to take up road racing as a way to cross train and improve her speed for mountain biking. At her first road race, "The Driveway Series," three months ago in Austin, she saw a VanDOit owned by Jamie and Christy Tracy. For her, it was finding "the missing piece."
"The missing piece from all this was lodging. I couldn't afford to race if I had to pay for lodging everywhere, and I'm not a huge fan of the whole camping tent concept," Hyndman said. "These past few years, I've seen all these people doing van life. It was always my dream to quit my job and vanlife it."
She had previously done a two-month journey in a van from a startup rental company and realized she loved the van life. After seeing how VanDOit customizes its vans to each customer, she knew it was her opportunity to build her dream.
"I wrote VanDOit that day, and the next day it was a done deal," Hyndman said. "Two weeks later I put my two-weeks notice in for work."
Angie traveled to the VanDOit headquarters in Lee's Summit, Missouri to perfect her van with VanDOit's head engineer, Jared McCauslin, who built custom racks for her bikes and helped her strategically store her cargo using VanDOit's T-track.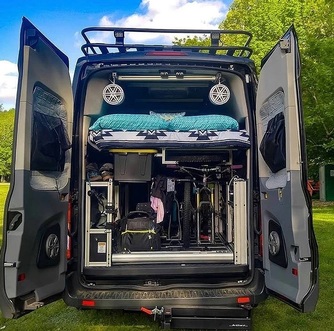 Combining her love for vanlife with her sales background, Angie is now a representative of VanDOit. Since May, she is living on the road with her girl Chihuahua "Thing" who loves to run alongside her when she is mountain biking.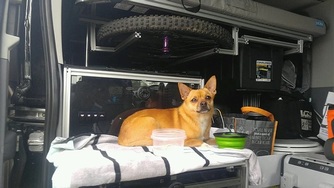 "I've been riding bikes, hanging with friends, and it's been an absolute blast," Hyndman said. "I've discovered that the greatest part of living the van life is the people I meet."
After only a week into her five-month journey, she won the women's Arkansas Enduro Race in Red Star, Arkansas, just two weeks after claiming the pro women's championship title at the Southern Enduro Tour in Big Cedar, Arkansas.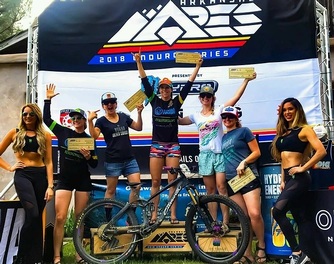 In late May, Hyndman injured her shoulder while preparing for the Big Mountain Enduro Tour race in Santa Fe, New Mexico, forcing her to stop racing for awhile. Although she didn't let it stop her from living her vanlife dreams, and still followed the race tour she had planned as a spectator.
After two months of recovery, she has eased her way back into racing. She just completed the final Big Mountain Enduro Race in Aspen (a qualifier for the Enduro World Series (EWS)) taking Fifth Place in the Pro Women's category, just behind four factory racers. This is a huge accomplishment for a solo privateer racer.
Her next stops are Steamboat Springs for the next race in the EWS Continental Series, Park City-New Mexico, Northwest Arkansas, and wherever else her new home on wheels takes her.
"I feel more at peace in my van than in my house, which is strange. Most people probably would not feel the same way, but I don't' feel cramped," Hyndman said. "I feel free."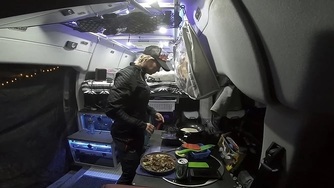 You can follow Angie's VanDOit adventures on Instagram @_helmethair_