Connecticut couple designs their dream VanDOit Ford Transit Camper Van to paint a more adventurous l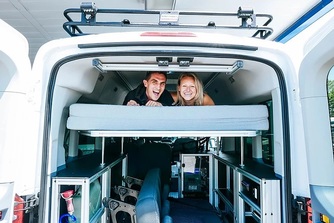 Most people go to bike races for the bikes, but when Alex Toombs and boyfriend Sam Goater went to Hartford, Connecticut for the North American Handmade Bike Show and spotted a VanDOit Ford Transit camper van, their interest changed. "We didn't even really look at the bikes, we just wanted the van," Sam said (who does enduro racing.)
The couple got hooked on the vanlife concept a few years ago on a trip to New Zealand when they rented a camper van for two weeks and explored the South Island.
"We were like, we are doing this. We are going to find something or build it ourselves," Goater said. "It's such a hassle getting to and waiting around in airports, getting crammed onto planes, and finding accommodations."
After visiting with VanDOit's Sales Director, Ted Vandevort, and doing more research on van conversions, Alex and Sam decided VanDOit was the answer to their van dreams. With Ted's help, they designed their dream van with features like—plenty of room for bike storage and their dog Toby's bed, the bed lift platform, shower, solar panels and easy-up canopy.
"With the easy-up canopy, you've got a very sociable living room. It's a must have," Sam said. "It opens up the space and gives you a living area for more people." When asked about their favorite van features, they shared their love for the LED accent lights and passenger swivel seat.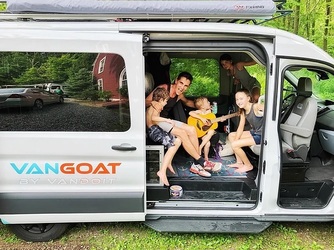 The custom wrap on their van is perhaps the most unique part of their design. Sam took the teal and orange colors from his mountain bike and drew inspiration for the stripe details from a 1960's Ford GT40 racecar.
Alex and Sam coined themselves as "VanGoat" on social media in honor of Sam's last name, "Goater." "It just kind of had a ring to it," Alex said. "It also stands for 'Greatest of all time,' which is also a nice bonus."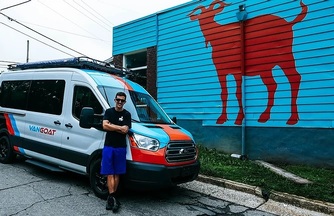 The pair have been living up the vanlife ever since, traveling three thousand miles in one week in their VanDOit. "I've slept in the van more nights than I've slept in my apartment because the bed is more comfy," Sam said. "And the AC is great."
They've been to Nashville, Blue Ridge Parkway, Virginia, Massachusetts and New York to list a few, and are attending the Eastern Cup Series for enduro racing.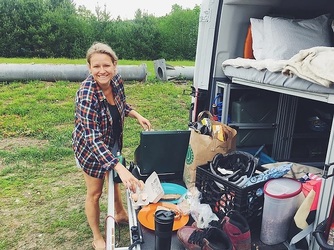 Sam grew up in England, riding bikes everywhere he went and has had a longtime passion for mountain biking and cross-country racing. This is his first season racing enduro.
As a traffic engineer, Sam has used the "Goat" as a work vehicle for hauling paint and other materials. He integrates street art into his designs to reclaim space from cars and make activity more fun, creating contemporary bike lanes, sidewalks and crosswalks. Recently, he painted a two thousand-foot mural on a street in Bridgeport, Connecticut.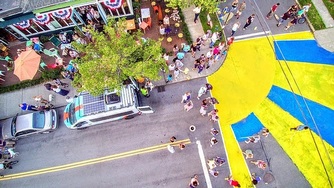 As VanDOit reps, Alex and Sam will continue living their van dreams with their dog Toby along for the ride in his favorite place, looking out the window from the passenger seat. You can keep up with their journey on Facebook and Instagram @vangoat.